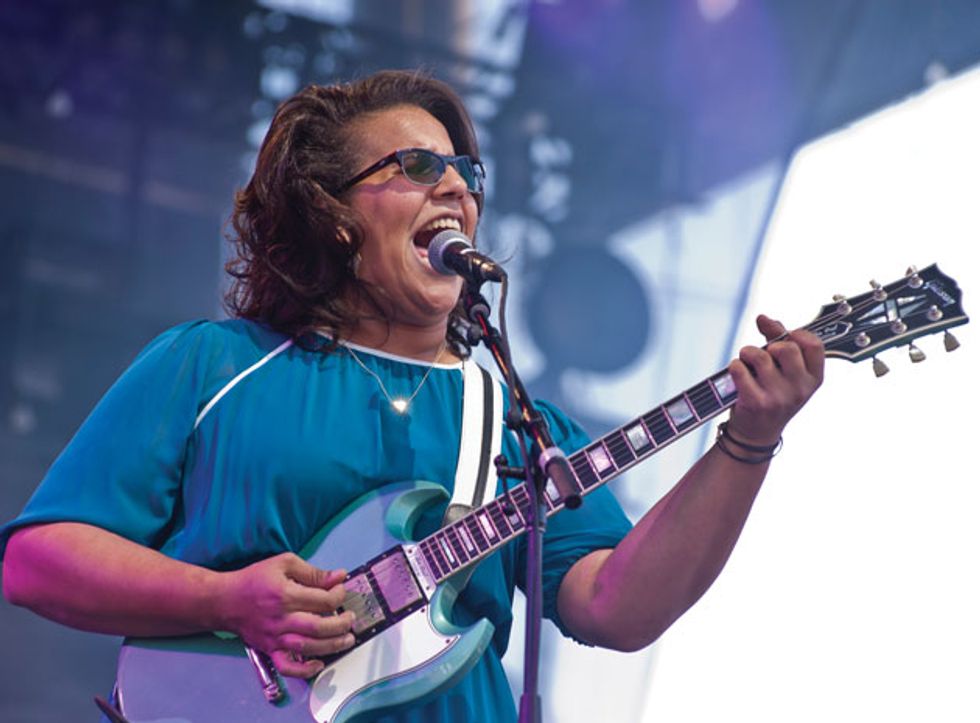 A 1971 Gibson SG Custom is one of Brittany Howard's two main guitars. (The other is a Harmony Rocket.)
Photo by Paul Haggard.
Somewhere between the sleepy suburban environs of Athens, Alabama, and the musical explosions of Nashville, Tennessee—a distance of about 100 miles on I-65—there's apparently a bend in the space-time continuum that the Alabama Shakes discovered on the way to record their new album, Sound & Color. It may even be a portal to an alternate universe where Curtis Mayfield joined Pink Floyd, Otis Redding sings for Radiohead, and Aretha Franklin and Brian Eno are working on an album called Music for Barista Parlors.
Which is a roundabout way of saying Sound & Color is a radical and unpredicted creative leap from the band's 2012 debut, Boys & Girls—a groovy slice of nuevo-retro soul-rock that's sold 750,000 copies, hit No. 6 on Billboard's album chart, and took the band from half-empty clubs to sold out theaters to the main stage at Coachella.
"There were moments along the way where it was shocking," says Heath Fogg, half of the Shakes' 6-string tag team along with frontwoman Brittany Howard. "But now that we've crossed that bridge, we're comfortable playing anywhere."
"The goal was to be free and expressive. We tried to be creative and not worry too much about concepts or genres or anything like that." —Heath Fogg

Another thing that's changed is the onstage dynamic between guitarists Howard and Fogg. When the Alabama Shakes first started busting out on the heels of Boys & Girls, Howard was a somewhat restrained presence, laying back on guitar and tempering the vast reserves of kinetic energy in her voice. Now she has stepped all the way to the fore. Her singing is at full power, sending up a fireworks display of incendiary whoops and howls over the cascading waves of aural shimmer on Sound & Color's "Dunes" and evoking the hippest spiraling vocal high-notes of the '70s—the kind of keening falsetto spikes and coos that made Al Green, Curtis Mayfield, and lesser-knowns like Blue Magic take the human voice over the psychedelic edge.
Nonetheless, Howard cites Queen's Freddie Mercury and wide-jawed, Italian-American, big-band belter Louis Prima as her earliest vocal pillars. "When I was growing up, I thought their melodies were cool," she offers.
Apart from Howard's exploding vocals, her guitar playing is magical and original on the Shakes' new songs. You can hear it in her reverb-soaked, stutter-step rhythm that drives the album's first single, "Don't Wanna Fight," as Fogg lays slinky chords over the top. And her composition "Gemini" offers an amazing six minutes of textural architecture that unreels like a modernist progeny of Pink Floyd's 1969 opus Ummagumma.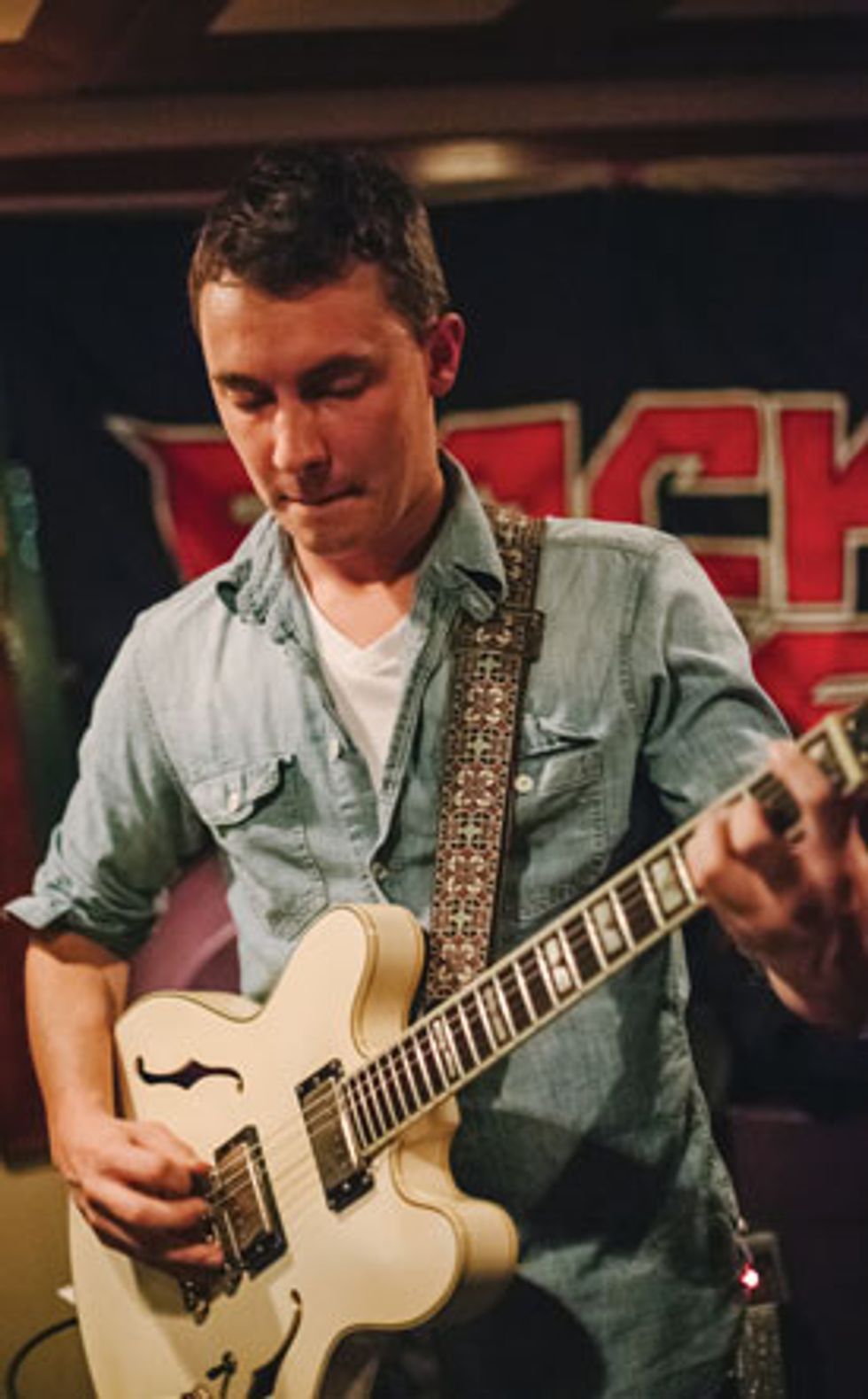 Heath Fogg (with 2013 Gibson ES-335) on collaborating with Brittany Howard: "There definitely aren't assigned roles. It's different every time we set out to write or work on a song."
Photo by Deneka Peniston.
Sound & Color also has room for the adrenaline punch of the punk rocker "The Greatest" and the Otis Redding-in-space "Miss You." And while the music paints a broad cosmic soundscape, it does so in ways that complement Howard's passionate voice, even as her lyrics slyly and sometimes eerily relate the details of inscrutable relationships, spiritual awakenings, and emotional tides.
Howard says she's always written and played this way, which may be true. Yet the more the Alabama Shakes have toured, the more she's let the genie out of the bottle, arriving at their— and her—current apex.
Listening to the sonic fairyland the band has now created, it seems that Blake Mills, who produced the album with the Alabama Shakes, was an important part of Sound & Color's sounds and colors. He's an experienced studio guitarist and creative singer/songwriter who has collaborated and toured with Conor Oberst, Kid Rock, Fiona Apple, and Lucinda Williams, and he co-founded the band Dawes. He spent a year working with the Shakes quartet, a lineup completed by bassist Zac Cockrell and drummer Steve Johnson, at Nashville Sound Emporium (save for a tune recorded at L.A.'s United Recording, where the album was mixed).
Howard says that Mills was "definitely part of the conversation. So instead of four of us there would be five of us arguing about where the chorus should go."
"If we had more time," she continues, "I would have done this on the first record, too. We all love the first record, but we just didn't have time to explore these types of things. That's what I've always been into. I'm not really gonna change."
Fogg is more generous. "I think Blake helped everyone feel comfortable and confident," he explains. "Blake's got an amazing ear. He can hear things that I just don't. And he had a really unbiased approach and opinion, so it was nice to have an outside voice that hadn't been part of this family for years. He brought out the best in us, and that paid off. He didn't sugarcoat anything, and that was nice, even though it was also tough at times."
Whether it's a new chapter or a previously overlooked textbook, Sound & Color is destined to be one of 2015's most intriguing and inventive rock albums, with its blend of freaky headspace and heartfelt soul, and the palette of surges and stops that raise the bar on dynamics to a level of drama unheard since Nirvana's Nevermind. But when the band and Mills convened at the historic studio built by ex-Sun Records engineer Jack Clement in 1969, they were staring at a nearly blank canvass. Thanks to the demands of touring, they'd only had time to write a few new songs. But Fogg says there was a game plan in place.
"The goal was to be free and expressive," he says. "We tried to be creative and not worry too much about concepts or genres or anything like that. We wanted to compile as many songs as we could and craft them into songs that we loved."