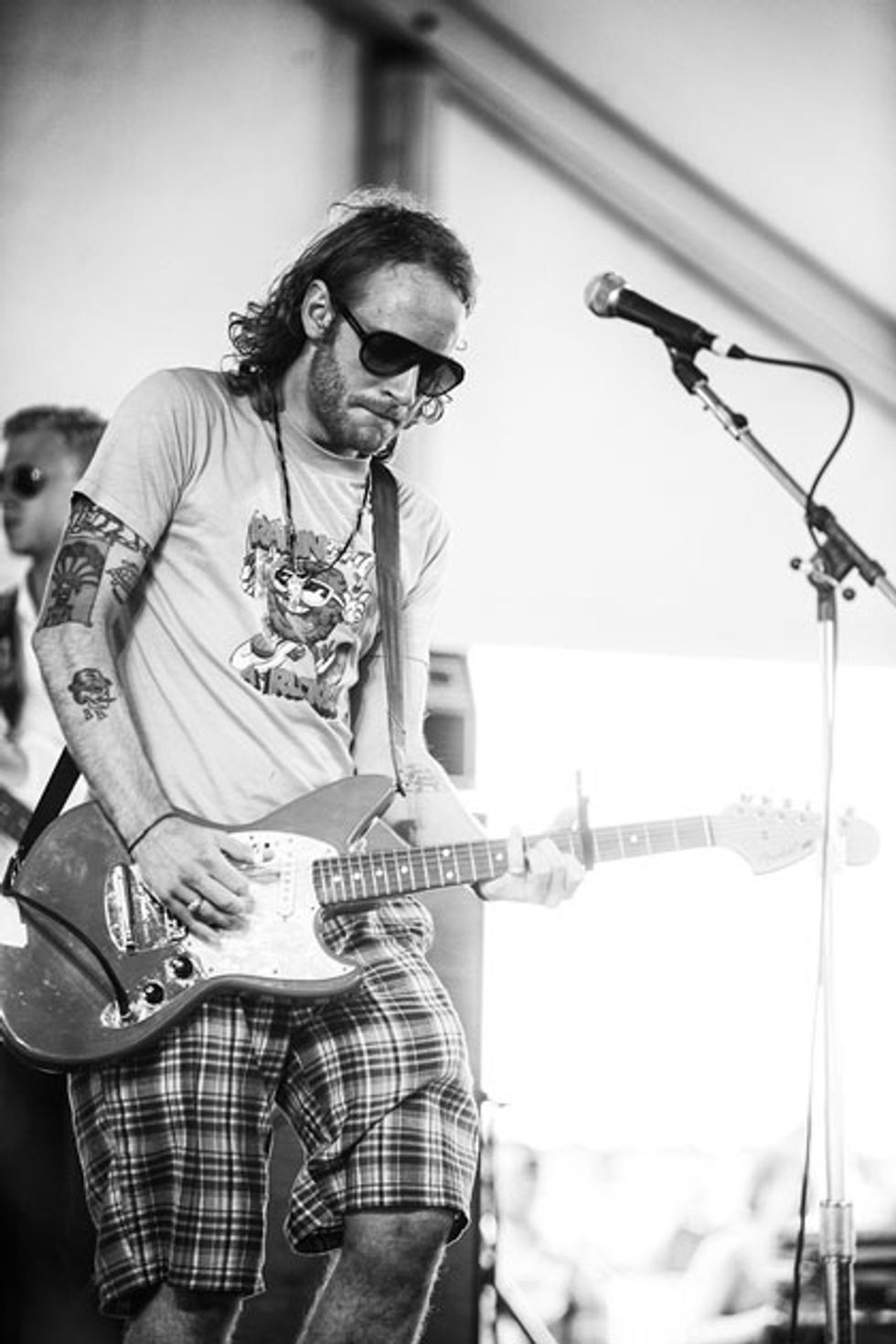 John McCauley plays one of his many Jag-Stangs (the Fender model designed by Kurt Cobain) as the frontman of his primary band, Deer Tick, at the Newport Folk Festival in 2012. Photo by Tim Bugbee / Tinnitus Photography.
When does a side project become a band? For Diamond Rugs, the answer lies sometime between a night in 2011—when Deer Tick's John McCauley, former Black Lips guitarist Ian St. Pé, and Six Finger Satellite drummer Bryan Dufresne shared a beer and mused about working together—and the sessions for Cosmetics, the D-Rugs' sophomore album.
After that beer, St. Pé continued his tour with Black Lips. By the time he finished, McCauley had recruited the rest of the Diamond Rugs lineup: fellow Deer Tick Robbie Crowell (bass, keyboards, sax), Dead Confederate guitarist T. Hardy Morris, and Los Lobos' Steve Berlin (horn, keyboards).
Back at Nashville's Playground Sound Studio (where the band recorded their self-titled 2012 debut) the sextet worked fast, recording to one-inch 8-track tape with minimal overdubs and editing. The result solidifies D-Rug's cable-knit rock 'n' roll sound—the "loosely tight" feel that once defined bands like the Rolling Stones and Faces, but is increasingly rare in the digital age.
"This is definitely a band and not a side project." —Ian St. Pé

It's a vibe almost impossible to create with a bunch of musical strangers or session players. But then, as St. Pé explained just before Cosmetics was released, Diamond Rugs isn't just a collection of talented individuals. "This is definitely a band and not a side project," he says. "The only difference is that we don't play together that much because of our other band obligations."
Why bother organizing so many people when you've got your regular band to worry about? "It was a good way to keep busy and keep in touch with some friends I don't get to see often enough," McCauley replied when we caught up with him. He went on to explain how this particular group of friends created something special.
Now that you've got two albums out, it's clear that Diamond Rugs has a sound distinct from your main bands.
John McCauley: It just organically turned into a thing with its own vibe. It was just an experiment at first. We didn't get together the first time 100 percent sure we were going to make an album. I don't think any of us expected to record more than a couple of songs.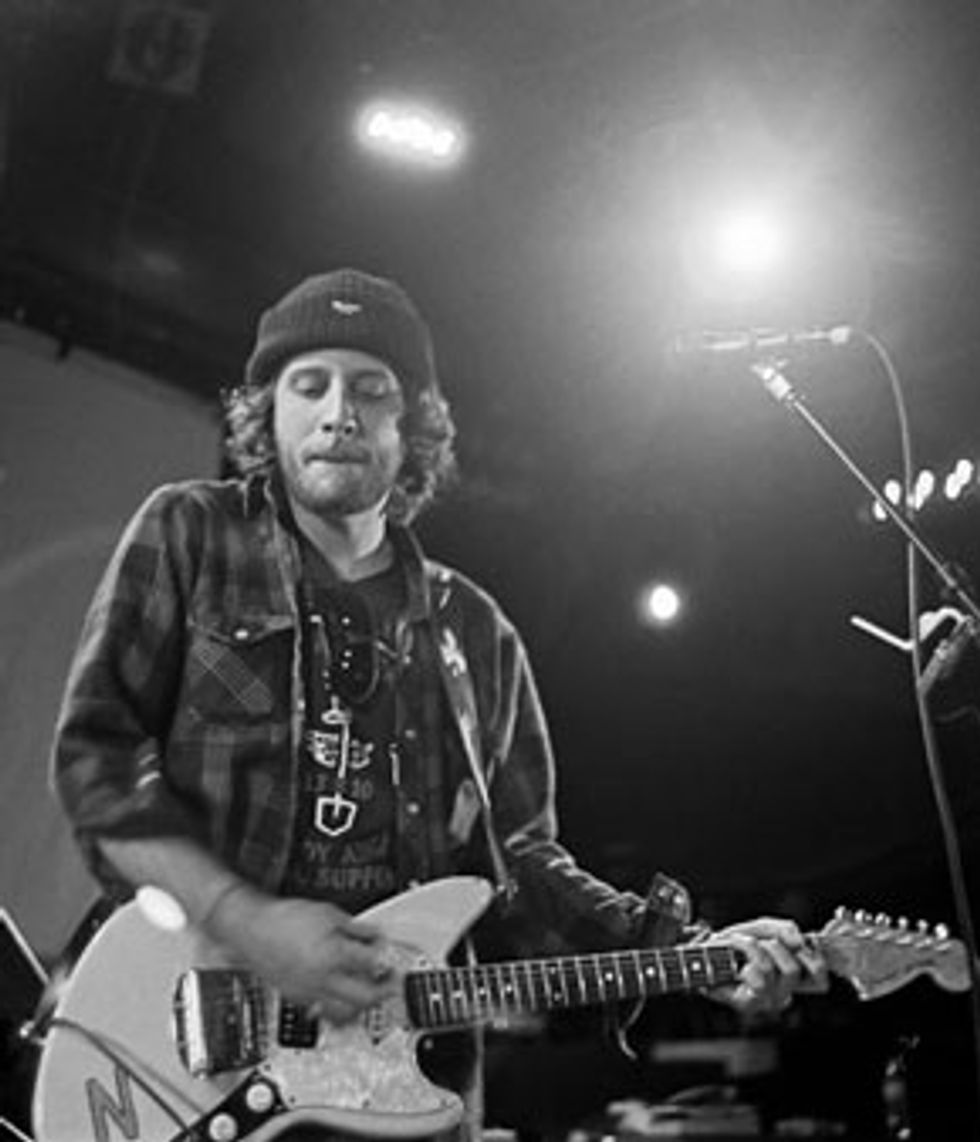 Photo by Mick Orlosky.
Six members from five different bands? That's a lot for a side project!
Originally it was just going to be Ian, Bryan, and myself. It was just kind of a joke: We thought we'd write all these songs about weed and call ourselves Star Drama. But then I ended up meeting Steve Berlin, and he was asking about Middle Brother [an earlier McCauley side project] because he really liked the way that recording sounded. So I told him I was going back into the same studio to do something on the side with Ian from Black Lips, and he was like, "Oh, I love Black Lips!" So I invited him down to check out the studio and maybe play on something. Then I asked Robbie if he wanted to come down—he's a great multi-instrumentalist. Then Hardy called me out of nowhere to say hello. He's just a few hours away in Georgia, so I asked him "What are you doing this week? Why don't you come to Nashville and check out what we're doing in the studio?"
What were your goals for Cosmetics?
There wasn't a whole lot of planning other than getting us all in the same place at the same time [laughs]. We wanted to do something pretty similar to what we did the first time. The only problem was, this time we knew we were a band! But in terms of songwriting, I approached it the same way. I didn't bring in much material. I wanted to write it as we were going along. We limited ourselves to 10 days. It was kind of hectic.
Wait—10 days to write, rehearse, and record the whole album?
Yeah. That's how we did it the first time. I'd be like "I have an idea—let's riff on it." We'd roll tape, and then I'd see if I could write some lyrics for it. That was it.
Did you do all the writing?
Hardy brought in some songs he'd written, but didn't get to use with his band. He did that the first time, too. Also, Ian has the George Harrison syndrome in the Black Lips—they give him like one song per record, so he had a few he'd written.