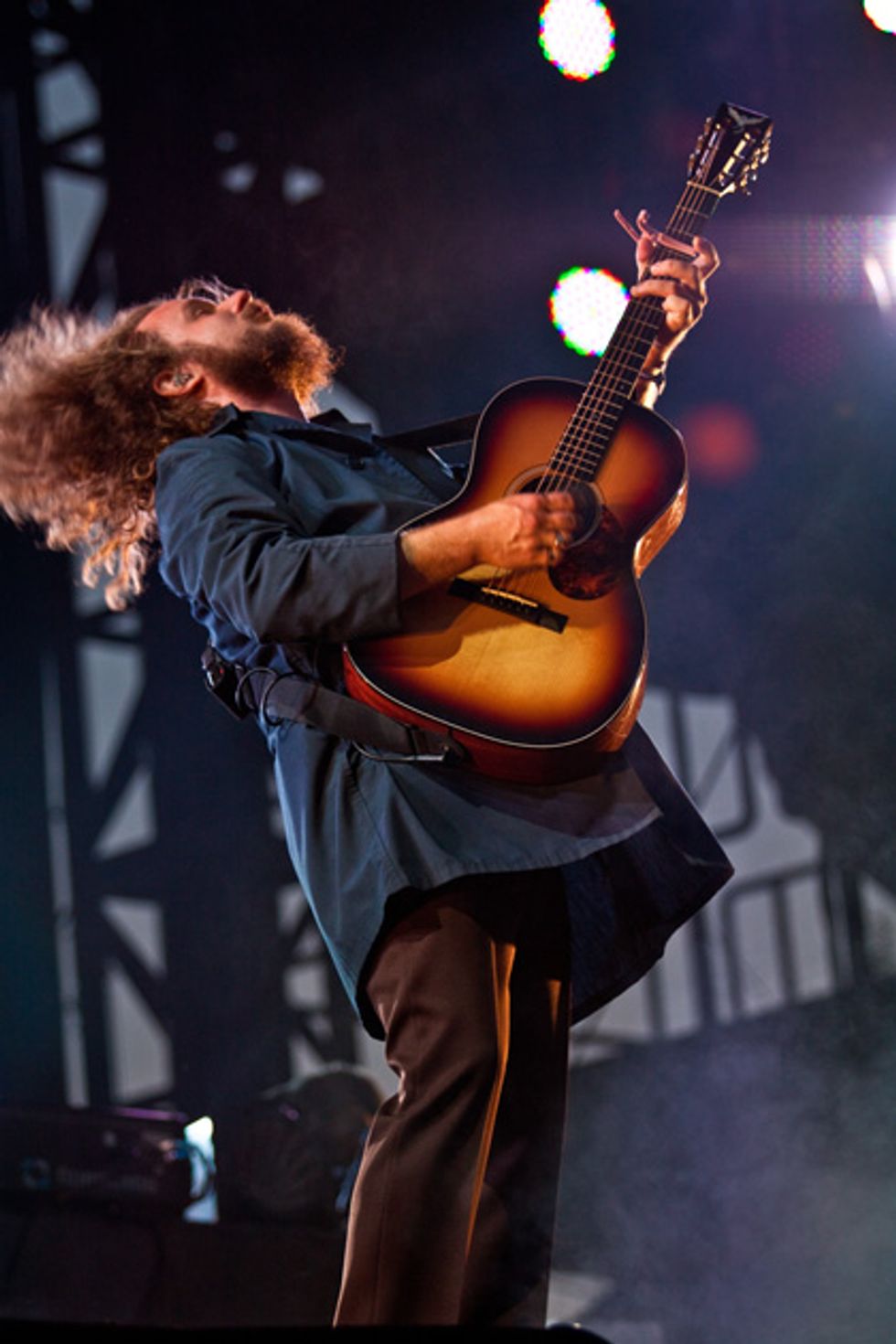 Breedlove made Jim James this custom Revival 000, which he loves. "That's my main acoustic touring guitar," James says. "I think acoustic guitars normally sound like shit live, but this thing really sounds good." James is shown here closing out night two of Lollapalooza 2011 in Chicago, IL. Photo by Chris Kies.
Jim James tells us he was first summoned to music as a child while watching The Muppet Show. It must be a vivid memory, because when he wrote an article about his musical coming of age for his hometown magazine, Louisville, he also recounted how Kermit the Frog blew his mind. If you listen closely to the vocal delivery on "Gideon," from My Morning Jacket's 2005 album, Z, you might even catch a trace of Kermit's spirit and inflection.
So why does he—and why do we—love Muppets? They're funny. They possess an innocence and deep character that overshadows the mundane surface interactions of the modern world. They're human, if you will, while somehow always remaining light. They have magic about them.
My Morning Jacket makes epic, sometimes psychedelic rock songs that live somewhere in that other world. It's not easy to put a finger on the musical genre of the quintet (James, co-guitarist Carl Broemel, bassist Tom Blankenship, drummer Patrick Hallahan, and keyboardist Bo Koster). James draws parallels between MMJ's sound and his Kentucky hometown: "It just kind of exists in its own realm, and that's what I've always wanted to be seen as: nothing other than someone who likes music and wants to play it without definitions or boundaries."
The group's latest 10-song collection, The Waterfall, was inspired by the natural phenomenon, but it also seems to reference the downpour of conflicts that arise between people. But that's another thing about Muppets: They have camaraderie, and they weather storms with a little help from their friends.
As a stream ebbs and flows, so do all aspects of life, including guitar playing. James, the group's primary songwriter, had grown bored with the guitar before the sessions for MMJ's seventh album and didn't want to play. But that's not how it worked out—James' yang in the band, Broemel, inspired him by bringing in a rare piece of gear to play with. (More on that later).
"I love playing guitar, but sometimes I get tired of it as a vehicle. But then Carl comes in with, like, some new weird reverb tank. He's really good at bringing my guitar playing back to life." —Jim James

With a reputation for unforgettable live performances that take cinematic soundscapes to the sky and back, My Morning Jacket is the epitome of the band that makes its music come alive onstage. "A year ago we got to play with Bob Weir," Broemel recalls. "He would stay stuff like, 'If we don't play the songs, the songs aren't alive.' We were like, 'Yes! That's exactly it.' It's not so much about repetition as constantly exploring and playing."
Sounds like something the Muppets might say in a rallying moment.
Can you recall the "aha!" moment when you realized you were supposed to play music?
Jim James: When I was a kid watching The Muppet Show, I was fascinated by the band, and the music always called to me. In 7th grade, a group of us bonded together over music. There were four or five of us who felt like outcasts, and we had music to keep us together.
Around that time, hair metal was super popular. We were all into hair metal, but also intimidated by it, like we were too dorky to wear leather pants and do the whole hair metal thing. Then grunge happened. I remember really loving R.E.M.'s Out of Time record, and being so moved by the fact that they just looked like normal guys. You didn't have to be this crazy rocker—you could just play your music. And of course, watching Nirvana, Pearl Jam, and all the great bands of that era let us know it was okay to do music if we wanted to.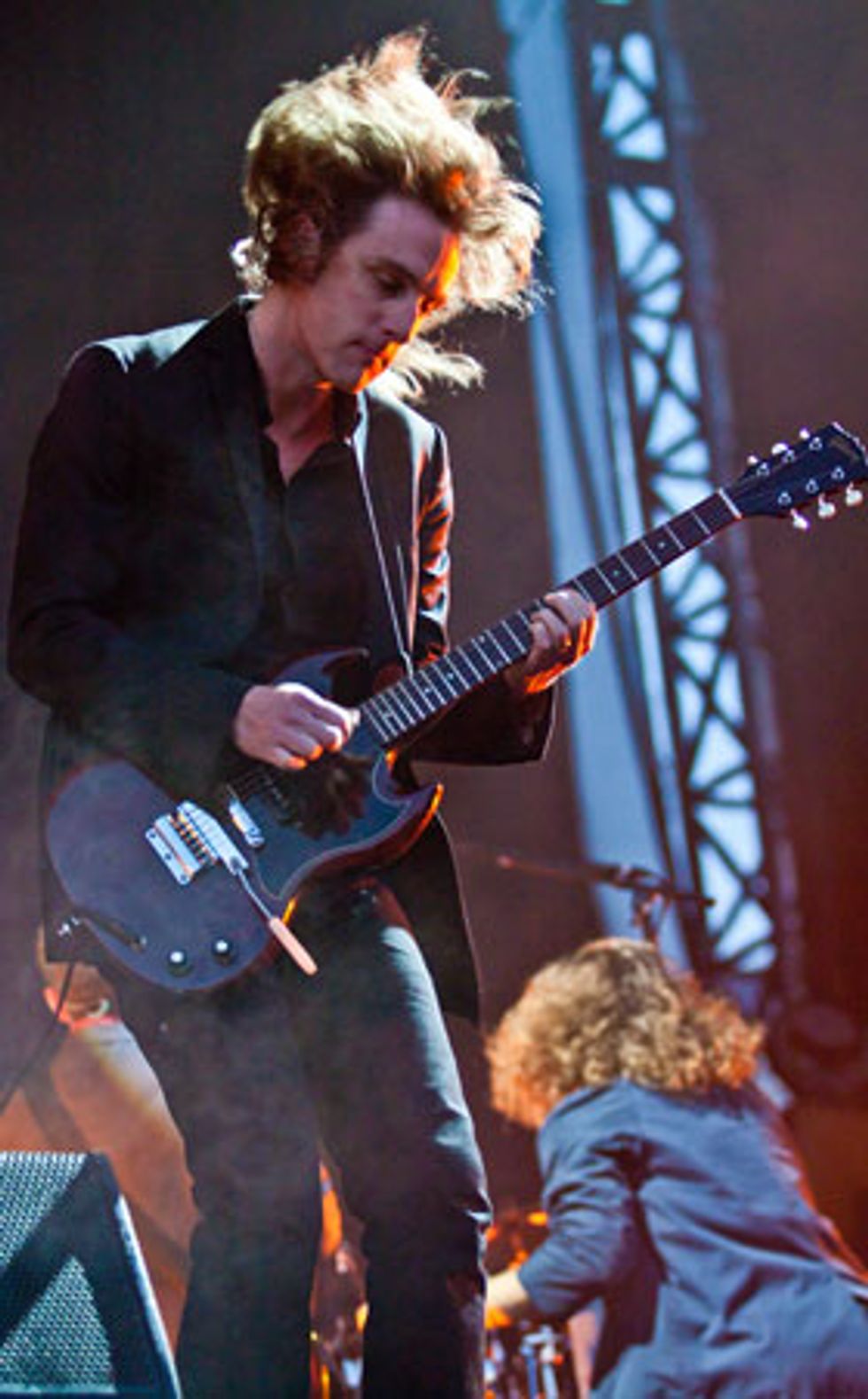 Guitarist Carl Broemel hammers out chords on his 1960s Gibson SG Jr. during MMJ's opening song "Victory Dance" for their Day 2 headlining set at Lollapalooza 2011 in Chicago's Grant Park.
Photo by Chris Kies.
Carl Broemel: I don't remember deciding to play music—I was just kind of doing it. My dad is retired now, but he was a bassoon player in the Indianapolis Symphony. I was always taking violin or piano lessons and hanging out with him. But I do remember deciding around age 12 or 13 that I didn't want to take violin lessons anymore, and that I wanted to try saxophone, flute, or guitar. Once I started playing guitar, I just felt that connection. Hearing a song on the radio, getting excited, and then being able to do it myself was like, "This is awesome! I get this, and I think I want to keep doing it." My dad was like, "Really?!"
Who were some of your heroes?
Broemel: When I was in middle school, I would've given anything to be in Bryan Adams' band. He was the guitar player [laughs]. I was into metal, Van Halen, and stuff like that. I remember seeing Europe play at the Indiana State Fairgrounds and thinking it was amazing. There was something about the way Eddie Van Halen played that reminded me of classical music. All along, my dad was trying to get me informed, saying, "If you like Eddie Van Halen, you should listen to Segovia too."
What was your first guitar?
James: My bud Aaron's dad had gotten a white Harmony strat. We walked in and saw it lying on the table one day and were both filled with awe. It's so funny to look back now at that $100 guitar, but we'd never seen anything like it in the flesh, and we wanted to know it in every way we could. Aaron played that, I got a Fender Squier Stratocaster, and we just started going for it. From that moment on, I was possessed, just captivated. And it hasn't let me go.
Broemel: I had some super-cheap, small, blue-and-white electric guitar—I don't even know what brand it was. It looked like a Teisco, but even cheaper and crappier. We plugged it into car stereo speakers, which were fun because they distorted. I got a Yamaha heavy metal guitar after that.