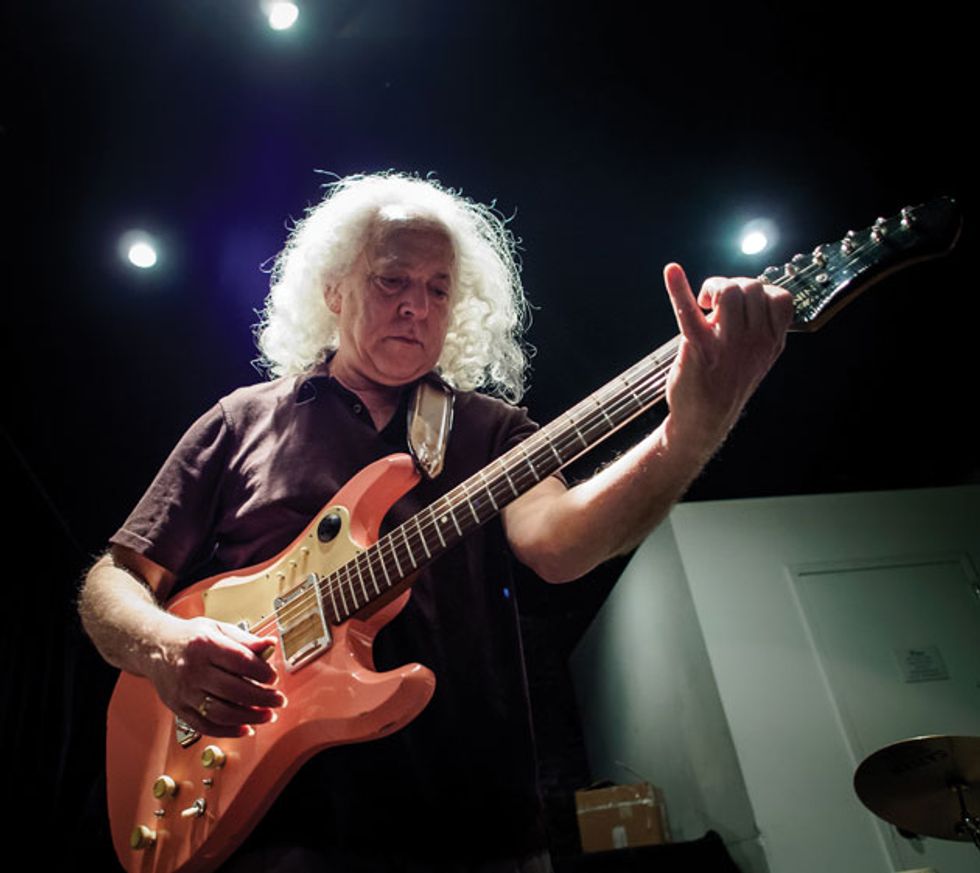 "I hate humbuckers, but I love these pickups," David Torn says of the Foilbuckers in his Ronin Mirari. "I've been swapping pickups my whole life, but with these it's been three years of 'Wow, I love these!'" Photo by Peter Gannushkin.
Was everything recorded in one take, or did you go back afterward to overdub or tweak anything?
Everything was recorded in one take. There are a couple of little bits that were edited, but they are very small. In most cases, I would say that everything is a single take of something. There are two endings where I couldn't stop myself from overdubbing something while I was mixing. I just thought, "This needs something else." There are two endings that have acoustic guitar—one of them is with an EBow.
In a way, it must have brought you back to when you were a kid sitting in your room trying to figure out what to do with the guitar.
Yes, I still do that even when I'm actually working or writing. It's the same thing for me. I am sitting there concentrating. I just set up and fiddle around with ideas and practice.
I practice tone production every day of my life.

What types of things do you practice?
I practice tone production every day of my life. About eight years ago I started to make sure I play every day. I just got to this place where I had to continually fine-tune the way I interact with the electric instrument with just an amplifier. So I split my practice time to "with stuff" and "without stuff." Today, I am actually going to practice with the Hexe reVOLVER because I got a new one that is quite different. I want to take it on the road because it does things that the other ones don't do. I need to kind of learn it.
You do quite a bit of film scoring and studio work. How do you balance that with your solo albums?
Guys used to say you can't be committed to more than one thing, and I've kind of struggled with that—because I want to make records. I want to make music that I want to make. In that world, I am definitely a slave to whatever the muse is, but the word "experimental" almost feels a little derogatory. I do follow the muse, but the muse doesn't always take me to that place. While everything might be an experiment, I am not a lab coat guy. I see my own music in a hundred different ways.
David Torn's Gear
Guitars
Ronin Mirari with Foilbuckers
Koll Tornado
Teuffel Niwa
D'Pergo Aged Vintage Classic
Godin MultiOud
Amps
Fryette Aether
Fryette Sig:X
Fryette Two/Fifty/Two
Kemper Profiler
Bob Burt custom 2x12 with Celestion Blue speakers
Fryette Deliverance 2x12 with Fryette P50E speakers
Effects
Paul Trombetta Designs Tornita
Paul Trombetta Designs Mini-Bone
Fryette Valvulator I
Catalinbread Antichthon
Hexe reVOLVER I
Hexe reVOLVER DT
Two Lexicon PCM 42s (one modified by Gary Hall)
Neunaber Stereo Wet Reverb
DigiTech Whammy DT
Empress Compressor
TC Electronic Classic TC XII Phaser
Goodrich LDR-2 volume pedal
Caroline Guitar Company Kilobyte
Oberheim Echoplex Digital Pro w/ Aurisis Loop IV upgrade
Roland EV-5 expression pedals
Lexicon PCM80
Strings and Picks
Snake Oil Vintage Formula strings (.011–.048)
Agate pick (used occasionally since 1979, but mostly "just my little fat fingers")
Rane SM82S Stereo Line Mixer (modified)
Mogami cables
But I also really enjoy working with pop people. When you have the opportunity to work with people like David Bowie, Tori Amos, k.d. lang, John Legend, or Meshell Ndegeocello and bring something to the table that is a little bit different, it's awesome. I love it. On the other hand, I love improvisation. It has been a part of my life since I was a kid, in a real way, before any other music was. Then there is a side of me that used to be a songwriter. So I feel like I have to do that, and that is where my great love of stories kicked in. I have film scores that are very far from avant-garde. If you put Only Sky up against the score to Lars and the Real Girl you might think two different people wrote those. How many people do you know who have played with [trumpeter] Don Cherry and co-wrote a Madonna hit single?
Even before you started scoring films your music was often described as "cinematic" or "orchestral." How did you get into film work, and what inspired you to write for large-scale projects?
From my perspective it was an accident. In the late '80s I had started Cloud About Mercury and invited Mark Isham to be in my band because he was the only trumpet player that I knew who understood the concept of how loops might be used in a musical context that wasn't just like playing over the loop. It was involved. It was contextualized. Little did I know, he was just getting his sea legs as a film composer. He said to me, "Dude, honestly, you belong in Hollywood. I want you to come to Hollywood with me and work on a few films. Let's see how this goes." We sort of became really close to being partners for a couple of years, and then that broke up and I came back to New York and that stuff didn't really go away. Eventually, people like Howard Shore and Carter Burwell [The Big Lebowski] were calling me. Then [Steven] Soderbergh's Traffic came up. I didn't realize how big my role was going to be in it, because I was in New York and the score was being recorded in Los Angeles. At the time, I thought I was just part of the session and that there was going to be an orchestra. I didn't realize until I actually saw the film that I was the score.
How has guitar technology inspired you recently?
I pay attention a little bit to what other people are doing, but not that much anymore. I do like to speak with amplifier designers and a lot of pedal builders, but more and more I'm back to talking about looping devices—because that is a huge part of what you hear on Only Sky. I'm just creating these loops and manipulating them in real time—sometimes without hearing them first.
What's your favorite looper?
My regular looping rig is a modified Lexicon PCM 42—the first one made of its kind. [Lexicon designer] Gary Hall modified it around 1981 to have approximately 20 seconds of sampling/delay time. The originals only had five seconds. I have another PCM 42 that was modded to feature a reverse-play switch. I also have an Oberheim Echoplex Digital Pro, which doesn't get as much use as it used to, and for a while now there's been a single Hexe reVOLVER going into my regular pedalboard, not my wet rig. Now, I have two Hexe reVOLVERs and they do very different things. One is an original revolver, and the other is called the reVOLVER DT, which was fed by my ideas. I don't think the DT will ever be a product, though—I think Piotr [Zapart, of Hexe Guitar Electronics] feels it's just too difficult to do. [Laughs.]There's always one extra looping device that I never talk about because I only use it on studio sessions. Lately, I've only used it with David Bowie.