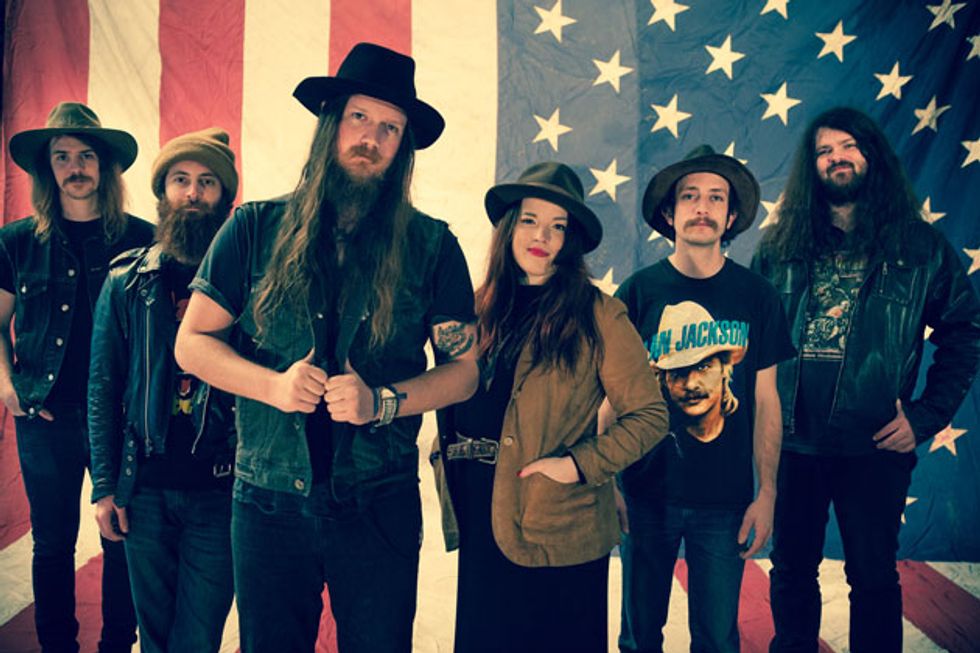 "Each of us brings something different to the band," says Banditos' Jeffery Salter (far left). Photo by Albert Kuhne.
There's no shortage of artists having a go at classic Americana, roots, and country music, but few do as impressive a job of revitalizing the tried-and-true as Banditos. Now based in Nashville, the group emerged in Birmingham, Alabama, and their eponymous debut LP is a soulful celebration of all that is great about traditional country music served up with a rock 'n' roll twist. While successfully avoiding the Dixie-rock clichés many young country acts rely on, Banditos sound simultaneously familiar and fresh. Punctuated by fiery Tele licks and tasteful flourishes of lap steel, their music also boasts sophisticated arrangements by lead guitarist Jeffery Salter, who studied jazz and classical guitar in college.
When Salter isn't on the road with Banditos, he's busy building unique, Fender-inspired guitars under the name Pyrose Wood Works. His instruments feature premium parts and killer wood-burned decorations, and he plays them exclusively—both in the studio and on tour.
PG spoke with the guitarist/luthier about his journey from jazz to country music, the band's from-the-hip writing and recording process, and the rare gem of an amplifier that he swears by.
"Even if it doesn't always come through in the playing, I'm a total theory nerd. I love music theory and I used to teach
private lessons on it."

How did you get into country and roots music?
My parents' good friend taught me how to play guitar when I was a kid. He was an older blues guy—a fingerpicker. He was a random player who couldn't seem to finish a song, but when you could get him to settle down into something he was really good. When I was 13 or 14 years old, he loaded me up with a bunch of albums—Tom Waits, John Hammond Jr., some Chet Atkins, and some Mississippi John Hurt. That's what hit me the hardest, I think—the Mississippi John Hurt stuff.
That was the start of me searching through all this music. I didn't even really know I was playing country music until much later. We were playing in thrash-metal and punk bands, and I'd go home and practice Chet Atkins tunes because they were fun. Roy Buchanan is a huge influence, too. His guitar playing is so vocal—the instrument just cried when he played.
What happened after that?
Fingerpicking just came naturally, so I ended up going to school for classical guitar because it made sense—I didn't really aspire to be a classical guitarist or anything.
How far did you take your formal music education?
In school I was primarily a classical guitar player, but they had the option for us to study jazz too, so I took lessons from Carlos Pino—an amazing jazz guitarist in Birmingham. I took about four years of private lessons from him at school.
Jeffery Salter's Gear
Guitars
Two Pyrose Wood Works T-style electrics
Amps
Heritage Victory 1x12 22-watt combo
Effects
Klon clone
Wampler Paisley Drive
Empress Vintage Modified Superdelay
Blackout Effectors Crystal Dagger
Pigtronix Rototron
Xotic Effects EP Booster
Lovepedal Babyface Tremolo
Strings and Picks
DR Pure Blues (.010–.046)
GHS Boomers (.010-.046)
Dunlop Jazz III
So you began as a fingerstyle guitarist. Do you play with a flatpick too?
I do now. I didn't for years, but as time went on with this band, I found it was hard to fingerpick lead guitar. I wasn't a lead guitar player when we started this whole thing. Early on when we began this band, I was studying jazz guitar and trying to figure out how to play leads. My bandmates were asking me to play leads too, so it was a matter of finally putting it all together. I slowly started learning how to hybrid pick, which has become a necessity for our music.
Does your jazz background inform your writing with Banditos?
Oh yeah, absolutely! Even if it doesn't always come through in the playing, I'm a total theory nerd. I love music theory and I used to teach private lessons on it. I can analyze and tell you about jazz guitar all day long—even if I can't necessarily play it all. And I like arranging music. Some of the guys in the band bring me random tunes and melodies they come up with, and I'll take those elements and try to make some sense of it.
That explains a lot. Much of the album sounds deceptively simple, yet it contains some complex arrangements—especially in the guitar parts.
There are a million songs out there that have just two or three chords, but you have to have something that makes the music stick.
There are moments on the album where you step out and reveal some serious lead chops, but overall the guitar is pretty restrained. Do you deliberately avoid overplaying?
Honestly, none of it was planned at all. Everything we do just morphs over time on the road and what happens, happens. I don't spend too much time writing the parts, but instead I come up with a skeleton structure and just let them evolve naturally. I don't necessarily even think of guitar parts until we hit the studio and I'll play stuff I've been doing on the road for a while. And if it doesn't work, I'll think, "Well, shit. I guess I shouldn't have been playing that for the last couple of years!"