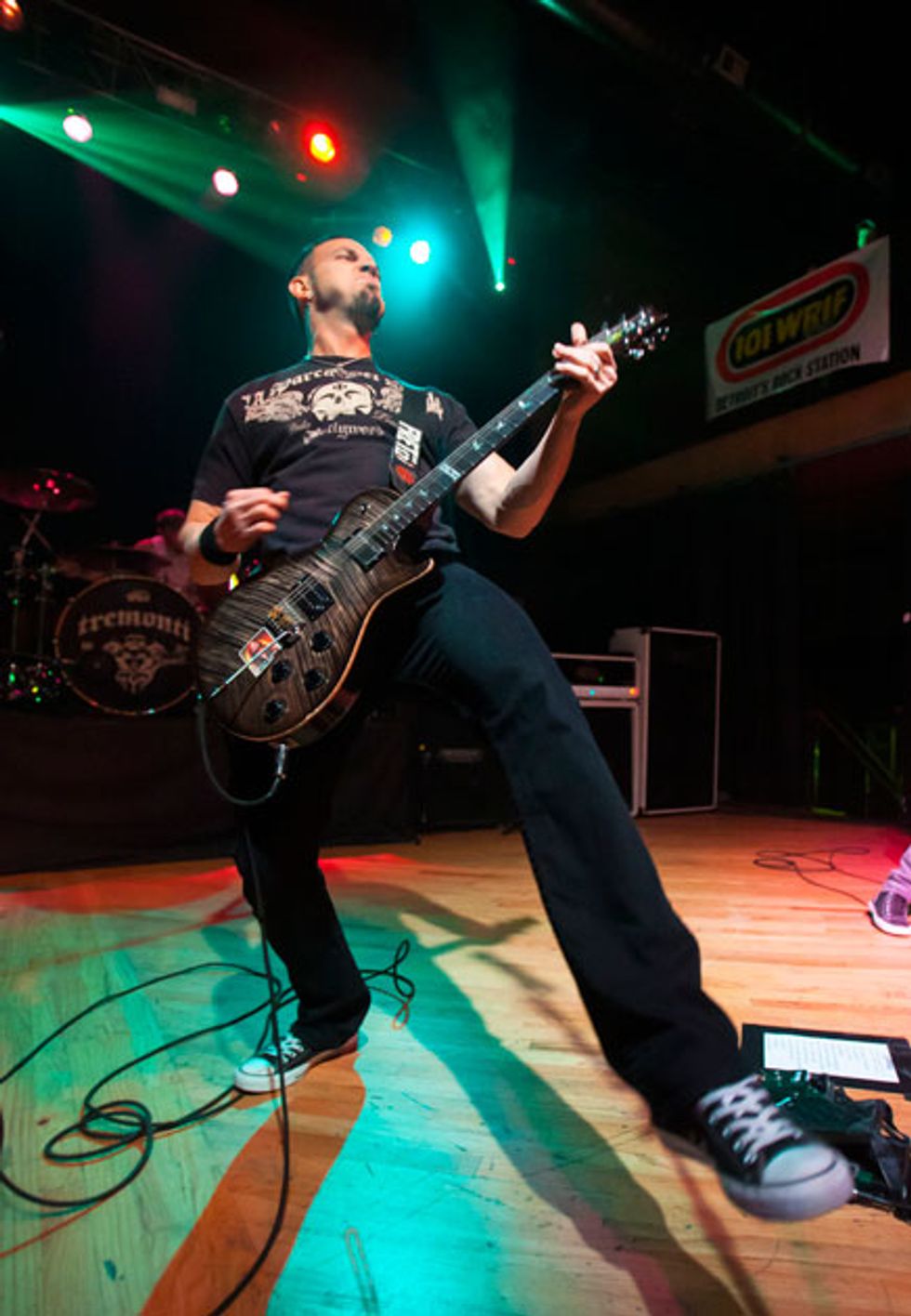 Mark Tremonti is a man of many bands, and a man of many PRS guitars. But this charcoal-burst single-cut is his absolute favorite. "I use that on anything tuned a half-step down or in standard tuning," he says. Photo by Atlas Icons / Steve Legato.
It would be perfectly understandable if Mark Tremonti woke up some mornings asking himself, "What band am I in today?" In addition to his two-decade stint as a member of the multi-platinum outfit Creed, the guitar virtuoso leads a double (or is it triple?) life with the successful four-piece Alter Bridge and the recent solo project that bears his surname, Tremonti.
"It can be a bit of a juggling act, but it's not as crazy as you might think," Tremonti says with a laugh. "I just have to do a lot of planning ahead, but that's okay because I like to keep busy. No matter what band I'm working with at any given time, I'm always in songwriting mode, and that makes everything easier for me. Sometimes when you shut it off for a few months, it's hard to get it back. I'm always firing on all cylinders when it comes to keeping the imagination going."
Tremonti's restless nature was the impetus for his latest venture. Back in 2011, Alter Bridge singer and guitarist Myles Kennedy was booked for a three-month tour fronting Slash's band (later rechristened Slash featuring Myles Kennedy and the Conspirators), so Tremonti, flush with songs, rounded up rhythm guitarist Eric Friedman, drummer Garrett Whitlock, and longtime producing pal Michael "Elvis" Baskette to cut All I Was. The album marks Tremonti's debut as a lead vocalist.
The bass slot in Tremonti's band has been a bit of a sticking point until recently. For those keeping score at home, it goes something like this: Friedman played bass on All I Was, and Creed/Alter Bridge bassist Brian Marshall performed with the group briefly on tour. When Marshall had to bow out, Tremonti's good friend Wolfgang Van Halen replaced him, becoming a full-fledged band member in 2013.
"Working with alternate tunings has been my creative savior. Whenever I hit a wall, I just find a new tuning, and suddenly I've got a whole new world of possibilities."

Van Halen plays bass on Tremonti's just-released follow-up, the altogether robust Cauterize, as well as on the upcoming Dust, due later this year. But as it goes with this gang of multitasking musicians, Van Halen had to forgo touring with Tremonti to hit the road with that arena-filling group his father leads. Tanner Keegan is filling in as Tremonti's live bassist.
"It was definitely a bummer when we found out that Wolfgang couldn't tour with us," Tremonti says, "but we always knew that might come up. Van Halen is, obviously, his priority, and we understand that. There will be other opportunities down the line to have him play live with us, and we can't wait for that to happen."
We spoke with Tremonti about his two new albums, working with Wolfgang, his foray into fingerpicking, and whether Creed will ever return to action.
The first album was you, Eric, and Garrett, with Eric overdubbing bass. Did it feel more like a band this time with you, Eric, Garrett, and Wolfgang?
Absolutely. Having all of us together makes a big difference, especially when you're piecing song ideas together with all the guys playing at the same time. When you don't hear that bass guitar filling those frequency ranges, you don't feel that low end and you're just hoping for the best in the end. This time, we heard that low end right away, and I think it helped the songs, the vibe, everything.
Wolfie really locks in great with Garrett. This music is quite different from what he plays
in Van Halen. Did it take him a while to get used to working with another drummer?
No, not at all. He's a master at what he does. He just comes in and owns it. He's a very gifted musician, and it only takes him moments to get a grasp of riffs and ideas. He's definitely one of the best bass players I've encountered.
What's it like knowing that, because of Wolfgang, Eddie Van Halen is going to hear your guitar playing?
I don't really think about that too much. We're just buds hanging out and being excited about our music. Sure, it's awesome knowing that Eddie Van Helen is eventually going to hear your records, but it's not something we're constantly talking about. When Wolfgang is around, he's just Wolfgang. We don't really think of the Van Halen thing because we're not around it. The only time that happens is when we play L.A., and his dad comes to a show. Then it's like, "Oh, man…" and you remember, "This is Eddie Van Halen."
Are there still things that you can't do on guitar, but want to?
Oh, absolutely. I'm always trying to challenge myself and learn new things, so when the next record comes out I'm not just repeating myself. On the last few records I tried not to do some of my favorite lead tricks, just because I've done them before. I need to come up with new ideas, techniques, tunings, and just new ways to express myself. Working with alternate tunings has been my creative savior. Whenever I hit a wall, I just find a new tuning, and suddenly I've got a whole new world of possibilities.