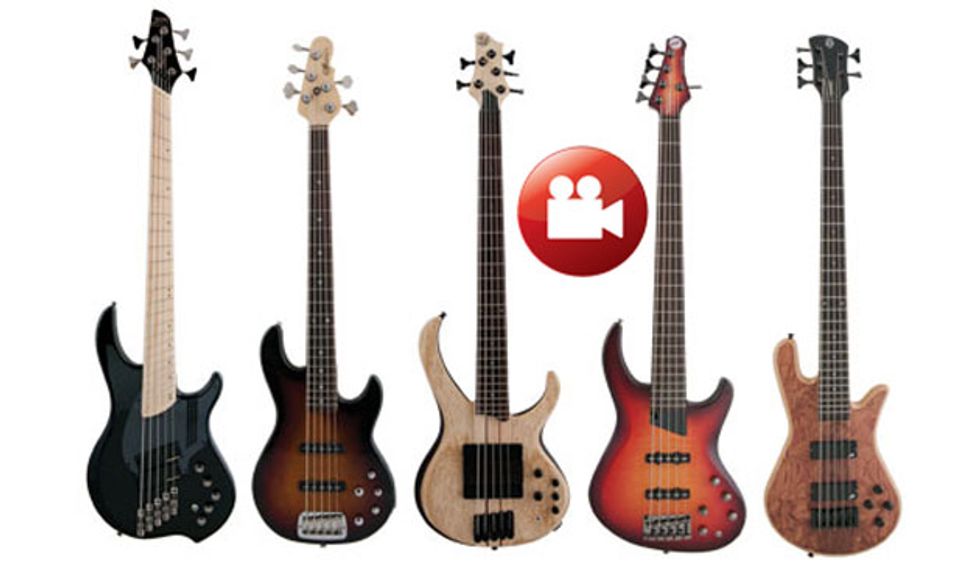 Click on one of the basses to start with that 5-string—Dingwall Combustion NG-2, G&L MJ-5, Ibanez BTB33 Volo, MTD Kingston Saratoga Deluxe, and Spector Legend5 Neck-Thru.
In his On Bass column, touring and session low-ender Victor Brodén recently wrote about the essential instruments a working bassist should possess ["The Wrecking Crew—Basses You Need to Get the Job Done," January 2015]. A third of this must-have list consisted of 5-string basses. It's just one example, but there's no doubt that extended-range instruments have found a permanent and important place in many a bassist's arsenal.
Leo Fender planted the seed in the mid-'60s with the Bass V (though his creation added a higher 1st string with the 5th string handling low-E duties). The concept of an electric bass with a lower 5th string was popularized in the mid-'70s, exemplified by offerings from Alembic, Michael Tobias, and Carl Thompson. By continuing to develop and refine the design, such luthiers as Ken Smith have helped increase the 5-string's popularity.
This year, the low-end community was treated to a fresh crop of 5-string machines. Keeping the price between $750 and $1,500, we picked new creations from Ibanez, Dingwall, G&L, Spector, and MTD to measure their musical mettle. Tested under the same conditions, these five instruments all displayed tones, playability, and construction that will suit a variety of players.
We checked out these basses onstage and in a home studio. In the studio we examined build quality, took notes on playability and setup, and critically auditioned each instrument through an Epifani UL 501 head and an Epifani UL3 DIST 112 cabinet. The live evaluations happened in a small club while playing in the house band during a jam night. There, all five basses ran into the UL 501 driving a Bergantino HD212 cab.
Who's ready to rumble?