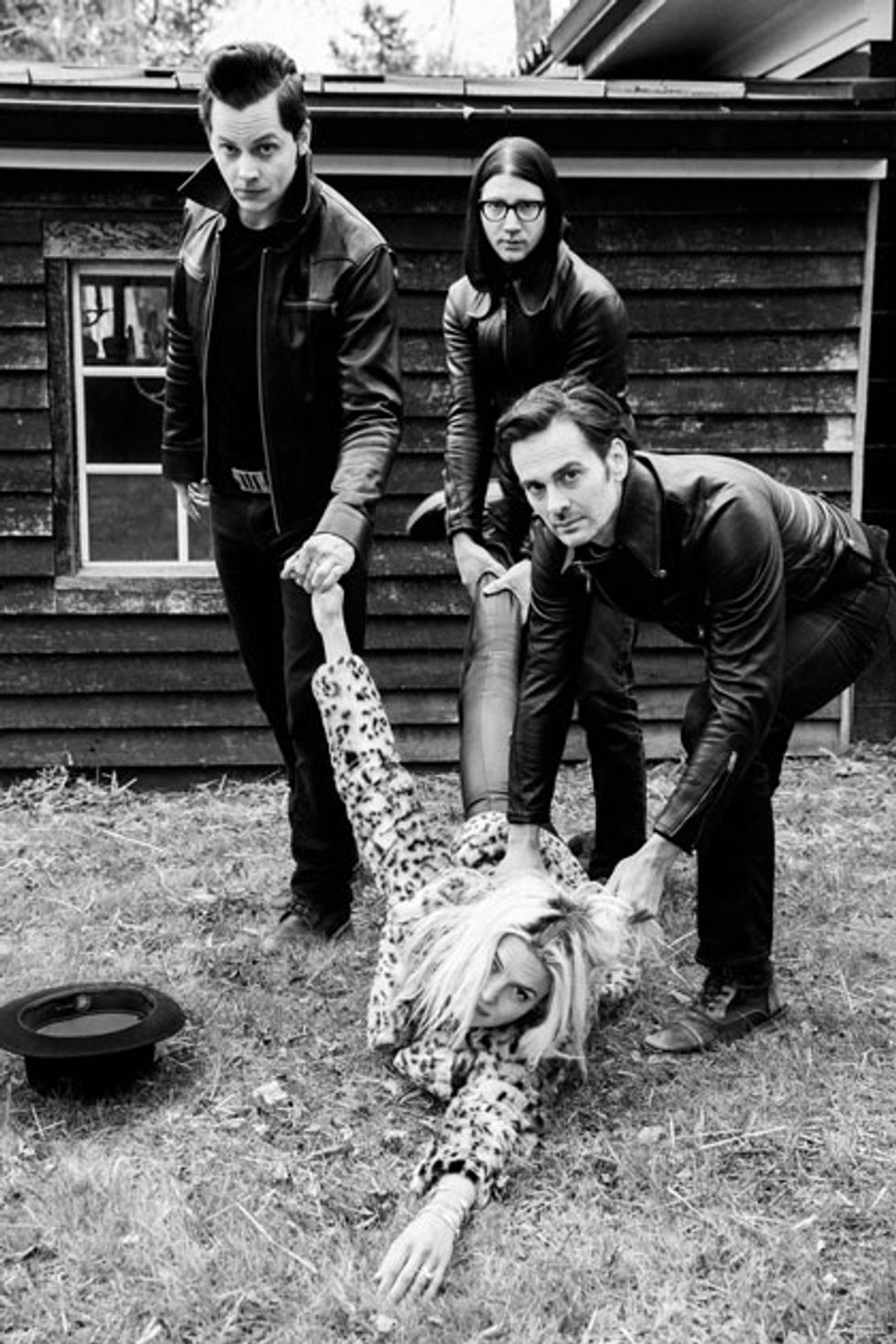 The Dead Weather (left to right): Jack White, Alison Mosshard, Jack Lawrence, and Dean Fertita.
Photo by David James Swanson
Few contemporary bands have reached the level of commercial success that the Dead Weather repeatedly achieves with its simple, potent equation: anarchy + chaos + melody = rock 'n' roll. As the Nashville-based quartet featuring Jack White on drums has progressed from its 2009 debut, Horehound, to 2010's Sea of Cowards (both of which debuted in Billboard's top 10) and now to this year's Dodge and Burn, they've amped up that math to create the sonic equivalent of a human cannonball. Songs like "I Feel Love (Every Million Miles)" and "Cop and Go" fly out of the speakers—arms and legs of octave-fattened guitars, buck-wild keyboards, fuzztone bass, and expressionistic power drumming poking out in all directions—then somehow tuck into a neat landing via Alison Mosshart's seductively ferocious vocals.
At the center of the aural cyclone, usually seen manhandling a big-boned Gretsch White Falcon in his job as melodist, riff master, and sonic insurgent, is Dean Fertita—who can also be seen filling those roles in various balances with Queens of the Stone Age, the Raconteurs (White's other other project), and in his own smart-pop project Hello=Fire. Fertita knows guitars and keyboards like John Henry knew hammers and spikes, and he can—and does—drive them to places that are both unpredictable and a reflection of the Big Rock Handbook, which must be where he got the Jimmy Page tone on Dodge and Burn's ripping "Let Me Through."
Although he's lived in Nashville, the eye of White's ever-expanding Third Man Records hurricane, for three years, Fertita hails from Detroit, home to one of America's original sonic-anarchist outfits, MC5. And while Fertita's doesn't incorporate the twisted jazz elements that MC5 guitarist Wayne Kramer did as he and his '60s proto-punk bandmates patrolled the badlands between Chuck Berry, Sun Ra, Dick Dale, and John Coltrane, the same untamed spirit is in his playing.
"I might want to go on and on doing takes, but having another guitar player there to say 'That was the cool one' makes my job a lot easier." —Dean Fertita

Piano was Fertita's first instrument. "From ages six through 12, I studied classical piano, and then the ragtime, Scott Joplin thing," he says. "But I got a guitar and an AC/DC record when I was 13 and it was 'game over.' Studying became all about playing guitar and learning from listening to records." Motor City radio fed him a steady diet of classic rock, and then in the '80s punk rock slam-danced into the picture. The '60s figure into the equation, too: Part of Dodge and Burn's sound is dipped from the reliquary of epic rock mixing. The wild panning, lustrous textures, and bold separation of tracks flash back to late in that decade, when artists like Hendrix, Pink Floyd, and Peter Green's Fleetwood Mac were inventing the bumper-car trickery of the headphone mix.
Eyeballing Fertita's current resume—and the multi-band antics of White, Mosshart (who also fronts spiky rockers the Kills), and bassist Jack Lawrence (of the Raconteurs, garage rockers the Greenhornes, etc.)—it's obvious why it took five years to make Dodge and Burn. But along the way subscribers to Third Man Records' Vault program got sneak peaks at four of the album's dozen songs.
"Open Up (That's Enough)," with its spanking guitar chords, and the psychedelic potboiler "Rough Detective" were released as a teaser 7" single in 2013. The next year, "It's Just Too Bad" and the Fertita-fueled riff machine "Buzzkill(er)" followed. Nonetheless. Dodge and Burn is cohesive as an atom—even though, as Fertita explains, it was chiseled from a fat slab of choices, sometimes starting with his own multi-instrumentalist impulses.
Playing in so many stylistically different bands—Queens of the Stone Age, Raconteurs, Dead Weather, Hello=Fire—must be a kid-in-a-candy-store experience.
It is. I can explore every part of my musical personality. What's great is there's no pressure in any one band to try something that might not be appropriate just because I'm interested in it. There's a place for every sound and idea.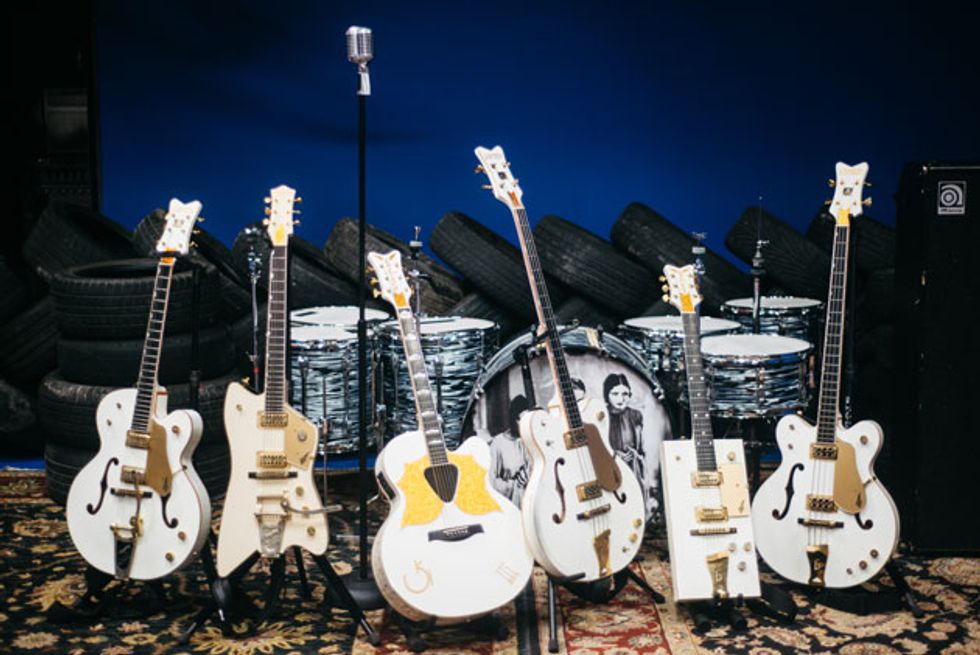 The Dead Weather's arsenal of Gretsch guitars and basses. Angelina Castilla for Third Man Records
The bands do seem to have a similar unpredictability and devil-may-care attitude. Are there other similarities?
Because of how these bands operate, you don't really bring in finished songs. For example, there were two songs on Dodge and Burn that I'd tracked the guitar ideas for—although when I recorded the ideas I didn't have any specific songs in mind. They were parts I figured I'd use at some point, and they ended up in "Buzzkill(er)" and "Too Bad." In "Buzzkill(er)," the main guitar riff sound is an Electro-Harmonix POG and the Fulltone Tube Tape Echo. But with all these situations, it's more about discovering something new or thinking about your instrument in a new way. It's not so much that I develop a stockpile of riffs and stuff. It's more developing gut instincts and ideas.
In the Dead Weather, you're a lead guitarist in a band that has a terrific lead guitarist behind the drum kit. Does Jack White ever voice opinions on your playing?
I have free rein but of course, if he has suggestions, it's an easy relationship that way. I might want to go on and on doing takes, but having another guitar player there to say "That was the cool one" makes my job a lot easier. But he never suggests what I play or insists on anything. He enjoys playing a different role in this band.
How would you define your role?
It's difficult to pin down, but I feel like what I do is in direct connection to Jack Lawrence on bass. It's important that the guitar and bass feel connected at all times. The [Electro-Harmonix Bass] MicroSynth-driven sound he plays is part of the defining sound of Dead Weather, so for me the guitar and bass become one big thing together. If Jack records a song with that sound on it, it will drive me to find another way to complete the space. I never really know what that is until I play it. It could be a clean part that cuts through Jack's bass part, or maybe the same part he's playing but with some fuzz—which we did for my riff on "I Feel Love"—or maybe some kind of counterpoint. On "Let Me Through" I felt the guitar needed to be an extension of his tone but still be distinctive. To emphasize the lyrics, the guitar needed to bust through, too. So I used the Bit Commander pedal, which gave a percussive, synth-like feel to the guitar.