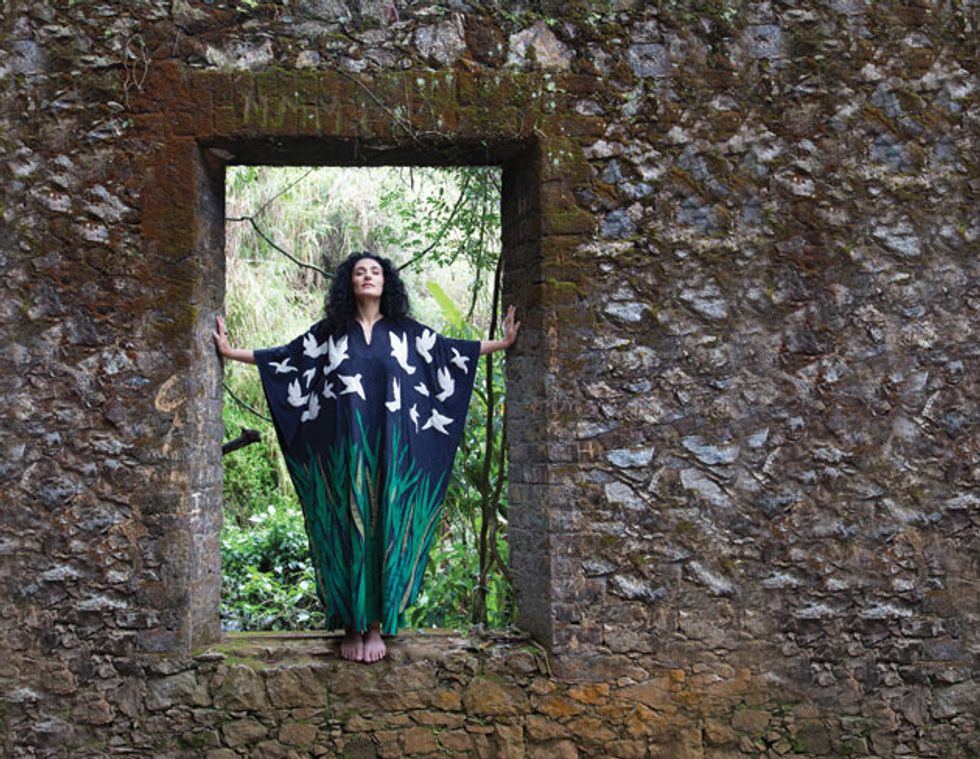 Pop music can be hit or miss these days. Badi Assad (pronounced bah-gee ah-sah-j) wholeheartedly agrees, yet she hasn't lost all faith in the idiom. On her latest album, Hatched, the Brazilian-born nylon-string guitarist known for her adventurousness—including pairing classical guitar vocabularies with "prepared guitar" techniques like placing drumsticks under the strings for unconventional timbres—uses her guitar and lovely singing voice to reimagine recent tunes that she finds especially meaningful. This includes songs by Mumford & Sons, Lorde, and Skrillex. Assad even tackles "The Hanging Tree" from The Hunger Games: Mockingjay—Part 1 soundtrack, as well as three of her own compositions. The nine-song release is Assad's third album on her own Quatro Ventos label.
"When you choose a song [to cover], you have to agree with what it's saying. It has to be true for you," explains Assad. While the original vocal melodies and lyrics for the selection of tunes on Hatched remain intact, the music underpinning them has been skillfully reengineered.
Assad says she first acquired the music bug from her brothers, Sérgio and Odair, both renowned classical players. Her father, Jorge, also played mandolin. "I used to say that I started the guitar because of my love for my dad," she says. "When I started playing the guitar, my father 'discovered' me and we became friends playing together. We became friends through music."
New doors opened when Assad added her voice into the mix, combining conventional singing with vocalizations mimicking the sounds of other instruments. Her playing and singing have been featured on movie scores, children's albums, collaborations with such notable jazz guitarists as John Abercrombie and Larry Coryell, and a string of innovative solo albums.
However, Hatched isn't Assad's first foray into pop cover territory. In the past she's played Bjork's "Bachelorette, " U2's "One," and George Harrison's " While My Guitar Gently Weeps." And even though some of the cover material on her latest LP was originally associated with electronics, samples, and loops, she didn't feel the need to be that literal in her reinterpretations. Instead, she opted for more traditional instrumentation: Upright bass, percussion, and accordion variously weave together with Assad's intricate, harmonically ingenious nylon-string work to create an understated beauty. Some tracks are whimsical, while others are darker in mood. And often there's an added sense of romanticism and maturity not found in the original recordings.
I think the world is very noisy, and acoustic instruments are not noisy in that sense—even if you're plugged in. Everything is so fast, and people don't have time to go any deeper.

"Royals" by Lorde feels as if it could be a Carnival parade theme. The absence of bass focuses attention on Assad's vocals and guitar lines that ascend against the driving rhythmic pulse. In her Jobim-esque reading of Mumford & Sons' "Little Lion Man," she slows the tempo, freely adding melodies and chords not present in the original. (She also manages to make F-bombs sound pleasant, lightly chuckling after each repetition of the word.) Meanwhile, Assad's take on Hozier's "Sedated" blends compelling guitar-and-percussion interplay with a hint of vocal despair. The verse evokes the dark, intellectual vibe of some ECM jazz recordings, but when the choruses kick in, a danceable groove takes over. And at the end, Assad adds in a touch of her signature vocal percussion.
The three original tunes are equally fantastic. "Entrelaçar" showcases Assad's ability to weave together melody, chords, slides, and harmonics in an orchestral way. "Spirit Dog" could be a pop-radio contender with its catchy melodicism. And "Vejo Você Aqui" is hauntingly stark and reflective.
We recently had the opportunity to speak with Assad about her boldly innovative playing and the making of her latest album.
Most of the songs you cover on Hatched, other than "Little Lion Man," don't feature much guitar.
That's a coincidence. Hozier has guitar, and with Alt-J [originator of "Hunger of the Pine"] it's not the focus. But I chose songs that translated to the guitar well. I love the Mumford & Sons tune because it turned into a little bossa nova. It's very different from the original, but it totally fits the vibe of the song when you listen to it now. It's more meditative instead of angry.
How do you feel about the lack of guitar in current pop?
Well, these guys are bringing the guitar back to the world, aren't they? Ed Sheeran was also on my list [of possible artists to cover], but I took him off because I couldn't take his song anywhere else.I think the world is very noisy, and acoustic instruments are not noisy in that sense—even if you're plugged in. Everything is so fast, and people don't have time to go any deeper. But it's a phase.Everything comes back. LPs are back, so guitar will be back. [Laughs.]
How did your arrangements come together, and how did you go about selecting players?
The arrangements all started with the guitar, and the grooves came right away. Then I met with the producers and they helped shape the arrangements. The percussionist [Simone Sou] is also Brazilian—we're friends, and she toured with me for many years. For the past six years, she has lived in Holland, and she's married to the accordion and bayan player on the album [Oleg Fateev]. Last year I did a tour in Europe and invited her to be my drummer. We reconnected, and I met her husband, who is such an amazing musician. When I heard that she was coming to visit Brazil around the time I was going to record, I said, "It has to be her!" I made her a home recording with just the guitar. We had two rehearsals to build the arrangements together, and then we went into the studio.
Did you record live?
We did, except for the singing.
What can you tell us about the decision to add bass and accordion?
Originally I thought it would be just guitar and percussion, but we needed something else to pull it all together. We called Rui Barossi, a musician from São Paulo, for upright bass. He learned the songs in one day, and the next day we were recording—he nailed it! The accordion player improvised on the session. We knew where he should play, and we let him be free.
What guitars did you use?
I've only recorded with one guitar since my first album. It's a Paul Fischer from England. It belonged to my brother Odair. He lent it to me when I started playing, now it's mine—because it's been with me for 30 years! I have recorded with a steel-string, but not on this album. We took the steel string to the studio, but it didn't fit what I was doing.