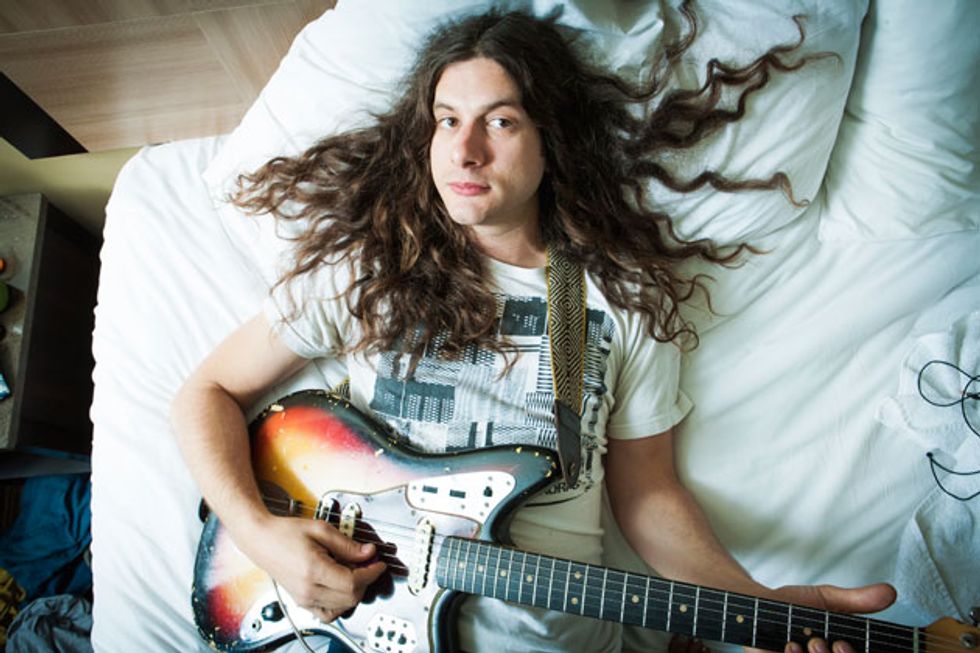 "I was writing songs for guitar before I actually owned one," says Vile, "and then one day a guitar just showed up
at my house." Photo by Marina Chavez
With b'lieve I'm goin down..., Vile wasn't seeking to top the success of Wakin on a Pretty Daze. "I think the sound of Wakin probably had to do with John Agnello's production, as far as it being a different kind of guitar wall. This album is more stripped-down, more open because there's less going on. Sometimes one guitar can seem louder than five guitars, you know? That's one role it can have, anyway. But in general, it has to do with all kinds of things—the production, the playing. It's always hard to put a finger on it, but depending on which track it was, we kept it pretty much insular and within the band this time."
In fact, two of the Violators—guitarist/bassist Rob Laakso and recently recruited drummer Kyle Spence (of J Mascis and Harvey Milk fame)—handled the bulk of the recording, with the legendary Rob Schnapf (Elliott Smith, Guided by Voices) stepping in to produce the album's two bookends, "Pretty Pimpin" and "Wild Imagination." Along with multi-instrumentalist Jesse Trbovich (also a member of the Violators), musical guests include Warpaint drummer Stella Mozgawa and Beachwood Sparks' Farmer Dave Scher, whose lap steel flavors "Wheelhouse," the album's arguable centerpiece, and the brazenly outlandish (in a good way) "Lost My Head There."
Tracked in studios from Brooklyn to Joshua Tree, b'lieve I'm goin down... captures the feeling of restlessness that seems to fuel Vile's vivid imagination. As much as he may seem spaced-out, distracted, or "oiled-up," as he likes to refer to his state of mind during an all-night recording session, Vile can't shut down his brain, whether he's strumming at home on his couch or racking up frequent flyer miles. From the mournful banjo melody that propels "I'm an Outlaw" to the unusual West African-style tuning of "Wheelhouse" (more on that later) to the deftly picked Gold Tone on "All in a Daze Work," goin down is a catalog of influences that coalesces around Vile's uncanny ability to write songs that hit you at gut level.
"Your surroundings influence you in mystical ways that if you thought too hard or tried too hard to explain or put into lyrics, it's like you're asking too much, you know?"

"I think it's all about the subconscious domino effect," he offers. "Everything just influences the next thing, and without giving it a name, it all starts to blend together. If you don't ask questions, the riffs, the songs, the sounds all develop on their own, you know? Don't try to analyze it too much. I've been playing long enough to know that if I don't think too hard about what I'm doing, it just keeps coming."
What are the main guitars you recorded with?
There's a great company in Philadelphia called Vintage Instruments, and since they have a history of fixing vintage acoustics, they have these Martin custom jobs. I have two Martins from them—one is a 00 version that's based on Martin's Philadelphia Folk Festival Anniversary Edition.
And then my main electric guitar is a '64 Fender Jaguar sunburst, which I bought in 2011 [at Gruhn Guitars in Nashville] when I was on tour. I've started concentrating on that in general. A lot of people get stoked on buying tons of different guitars, which is awesome, but I just thought, "How can I get inside this thing and make it my main electric guitar?" So I really focused on getting familiar with it, so much so that I just bought another '64 Jaguar for the road. So now if I want all the different tunings, with help from my guitar tech I can keep playing the whole set with the Jaguar. Pretty much every electric song on the album is that guitar. There may be a few exceptions, but that's what I'm concentrating on.
Kurt Vile's Gear
Guitars and Fretted Instruments
Two '64 Fender Jaguars (one for standard tuning, one for open tunings)
Martin custom 00 hybrids
Martin DC-16RGTE (played live)
Gold Tone PBS-D resonator
Buckeye 5-string banjo
'61 Guild Starfire (for playing around the house)

Amps
'67 Fender Bassman
Fender Deluxe Reverb (blackface reissue)

Effects
Trbo Booster (designed by Jesse Trbovich)
Russian Big Muff
Mountainking Electronics OCM digital noise generator
Line 6 FM4 Filter Modeler
MXR M169 Carbon Copy
Dunlop wah

Strings and Picks
D'Addario EXP14 light top/medium bottom bluegrass acoustic (.012–.056)
Ernie Ball Beefy Slinky electric (.011–.054)
You tracked a clutch of songs at Rancho de la Luna in Joshua Tree, and you've talked about jamming with [Malian blues-rock band] Tinariwen there as the inspiration for "Wheelhouse."
Yeah, I came up with some weird tuning that morphed out of jamming with them at Rancho. I'm not going to tell you what it is because it's so weird that I want to keep it a secret [laughs]. But people will be able to figure it out on YouTube. At the time we recorded it, this was a brand new song, and I wrote the lyrics really quickly. I was just easing into it with Stella [on drums] and Farmer Dave [on lap steel]. Rob [Laakso] plays a bass outro at the end of the song, but originally he recorded just the three of us. So the guitar part has this weird arpeggio, and then everybody locks in, just reacting off of each other. They hadn't heard the song really at all, but they responded to the lyrics. Farmer Dave does these weird, awesome things where he listens to the lyrics and tries to get that sound out of his guitar, basically acting out what you just said. So that's our magic moment captured in the desert.
We may have used a Supro [amp] on the guitar sound for that. Rob fine-tuned the sound and got some good reverb. He also brought in an Aqua-Puss analog delay pedal that's hardly open—mostly it's just pure electric guitar, with lap steel and keyboards from Dave, and Stella's raw-sounding drums. It's just a pure sound, and that's why I love it. With the way Dave is playing these washes around the minimalism of the guitar, you can hear that there's not that many tracks, but it's trippy and loud anyway. That's the idea. There's a lot more mileage in a song like that, when a single guitar can go almost right into your soul.