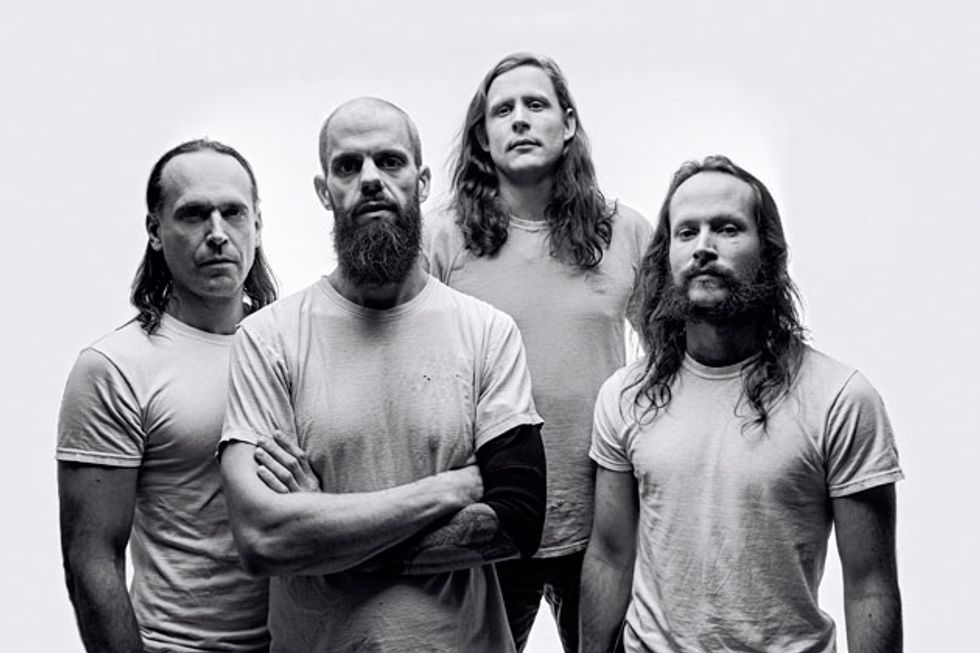 To create their new album Purple, Baroness' new line-up relied on collaborative songwriting and a determination to forge a personal sound from spare chord forms, low-wattage amps, and scores of stompboxes.
Photo by Jimmy Hubbard
Purple, the title of Baroness' latest release, symbolizes the bruise that the band suffered after their third studio album, Yellow & Green. That groundbreaking double-disc set hit number 30 on Billboard's Top 200 Albums chart and earned the inventive Savannah, Georgia-based metal outfit a spot on plenty of "year's best" lists. But in August 2012, less than a month after Yellow & Green came out, Baroness' tour bus fell off a viaduct near Bath, England.
Three members were seriously injured and it was nothing short of a miracle that they all survived. Frontman and guitarist John Baizley's left hand was crushed—with bones breaking through his skin. Drummer Allen Blickle and bassist Matt Maggioni suffered fractured vertebrae. Lead guitarist Pete Adams fared the best, with only minor injuries. The recovery process was slow and painful, but by early 2013 they were well enough that a tour was planned. Blickle and Maggioni, however, were still reeling from the accident and amicably departed, ending a collaborative relationship that had been intact since the four friends formed Baroness and split their hometown of Lexington, Virginia, in 2003.
Left with half a band, Baizley and Adams faced a fight or flight situation. But if broken bones hadn't stopped them, this sure as hell wouldn't. They recruited bassist/keyboardist Nick Jost and drummer Sebastian Thomson solely on recommendations from friends like Mastodon's Brann Dailor—no auditions were held—and the current incarnation of Baroness was born. On the surface, it's an unlikely pairing. Jost has a master's degree in jazz composition and Thomson is renowned for his work in the electronic music scene, in addition to founding the rock band Trans Am. The new rhythm section was immediately thrown into the fire when Baroness embarked on a nearly yearlong world tour.
At the end of the day, a good song is a good song. Who cares how simple or complicated it is? There's got to be moments where listeners can enjoy it on their own terms. —John Baizley

When it came time to write Purple, a fresh dynamic came into play. "I think the challenge was, 'How are we going to do this without killing each other?'" says Adams. "We're all sitting in a room trying to write music together and, for me, it was very frustrating at first, with the new members. Trying to write as a four-piece—I think a lot of bands probably share the same opinion—is difficult."
The songwriting process ended up taking about a year, with a chunk of the time spent trying to connect musically. "We wanted it to happen immediately, but it took a month," Baizley recalls. "Once we clicked and could feel the energy surge and sense the connectivity in the rehearsals, then the writing took on its own flavor and we let it happen."
Purple, produced by Dave Fridmann (The Flaming Lips, Tame Impala, MGMT), is the band's most personal release to date, as well as another free-ranging addition to their distinctive musical cannon. Songs like "Chlorine & Wine," "If I Have to Wake Up (Would You Stop the Rain)," and "The Iron Bell" draw on their brutal recovery period. But Purple also showcases Baroness' unique ability to create an almost orchestral flavor—exploiting their two-guitar texture in colorful sounding, harmonically adept, rhythmically risky, and hauntingly melodic ways too rarely heard in modern metal. Baizley and Adams spoke with Premier Guitar about all of the above—and more.
Do you twist things to make your songs more complicated?
Baizley: We're trying to be slightly progressive without crossing the boundary into prog too much. I don't like repetition, even when the structure is literally the same. Say there are four phrases that comprise the verse in a song. Each one of those phrases will have slight differences. It's like, "Sebastian, why don't you try playing 4 and we'll try to ignore you so we can play this thing that's got an odd phrase length on top."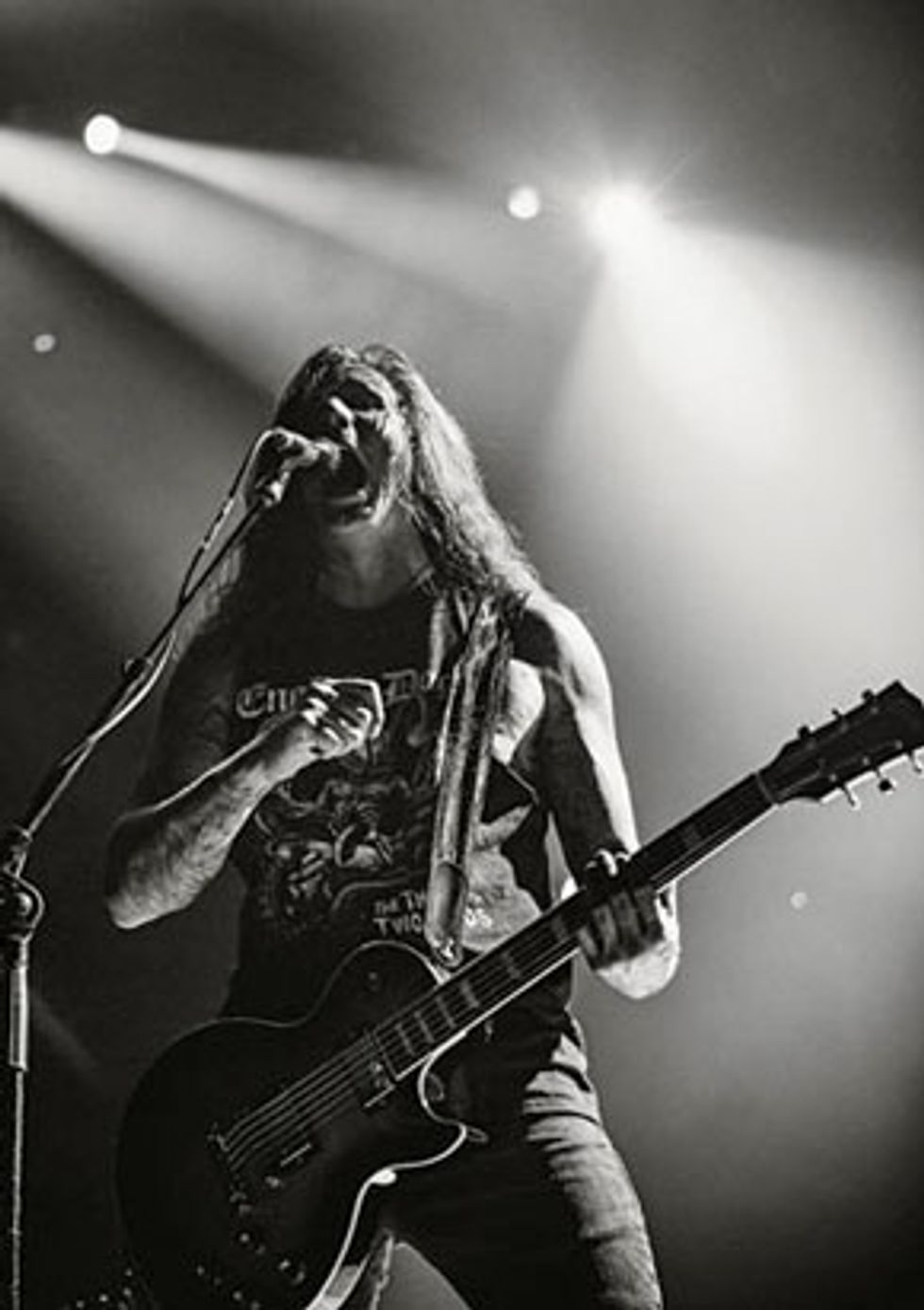 Lead guitarist Pete Adams embodies the explosive energy of Baroness' free-ranging sound when he takes the stage with his late-'60s Les Paul Classic.

We kind of drove him crazy at first, because he's very mathematical. He maps things out the way that they're supposed to be mapped out. There's a lot of times on the record when we'll move rhythmically from 3 to 4, 7 to 4, or 5 to 4—whatever, for a moment. If the drummer is changing his feel, it's the responsibility of the guitar player or bass player to keep the rhythm very, very tight.
As complex as the music gets, it sounds quite organic.
Baizley: It's got to feel good. I want to play music that's challenging and that musos, or whatever you want to call them, can find those layers in. But at the end of the day, a good song is a good song. Who cares how simple or complicated it is? There's got to be moments where average listeners—somebody who doesn't even understand 90 percent of this conversation we're having—can enjoy it on their own terms.
What challenges did you have writing with Nick and Sebastian?
Adams: The first challenge was to figure out the strengths and weaknesses of the new musicians, who are both actually very strong. We tried writing as a band, and I don't know if it worked for anybody. So John and I would come up with ideas, and John would sit down with the new dudes, throw out those ideas, and let them chew on them for a little bit to see if something came out of that. I would rejoin once they knew what the hell was going on with the songs. You take the good stuff and see if you can't capitalize on it. That seemed to work.
Why did you choose to write as a band instead of you and Pete writing and telling the new rhythm section what to play?
Baizley: Really simply put, we're just not that kind of band. It has always been of the utmost importance to us that we avoid that kind of songwriting process. It's got to be a collaborative effort.
Adams: I want everybody to have his two cents. I really do. I don't desire to be in a band where you have a primary songwriter. That doesn't appeal to John and me.