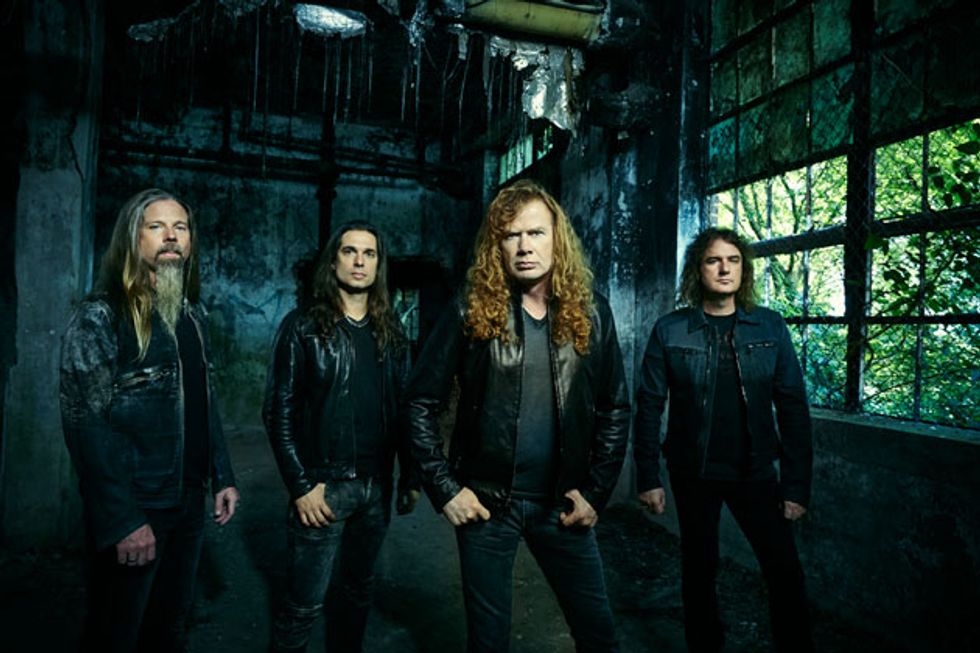 Megadeth's current line-up includes (left to right) drummer Chris Adler—on furlough from Lamb of God, guitarist Kiko Loureiro, frontman/guitarist Dave Mustaine, and cofounder/bassist David Ellefson. Photo by Chapman Baehler
"I like painting," says Dave Mustaine, "but I'm probably more partial to sculpture. And I can find a lot of majesty in great architecture. I think that's really helpful when you're writing music."
Calling in from a tour stop in India, the Megadeth frontman, guitarist, cofounder, and all around mastermind has just broken off from a story about the band's 15th studio album, Dystopia, to answer one of those obligatory interview questions about art and musical influences. And after more than an hour of conversation with him and Megadeth cofounder and bassist David "Junior" Ellefson, it's easy to see the connection between stone, steel, and the thundering riffs that hold together this towering follow-up to 2013's Super Collider.
That album sold well, debuting at No. 6 on Billboard's albums chart, but got a lukewarm reception from critics and some longtime fans. Now, the driving power of Dystopia presents a band on a mission—a unit with a renewed sense of purpose and, thanks to a new line-up, fresh cohesion.
The sound they've constructed stands as a monument to Megadeth's status as one of thrash metal's iconic outfits, delivered with a fury that harkens back to the band's roots and a finesse that shows that a group can mature and still rock like a pile driver. The album's 13 songs are built, as always, on the spine of Mustaine's rhythm playing and riveted in place by Ellefson's steam hammer bass, and then spiked into the stratosphere by the fleet, melodic attack of new addition Kiko Loureiro, who was formerly lead guitarist in the Brazilian metal band Angra. He replaced Chris Broderick, who ended his six-year tenure in November 2014. And Mustaine's pointed lyrics continue to illuminate the world's dark corners, wherever they're found—the boardroom, the killing fields, the White House, or the human heart.
Dystopia may not precisely be a "comeback," but, as Ellefson puts it, "a year ago, Megadeth was in a very different place."
"I'm of the belief that a player like David Gilmour could do more with one note than some of today's shredders can do with a dozen."
—Dave Mustaine

Actually, the band has been in many "different places" over the years. In the aftermath of Mustaine's departure from Metallica in 1983, he connected with Ellefson in Los Angeles and refined the template for thrash metal. After the band's opening salvo—the indie release Killing Is My Business… and Business Is Good!—Megadeth's combination of speed, power, and attitude would lead to a major label deal, a rapid flight to the summit of the metal world, and, eventually, gain the group a foothold among mainstream rock fans as well.
No one would call it a smooth ride. Always marked by lineup changes, Megadeth dealt with personnel issues that eventually reached the band's core in the early 2000s, when a feud between Ellefson and Mustaine triggered the bassist's departure. Megadeth rebounded with one of its most successful albums, 2004's The System Has Failed, while Ellefson formed the band F5 and, later, joined Avian, recorded with Soulfly, and kept busy with a range of other musical projects.
By the end of the decade, the relationship between the two Daves had thawed to the point that Ellefson rejoined for 2011's TH1RT3EN, his first album with the group since 2001's The World Needs a Hero. At the time, Mustaine said the album captured the "proudest moments of my musical career." The partnership between the two thrash metal architects has remained solid ever since.
Dystopia was recorded in Nashville with Mustaine, who recently relocated to Tennessee, in the producer's chair along with Alice in Chains and Slayer producer Toby Wright. Besides the two Daves and Loureiro, the new crew also includes drummer Chris Adler, on holiday from Lamb of God. Shawn Drover, who spent a decade behind the kit in Megadeth, joined Broderick to form their own new band, Act of Defiance. The current, rejuvenated Megadeth line-up will kick off a North American tour in February.
When I began our interview by asking about the goals for Megadeth's latest incarnation, Mustaine replied, "I'm very excited about the lineup change. And our goal is to rule the world."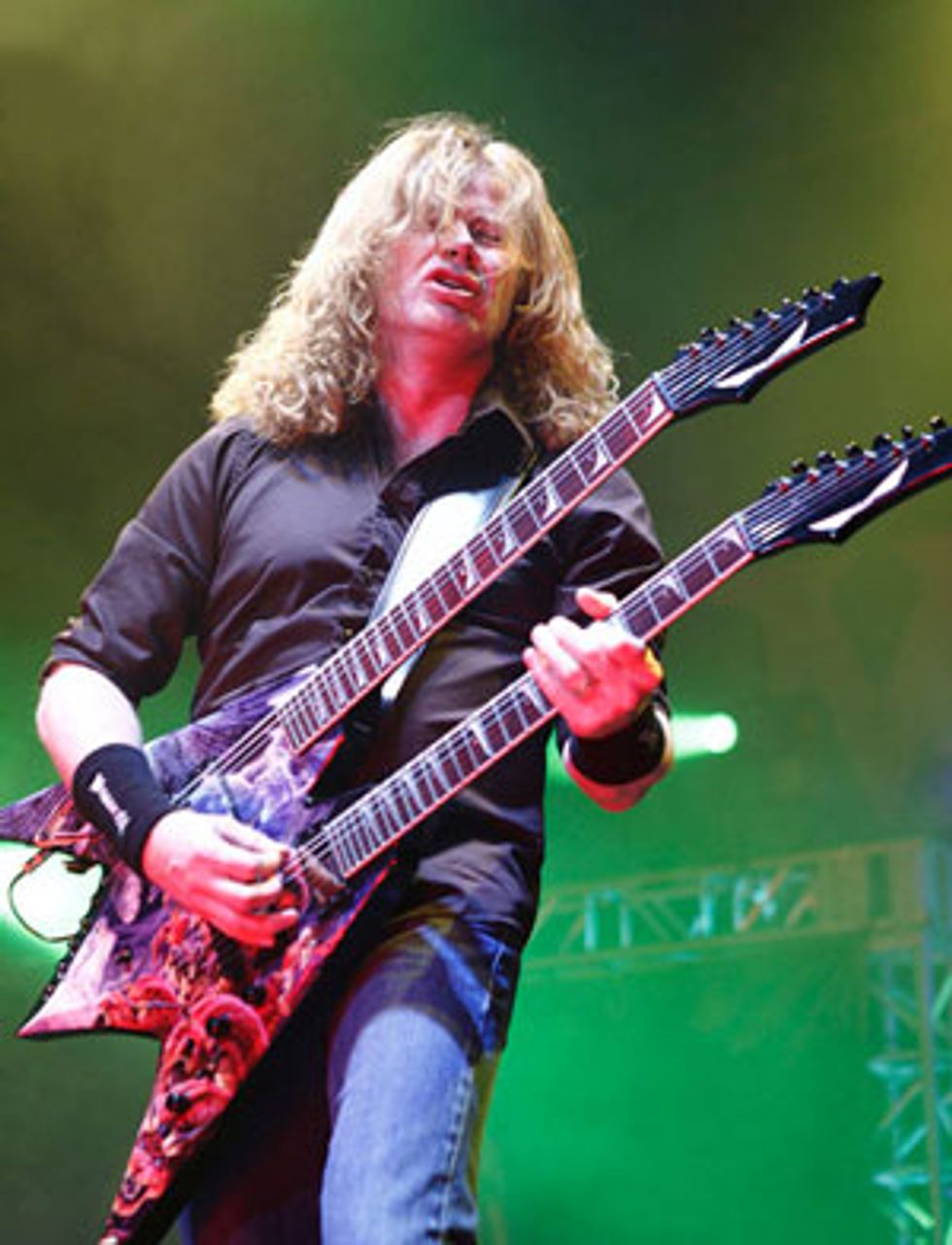 Sometimes two headstocks are better than one, and that's when Dave Mustaine whips out his Dean V Double Neck Diadem, equipped with Seymour Duncan Live Wire pickups. Only 75 examples of this signature model guitar were built. Photo by Ken Settle
How's the transition into the new line-up been so far?
Mustaine: Actually, we never played together in the same room prior to being on tour. And that, to me, is just mind-boggling. It reminds me of some of the baby bands I was in when you've got, like, six rehearsals together and you're out headlining festivals.
How did the material for Dystopia come together?
Mustaine: Much like any other Megadeth record, the songs have pieces that I've written [over time]. I write in segments. Some of the songs on this record were written in the studio, but with some of the songs, parts were written as far back as 30-plus years ago.
I've only written a complete song from beginning to end a couple of times. The first was "In My Darkest Hour" from 1988's So Far, So Good… So What!, when Cliff [Burton, Metallica's bassist] died. I was so heartbroken that I went and got a guitar and wrote the song. The other time was "Use the Man" [from 1997's Cryptic Writings]—the same kind of process. Something traumatic had happened and I wrote the song from beginning to end.
Some have called this album a return to your glory days. Do you buy that?
Mustaine: I liked a lot of the music we wrote in the 1980s and very early '90s. I thought we were really able to assemble melody and heaviness and pull it off. The song "Dystopia" reminds me a lot of stuff that was on [1990's] Rust in Peace—really in-your-face, ripping stuff where each segment would dovetail into the next, and have these remarkable scenes in between. There'll be a part playing and it will go into the next part and you'll be saying, "These two parts don't go together at all, but, boy, they sure fit well [laughs]."
Do you start with the guitar, or do you write in your head and then figure it out?
Mustaine: Well, I'm self-taught so I don't really know how to play formally. I don't like practicing either. I'm the kind of guy that, when I pick up a guitar and start playing, I'm trying something new all the time. I don't go over scales or runs. It usually comes in bits and pieces—like making a puzzle, I guess, or adding one piece of track after another on a train track.
When a song is done, I like being able to sit with it for a little while and go back and fix it. We had that luxury on this record and we haven't had that for quite a while. Ellefson refreshed my memory about that and said, "You know, bro, it's nice not to have to go in there between breaks in touring and say, 'You've got two months off now—get in there and make a fuckin' record [laughs].'" I love our label [Universal] right now!