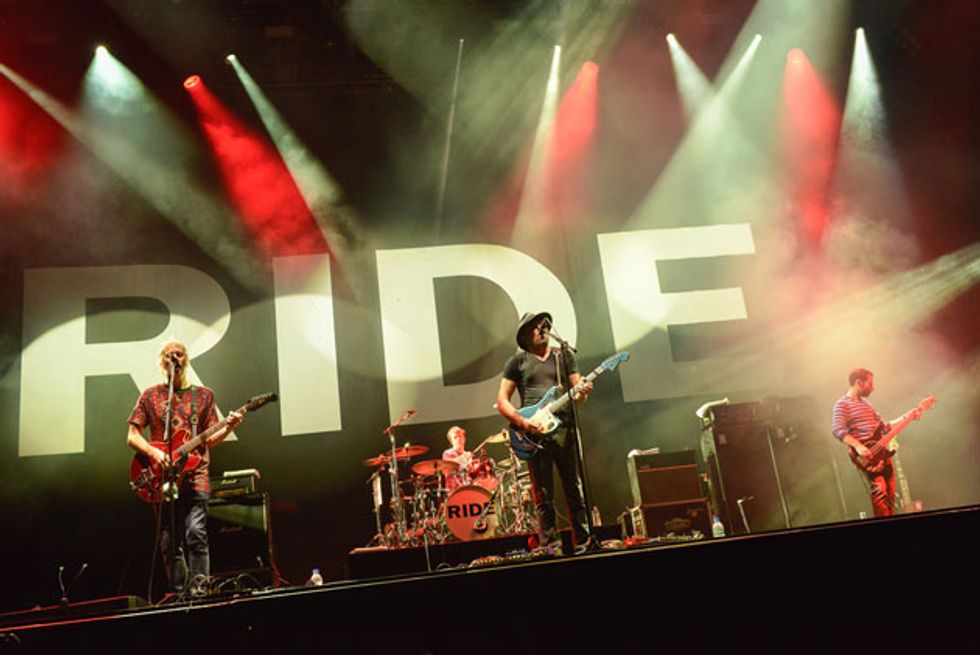 Last year Ride played Coachella and other major festivals as part of a reunion tour celebrating the 25th anniversary of the release of its debut opus, Nowhere. Photo by Kazumichi Kokei
In the late '80s, while much of the U.K. was still raving to the electronic sounds of acid house, a new form of music was gestating in university towns. Inspired by noise groups like My Bloody Valentine, Dinosaur Jr., and Spacemen 3, as well as dreamier bands such as Cocteau Twins, musicians with an artistic bent began to explore what was possible by adding ambient guitar textures to rock.
Rooted in the ego-free punk philosophy that anyone could form a band, and using the back-to-basics instrumentation of guitar, bass, and drums, they married drone and melody to form a new generation's psychedelic music. Their often detached stage presence was blamed on an over-reliance on the effects pedals at their feet or, worse, snobbery—albeit unfairly. The now-defunct British pop-rock newspaper Melody Maker, unaware of the paradigm shift that was happening, dubbed it "The Scene That Celebrates Itself" and waved them off as "shoegazers." Few people, even the bands themselves, expected that creative wave to have such an impact decades later, but the DNA of Slowdive, Lush, and the Telescopes can be found in current bands as diverse as A Place To Bury Strangers, Mogwai, Sigur Rós, Yeah Yeah Yeahs, and I Break Horses.
Andy Bell was there at the beginning, when he and some friends from Oxford decided to form Ride in 1988. Like their contemporaries, they incorporated noisy guitars, but their calling card of vocal harmonies and jangly 12-strings set them apart. After a chain of successful albums, things wound down. The band split in 1996 and Bell eventually landed as the bass player in Oasis for a decade.
"Really, all of the bands respected each other and there was a lack of macho posturing. There's very little rivalry when you're not big."

October 2015 marked the 25th anniversary of Ride's massively influential first full-length, Nowhere. Regularly topping "Best of the '90s" and "Most Influential" lists, it's only fitting that the album would be honored with a reissue, complete with a booklet, photos, and liner notes by Bell. Included is a DVD of a performance shot in 1991 at London's Town & Country Club that hasn't seen the light of day until now and shows the band peaking. Last April the reformed Ride played Coachella and set off on a massive world tour, which finished at year's end. We sat down to talk with Bell about the band's history, the gestation of the shoegaze scene, his evolution as a sonic expressionist, and his favorite tools of the noisemaker's trade.
Was guitar your first instrument?
I'd had a ukulele, but never really got it together with that. I decided I wanted a guitar for my ninth birthday. I was given a basic nylon string classical and put into guitar lessons. I didn't really catch fire with it, and I got bored quickly. Then, somewhere along the way, my uncle Pete got me going with a few chords and taught me some folk songs. Still, I didn't think about it too much until I heard the Smiths on the radio when I was 13, in 1983. I really, really liked the sound of the band, so I went and bought the first cassette of theirs I could find. That's when it all clicked. I was immediately trying to figure out Johnny Marr's guitar parts.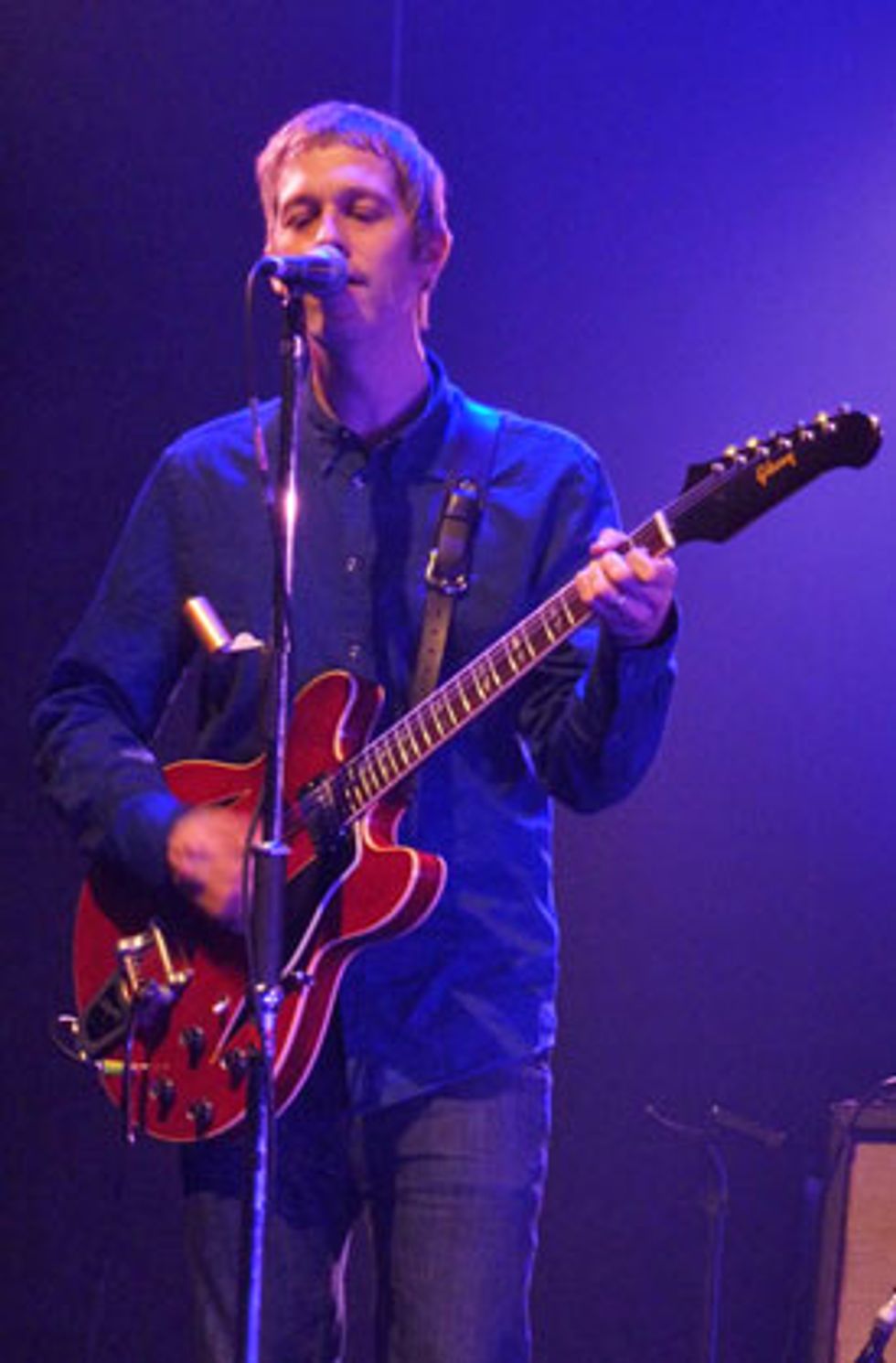 George Harrison and Johnny Marr both influenced Bell's decision to use 12-string guitar, which he later augmented with a pair of Gibson Trini Lopez models, a Les Paul, and a Fender Jazzmaster.
Photo by Solly Darling
Marr is incredible. That's a pretty difficult first foray into playing guitar.
Yes it was! I was trying to figure out "This Charming Man." Well, I was playing my version of it, based on single notes, but that was enough to get me thinking I needed to learn more chords. It was all very organic. I didn't go down the route of learning classical theory or reading sheet music. I still play my E chord wrong to this day. I took some more lessons, but, again, it was frustrating. The instructor would play something and I'd play it back, but he'd say, "You're playing it right, but you're not doing it right because you're not reading it off the music, you're playing by ear." I thought, "If I'm playing it right, why is it not right?" When I look at sheet music I feel musically dyslexic, but I can pick things up by ear easily.
When did you switch over to electric?
I had been playing along with records on the classical guitar. Then friends of my parents gave me a Hohner. It was black, had three pickups, and was covered with loads of switches, like a Jazzmaster. I just played it without an amp for quite awhile. Then I went to a jumble sale in my hometown of Oxford and found this strange valve amp. I think it was homemade. In retrospect, it was probably really dangerous [laughs].
When did you get what you considered to be a professional instrument? Something you'd had your eye on?
I played the donated Hohner for quite a while, then got a Satellite, which was a nice 335 copy. I used that for the early Ride stuff, and when we got signed I bought two Rickenbacker 12-strings—a 330 and a 360—and a Gretsch Tennessean, all in one shopping trip on Denmark Street in London. Mark [Gardener, Ride's other singer and guitarist] bought a Fender Jaguar and a Rickenbacker as well. He got the smaller John Lennon-sized one and I got the larger ones like George Harrison and Roger McGuinn used.