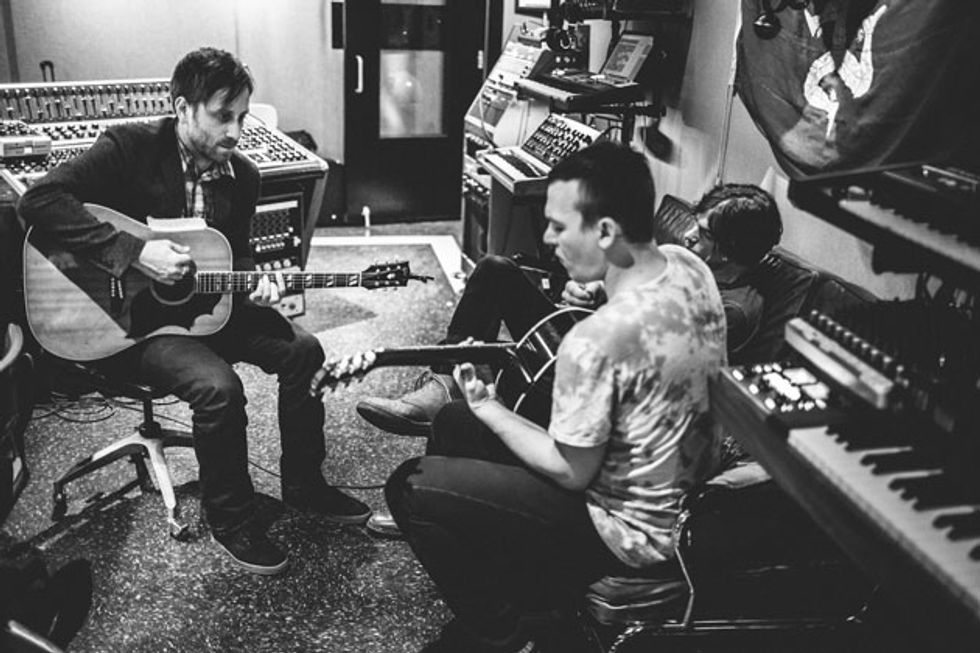 Dan Auerbach and Brad Shultz face off on acoustic guitars in the control room of Auerbach's Easy Eye Sound studio in Nashville during the making of Tell Me I'm Pretty. Photo by Pooneh Ghana
"Change" has been an operative word in the habitat of Cage the Elephant in recent years. The biggest development for the Kentucky-based band took place in 2013 when they essentially became a quartet following the departure of guitarist Lincoln Parish, who had been with the group since their formation in 2006. Filling the void left by Parish's exit is former Morning Teleportation guitarist Nick Bockrath, along with keyboardist/guitarist Matthan Minster.
Although Bockrath and Minster are officially "touring members," both contributed to the new album, Tell Me I'm Pretty, on which the remaining cofounders of Cage the Elephant—frontman Matt Shultz, his brother Brad Shultz on guitar, bassist Daniel Tichenor, and drummer Jared Champion—swapped their longtime producer, Jay Joyce, for the Black Keys' Dan Auerbach, who recorded the group at his own Easy Eye Sound studio in Nashville.
"It was time to do something a little different," says Brad Shultz. "We've been friends with Dan for a while, so that led to us touring together [in 2104] and eventually making this record. We love sitting around and talking about music with him. We discovered that we share a lot of the same opinions about songwriting and producing, and what makes a great record. Sometimes those conversations can be just like jamming—you're tossing stuff around and jumping on ideas."
"As a guitarist, the whole approach of going direct really appealed to me, and I got that from ['60s] bands. A lot of them went right into the console. But I think the thing that influenced us the most about those bands was the separation of their tracks." —Brad Shultz

"I was surprised at how quickly we moved from track to track with Dan," adds Tichenor. "The chemistry was there, and we knocked out a track a day. We spent probably three months working on our last record [2013's Melophobia], and that felt like a really long time. Dan kept us moving along. I think we did the whole thing in a month."
In addition to maintaining a brisk pace in the studio, Auerbach was instrumental in helping the band transform their sound on Tell Me I'm Pretty, moving away from the wild and woolly modern rock influences (Pixies, Arctic Monkeys, Nirvana) that won them the "Best New Artist" title in 2011's Rolling Stone readers' poll and embracing a smoother, more stylized production aesthetic that borrows heavily from '60s bubblegum radio. The loping melancholy of "Sweetie Little Jean" could easily segue into the Turtles' "Happy Together," and the sparky stomp of "Punchin' Bag" echoes the insistent bite of Paul Revere & the Raiders' "Kicks." Elsewhere, the band conjures up the spirit of late '60s proto-punkers the Seeds on the dark and moody rocker "Cold Cold Cold."
Brad Shultz and Tichenor spoke with Premier Guitar about Cage the Elephant's evolving sound, plugging straight into the console, crafting solos, trying out some of Dan Auerbach's instruments, and more.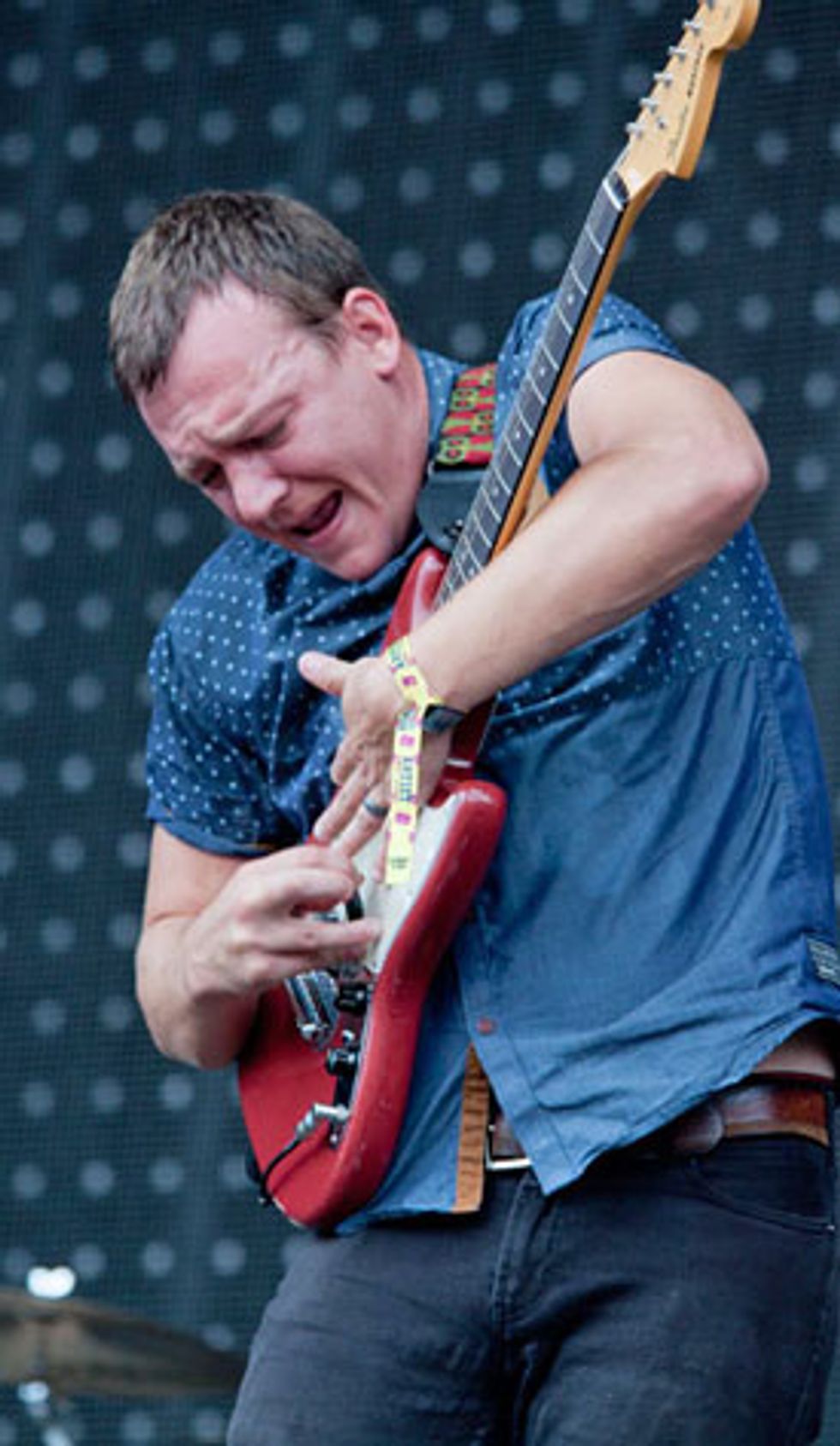 Brad Shultz makes his reissue '65 Mustang whinny, using his ring finger to slide down the strings for a slide-like effect, during Cage the Elephant's Lollapalooza 2014 set in Chicago's Grant Park.
Photo by Chris Kies
I understand Lincoln left the band on good terms. How exactly did it happen?
Brad Shultz: He left because he wanted to pursue other things—simple as that. He'd been touring since he was 15 years old, and I just think he wasn't enjoying the road as much as he had in the past. He wanted to stick closer to home, and he found a passion in producing. That's what he wanted to do. You know, that's cool—we understood.
What was the process of getting Nick in the band?
Shultz: Nick had been in several other bands before joining up with us, and one of those was Morning Teleportation. We were just in love with them—like, they were our favorite band in the world. When we went up to New York to mix Melophobia, Nick hit us up. We hung out with him, and he came by and listened to some of the mixes. He was loving that record.
We went along our own paths, and then Lincoln was going through some stuff, which led to him wanting to leave the band. We were doing the David Letterman show, which was going to be his last performance with us, and then Nick hit us up again. He was like, "I feel I need some change in my life." He was playing with another band at the time. I think there was something in the timing of it all. Lincoln wanting to leave, Nick hitting us up—it meant something.
Did you have any kind of audition, or did you just know that he'd fit in?
Shultz: We had a feeling he'd be right, but there were a couple of other people we really loved as guitar players and people. They all came down and jammed with us. You have to feel right about it. There are just certain nuances that have to be there so you can vibe with somebody musically. We jammed with Nick and a few other dudes, but it wasn't like we were doing auditions. It was just more playing and vibing out. It came down to Nick and another dude, and we went with Nick.
Daniel, how involved did you get in the writing and demoing for the new record?
Daniel Tichenor: I'm way involved. The four of us—me, Matt, Brad and Jared—sit around and work on stuff. This time around, we got together at Matt's place and put the songs together. Somebody would walk in with a guitar riff, and we'd get down to building it. Other times, people might have complete songs. But yeah, I'm completely involved in the process.