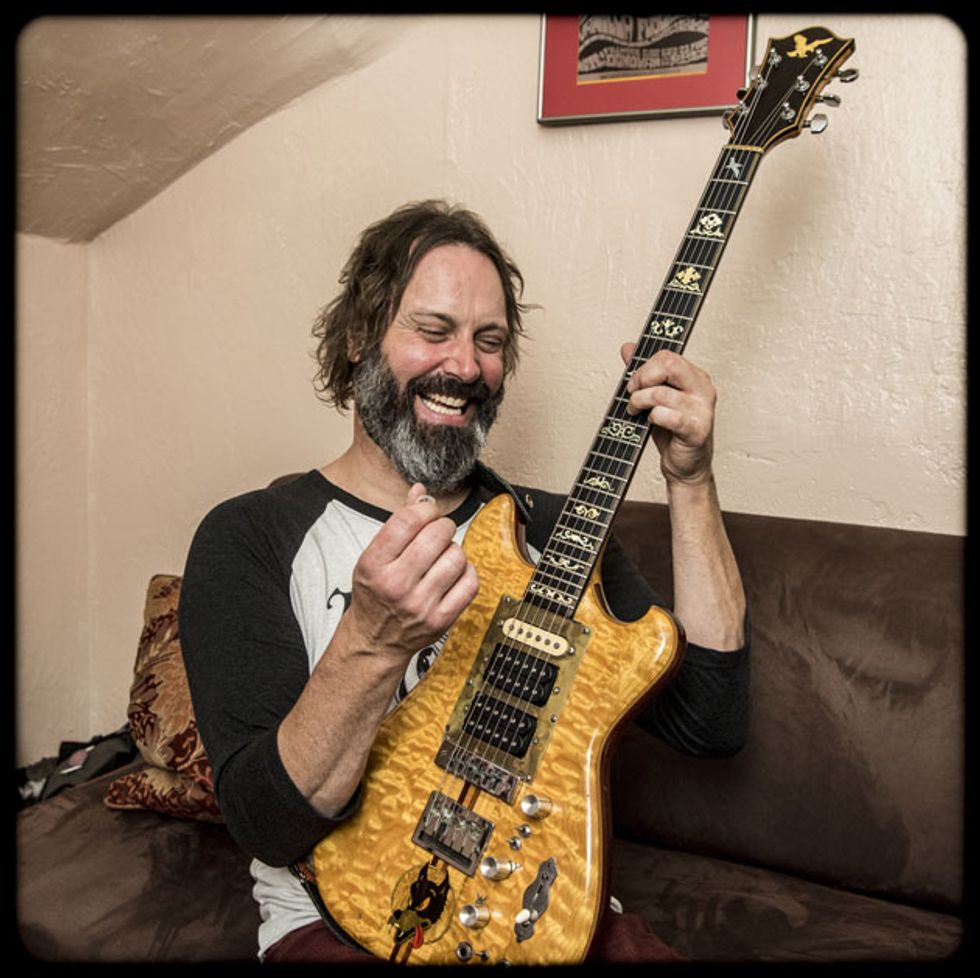 Luthier Doug Irwin built five guitars for Jerry Garcia, including Wolf, which he delivered in May 1973 for $1,500. Irwin sold the guitar at auction in 2002, seven years after Garcia's death, for a reported $789,500. Photo by Jay Blakesberg
Dances with Wolf: Playing Jerry Garcia's 6-string
Neal Casal is among the very few guitarists who have laid hands on Wolf, one of Jerry Garcia's legendary custom guitars and one of his main instruments during the Grateful Dead's '70s heyday. Casal has played the 6-string, with its lolling-tongued wolf inlay below the bridge, a distinctive S-H-H pickup array, and gorgeously inlaid neck, twice onstage—once in December 2012, at San Francisco's Great American Music Hall, and again recently at that city's Fillmore. His thoughts:
What impact did playing Wolf have on you?
My Scott Walker guitar was inspired by Wolf. And playing Wolf for the first time a few years ago changed my whole idea of what a guitar could be and how much you could get out of one guitar. That was Jerry's thing. He didn't want to change guitars all night. So he tried to have one that had everything he needed built into it. Tonally it's as strong as any guitar—stronger than most guitars I've played.
So Wolf inspired you in some ways to get the Scott Walker.
Not in some ways. In almost every way. Playing Wolf, a huge light bulb went off for me. When I first played Wolf, it was my second year in the CRB. I'd never been in a two-set band before, playing for three hours a night, where I'm the main soloist in the band. Chris built the CRB on the Grateful Dead template—on how they constructed their shows. Logistically, as far as the demands of a show, I was now in that same position.
I played an SG for the first couple years in the CRB. And I found that an off-the-rack guitar didn't have enough tonal choices to get me through a long show that required a lot of versatility. Also, CRB not having a guitar tech, I didn't have the choice to change guitars a lot, because I didn't have someone there to help me with that.
"It's really rewarding when you get to use the entirety of your instrument. That's been a really nice growth in my musical life."

All of these things led up to Wolf dropping into my hands. I had a revelatory experience with the guitar. And I quickly set out to find somebody who could make me something with that kind of versatility.
There are plenty of Wolf copies out there, but I'm not going to go that route. So I found something with my own voice that was inspired by that guitar. Scott Walker knows that realm of guitars really well. He gave me everything: the effects loop, the buffer, the booster, the pickup choices, the coil tapping, all of that. And I use every single bit of it.
It's really rewarding when you get to use the entirety of your instrument. That's been a really nice growth in my musical life.
How did you get to play Wolf?
A friend of our band knows Dan [Pritzker, of Sonia Dada], who owns the guitar. He likes having people play it. If you're a guitar player, you know damn well that guitars don't lead healthy productive lives hanging on walls or sitting in cases for the rest of their existence. It's not good for them. There's something energetically about a guitar where, if it's a good one, they need to be played.
So Dan is kind enough to send the guitar around to people occasionally who he thinks will appreciate it. He felt like we were one of those groups, luckily for us, and sent it down a few years ago, and we all enjoyed it. Chris played it a lot, too. We really studied the guitar pretty hard and got inspired. That guitar is by no means finished making music at all.
Was it a strange feeling, holding a guitar Jerry had played so many times?
Of course [laughs]! It's so weird. There have been a lot of pictures of me playing that guitar. I've seen the comments. "Put that thing down! You're not worthy of holding it."
My answer to those people is, "Don't worry. I know I'm not worthy. I've already beaten you to every criticism you have. Trust me. I don't think I'm Jerry. I don't think I'm nearly as good. I get it. I know that I'm just a peon and shouldn't have this thing. But guess what: It was offered to me to play, and I'm playing it. And I'm doing my reverential best with it. And by the way, if someone offered it to you, would you turn it down?"
Honor our hero—that's all. I don't see how that can be a bad thing.