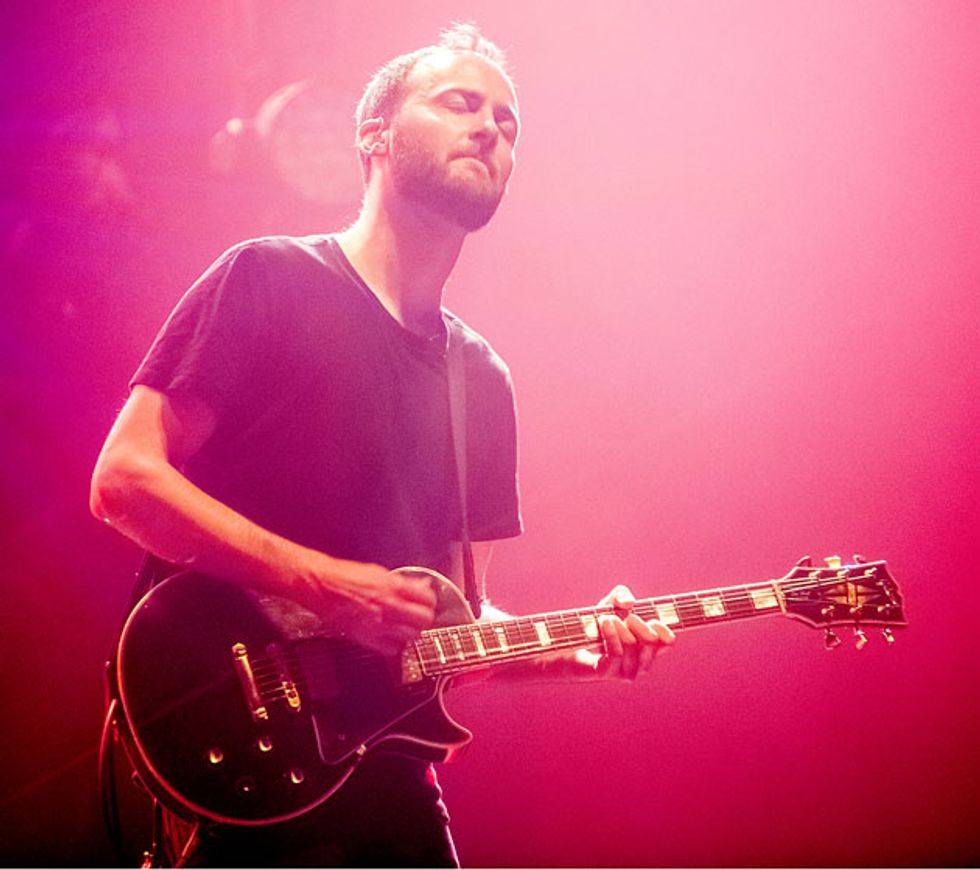 While his guitar partner Dave Timnick played Sacha Dunable's Yarnhawk during a 2013 tour with Meshuggah and Animals As Leader, the luthier opted to use his beloved Gibson Les Paul Custom before switching over to his Dunable axes.
Photo by Lindsey Best
Sacha, you mentioned working with Cloudkicker—a.k.a. Ben Sharp—as an impetus to record live. How did your time with him influence you guys?
Dunable: We were touring with Ben and some guy contacted us and was like, "Hey, if you have any spare time, we have this recording studio in Austin, Texas, and we can record you guys doing the set." Since Ben had never recorded Cloudkicker stuff with a band, we were like, "Sure, let's do it!" We recorded an album in three hours. We'd been on tour for a week or two at that point, so we were all playing the songs really tight. At the end of the session, all the guys in the band looked at each other and we knew we'd record our next album like that—practice the new material as if we were going on tour and then hit the studio when we were as tight as humanly possible.

Since Ben creates all the music for his instrumental rock records out of his home studio, how did the collaboration with Cloudkicker come about?
Dunable: He came to a show in 2010 in Columbus, Ohio, and introduced himself to Joe and gave him a couple CDs. Joe had the idea that the guy's music might be okay based on their conversation, so we listened while traveling to the next town, and as the record deepened, we were like, "Oh my god, this is great!" We reached out to him to let him know we were fans and that'd we love to jam or maybe tour together at some point, but he was like, "Oh, no way"—because he's married and has a real job [laughs]. But we kept in touch anyway, and finally, in 2013, he was actually receptive to it and felt like he could make it happen.
"I love pedals. I love buying them. I love trading them. However, recently I've been in this consolidation mood and I got rid of all my stompboxes—aside from the Saucy Box—and have been using the TC Electronic G-System."—Sacha Dunable

What stands out about Devin Townsend's mixing?
Dunable: Previously, Josh Newell would track, mix, and help engineer everything because our budget kind of dictated it. There's nothing I could say negatively about Josh, but he's a guy our age, a friend—and Devin Townsend is a professional musician with a long history of making amazing sounding records. With this album we really wanted to have a bigger, more polished sound. Devin's mixes are still very dense with a psychedelic quality to them—things you might not pick up on a first listen—but it's a much more metal-sounding record. Thanks to Devin, it's the best, biggest, and most powerful-sounding record we've made.
Timnick: I wanted to work with Converge's Kurt Ballou, but our schedules never synced up. It was a big chance, but Devin was masterful. When we were done with the recording, we were super proud of it and excited to see what Devin would do. After a few weeks, he sent us the first rough mix and everything jumped off the recording. It was like hearing the material for the first time, because everything is pushed and up front, yet there is still a lot of air to breathe, nothing is squashed, and there's absolute clarity through the whole mix. We were all like, "That's it, man—fucking bottle that shit [laughs]!"

Would you record like this again?
Timnick: Absolutely, but live tracking is nerve-wracking. We had some moments where one of us would get the yips and the studio had some technical malfunctions that zapped our momentum, but I really hope we continue recording like this. It's cheaper, more efficient, it feels organic and real, and if you can't live-track the core of your album in under a week's time, you're probably not ready to track.
Sacha Dunable's Gear
Guitars
Two Dunable Yarnhawks w/Dunable Baphomet pickups

Amps
Two Mesa/Boogie Royal Atlantic RA-100 heads
Two Mesa/Boogie Rectifier 4x12 cabs

Effects
Way Huge Saucy Box
TC Electronic G-System
Boss RC-20 Loop Station
Boss TU-2 Tuner

Strings and Picks
Dunlop Nickel Wound (.013–.056)
Dunlop Super Bright (.013–.056)
Various Dunlop picks

Dave Timnick's Gear
Guitars
Two Dunable Yarnhawks w/Dunable Baphomet pickups
Amps
Two Mesa/Boogie Royal Atlantic RA-100 heads
Two Mesa/Boogie Rectifier 4x12 cabs
Effects
MXR Il Torino Overdrive
Mesa/Boogie Tone-Burst overdrive
Way Huge Echo-Puss Analog Delay
Eventide TimeFactor Delay
Boss TU-2 Tuner
Strings and Picks
Dunlop Super Bright (.013–.056)
Various Dunlop picks

How do you work odd time signatures, dissonant chord structures, and almost conflicting guitar parts into compositions like "The Unlikely Event of a Water Landing?"
Dunable: It goes back to Yes and the way they wrote various musical themes on an album and within a song. When you break down "The Unlikely Event of a Water Landing," there are probably two or three musical or rhythmic themes. We manipulate and morph them into something that sounds so different throughout that you can have an eight-minute song. The smallest thing, like adding a note or omitting one, can change how you hear and feel the whole sequence.

Timnick: I got the idea from Pink Floyd's "Dogs," because it uses these two chords, back and forth, over and over. I wanted to have the A-guitar and B-guitar interplay. What helped the song develop was when I would bounce off guitar to my electronic drum kit to hammer out rhythm ideas, and then I'd try to match that on guitar. This sort of call-and-response strategy really sparked the idea for the middle theme of the song. The last three minutes of the song—where things slow down, get atmospheric, and Joe starts ripping on the bass—is something I came up with during our Cloudkicker tour. The way Cloudkicker uses space and air is almost an instrument itself. Letting the music breathe is often the best solution.

When I brought it to the table, I wasn't sure if the guys were going to be excited or even willing to give it a chance [laughs]. Surprisingly, everyone really liked the idea, but then we wondered, "Is this Intronaut enough?" After a few silent seconds, we were like, "Whatever we do, as long as we're all onboard, will always be Intronaut enough." This more subdued, almost true-prog-rock song might've been something a couple of albums ago that would've been shelved, because it was a bit of a departure from how our songs normally come out, but that's the beauty of time and growth.

Did you previously have a similar concern about cleanly sung vocals?
Timnick: Sacha and I were recently talking about how we've developed as singers for really no specific reason. I joined the band in 2007 after they had recorded Void and we were working on [2008's] Prehistoricisms—which didn't have harmonies or melodic, clean vocals—and because I never came from a strictly metal background, I asked Sacha if they purposely shied away from singing, and he said, "No, we never really gave it much thought. The music just ended up being the way it was and it seemed like it worked fine." Even while we were writing and recording Prehistoricisms, we were already thinking that on the next record [Valley of Smoke] we shouldn't force clean vocals. We did experiment with it on Valley but, listening back, we were pretty safe. We did the real faint, haunting Jerry-and-Layne harmonies from Alice in Chains.

With [2013's] Habitual Levitations, we were much more comfortable and confident as singers. What you hear on Habitual and The Direction of Last Things isn't a commitment to do clean vocals because it's more accessible. You're hearing me and Sacha treating our voices like instruments. We even practice now [laughs]!
Bassist Joe Lester fits in the band like Les Claypool in Primus, Justin Chancellor in Tool, and Billy Gould in Faith No More. He's often playing lead and pushing the song forward like a guitarist. How do you keep mindful of his abilities when constructing songs?
Dunable: One of my favorite parts of the writing process is taking my raw demos and showing them to him. He'll expand on my ideas and make them bigger than I could on my own. But yeah, it's a bit unusual to have a bassist that plays 5-string fretless in metal, so the music has always had the natural pocket for Joe to explore. Most of the songs start with guitar, but—especially with the clean parts that happen in songs—that leaves a lot of room for a fretless bass to really step out and be lead. That's where you hear and feel Joe's talent shine. He's got a very expansive musical vocabulary—probably more than almost anybody else in the band—so he really knows how to be tasteful and add depth.

Timnick: Joe's fifth string is a low-B. Sacha and I tune to C# most of the time, so normally right out of the gate we're dealing with the same lowest note. Since Sacha and I aren't super-shredders, we leave plenty of room for Joe to dance around. We have the good fortune that all of our skills mesh really well, so everybody gets to kind of be free as long as it suits the music.