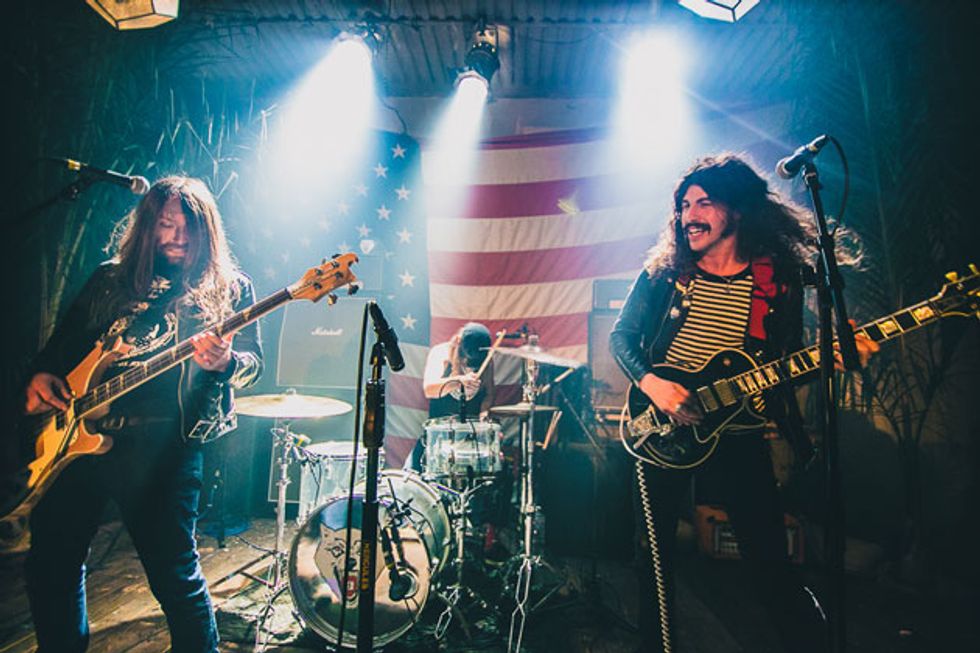 Going forward in reverse is the Shrine's specialty, thanks to guitarist/bandleader Josh Landau's love for old-school fuzz, analog sounds, and unfettered, punk-fueled psychedelic wailing. Photo by Debi Del Grande.
After being taught "Norwegian Wood" on a nylon-string acoustic in his first guitar lesson, the Shrine's Josh Landau quit.
"At that point I was interested in learning punk songs, Black Flag songs," says Landau, who went on to pick up the tools of the trade from his guitar-playing father.
Right now, cynical readers are possibly snickering at this "sacrilege." After all, what musician in his or her right mind would have the nerve to diss the Beatles? Well, like it or not, it seems things have worked out quite well for Landau. The Shrine has arrived, and this summer they're on some major bills—with Iron Maiden and Megadeth at the Download Festival in Leicestershire, England, and with Anthrax, Black Sabbath, and Rammstein at Hellfest in Clisson, France.
Formed in Venice, California, in 2008, the Shrine features bassist Court Murphy, drummer Jeff Murray, and Landau on double duty as guitarist and singer. En route to the release of their 2012 debut album, Primitive Blast—which was followed in 2014 by Bless Off—they ascended via gigs with punk outfits, including Black Flag co-founder Chuck Dukowski's band, and stoner-rock staples, like Kyuss, up the echelons of the contemporary psychedelic scene. But their music is really a mash-up of punk, pop, hard rock, metal, and mind-bending sonics they've labeled "psychedelic violence." The Shrine cite Black Flag and Thin Lizzy as major influences in the interviews they do for skateboard and motorcycle mags. And they have a deal as "brand ambassadors" with Converse sneakers, which—along with their upcoming major festival appearances—gives them a rubber-tipped toehold on the heavy rock mainstream.
"I play pentatonic and blues scale stuff most of the time, but I like when I get excited and play outside of that. Greg Ginn, the guitar player from Black Flag, was a big influence on me and plays all sorts of crazy wrong notes."

But free-Chuck Taylors-for-life aside, the Shrine is all about the music. And their new, third album, Rare Breed, features the band's signature blend of punk-fueled chaos and acid-drenched psych-metal, along with nods to saxophone giant John Coltrane. Black Flag frontman Keith Morris even guests on a bonus track called "Never More than Now." Premier Guitar caught up with Landau to discuss how he came up with some of Rare Breed's ear-twisting tones, the origin of the Shrine Fuzz—the magic ingredient behind Landau's sound, the trio's addiction to analog, and how Lemmy's sonic DNA will be imprinted in future music from the Shrine.
Did you road test the songs on Rare Breed before recording them?
Yeah, we did. Some songs I had written two years ago and demoed, or we played them all the time. Some come easy and we can figure them out in one day, others I've had for a while and we end up playing with the riffs back and forth. We play them a while and try to figure out if the bass player should be playing some harmony under me or not. One song that was pretty different for us from the new album is [the power-ballad-like] "Dusted and Busted." It was almost an acoustic song that I had forever. It gets a pretty decent response, because it's so different from everything else we do. Even some friends we toured with, who are, like, doom metal dudes, were like, "Yo, you gotta play that song every night. It's such a different dynamic from your set."
In "Dusted and Busted," there's a transition at around 3:15 that leads to the outro solo, which is really thrashing and melodic. Was that part of the original version?
That part at the end of the song, where it speeds up, is totally Thin Lizzy inspired. It felt like the right thing to do. It was totally created after, because that song was initially acoustic.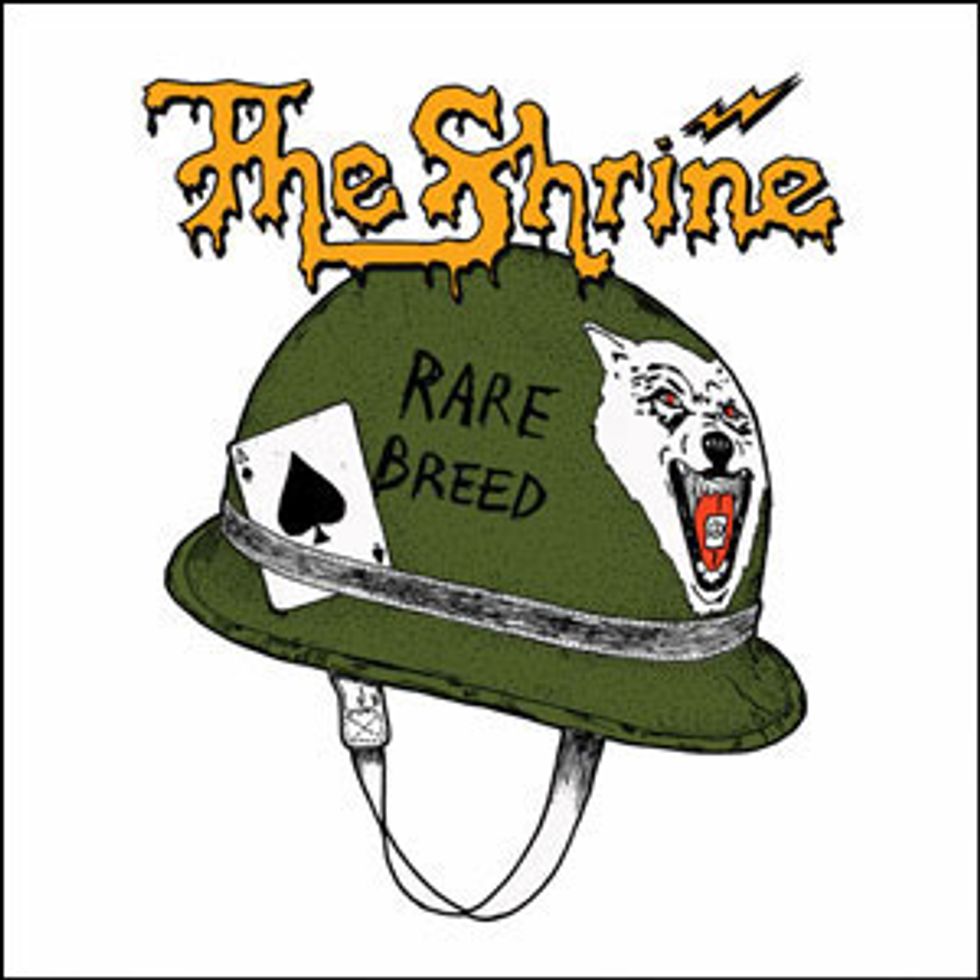 The Shrine are young, backyard pool-shredding, acid-dropping Californians who released their 3rd album, Rare Breed—first on Century Media—which according to producer David Jerden: "It sounds like war, it sounds like evil, it sounds like bombs going off."
That part sounds hard to do cleanly in one take. Did you do the whole track live?
That was, actually. The basic tracks were cut together.
"Coming Down Quick" opens with some crazy dissonances. How did you get those notes? At the end, before resolving that G note over the C chord, it sounds like you go above and below to Ab and F#. Was that done by feel or using a theoretical approach?
It was a total accident when I hit the first dissonant note. I usually just hit the power chord when we play that part, and we decided to add some leads to it in the studio. The very first time I tried, I hit the wrong note. But the producer, David Jerden [Jane's Addiction, Alice in Chains], was like, "This is perfect. It sounds like war, it sounds like evil, it sounds like bombs going off."
But when you hit that first wrong note, you were in a lower octave. Later you go up high and continue with the dissonances, playing the "right" wrong notes—so it couldn't have been just random all the way through.
It was one of those things where there is no wrong note. Once I realized I played a "wrong" note right off the bat, it made me free to laugh and not worry, and to see how wrong I could make it. Instead of maybe playing along in the key, I did something weirder and more interesting.
In "Space Stepping," during the repeating riff starting around 5:16, you play Eastern-sounding licks. Was that derived from a specific scale or harmonic device, or just from moving a sinister-sounding shape across different strings?
I hardly know scales—I just know listening. That was almost like a little trick or exercise I made up sitting on the toilet or something. I thought it sounded cool and repeated it, and we had the bass player try to play a chord progression under it [sings riff]. And it ends on something that kind of rings out like "Third Stone from the Sun" or some kind of a weird major thing. So no scales that I know of or was intending to play.
Right at the end of "Acid Drop" you play an outside-sounding, ascending lick as your solo draws to its dramatic conclusion. What were you playing there?
I play pentatonic and blues scale stuff most of the time, but I like when I get excited and play outside of that. Greg Ginn, the guitar player from Black Flag, was a big influence on me and plays all sorts of crazy wrong notes. He was influenced by Ornette Coleman. I started listening to Ornette Coleman and shit like that. It's way more exciting when you play something wrong.
The more outside stuff contrasts nicely against your primarily bluesy riffs.
Thanks. That's the Black Flag, Black Sabbath, and the Mahavishnu Orchestra weird influence on my own retard level, creeping in.