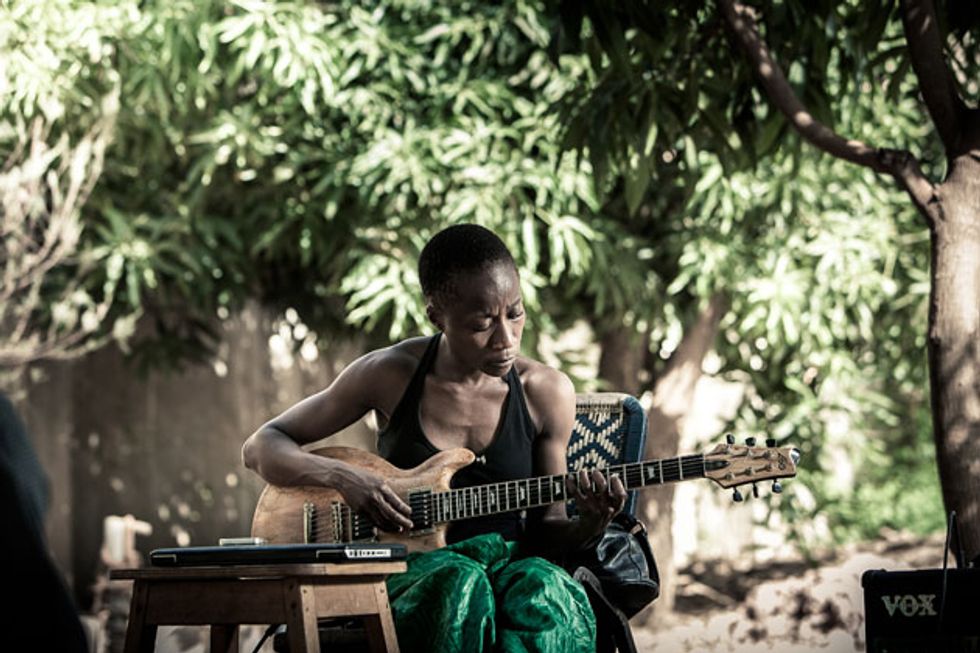 Rokia Traoré currently prefers playing her Lâg Imperator 1200 onstage and in the studio, but in the past she's performed on a 1967 Gretsch Country Gentleman and a Silvertone 1448. Photo by Danny Willems
Rokia Traoré plays guitar like she sings—with the ebb and flow cadences that are one of the signatures of Mali's traditional music, called manding. Like Mali's best-known 6-string musical export, the late guitarist Ali Farke Touré, she is a fusionist—mixing echoes of the ancient empire of the Mandinka people, which flourished from roughly 1230 to 1600, with sounds drawn from American and European influences. Unlike Touré, who blended the music of his homeland with the moaning guitar approach of stone Delta bluesmen (in particular, John Lee Hooker) that he heard on records as a young man, the 42-year-old Traoré has a free-ranging palette.

"Blues, classical, rock 'n' roll, jazz, funk, pop—all these are part of me," she relates on the line from Brussels, Belgium, where she has a pied-á-terre that's her European base. "I started listening to all kinds of music in my father's collection when I was 5. He played albums for me because I was his child who was instantly interested in music."
And so, for 2013's Beautiful Africa and her new album, Né So, which translates as "home," she hired another adventurous guitarist to produce: John Parish. Best known as Polly Jean Harvey's longtime collaborator and sideman, he's also made albums with the Eels, Tracy Chapman, Sparklehorse, and Giant Sand. Traoré enlisted Parish to help her, essentially, break out of the world music niche.
"Although I often sing about things I've experienced and seen in Africa, I don't want to make albums that can be put on the world music shelf and ignored by people who listen to rock or blues," she explains. "I needed John for his real experience with rock music, so he could help me capture that spirit and energy in my music, because it's there, but I don't think somebody who is used to recording with traditional music could capture it as well as John."
Beautiful Africa was recorded with a largely European band, while Né So was cut with a mostly pan-African cast. But this time Traoré ups the crossover ante with guest appearances by her friends John Paul Jones—yes, that John Paul Jones—and psychedelic folk-rocker Devendra Banhart. Parish also contributes on his trusty '65 Jazzmaster. And in Europe, where there are fewer cultural striations than the U.S., her efforts to reach beyond the world music audience already seem to be working. After the release of Beautiful Africa, the French government honored her with the distinction of Officer of the Order of Arts and Letters. She joined a list of recipients that includes Bob Dylan, David Bowie, Clint Eastwood, Patti Smith, Bono, and Elton John. She also performed at England's prestigious Glastonbury Festival that year, and has appeared on the popular BBC musical variety show Later…with Jools Holland.

Traoré wasn't always as concerned with innovation. In 1997, a year before her debut album, Mouneïssa, was released, she won the prestigious Radio France Internationale African Discovery prize while playing a guitar in a style closer to that of Ali Farke Touré, who she sought out as a mentor. But with each year and album, her interests have broadened. By 2003's Bowmboï she was collaborating with the Kronos Quartet, and her band was propelled by her guitar in conjunction with a Western rhythm section. Three years later Traoré wrote a work for Vienna's New Crowned Hope Festival under the artistic direction of theater auteur Peter Sellars that cast Mozart as a 13th-century griot. By 2008, when her album Tchamantché propelled her first major U.S. tour, she'd developed a unique guitar approach as angular, dry, and unpredictable as that of American avant-roots hotshot Marc Ribot. Blending that sound with balafon (a wooden xylophone-like instrument) and ngoni (a lute-like West African creation with a dried animal skin stretched over its top) gave her songs a unique, culture-straddling sound.
The ngoni also plays a major role in Né So, helping to cast the album's hypnotic spell of interwoven amplified and organic strings. Most of the cuts have two guitars, although some sport three, along with ngoni played by Traoré band regular Mamah Diabaté.
"One thing I learned listening to all of that music and working with other musicians, especially Ali Farka Touré, was the importance of space. Silence and repetition are crucial."

"I always hear the ngoni in my work—when I'm writing songs—so it's difficult to work without it," Traoré says. "But what I like about it, unlike the balafon or the kora, is that you can use it in different kinds of music very easily. It's versatile enough to fit into rock music or European classical music without sounding like Africa. It has its own unique color that doesn't make you think of Africa when you hear it."
Traoré, who also plays the bright, big-toned ngoni, suggests that performing on the instrument—which has little natural sustain and is a likely ancestor of the banjo—requires finer skills than playing guitar. The ngoni can have 4 to 7 strings of various lengths, and has no frets. It also has a wide variety of tunings for traditional repertoire. "The neck requires more sensitivity than guitar, and more precision to sound the note accurately. It's very difficult," she insists.
Recording the handmade traditional instrument for Né So also presented challenges. "The ngoni is very quiet and it sounds much better miked than it does through a pickup," says Parish. "The pickups make it sound thin, but it was impossible to have it just miked in the same room as drum kits and electric guitars. So I ended up using a combination of a miked sound and a pickup sound."
Parish live-tracked the album with the assistance of engineer Ali Chant at Jet Studios in Brussels. "There was plenty of room, so we could move people apart from each other and still have visual contact, which is important," Parish relates. "There was enough separation that we could get a good sound for everybody, and then we had Rokia in a booth and her amp in another booth, so she could sing and play electric guitar. We redid a lot of her vocal tracks, but, to be honest, her live vocal tracks sounded great to me."
Whether playing with Diabaté in combination with Parish or with the album's other two principle guitarists, Stefano Pilia (who is from Italy), or Rodriguez Vangama (who is Congolese), Traoré remained the anchor, this time opting for a gentler, flowing approach that blurs the lines between melody and rhythm.
"She's got a really good guitar style," Parish observes. "She plays a strong rhythm and then can almost drop out of it and fall right back in. That's quite energizing and, as a player, challenging. It's also a very liberating way to play. It might seem incorrect, in terms of the way a guitar player might usually play rhythm, but her guitar really follows her voice in a way that brings everything she's singing to life. And it sits right in the middle of what the other guitars and the ngoni are doing, like a rudder. She's really an amazing musician who drives the essence of the song with what she plays."
Traoré's musical talents extend to her voice, a delightfully bird-like instrument she uses like a trumpet at times, holding back notes or laying into them with her breath to accent the deep currents of emotion that run through her lyrics. But getting to the "amazing" level wasn't easy, although the high, honeyed tones of her vocal range seem genetic. Her father was a diplomat who, after instilling a love for Miles Davis, Billie Holiday, Louis Armstrong, and Ella Fitzgerald in Traoré as a child, opposed her decision to become a musician, fearing she'd be doomed to poverty in a profession dominated by arrogant men.