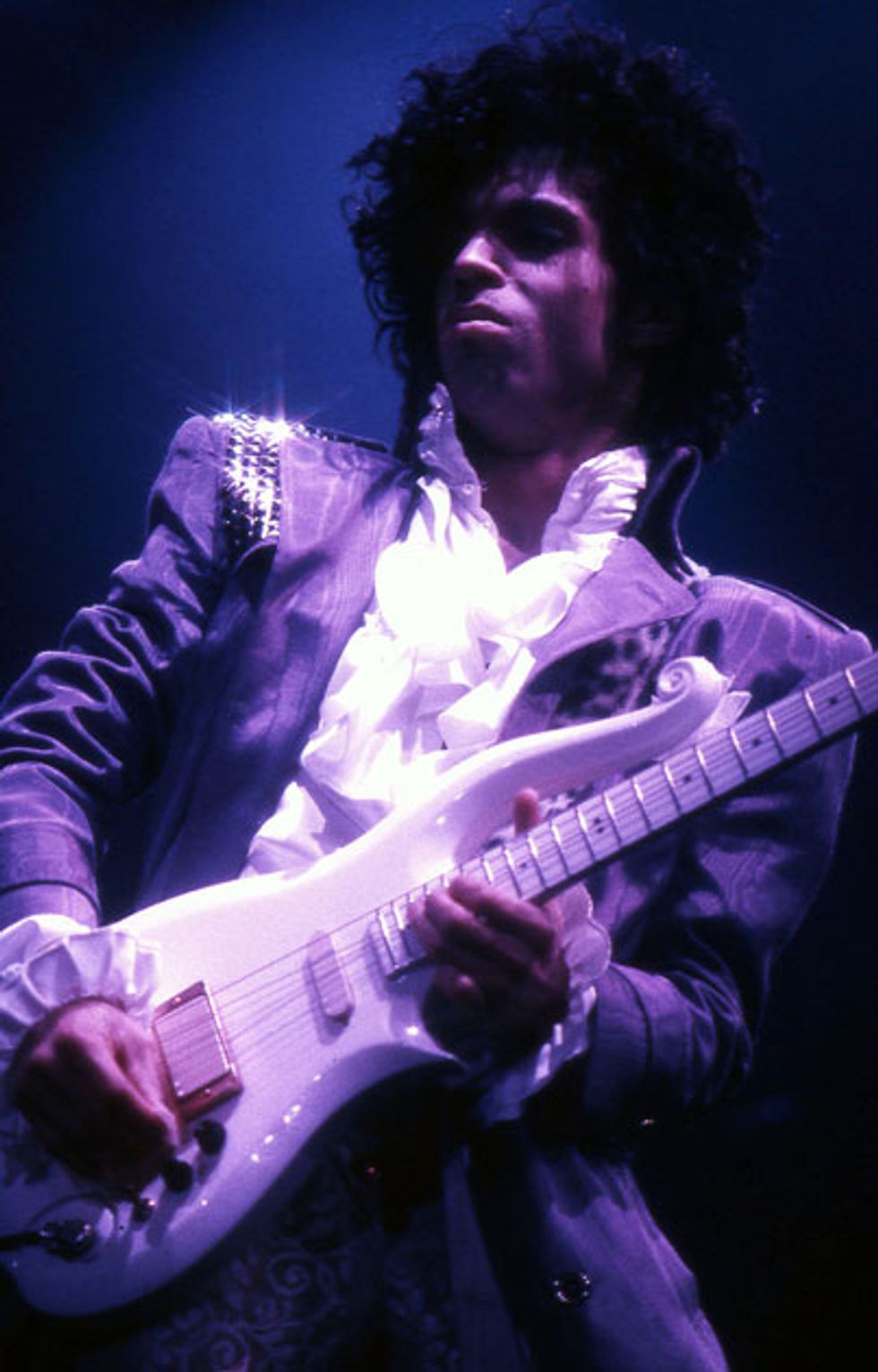 Prince's Cloud guitar reportedly got its nickname from the cover art for Prince and the Revolution's Around the World in a Day. Created by artist Doug Henders, the scene shows Prince in a blue cloud-covered suit. He wears a similar suit in the video for "Rasberry Beret." Photo by Debra Trebitz / Frank White Photo Agency
What's great is that not only is the Cloud guitar in the movie, it's also on the album.
Yeah, because some of it was recorded live right in First Avenue [where most of the stage scenes were shot]. So the guitar is actually on "Purple Rain." The other stuff, you'd have to talk to somebody like David Z or whoever engineered it. All I can tell you is that I had to make it pretty quick for the movie. I worked on just that for about 50 or 60 hours a week until it was done, you know? We painted it right in the store, too. But as far as when it was used on different albums, I'm not sure.
Once he started using it in concert, though, he wanted more of them, so I made two more. I made four all together, and the other one went to Warner Bros. That was kind of a weird thing, and I don't know what ever happened to it. They told Jeff Hill that they were going to have a contest in England to give one away. I made them all white at first, and then they were repainted. He had the peach one, and then a yellow one, but Andy Beech made a lot of the later ones.
I do know they all suffered a lot of damage. With the maple, they couldn't be any more rugged. That was part of what I thought about at the time; since it's a movie prop, I didn't want it to be delicate—and even more so in concert, because I think almost right up to the end, he had a habit of throwing his guitar to the roadie at the end of a performance. Takumi told me once it hit him in the head!
They all had broken necks and headstocks, even being hard rock maple. I think one of them may have even bit the dust. The Smithsonian has one, which is credited as made by me, but it could've been one of the copies made by Andy Beech. Some of those were sold later at Prince's store online, too. Andy did a nice job, and then later on Schecter made some. Most of those were bolt-on necks, though. You can always tell because Takumi had input on that. He specified that the point on the headstock should be shorter so he could always identify them.
When you first see the guitar in the film, it's actually hanging off the mannequin upside-down, for a lefty—which made me think of Jimi Hendrix. Do you know if that was intentional?
It could be. I jammed with Prince once, years before, in this warehouse, and all I remember other than the band and the equipment was a big giant poster of Jimi Hendrix on the wall. So that would make some sense.
Wait, you jammed with Prince?
Actually, I tried out for his band, which was much earlier. It was around the time that For You, his first album, came out. He didn't have a touring band, and he rented an old warehouse. I think it was called Del's Tire Mart. Bands would rent out different parts of it, and at that time Prince's band was fairly complete. André Cymone was the bass player and he had Bobby Z. on drums. Matt Fink wasn't there yet, so Prince kept swapping out on other instruments. He didn't play guitar with me, but he played bass and drums and keyboards. It went on for a while—just one-chord vamping, mostly, and, in fact, I remember thinking at the time he certainly could play, and he was better at all the instruments than the other two guys, really.
How often did you see him after the really hot period he had in the '80s?
Not much. Most of the work I would do for him later, the roadies or the techs would bring them in. In a Guitar Player article around 2000, he mentioned me as the builder of the guitar, and I was surprised that he remembered me. I mean, I can't tell you all these interesting anecdotes about the two of us—it's not like Randy Rhoads and Grover Jackson, you know? He would come in and he was very shy, and my actual personal interactions with him involved very few words, if any. It was mostly done through the other people.
Looking back, would you say he's underrated as a guitarist?
Oh yeah. A lot of people have said that. He could play some jazzy lines. He didn't just shred. He could play lines that really fit and enhanced the tunes, which is the essence of being musical, rather than just being a wanker. Different tones—I don't think there was anybody that ever did the funky rhythm better than him. And then his leads, they were inventive. Everybody has influences that you can hear. Nobody starts from scratch, you know? In Stevie Ray Vaughan I could hear some Albert King and this and that, but in the end, he was himself, and Prince was like that, too.I would say he's very underrated, but I would guess that's partly because there was so much more to him. It was all there.
Cloud Guitar specs (per Dave Rusan):

All hard rock maple neck-though-body construction
24 3/4" scale length
12" fretboard radius
14-degree headstock angle
5-degree neck to body angle
EMG active pickups, powered by a 9V battery in the control cavity, with an 81 humbucker in the bridge position, SA single-coil in the neck
Schaller M6 tuners and bridge
Brass nut
One master volume, master tone and selector switch, with Fender Jazz bass knobs
He played through the Mesa/Boogies in the early days, right?
Yeah. His live tone—I went to a couple of Purple Rain shows, too. He did something that seems really extravagant, although he tended to be like that. That tour was such a big deal for him, after the movie, that he rented every major venue in town and rehearsed for a few days in each of them, just to get used to moving all the stuff around, and the different acoustics and everything. It sounds kind of crazy, but it's smart if you can afford it. So his live tone was less fuzzy and more organic sounding. It was what you'd expect out of a Boogie—bigger and warmer.
I saw a rehearsal at the Minneapolis Auditorium, which was a big spot in town. It's gone now, but I watched a whole rehearsal there. It was very well organized. It wasn't like a bunch of hippies getting together. [Laughs.] It was like a theater rehearsal, and Prince directed a lot of it from the soundboard. And he was actually very supportive. I remember Wendy [Melvoin] was having some trouble with a part, and he was trying to build up her confidence that she could do it. It wasn't "What the hell's wrong with you?" It was more like, "Now Wendy, I know you can do this." And she's like a different person now. I mean, it's funny how psychological it can get in music. You can be talked out of thinking you're good, you know? I remember that time with Eric Clapton, everybody told him how good he was that he started to not believe it at all, and he felt like he couldn't play for a while.
What are your thoughts about Prince's body of work as a whole?
If I had to wrap up Prince—well, it was just the music. I'm more of a hard rock guy myself, but I always admired everything he did, and was amazed how somebody in that amount of time could take on any style and make it his own. I mean, he worked day and night, and he was so talented, but he was a virtuoso in so many other ways.
And one thing I think about him—and I don't know if this is getting off of your question—but the whole scene he created here, between his music and the visuals and his stardom and how successful he was, he just turned Minneapolis inside-out. It was really a musical backwater—you know, you could play in bars, but there were never any musicians of any note other than a couple of freaky one-hit wonders. And he turned it into the music capital. Every day was exciting. I'd go down to the rehearsals, or the store owner would be on the phone ordering a thousand purple tambourines or something. [Laughs.]
He knew how to take every aspect of stardom, from the sex, the controversy, the visuals, the color—purple was his color—and he had a guitar that didn't look like anybody else's. I don't know what he needed a manager for—I suppose mostly just for contracts. But he was totally in control of every aspect of being who he was. There was no star-maker behind him.
That's always the impression that I had of him. From a young age, he knew what he wanted to do, and he had a vision and a goal in mind, and he just pursued it.
That shows some remarkable maturity, doesn't it? For a young guy to have the discipline, and then to be able to … usually when you're that young, you don't have a vision because you don't have much of a past to draw on to make the decisions. And somehow he had all that, and it was totally self-directed. I mean, the Beatles had George Martin and Brian Epstein, and they were still really good, but he didn't have anyone like that at all. Nobody ever told him what to do, and they didn't have to because he knew what was best, and he proved it.