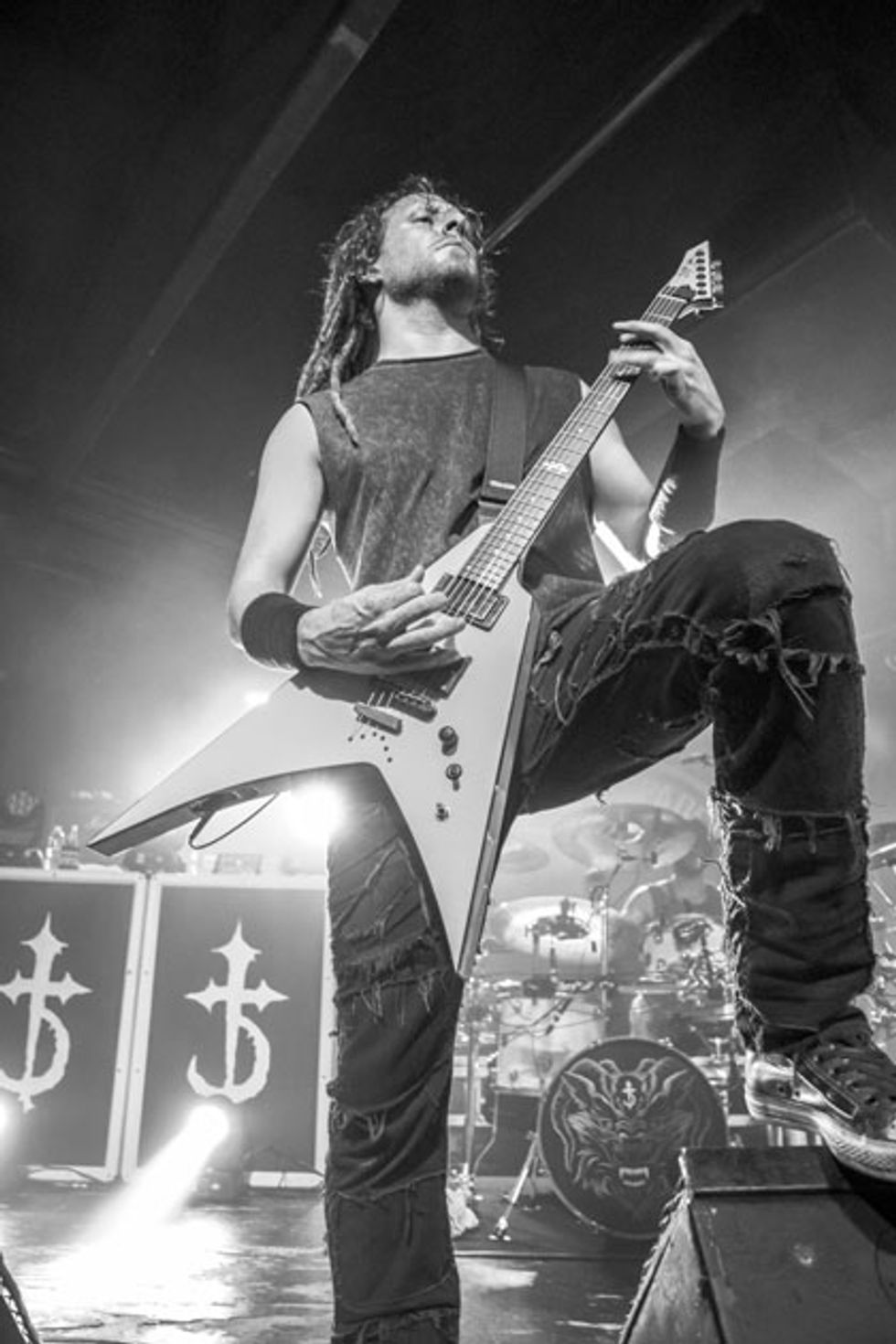 Mike Spreitzer rocks out on one of his ESP Custom V Series guitars. His main guitar for the new album, Trust No One, was his ESP Eclipse-II. Photo by Charles Yozgott
For all the synth and clean-sounding guitars, he relies on his Fractal Audio Axe-Fx II, which is also where he gets the aforementioned percentage of feedback. For the impending tour, instead of using amps, the Fractal is now the backbone of his live rig. Until recently, he was using Blackstars, but since the whole band is using in-ears, they are abandoning amps onstage for the first time ever. "It's going to be a quiet stage, like our sound guy has wanted for a very long time," he chuckles.
He and D'Amond will also play to a click track during performances on the upcoming tour. "The reason for playing to a click is so the tempo changes are where they should be, whereas previously we would just find the median tempo and go with that," he notes.
"My favorite guitar players are Jerry Cantrell and Björn Gelotte from In Flames. They shred, but they have a certain amount of phrasing to their solos—like they're talking to you."

As for splitting guitar duties, Spreitzer says DevilDriver has never been the type of band where one person plays leads and the other rhythm. "It's all over the place," he confides. "Any songs where Jeff had done the solos, Neal is playing those, like on 'Dead to Rights' from Beast." Tiemann also plays a few solos on the new album. A perfect example of his style is the outro on the title track, which illuminates the cooperative way the two guitarists work together.
"On 'Trust No One,' it's Neal playing, but it's my idea," explains Spreitzer. "I was like, 'Do something that Jerry Cantrell would do, using a wah, and make it dissonant and sludgy.' I think he did it in one or two takes. My favorite guitar players are Jerry Cantrell and Björn Gelotte from In Flames. They shred, but they have a certain amount of phrasing to their solos—like they're talking to you. That's very much how Neal writes."
Mike Spreitzer's Gear
Guitars
ESP Custom V Series
ESP Eclipse-II

Amps
Fractal Audio Axe-Fx II
Kemper Profiling Amplifier
Driftwood Purple Nightmare
Mesa/Boogie cab with Celestion Vintage 30s

Effects
Mission Engineering EP1-KP Expression Pedal

Strings and Accessories
SIT Power Steel (.010–.052)
Fishman Fluence Modern Humbuckers
Bare Knuckle Aftermath Humbuckers
EMG 81 and 60 humbucker sets
InTune .88 mm picks
JH Audio JH16 Pro Custom In-Ear Monitors

When it comes to constructing his own solos, Spreitzer says he strives to compose a song within the song. "There are a couple of places on the record where I tried to shred a little more than I normally would, but I like solos to sing and have phrasing," he explains. "I don't think I'm the best at it, but I strive for that."
A self-professed Cubase guy, Spreitzer says that DevilDriver's polyrhythmic, multi-layered attack is built with modern technology. "I started getting familiar with recording when I was about 18, and now I have a fairly legit studio in my house," he explains. "If I write a part, I'll put it on loop and listen to it over and over and jam on top of that. And sometimes I'll come up with two or three or four different parts layered on top of one another. That's how it started happening."
As for deciding who plays what, Spreitzer says whoever wrote the parts gets to decide. "But shit like that mattered so much more when I was in my 20s," he says. "Now, when it comes down to who's going to play what, I'm just like, 'If you're cool with the part, great; if not, that's cool, too.' There are plenty of riffs to go around in DevilDriver."
YouTube It
DevilDriver's official video for "Daybreak" is packed with beauty and weirdness, aurally and visually, from the up-sliding guitar intro to the Golem-like figure that lopes across the screen at 3:24, shortly after new guitarist Neal Tiemann's elegantly harmonized solo.