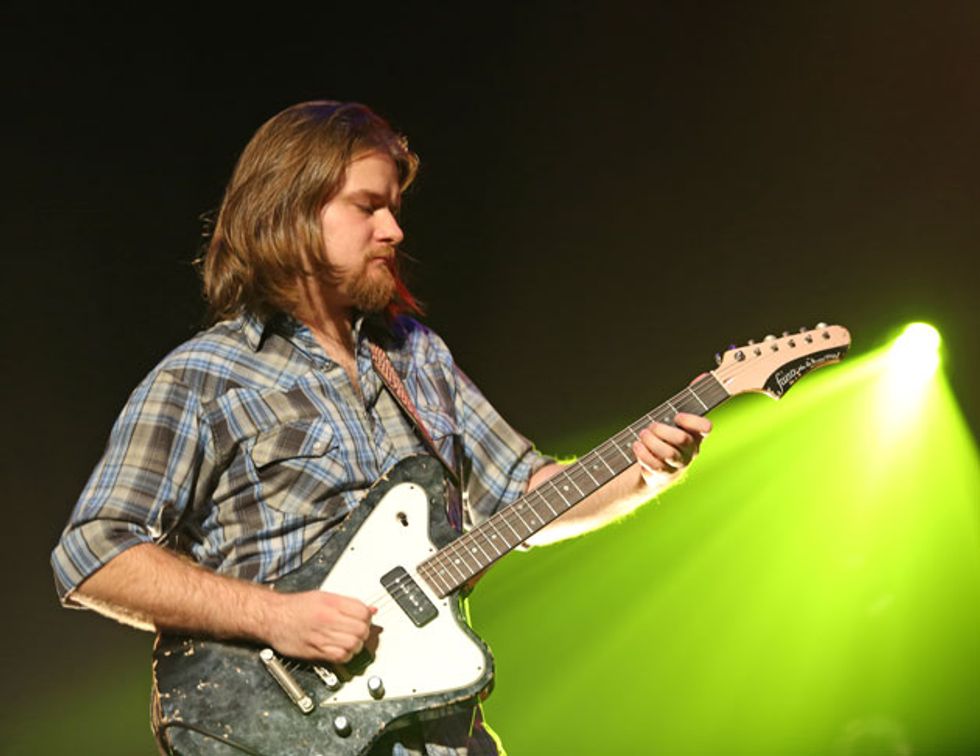 In a lightning flash of luck, Laur Joamets got his gig with Sturgill Simpson via a letter he emailed to producer Dave Cobb before moving to Nashville. His Fano Alt de Facto PX6 is among his workhorse guitars. Photo by Perry Bean
Sturgill Simpson is rewriting the book on what defines a successful contemporary country artist. The fervent interest and industry buzz that followed the release of Simpson's wholly unexpected and stunning 2014 breakthrough, Metamodern Sounds in Country Music, was unprecedented for someone that was, in essence, a traditionalist who bent the rules a bit with a healthy—if unconventional—dose of psychedelic sounds and philosophy. That album's success solidified Simpson's place as one of the most important and unique new voices shaking up the genre. It also helped raise the profile of Nashville-based, producer-turned-tastemaker Dave Cobb, whose other clients include Chris Stapleton, Jason Isbell, and Rival Sons.
Now, with that album's follow-up, A Sailor's Guide to Earth, the soulful belter and songwriter from Kentucky is enjoying a fever pitch of critical adulation and commercial success, and has successfully proven to be far more than a refreshing flash in the pan or the one trick-pony gifted with a Waylon Jennings-esque baritone that many had written him off as. What's more, Simpson's done it on his own terms, self-producing the album with the kind of conviction and passion that forces one to pay attention—country fan or not.
A Sailor's Guide to Earth is a concept album that takes a hard left from its predecessor's traditional-with-a-twist vibe. Rife with soulful horns, burly keyboards, and even a heartfelt cover of Nirvana's "In Bloom," A Sailor's Guide to Earth is an extremely adventurous, dynamic statement from a man many predicted would dig deeper into sonic neo-traditionalism. Simpson, a former Navy man, penned the album as a guide to the world—as narrated by an experienced seafarer—for his infant son. Its songs display the complexity Simpson revels in, bristling with ambitious arrangements, philosophical lyrics, and intriguing, emulsifying segues between tracks. Not to mention plenty of rock 'n' roll spirit.
While A Sailor's Guide to Earth might be substantially less guitar-driven than the music Simpson made his bones with, the album offers exceptionally cool 6-string fiber, provided by Simpson's trusted Estonian guitar wizard, Laur Joamets (whose nickname is "Little Joe"), and the languid, atmospheric pedal steel of decorated session veteran and former James Taylor collaborator, Dan Dugmore. [See sidebar.]
"The best motivation for any musician is having your boss buy you a new instrument and say you have three months until a late-night television performance. He put me in a situation in which I truly had to move my ass!"

While Joamets is best known for the fiery licks he pulls out of his trusty '70s Telecaster, he's also now playing pedal steel live in Simpson's band. He'd never touched the instrument prior to Simpson buying him one and simultaneously telling him he had around three months to learn the parts from the new album for a late-night TV show performance. Premier Guitar spoke with Joamets to discuss the stranger-than-fiction tale of his arrival in Simpson's life, the process of bringing Simpson's vision for A Sailor's Guide to Earth to life in the studio, and learning to play the intimidating-looking pedal steel in less than four months.
Would you explain how you wound up playing in Sturgill's group?
You're familiar with the band Rival Sons? I come from Estonia, which is a very small country, and everybody knows everybody in the music scene there. I was in a blues-rock band called Drama Mama and I was a fan of Rival Sons' music. I heard that they were going to be playing their first show in Estonia and I told the promoter that Drama Mama wanted to open the show. So it worked out, and we opened the show, but we didn't get to really hang out with the Rival Songs guys much that night. However, when they came back on tour the next time, they wanted us to open for them again.
By that time, Rival Sons' drummer, Michael Miley, had met an Estonian girl, and they started hanging out in Estonia when he wasn't on tour. I hit it off with Miley and we swapped contacts, as musicians do, and we started hanging out and playing shows together when he was in Estonia between tours. Miley and I started doing Hendrix tribute shows, and we did a pretty cool week-long tour of Russia with a funk thing, and eventually Miley suggested to me that I should move to Nashville—which I found really funny at that time, because I had no idea that there was an emerging music scene in Nashville outside of the bigger side of the industry. But Miley told me the Black Keys and Jack White were working out of Nashville now, and that there was much more to the place than I'd initially thought.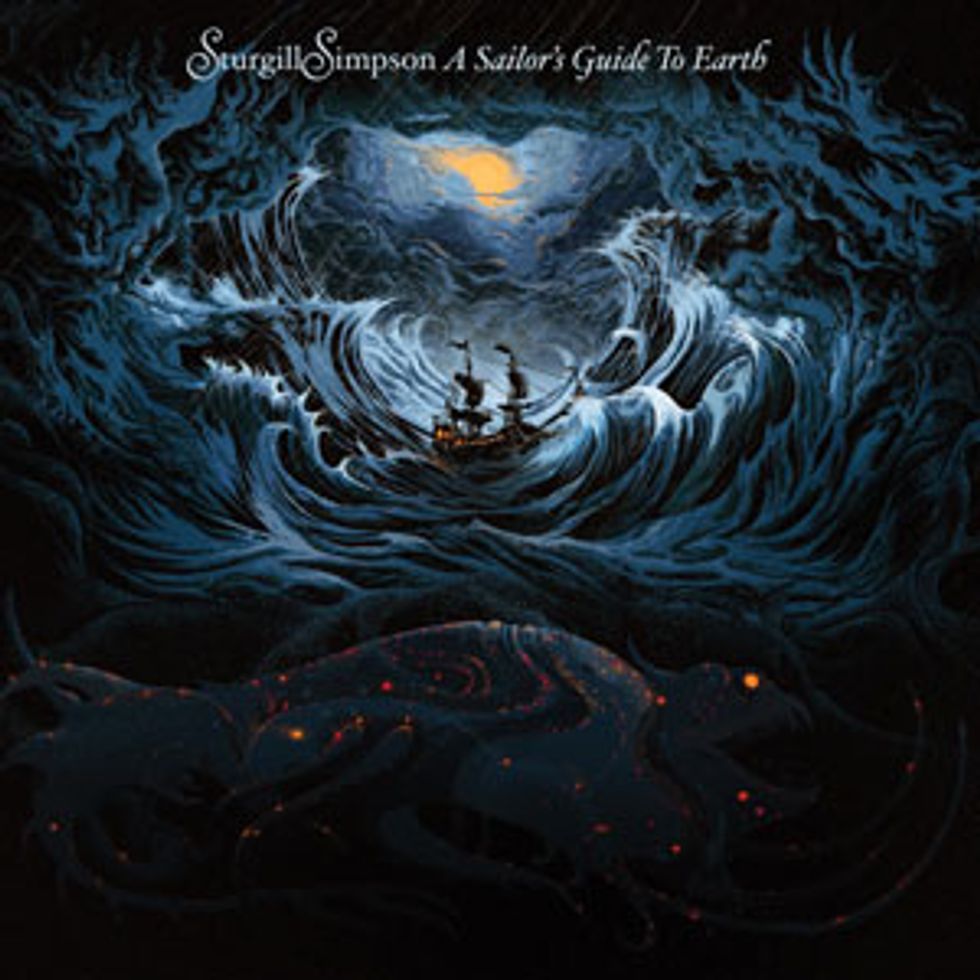 Laur Joamets' thoughts on creating A Sailor's Guide to Earth alongside his boss: "Sturgill really knew what he wanted out of the record, and I just went in there and tried to do the best job I could to suit those songs."
I'd made a lot of money playing random gigs around Estonia, playing with something like 15 different artists—that's the only way musicians make money in Estonia: You have to play every show possible. In the summer of 2013, Miley's advice about Nashville popped into my head. I hit him up and told him I was ready to go and had the money stashed away to make it work, and he suggested I reach out to Dave Cobb, who was Rival Sons' and Sturgill's producer at the time. Dave replied to my email and said, "Sturgill Simpson wants to hire you to play guitar for him." I thought it was a practical joke at the time. It felt truly unreal. But that was three years ago! I try not to think about how it happened too much, because it's still sort of surreal.
How did you catch Sturgill's attention without having met him or him seeing you perform?
My email to Dave included a really long letter about my feelings on music in general and how I feel about the music business, and I included some links to YouTube clips of my playing. They liked what they heard in the links apparently, because they asked me if I wanted to do the gig right then!
You made quite a name for yourself as a hot Telecaster picker on Metamodern Sounds in Country Music, but A Sailor's Guide… has much less of that style of guitar. How did you approach your parts on the new album, and what was Sturgill after?
Sturgill started talking about the album many months before the recording process and had a really strong vision of what he wanted and how he wanted to track things. He explained that the record was going to be very different than the first one, and that there was going to be places for me to do my thing, but that it wasn't going to be a guitar-driven album. Sturgill really knew what he wanted out of the record, and I just went in there and tried to do the best job I could to suit those songs.
I became a big fan of Dan Dugmore's pedal-steel playing on the record. It's really different and atmospheric—not traditional country pedal steel at all—and I think it's exactly what Sturgill needed. Because there was less of what I typically do on the album, Sturgill bought me a pedal steel guitar to play live and told me I had until the spring—around three months—to learn it for a late-night TV show performance that we had booked. So I'm handling those pedal steel parts live now. I'm actually really happy he did that, because learning the pedal steel has been a great new adventure for me.