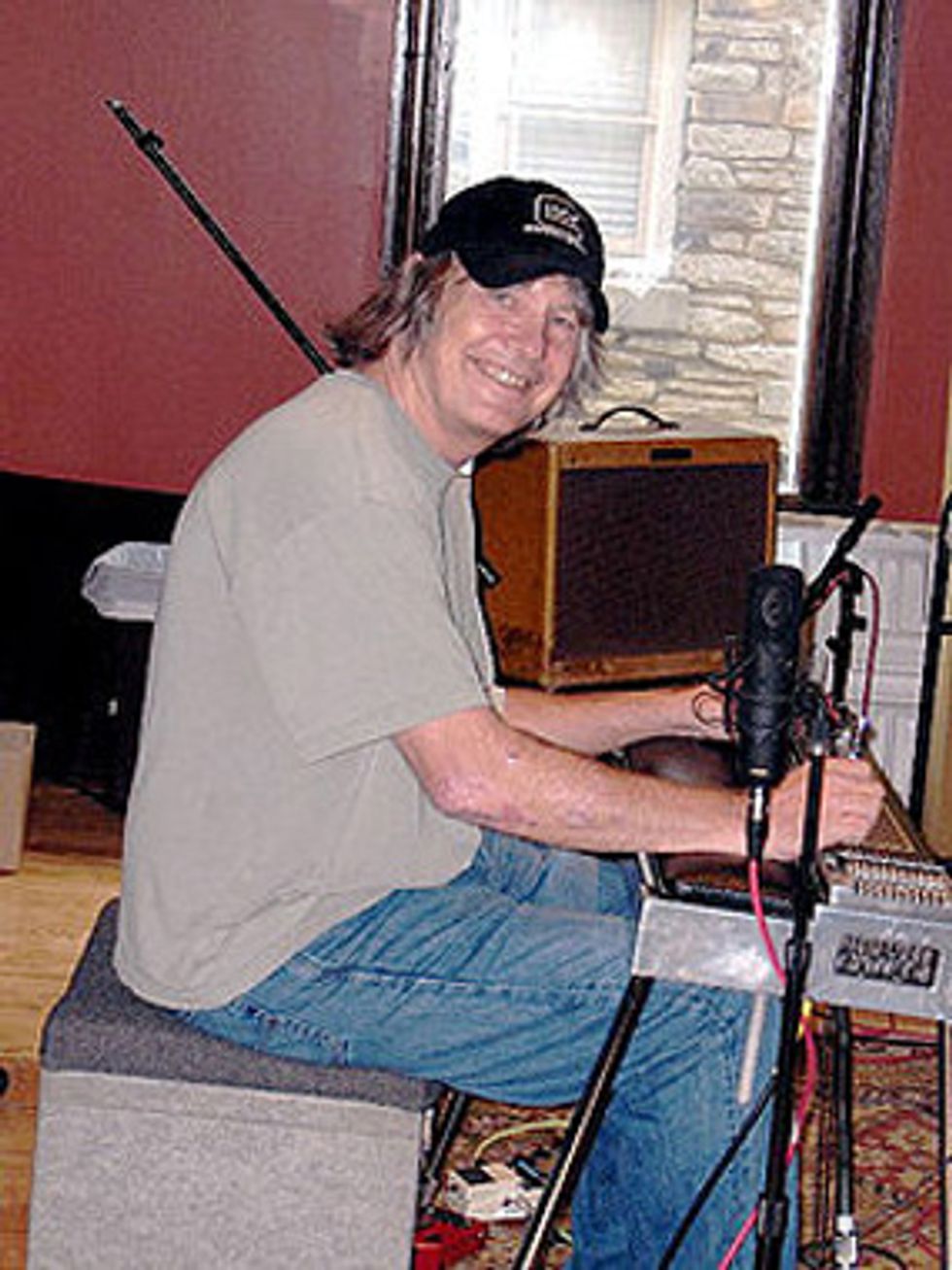 Dan Dugmore Digs Into Atypical Steel
Dan, what approach did Sturgill ask you to take when you tracked the steel parts for the album?
Sturgill said he wanted the steel guitar to sound like Led Zeppelin, instead of trying to be too obviously country. He was looking for something really outside the box, and it certainly ended up working out that way. He said to just go for it, which made it a really cool process. I think Sturgill's songs are so cool and his voice is so inspiring, and very soulful, so it was a great project to work on. Sturgill really did have a vision and a theme for the record from jump street, and that shows in the final product being so cohesive.
You mentioned non-traditional playing, and there's certainly a lot of that—especially in the atmospheric stuff on songs like "Breakers Roar" and "Brace for Impact (Live a Little)." Where are you coming from as a player?
I first fell in love with the sound of the pedal steel when I heard Rusty Young play on "Kind Woman" off the Buffalo Springfield album Last Time Around, and then came the stuff that Sneaky Pete Kleinow played on the Flying Burrito Brothers album, The Gilded Palace of Sin. After that, the hook was set in pretty deep. My style of steel guitar is not very traditional. I'm not based in Western swing, or jazz, or any of the super fast stuff.
Dan Dugmore's Gear
Guitars
1980s Sho-Bud Lloyd Green

Amps
1955 Fender Tweed Deluxe
'50s Magnatone

Effects
Hilton volume pedal
Eventide TimeFactor
Analog Man King of Tone
Strymon Lex Rotary speaker simulator

Strings and Picks
D'Addario ProSteel strings
Dunlop fingerpicks
Dunlop tonebar
I've always had more of a laid-back style—even when I worked with James Taylor and Linda Ronstadt. I've always been more of a part-orientated player, rather than one of the guys showing off with a bunch of flashy licks. I always listen to the singer and the song and want to try to embellish that. It was actually really fun making this record, because I'm usually so reserved in my playing. Sturgill told me, "Go ahead and be as crazy as you want to be!" It was really good to get out there and do some more wild stuff.
What gear did you use on the album?
I used my Sho-Bud Lloyd Green model, which is about 25 years old now. For amps, I brought in my 1955 Fender Tweed Deluxe, and then [engineer] Dave Ferguson had a really cool vintage Magnatone amp that has that warbly, harmonic vibrato that's unique to those amps, and we used that sound on a lot of things. The other really cool, warbly sound you hear is a Strymon Lex pedal, which is their Leslie simulator. The more distorted stuff is that Tweed Deluxe, though. I did push the amps sometimes with an Analog Man King of Tone, which I really like a lot. It doesn't sound like a pedal to me. When I play chords, a lot of overdrives will sort of mush out, but that thing keeps the clarity between the notes, which I need.
Was it difficult to find sonic space to work in within those elaborate arrangements?
There's a lot of chordal stuff happening between all the instruments. I didn't have the strings or the horns in my mix when I was tracking, though they told me where they were going to be. They just had me do my thing and worked it in and out of the final mix as needed. I think it worked out really nicely—how the steel parts jut in and out of things.
---
YouTube It
This 2013 interview with pedal-steel master Dan Dugmore, whose tonebar set the bar on A Sailor's Guide to Earth, covers some of the instrument's basics and reveals the session and stage veteran's playful sense of humor.