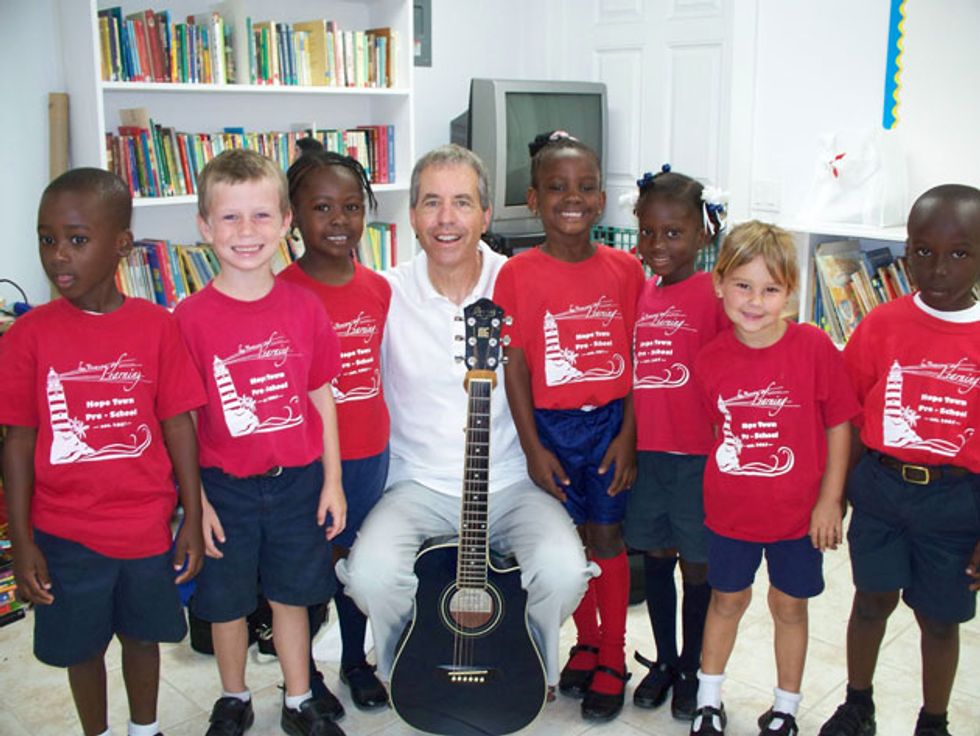 Dr. Robert Krout from Southern Methodist University (center) poses with a class that includes special-needs students at the Hope Town School on Elbow Cay island in the Bahamas.
Guitar in Therapy
When music therapy began in 1950, it traditionally employed piano as the accompanying instrument. But at the same time, electric and acoustic guitars were becoming mainstream instruments. Guitar gained more popularity and began to be used, in part, because it was portable. As a teacher of guitar, Krout has a unique view on the instrument's special place in music therapy.
"Clients of different ages and needs are very attracted to the guitar—the look of it and sound of it," he says. "I've worked with emotionally disturbed teenagers who normally would not have any reason to relate to me, but if I walk in with a Fender Stratocaster they relate to that. So the guitar can be used as the go-between. I do a lot of songwriting for music therapy, and the acoustic guitar is a musical instrument I can hold while sitting across from the client. They relate to the guitar, which creates a therapeutic space, and then we can safely do other things with singing, lyric discussion, or songwriting. With autism, it might be the way the guitar smells. A person with a psychiatric syndrome might have played guitar when they were younger, before the disease took over, and they connect to that."
To maximize effectiveness, Krout adapts his choices of instrument and songs to the background of the patient. For example, if a patient is a baby boomer, he may rely on the guitar-based music of the '60s. Meanwhile, if radio hits from the 1950s were the soundtrack of his nursing-home patients' youth, Krout might use Buddy Holly songs as an emotional connection.
The guitar also figures prominently in Blake's work with the Connecticut VA health system. Perhaps the country's best-known nonprofit working with veterans via the 6-string is Guitars for Vets, which provides a free guitar and lessons to veterans through local chapters set up all over the country from its base in Milwaukee, Wisconsin. In contrast, Blake's Six Strings for Soldiers program is much smaller and locally focused, with more of an emphasis on the music-therapy side than on the guitar-centric aspects.
"With an instructor, the primary concern is about instrumental skills, like teaching someone how to play chords, rhythms, or notes," she says. "I'm more concerned about how playing guitar is helping them with their coping skills and stress."
Blake says one of the most rewarding parts of working with Six Strings for Soldiers is that patients use what they've learned when they return home. If they start to get anxious, they pick up the guitar and it calms them. She also finds that even small improvements in learning the instrument quickly reward patients with increased self-esteem.
"Within four weeks it's possible to teach somebody how to play some I-IV-V chord songs," says Blake. "And to accomplish that is very exciting! Guitar is, of course, very complicated to play well—as any instrument is—but for a beginner it's very accessible. It can be particularly effective with isolation issues. It's empowering for socially isolated and fearful PTSD patients when they walk around with a guitar, because it's like walking a dog. People say, 'That's a nice dog' or 'What kind of dog is that?' Similarly, they say, 'You play guitar?' The patient may then say, 'Well, I'm learning,' and it encourages a conversation."
When they leave our facility, we don't just give them a certificate and coin and tell them not to drink, and to go to meetings." —Paul Pellinger

Meanwhile, Pellinger from Recovery Unplugged—which has centers in Austin, Texas, and Fort Lauderdale—has yet another perspective. As the center's name implies, acoustic guitar figures prominently in its treatments. Three or four guitarists work full-time with the program. One of the musicians on staff is Richie Supa, a songwriter who has worked with Gladys Knight & the Pips, Bon Jovi, and Aerosmith—and who performs acoustic sets of songs about addiction and recovery for Recovery Unplugged patients.
But Recovery Unplugged clients don't just consume music, they can also make it. The centers offer musical workshops where Supa and other staff members help interested patients learn to create songs or take their guitar playing to the next level. Recovery Unplugged even found a way for clients to take their musical experiences home after completing treatment by providing a recording studio where patients can create soundtracks of their stay. The soundtracks can be any combination of prerecorded songs they've chosen, performances they've witnessed, or tunes they've performed or written.
"When they leave our facility, we don't just give them a certificate and coin and tell them not to drink, and to go to meetings," Pellinger says. "We give them earbuds and an MP3 player. Music is used as a catalyst for recovery, whether to help them be grateful, call their sponsor, or remember the consequences of using. For instance, Richie Supa wrote a song called 'I Got This.' That's one of the things addicts say when someone asks for their car keys because they are in no shape to drive—'Go away, I got this.' The song was on the soundtrack of a client who graduated from our treatment center. He was on his way to use drugs instead of going to a meeting. He was thinking, 'I got this,' when the song reminded him he didn't have 'this' and should go to a meeting."
Of course, Recovery Unplugged isn't the only music-therapy center that celebrates the unique attributes of flattops. SMU's Krout finds that acoustic guitar can work especially well with certain patients because of the physical vibrations they feel through the back of the instrument.
"With an electric guitar, the sounds are coming out of a speaker across the room," he explains. "Sitting across from a person with an acoustic guitar, it is the vibrations that actually connect us in that moment and create the shared therapeutic space."
Despite that advantage, Krout often uses electric guitars as well. "I worked with Fender for a number of years to bring the electric guitar into music therapy," he says. "We were trying to introduce music therapists to more contemporary sounds by using electric guitar."
Even so, not everyone relates to guitar—acoustic or electric. Krout says the instrument's popularity has fallen off a bit with younger patients in recent years, as it has become less the currency of popular music—especially in the inner city, where rap and hip-hop are often the music of choice.
"With teens, often I will work from an iPad using GarageBand. I use loops with hip-hop, electro, and techno types of sounds," Krout explains. "But many times they want to be doing something active, and even if they hadn't [previously] thought about being a guitarist, if I've got a guitar and they see me playing along with a GarageBand track, it might be attractive to them. I'm working with a young man now from India who is into Bollywood movies and soundtracks. We're working on guitar with very simple chords in the context of a huge Bollywood arrangement. It may just be guitar chords, but it feels like Bollywood to him."
Get Involved
For guitarists wanting to explore career alternatives that involve music and guitar, music therapy is a path worth considering. Therapists must meet educational and clinical training requirements set up by the American Music Therapy Association (AMTA). Graduates must take and pass a comprehensive exam administered by the Certification Board for Music Therapists in order to become certified music therapists (MT-BC), which qualifies them to work as a member of treatment teams in schools, hospitals, or nursing homes.
"You don't have to be a doctor or go to medical school, though you will learn about some medical conditions in a music-therapy program," says Blake, who achieved certification in the aforementioned manner. "It's music training combined with psychology." She adds that, just as medical doctors often specialize in certain areas, music therapists can, too. "I work at a VA hospital with veterans. Other therapists work with the elderly, kids with autism, pain management, people who are developmentally disabled, and so on. Depending on what you choose as a specialty, you may need advanced training to be able to work with that population."
According to the AMTA, music therapists must have a bachelor's degree or higher in music therapy from one of AMTA's 72 approved colleges and universities. They must also complete 1,200 hours of clinical training. Some states also require a license for board-certified music therapists.
Premier Guitar readers know the big and small ways in which playing guitar and listening to music can be therapeutic. The admirable work of music-therapy practitioners like Krout, Blake, and Pellinger is but a small sample of how the instrument we love is helping countless others.