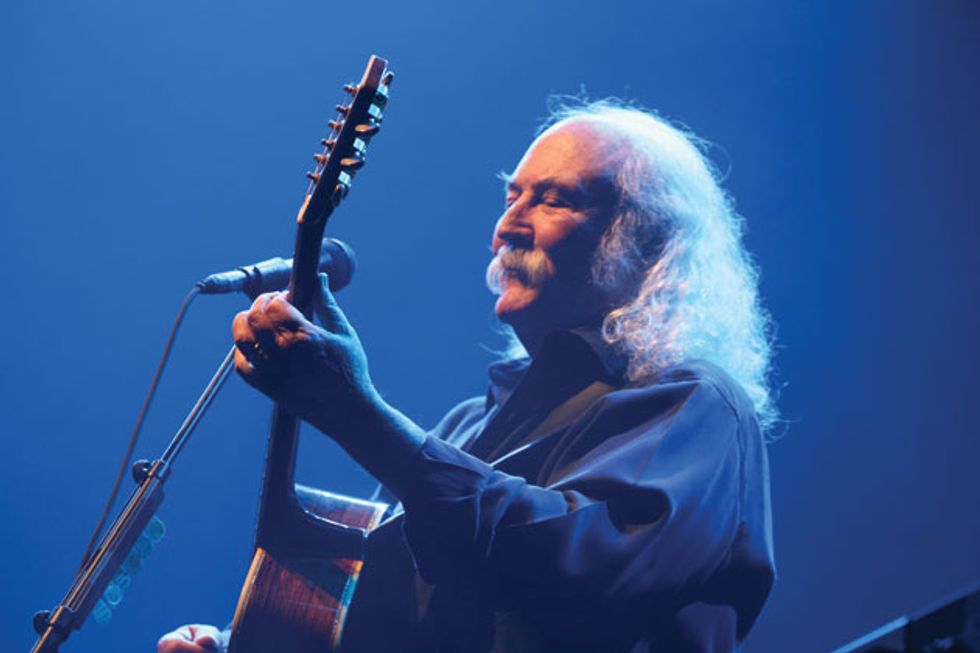 "I'm happy and I love making music. Aside from my family, this is my greatest joy. It's the most fun you can have with your clothes on, really." Photo by Django Crosby
Five decades into his storied career, David Crosby should need no introduction to anyone seriously interested in guitar playing or songwriting. There are, of course, latecomers to every party, so we'll start here with a few highlights from his musical life, for those of you who may not know Croz's story.
Along with fellow singer-songwriters Roger McGuinn and Gene Clark, Crosby was a founding member of the popular and influential folk-rock group the Byrds. Their 1965 cover of Bob Dylan's "Mr. Tambourine Man" was a massive hit in America and the U.K. McGuinn played 12-string electric guitar and sang the lead vocal, with Clark and Crosby sweetening the choruses in tight harmony. A year later, the Byrds released their original song "Eight Miles High," showcasing the band's newfound interest in bold-toned psychedelia.
Crosby left the Byrds in '67 and soon launched Crosby, Stills & Nash with Stephen Stills (of the folk-rock band Buffalo Springfield) and Graham Nash (of the Hollies, a successful pop group from the U.K.). Their self-titled 1969 debut album spawned the now-classic songs "Marrakesh Express" and "Suite: Judy Blue Eyes." Crosby's most prominent outing on the album was "Guinnevere," a hypnotic ballad with shifting time signatures in E–B–D–G–A–D tuning (low to high). From time to time, CSN expanded to include Neil Young (also a Buffalo Springfield alum), as on the multi-platinum 1970 album Déjà Vu.
In 1971, Crosby recorded his first solo album, If I Could Only Remember My Name, which featured the hallmarks of his singular style—luscious vocal harmonies, acoustic guitars in alternate tunings, and surprising harmonic twists. For someone with such a strong artistic vision, however, Crosby has had a relatively scant solo output since that time. Although he's put out a few live albums along the way, he's released just four studio albums since his solo debut: 1989's Oh Yes I Can, 1993's Thousand Roads, 2014's Croz, and this year's Lighthouse ('16).
If you were to track Crosby's musical progression as a solo artist and try to predict the type of record Lighthouse would be, you'd probably be dead wrong. Over the years, he has generally made records with hotshot session players and contemporary production values. Even the recent Croz is cut from that same cloth. Lighthouse, however, is a remarkably bare-bones album full of thoughtfully crafted songs, captured intimately. Coproduced by Michael League (bassist and skipper of the band Snarky Puppy) and Grammy-winning engineer-producer Fab Dupont, it features up-close-and-personal production that gives it a slightly modern feel, while the spare arrangements supporting Crosby's rich voice and inventive acoustic playing harken back to his early-'70s solo work.
Inasmuch as the music and sonic textures on Lighthouse are like anything Crosby has released in the past, they're most akin to the songs "Traction in the Rain" and "Orleans" from If I Could Only Remember My Name. Just as on those older sessions, there are no drums at all on Lighthouse. Instead, the musical pulse comes from the acoustic guitars, which are played by Crosby and League, whom Crosby first worked with when he was a featured guest on Snarky Puppy's Family Dinner – Volume 2 earlier this year.
"I said to Michael [League, Lighthouse coproducer], 'I need a month,' and he said, 'You don't need a month. We can do this in two weeks.'"

Snarky Puppy is known for having an abundance of technical chops, but it seems it would take a take a wholly different set of chops to support what you do. What gave you the confidence that Michael League was the right guy to make Lighthouse with?
As soon as I started working on that Family Dinner record, I pretty much knew right away that I wanted him to produce a record for me. He's just a startlingly talented guy. My thought about getting him involved was sort of like hiring a master carpenter with a gigantic toolbox, all these great players—namely, Snarky Puppy. I thought that's where we would go. I said, "Hey, I'd like you to do this and we could use all the guys from the band." He came back with, "Well, I'd love to do it but I really loved your first solo record. Rather than doing band tracks, I'd like to do a more acoustic-guitar thing with big vocal stacks." Of course, that's right in my wheelhouse. That's exactly where I live. And that's what we did.
It's so different from your last record!
Croz is more a band record. Lighthouse is an acoustic record. I deliberately wanted to do that—I want to go in both directions.
Recording and mixing apparently took a lot less time than you anticipated, too, right?
It was so embarrassing. I said to Michael, "I need a month," and he said, "You don't need a month. We can do this in two weeks." I'd never made a record that quickly in my whole life, but Michael told me, "It's easy. We can do it." I was so sure we couldn't, but once we got into the studio we recorded the whole album in just 12 days—then mixed it in four.
What made that sort of pace possible?
Being comfortable with each other and working with very talented people. Michael brought an engineer onboard—Fab Dupont—who is incredibly good. The three of us communicated extremely well.
What would you say League's greatest strengths are as a musician?
He's happy, he's focused, and he knows exactly what's important to him. Those are three gigantic gifts.
On the flip side, what would you say your strengths are?
I'm happy and I love making music. Aside from my family, this is my greatest joy. It's the most fun you can have with your clothes on, really.
Are the songs on Lighthouse all brand new?
Sort of. I've been working on this batch of songs for a while—probably two years. I first started writing "The Us Below," "Somebody Other Than You," and "Things We Do For Love."
You wrote some of the new songs with League, right?
I have been writing a ton lately—mostly with other people, like Michael, and with my son James Raymond. They're the two guys I write with the best. I like writing with other people.
Why?
If you write with somebody else it doubles the possibilities. I'm not here to prove anything to anybody. Writing with other people works great for me.