Pre-War Perfection: The Martin D-45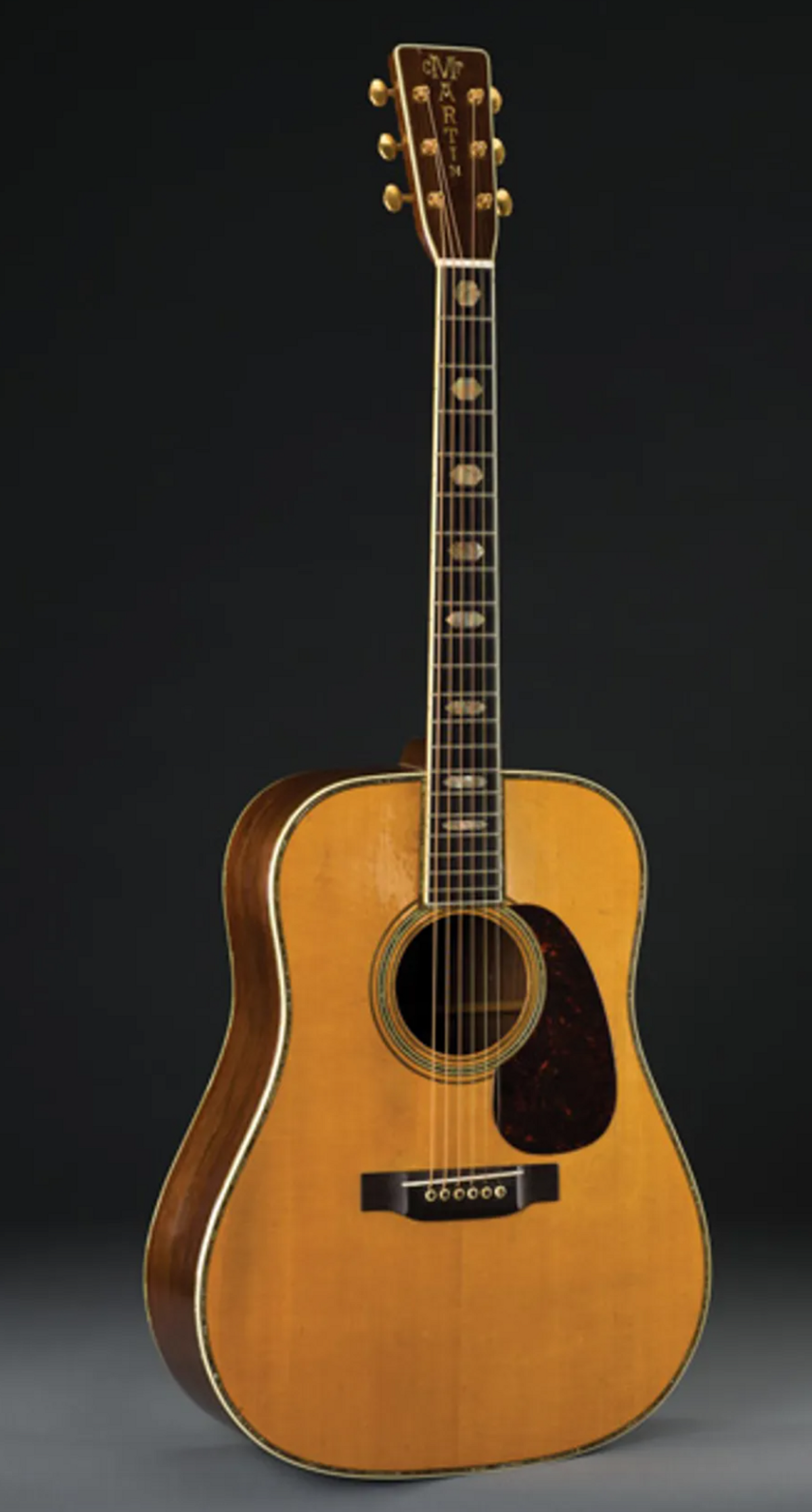 Photo courtesy of C.F. Martin Archives.
The 91 D-45s that Martin produced between 1932 and 1942 may be the most coveted flattops ever made. What makes them so special?
In 1933, a singing cowboy from Oklahoma plunked down $200 and ordered a new guitar from the Chicago Musical Instrument Company. A few months later, he had the fanciest dreadnought Martin had ever built—the first D-45, serial #53177. Its structural features are familiar to guitar geeks everywhere: scalloped and forward-shifted x-bracing, Brazilian rosewood back and sides, Adirondack (red) spruce top, ebony bridge with ivory saddle, and a 12-fret neck with a slotted headstock.
But that description also applies to Martin's D-28, which was far more numerous in that era and only cost $100. What did the purchaser get for his extra $100? A lot of bling. His guitar had all the style-45 appointments—binding with abalone pearl inlays (on the top, back, sides, and neck heel), "boxed" inlay on the end piece, a completely bound fretboard with pearl inlays, a pearl inlaid rosette (as on the style 42), multicolored mosaic back strip, and an elegant torch headstock inlay by George H. Jones (aka "The Marquetrie Man") of New York. But the guitar also boasted extra pearl binding around the headstock and, inlaid in abalone pearl on the fretboard in script large enough to be seen from the back of the hall, the new owner's name: Gene Autry.
Total D-45 production from 1933 to 1942 was 91. Meanwhile, Martin built 148 D-28 guitars in 1937 alone.

At least one other musician was sufficiently impressed by Autry's new guitar to order one. In 1934, Jackie Moore (called "Kid" because he was only 12) ordered a D-45S (the Srefers to its special feature, a solid headstock). You might think that, with two famous players and all that bling, D-45 sales would have spiked. You would be wrong.
Pre-war D-45 sales were underwhelming. Martin didn't build any D-45s in 1935. In 1936 they built two custom models, #63715 and #64890, both designated as D-45S—although in this instance the S referred to a different special feature: a 16 1/4" body based on the F9 archtop. In 1937, Martin built two regular D-45s and a custom-ordered D-45S (#67460) with 12 frets and a solid headstock, a guitar that guitar dealer/historian George Gruhn remembers as "a particularly great one." The company built nine D-45s in '38, 14 in '39, 19 in '40, 24 in '41, and 19 in '42—the D-45's last year until its 1968 reintroduction. Total D-45 production from 1933 to 1942 was 91. Meanwhile, Martin built 148 D-28 guitars in 1937 alone.
Today, more than 80 years after Autry's D-45 was built, these 91 guitars are coveted by players and collectors worldwide. I wanted to learn what accounts for the fascination. Is it just their rarity? Are these pre-war D 45s famous only for being famous?
Toby Stroud was best known as a fiddle player—but he sure looks happy picking his beautiful D-45! Photo courtesy of C.F. Martin Archives.
Encountering a Classic
I pulled into Nazareth to find out. After a day with Martin Museum Director Dick Boak and the museum's 1942 D-45, I called vintage guitar historians, restorers, dealers, and players around the country. The first question I asked was, "What makes the pre-war D-45 such an object of desire compared to other vintage guitars, and even other vintage Martins?"
One thing quickly became clear: Martin guitars of the teens through the thirties have profoundly influenced many subsequent steel-string guitars builders. "My guitars are inspired by early American guitars," says luthier Kim Walker, who crafts rare guitars himself—his waiting list is over seven years long. "The American steel-string guitar has its roots in Martin. Even Gibson flattops are much more like Martins than they are like Orville Gibson's guitars."
Guitar historian John Woodland concurs. "From the mid teens through the mid '30s, Martin had their greatest period of innovation. To this day, the guitars designed during that period account for the majority of C.F. Martin's line. Many crucially important events happened during that time.Had they not, I doubt that Martin would have survived the Depression. The origins of the dreadnought can be traced back to 1915. The 45 series, Martin's most ornate style, dates to the beginning of the 20th century. Gene Autry was the first to request that they be joined, creating the first D-45."
Gruhn adds, "Martin guitars of that period are extraordinarily good—that's when they had everything just right. The pre-war Martin dreadnought, especially pre-1938, is considered the finest bluegrass guitar ever made—la crème de la crème."
Fred Oster, owner of Frederick W. Oster Fine Violins & Vintage Instruments in Philadelphia, has been involved with vintage instruments for more than 40 years. "These guitars were built by craftsmen who had been working for decades," he observes. "They had the best air-dried woods. They had generation after generation of accumulated knowledge. In the 1930s, the availability of the best in materials and that accumulated knowledge were present at one time and in one place."
One of the most remarkable things about these pre-war Martins is their structural stability over 80 years. It's impossible to know all the factors that account for this, but one might have to do with how the wood was seasoned. As Boak explains, "On the third floor and in the attic of the Old North Street Martin factory, there were racks for sets of spruce, mahogany, and rosewood for tops, backs, and sides. The warmth and relative dryness in the ceiling and attic helped season the wood."

Beautiful bling: D-45s boasted some of Martin's finest decorative detail. Photo by Ariel Goldenthal.
From the WLS National Barn Dance to the Fillmore
"The boom in interest in D-45s among collectors doesn't come from country music directly, or from bluegrass," says Kim Walker. "It stems from folk-rock musicians, in particular Stephen Stills and Neil Young."
Gruhn agrees. "When Stephen Stills and Neil Young went onstage with D-45s—Young with a 1960s model, and Stills with his vintage pre-war—that had a great deal to do with the popularity of those instruments."
Richard Johnston—co-owner of Gryphon Stringed Instruments in Palo Alto, California, and co-author of several books about Martin guitars—offers an analogy to some of the most famous (and tragic) rock stars of the 60s: "Like some of the most iconic figures of the 1960s, this model was only around for a few years. Like those rock stars who are most idealized, it died early. If Martin had kept the D-45 in the catalog continuously, instead of letting it disappear for decades, they would still be desirable guitars—but people would not be referring to them as 'the holy grail.'"
Larry Wexer of New York's Laurence Wexer Fine Fretted Instruments refers to the D-45 as "the king of flattops" because of its bass, volume, and projection—all of which made it uniquely suited to driving a band.
"When Stephen Stills and Neil Young went onstage with D-45s—Young with a 1960s model, and Stills with his vintage pre-war—that had a great deal to do with the popularity of those instruments." —George Gruhn

But not all of these "kings" have had pampered lives. Gruhn remembers seeing a D-45 with 50 top cracks. "It didn't sound like what a real vintage D-45 would have sounded like," he says. "If you want to know what a pre-war D-45 sounds like, you have to listen to one with its original finish and unmolested-thickness top, sides, and back."
Pre-war D-45s have passed through the hands of many famous musicians. One instrument passed from Hank Williams Jr. to Johnny Cash and Marty Stuart. Gruhn fills in the details. "Hank Jr. had a pre-war D-45. Some idiot drilled a 3/8" hole for a volume control. We covered the hole with an abalone plaque and engraved 'Hank' on it. When Hank traded it to Johnny Cash, we re-engraved it 'Cash,' and when Marty got it from Johnny Cash, we re-engraved it 'Hank' again."
If all pre-war D-45s are great, are some greater than others? Kim Walker says, "Even though all D-45s were built to the same pattern and used the same material, they aren't all the same. You can build two guitars on benches right next to each other and use pieces of wood that came from the same log, and those two guitars won't be identical."
All 91 prewar D-45s were constructed with scalloped bracing, Brazilian rosewood back and sides, and spruce tops. But there were still differences. The first two D-45s, as well as #67460—a 1937 custom order—had 12-fret necks. All others were built with 14-fret necks. In 1933, Martin guitars used bar frets and ebony neck reinforcement, but from 1934 on, they used T frets and steel T-bar neck reinforcements. In 1933, all Martin guitars had forward-shifted X-bracing, with the center of the X being one inch below the lower edge of the sound hole. During 1938, the center of the X-brace was moved 3/4" further from the soundhole to compensate for extra stress from heavy-gauge (.014–.060) string sets. And in 1939, the neck width at the nut was reduced from 1 3/4" to 1 11/16", and string spacing at the 12th fret was reduced from 2 1/4" to 2 1/8". The unanswered—and maybe unanswerable—question is exactly how those changes affected the guitars' sound.
Photo by Ariel Goldenthal.
All in the Braces?
Are guitars with forward-shifted X-braces somehow better? Kim Walker isn't certain. "During the 1930s, bracing patterns shifted slightly forward and back, but those changes do not account for all the sonic differences among instruments—or for the magical sound. Of course, all the braces were hand-shaped and hand-scalloped by individual craftsmen, so even two guitars with the same bracing pattern aren't really the same."
Oster has his own opinion of the differences between the two bracing approaches. "Both bracing patterns can be wonderful, but there's a deeper, darker, broader sound with forward-shifted bracing. When the X-braces are shifted rearward, the sound becomes more focused and a bit more centered."
Wait—What About the D-28?
The pre-war D-45 is fancier and rarer than the pre-war D-28—but is it a better guitar? Did the Martin foremen and workers take more care building D-45s? Did they benefit from exceptional materials and craftsmanship?
Oster thinks it unlikely. "I've not heard that the D-45 was any more carefully built than the D-28. On the contrary, Martin practiced exceptionally consistent and clean work on all models. I would be very surprised if they put in more time on the inside of a D-45 than they did on the inside of a D-28."
"The difference between a 28 and 45 is primarily a difference of ornamentation," says Gruhn. "They picked the prettiest woods for the 45s, but there's no particular difference in the quality of construction. They used their very best materials on the 45, but does that always translate into better sound? That's debatable. The forward-shifted bracing is magical, but there are some wonderful guitars made after that."

Rear view of the Martin Museum's 1942 D-45. Martin reserved its finest materials—like this beautiful Brazilian rosewood—for their 45 series instruments. Photo courtesy of C.F. Martin Archives.
Johnston's opinion is equally clear: "Is the D-45 tonally different from the D-28? There's no evidence for that. Nobody has done even the most elementary blindfold test. It would be great, but we will never get to do that kind of test. It would be impossible to find enough D-45 and D-28 models that were created at exactly the same time by the same people to ensure that the differences heard couldn't simply be chalked up to the variations often found between near-identical guitars."
"Martin used what they considered to be their best rosewood on 45 series guitars," says Woodland. "However, the grading was based solely on appearance, and that changed with every new batch of wood coming in from their suppliers. The wood was air-dried for four seasons before being used for a guitar, but Martin never tap-tested their tops for tone."
One thing you can count on with experts is some disagreement. Larry Wexer says he's played 20 different prewar D-45s, and he insists the model does have a unique tone: "The D-45 is slightly less boomy and better balanced than the D-28, and has a set of higher chiming overtones that add further dimension to the tone.
"They had the best air-dried woods. They had generation after generation of accumulated knowledge. In the 1930s the availability of the best in materials and that accumulated knowledge were present at one time and in one place." —Fred Oster

Modifications and Reproductions
In the mid 20th century, the pre-war D-45 was just another used guitar. As collectors and players began to understand its value, so did builders. Since the 1960s, Martin and others have tried to recapture the magic. Have they succeeded?
"The rebirth of the 45-style dreadnought," says Johnston, "began in the 1960s when Mike Longworth, a luthier and bluegrass musician from Tennessee, began '45-izing' D-28s by adding pearl inlay." The next step was a collaboration in which Martin sent a couple of unfinished guitars to Longworth, who inlaid the pearl before returning the guitars to Martin for finishing. A well-known example is the D-45 built for Hank Snow. Soon after that, Martin hired Longworth to develop new pearl-bordered dreadnoughts. Beginning in 1968, the company built 229 D-45s with Brazilian rosewood backs and sides.
Since then there have been several D-45 special editions and limited runs, including Gene Autry, Mike Longworth, and Stephen Stills signature models, and two C.F. Martin, Sr., models, one with Indian rosewood back and sides, and the other (a limited edition) with Brazilian rosewood back and sides. In 1978, Stan Jay and Hap Kuffner, better known as the Mandolin Brothers, custom-ordered 91 D-45s with standard scalloped bracing, non-adjustable T-bar neck reinforcement, square headstocks, a vertical C.F. Martin logo inlaid on a mock tortoiseshell veneer, and simulated-grain ivoroid binding. The first five were built of Brazilian rosewood, and the rest were Indian rosewood. All had Sitka spruce tops. But these guitars were built to honor the prewar D-45, not to copy it.
"If Martin had kept the D-45 in the catalog continuously, instead of letting it disappear for decades, they would still be desirable guitars—but people would not be referring to them as 'the holy grail.'" —Richard Johnston

Martin—which, in the 1950s, was no more prescient about the future value of pre-war D-45s than anyone else—now builds twoAuthentic D-45 models, each based on a specific pre-war guitar.TheD-45 Authentic 1942, released in 2011, is modeled on the 1942 D-45 (#81578) that was sold to Martin by Fred Oster and Jim Baggett, and is now in the Martin Museum collection. The second is the just-released D-45S Authentic 1936, modeled on the 1936 D-45S on loan to Martin from collector Sten Juhl. Martin's Dick Boak describes these not as copies, but as "recreations, identical in every possible way to the originals, including the use of solid abalone pearl rather than Ablam (pearl laminate)." They are beautiful guitars, and they sound amazing. But are they the equal of a pre-war D-45?
"Can a contemporary luthier succeed in recreating the features and appearance of a pre-war guitar?" ponders Johnston. "Yes, but we have no way of knowing what that guitar will be like in 50 or 75 years."
Oster, who says he's been impressed by the Martin Authentics, agrees:"We won't know if it's as special as a pre-war guitar until we've played it for 50 years."
T. J. Thompson—who has repaired and restored hundreds, perhaps thousands, of vintage Martins, and has built more than a few vintage-inspired guitars—offers an automotive analogy: "The 1930 Bugatti Type 41 Royale Kellner Coach was the most expensive vehicle made in the 1930s. Martin's 45-style guitar was the 41 Royale Coach of the guitar world. The finest materials were quietly set aside for this highly prized model. This often resulted in better-sounding guitars, and invariably the most beautiful guitars to exit Martin's factory doors. Accurately replicating a Martin-style 45 guitar is nearly impossible. Although I have no proof of this, I'd bet this feature was intentional. It's clear that other luthiers were unabashedly stealing ideas from Martin very early on. I'm guessing Mr. Martin's quiet and effective way of dealing with this frustrating phenomenon was to design a guitar that no one else would attempt to build."