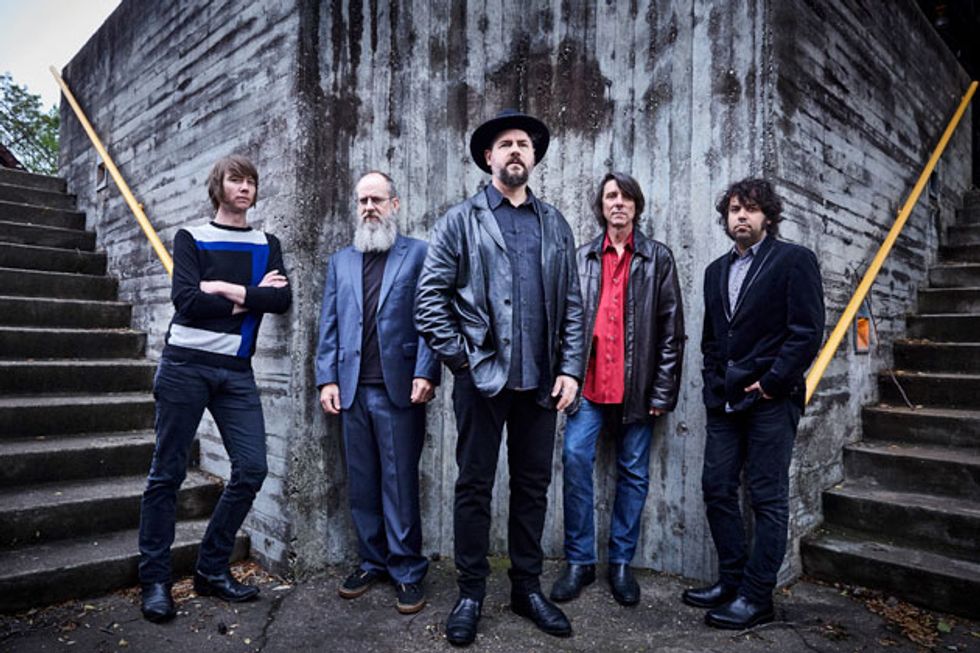 Though bandmates have come and gone over the decades, Drive-By Truckers' current lineup has held strong for five years. "It's the longest we've ever gone without a single personnel change," says Patterson Hood, who cofounded DBT with Mike Cooley. "It's my dream band." Left to right: bassist Matt Patton, drummer Brad Morgan, guitarists Patterson Hood and Mike Cooley, and multi-instrumentalist Jay Gonzalez. Photo by Danny Clinch
You could think of American Band, the new release from Drive-By Truckers, as a compelling collection of passionate, guitar-centric Southern roots-rock by one of the genre's leading torchbearers, which it certainly is, but it's also something much deeper than that. Taken in its entirety, American Band could be seen as a barometer of how much—or perhaps more to the point, how little—our nation has progressed since DBT's cofounders Patterson Hood and Mike Cooley dug deep into the culture wars and the politics of race 15 years ago on Southern Rock Opera, the band's ambitious and critically acclaimed third studio album.

Southern Rock Opera focused on the complexities and contradictions of what it means to be a Southerner, filtered through a fictionalized account of the Lynyrd Skynyrd story. And while the new album tackles elements of Southern identity—most notably "Ever South," in which Hood reflects on the ways his Dixie roots have followed him across the nation to his new home in Portland, Oregon, and "Surrender Under Protest," Cooley's takedown of folks who still haven't given up the cause of the Confederacy—American Band, as the title suggests, is in large part an examination of the entire nation's identity.
The jump from a regional to national focus makes sense. As we have been reminded over and over again in recent years, the South has no monopoly on racism, the fetishization of guns, or religious hypocrisy. And while some artists prefer to keep their political leanings close to their vests for fear of alienating potential fans, that's never been the case with Drive-By Truckers, a decidedly left-leaning band raised on right-leaning soil. In fact, American Band is the Truckers' boldest political statement yet, and could be seen as a rallying cry, released just a few weeks before one of the most contentious presidential elections in the nation's history. Hood and Cooley recently discussed the new album with Premier Guitar by phone from their respective homes in Portland and Athens, Georgia.
"More and more, when I see a flag it's flying at half-mast. That's just where we seem to be right now."—Patterson Hood

A primary theme of American Band is gun violence, usually with racial implications. Four of the album's 11 tracks deal with guns. "What It Means" addresses the rash of killings of young unarmed black males by police through the lens of the Michael Brown shooting in Ferguson, Missouri. Over a hypnotic two-chord vamp, Hood ponders the limits of civil rights progress, and sums up the situation with two simple lines:
I mean, Barack Obama won and you can choose where to eat
But you don't see too many white kids lying bleeding in the street.
"I think that if the only people saying things like 'Black lives matter' are black people," Hood says, "there's not going to be as much progress made as when everyone starts saying things like that, and talking about the problem. Talking about it is not always pleasant—we all have that uncle at Thanksgiving who says terrible things. And I think that's where we are right now: I think our country is in the midst of a really uncomfortable Thanksgiving dinner. It's been coming for a long time."
Cooley's song "Ramon Casiano" is about Harlon Carter, who, when he was 17, shot and killed the titular 15-year-old Mexican boy. Carter was convicted of murder, but the conviction was later overturned on appeal, and 47 years later he became executive vice president of the NRA. (Carter was a key player in the Cincinnati Revolt of 1977, a dramatic coup in which gun-rights radicals took control of the NRA, transforming the organization from what was a relatively bipartisan group focused on hunting and marksmanship into the fiercely right-wing political lobbying group it is today.) Carter has been dead for 25 years now, but his checkered legacy is as relevant as ever.
"Growing up in rural, working-class Alabama," Cooley says, "it's a culture of people who like their guns. But it had never been a political thing before. It was in the early '80s that I distinctly remember thinking, where did all this 'they're coming for your guns' business come from all of a sudden? 'The government is buying all the ammunition so we can't have any, so you better go stock up!'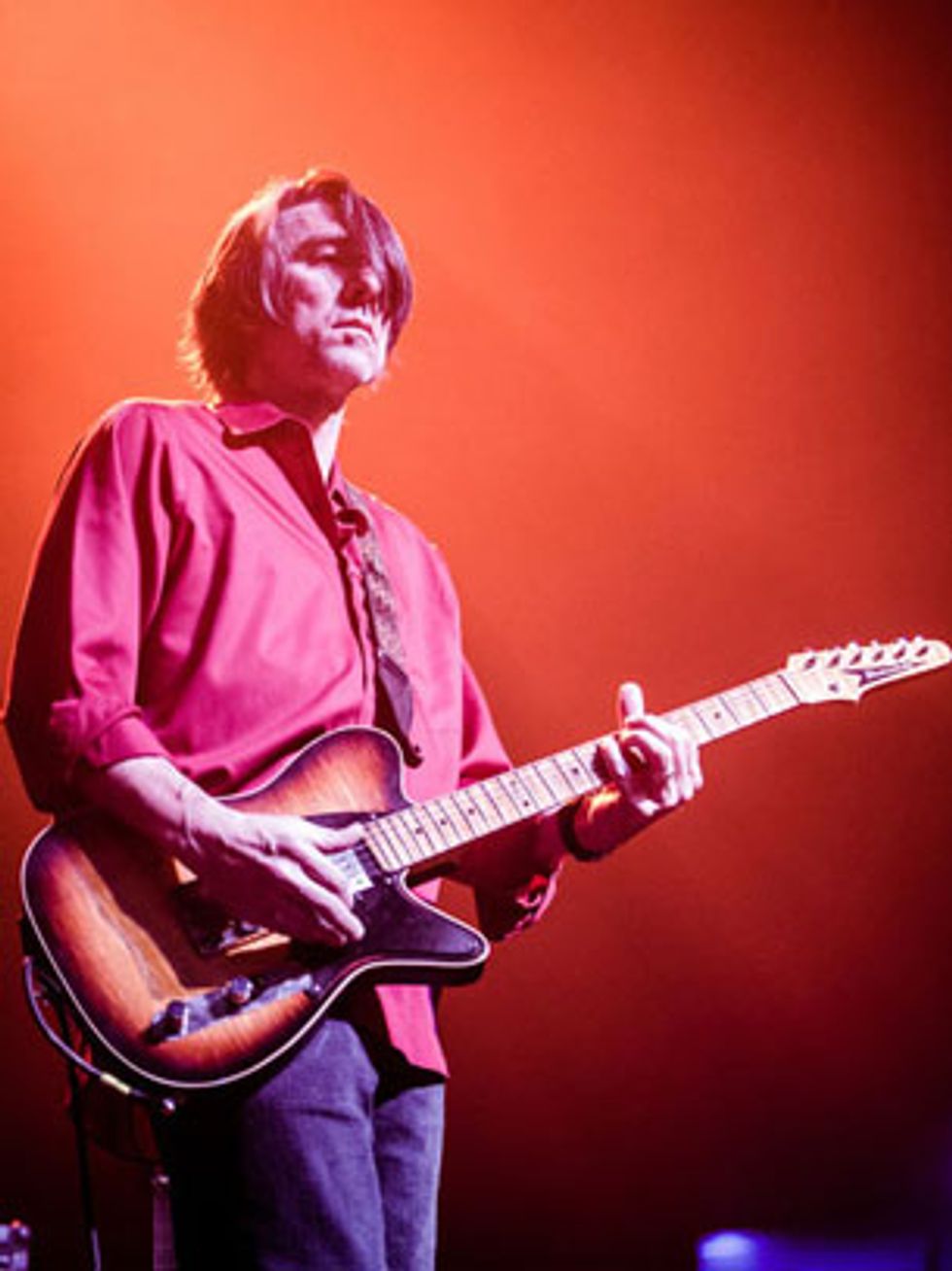 Mike Cooley with his Cooleycaster, luthier Scott Baxendale's take on a vintage Tele. Photo by Tim Bugbee — Tinnitus Photography
"Carter was convicted [of killing Casiano], but he never served any time, and no one knows specifically why. More than likely it was small-town Texas in the 1930s. A white boy killed a Mexican and nobody gave a shit."
Two more of Hood's songs also focus on gun violence: "Guns of Umpqua" and "Darkened Flags on the Cusp of Dawn." The first is about the October 2015 mass shooting at Umpqua Community College, near Roseburg, Oregon, which left an assistant professor and eight students dead. Though mass shootings are, sadly, fairly commonplace these days, the Umpqua shooting had particular resonance for Hood, who had passed through the town where the college is just a few months before, as he and his family were on their way to their new Portland home.

Hood was sitting on his front porch having coffee when he learned of the shooting. "It was one of those gorgeous fall days, blue skies," he says. "What makes someone wake up on a morning that's so nice, and go out and ruin a lot of people's lives, and make an entire community, and country, mourn and grieve? One of the guys shot had been a veteran—he had been in one of the Mideast wars. My God."
Hood wrote "Darkened Flags on the Cusp of Dawn" in response to the Charleston church shooting last year that left nine African-Americans dead at the hands of 21-year-old white supremacist Dylann Roof.
"It all ties in with what we named the record, American Band, and [the image of a flag at half-mast on] the album cover, because it seems like more and more, when I see a flag, it's flying at half-mast," Hood says. "That's just where we seem to be right now.
"And yet in South Carolina," he continues, "where this horrendous thing happened, the fucking Stars and Bars were flying at the top of the pole."
At the same time Hood was writing the song, he was asked to write an op-ed for The New York Times Magazine. "Being known as this writer of Southern things, and Southern Rock Opera, I got asked to write about the flag," he says. "I think the [pro-Confederate flag argument] got lost somewhere around the time when they were flying them at a Klan rally or a lynching. That made it synonymous with what the Nazis did to the swastika. It was something that predated the Nazis, but it will never, ever not be viewed through that lens again."
The Charleston church shooting also served as fodder for one of Cooley's songs, "Surrender Under Protest." "The shooting brought back the whole Confederate flag business," he says. "And the thing about that is, what the flag means to you doesn't change what it is. And what's being referred to [by Confederate flag supporters] as 'political correctness' is what my Southern, white, Christian, hard-working grandparents taught me was just common decency."