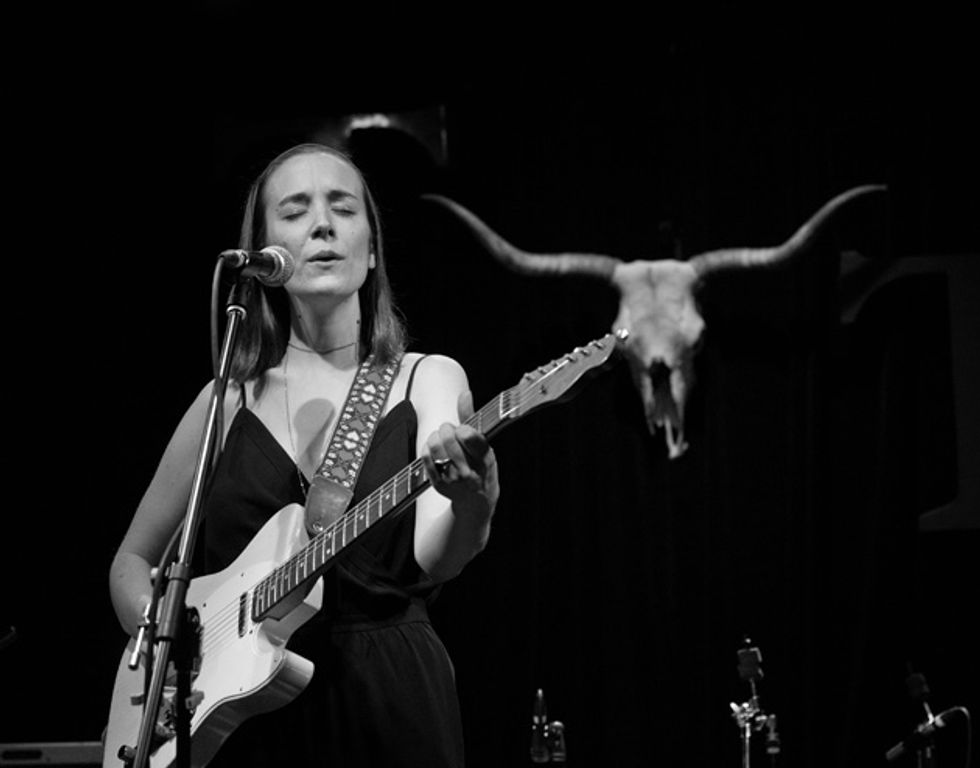 Reamping, a bit of boost, and a tad of reverb are the only sonic tricks in Glaspy's guitar approach, but her core tone delivers the character needed to breathe fire into her trio's approach. Photo by Kirk Stauffer
Most people don't grow up in a nest of guitarists. Margaret Glaspy did. "Guitar runs deep in my family," the guitarist, singer, and songwriter shares. "My brother is an amazing guitar player. My dad, sister, and mom all play guitar. It's always been around."
Despite the guitar's ubiquitous presence at home, her first instrument was fiddle. Her focus was traditional American, Irish, and Scottish fiddle music, but by her mid-teens, she was back to following the family muse. "It was a pretty natural progression between fiddle and guitar," she says. "I was in the string world, so it all made sense. You had to back up other players when you were playing fiddle and it gave me more of a range of things to do."
Glaspy, a Northern California native, moved to Boston to study at the Berklee College of Music. She left Berklee after a semester, but stayed in town for a few years and found her footing as an artist. She played local haunts and bonded with other like-minded musicians her age, including the members of Lake Street Dive. "Bridget Kearney, the bass player, lived next door to me when I lived in Boston," she says. "We've been friends for a really long time."
New York was next. Glaspy continued to develop her chops as a guitarist and songwriter. She also took in the local music. "I'm a big fan of that scene," she says. "There are a lot of players in New York right now that are making such beautiful music. I look at those players and kind of wish that I was that cool. I'm a big fan of Marc Ribot and Mary Halvorson. I'm a huge Julian Lage fan and Nels Cline is doing amazing things. That scene in New York is really special to me."
But Glaspy is that cool. Her first full-length album, Emotions and Math, was released in early summer—although she's been on the road supporting it since last January. The album is a showcase for her songwriting and Rickie-Lee-Jones-meets-Joni-Mitchell style vocals. But don't let that distract you. Emotion and Math's main attraction is Glaspy's guitar playing; particularly her intricate finger work, contrapuntal chord motion, edgy tone, and abuse of low-wattage amps. Her music is raw and flirts with the edges of heavy, which is a welcome break from the predictable, wimpy-and-jangly singer/songwriter fare. She's also far from one-dimensional. She has deep roots in Americana, has been a part of Jayme Stone's retro-cool Lomax Project collaborative, and toured with bluegrass artists Ricky Skaggs and Del McCoury.
Premier Guitar spoke with Glaspy while she wasen route to a gig in Philadelphia. She discussed her unique approach to arranging stand-alone guitar parts, her tonal secrets, her general disinterest in effects (including reverb), and her brief apprenticeship as a luthier at Manhattan's TR Crandall Guitars.
Were you living in Boston right before moving to New York?
I was in Boston for three years, total. My hometown spot was Club Passim. I played Club Passim very often.
In Cambridge, Massachusetts?
Yeah. They kind of adopted me and let me play there whenever I wanted. I cultivated my style as a musician onstage there. They let me do whatever I wanted—which was a huge opportunity when I was 19 years old—to be able to play at a cool club like that, figure out my songwriting scene, and do my thing.
And you had space to stretch out and experiment?
Totally. Every time I played there I had a different band, which was really cool—getting my friends to try on new things that I was excited about. It was a real luxury, for sure.
Some of your songs, like "Situation," use a lot of cool dissonance. Talk about pushing your harmonic boundaries.
I think they're just my preferences. It probably pays tribute to a lot of the music I've listened to in the last five or six years—or just all my life. I lean toward more dissonant chords or pushing myself to actually articulate myself harmonically. At times I can lean on the things I always do, but it's more fun to push my own boundaries. I was listening to a lot of Elliott Smith and I became a really big fan of Jim Hall at the same time. I got privy to a lot of different kinds of music that I think asks [you] to think outside of just playing diatonically. It's been fun to understand my own relationships to chords and melody. I think my constant goal is to actually articulate myself rather than get lazy and lean on things I've heard before—or just lean on the amazing things that I've heard before that are too hard for me to play. I think that's what I'm doing all the time [laughs].
"I lean toward more dissonant chords or pushing myself to actually articulate myself harmonically. It's more fun to
push my own boundaries."

Would you say the same thing with time signatures? 3/4 isn't necessarily an odd meter, but you have a lot of songs that are in three as opposed to a standard 4/4. Are you pushing in that direction as well?
Yeah. It's the same thing in terms of my chordal preferences, in terms of rhythm and time signature. Growing up in America and listening to a lot of music on the radio, you get 4/4 pumped into your ears and into your blood stream all your life—because that's the comfort zone in this part of the world.
But it just comes out the way it comes out. There are some things that stretch out a little bit that don't really snap to the grid. For the most part, it's all really simple though. It's pretty much 3/4 or 4/4 the entire time, but there are a few little things thrown in there that are a little bit crooked, which I always find fun. It isn't me sitting down saying, "I'm going to write a crooked part to the song." It often just comes out that way and then afterward I go, "Oh yeah." Or playing them with the band they'll go, "That's a funny little part there." But it's not a conscious decision to try and be clever. It just happens the way it does.
You have a lot of contrapuntal and contrary motion in your solo guitar work. How much of that is crafted and how much emerges naturally?
I think it's a little bit of both. I'm aware of contrapuntal movement. I'm aware of classical music and also structure, form, and arranging. I attribute that to all these amazing players I'm around all the time—pushing yourself and finding that you need tension and release in songs and in arrangements. You need movement in order for it to feel satisfied.
At the same time, both sides of my brain are firing. It's a really big feel thing and also I'm trying to articulate myself. It's all of that at the same time, but it's not so contrived. I'm not writing these things out. I know from a bird's eye view that this is going to need tension and release here, it's going to need to go somewhere here. It's like looking at puzzle pieces and fitting them all together. It's really a matter of arrangement and just pushing myself and not getting too comfortable.