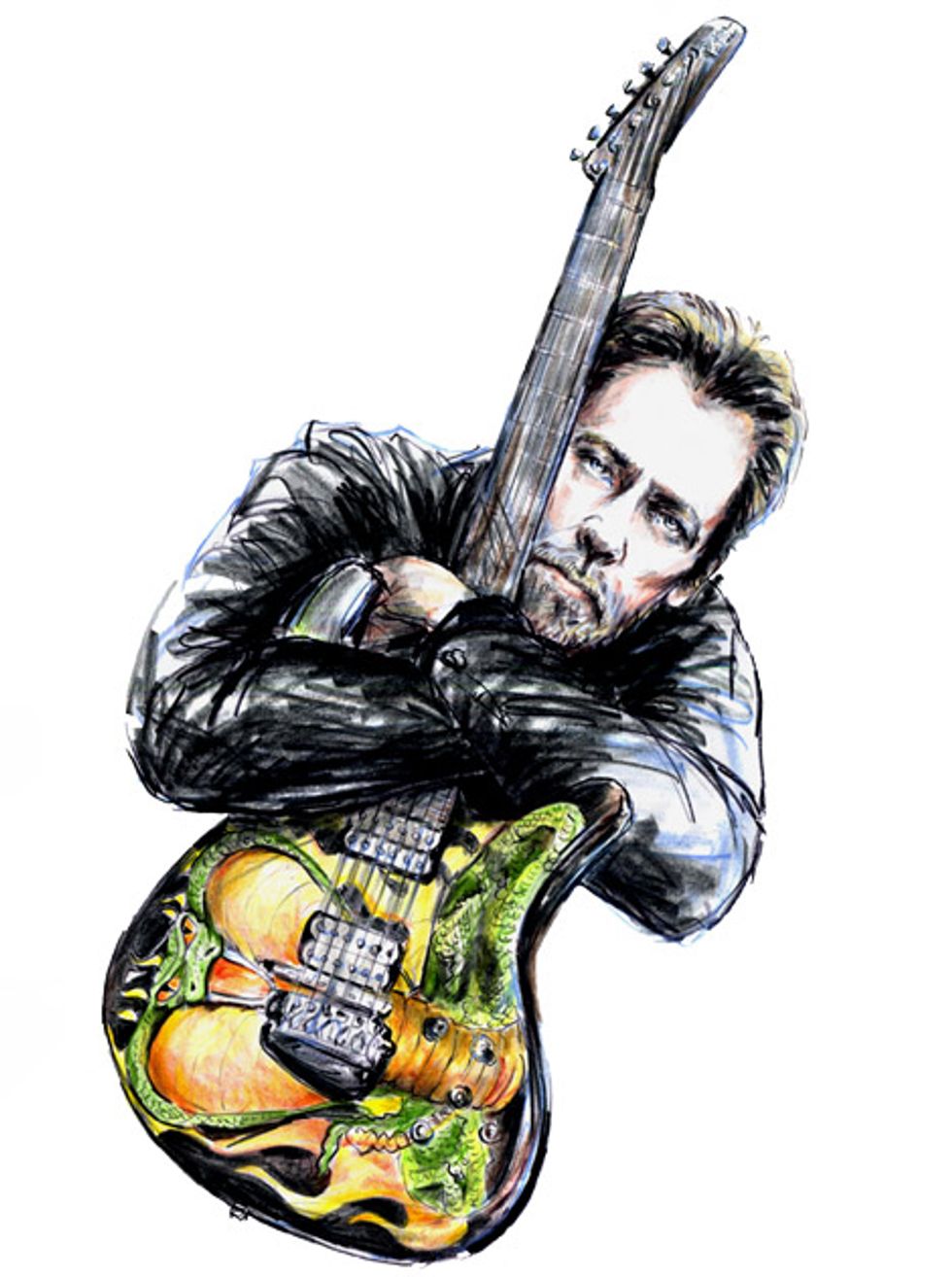 Art by Rosemary Fanti
Many listeners' first exposure to the unique, slithering guitar sound of Harvey Mandel came when the Rolling Stones' "Hot Stuff" hit the airwaves in 1976. But Mandel's story begins more than a decade earlier, when young white guitarists roamed Chicago's blues clubs, learning to play at the feet of legends like Buddy Guy, Otis Rush, and Magic Sam. The release of The Paul Butterfield Blues Band in 1965, with its back-cover exhortation to "play it loud," and the group's East-West in 1966 showcased the incendiary playing of one of those nascent guitar heroes, Michael Bloomfield, whose raw performances on both records spoke to a new generation of players.
Harvey Mandel was also on the Chicago scene, cutting his teeth sitting in with blues legends. "Bloomfield was more on the South Side, and I hung more at the club Twist City, which is the West Side," says Mandel. Born in 1945, he was a few years younger than the Butterfield Band guitarist, but by his late teens he was consistently jamming with the likes of Buddy Guy. "I wasn't legally allowed in a lot of clubs because I wasn't 21, but the owners didn't mind," he says. "They would sneak me in and out, making sure no one fed me liquor so they wouldn't lose their licenses." Shortly after becoming "legal," Mandel made his recording debut on Stand Back! Here Comes Charley Musselwhite's Southside Band, with a singing tone already hinting at the sustain that would help define his sound.
To many suburban blues guitarists, Stand Back was almost as influential as the Butterfield records, but because it was released in 1967, Mandel's emerging style was overshadowed by Clapton's work with John Mayall's Bluesbreakers and the arrival of Jimi Hendrix. Still, Bill Graham deemed the Musselwhite band worthy to share a bill with Bloomfield's Electric Flag and Eric Clapton's new group Cream at his San Francisco-based Fillmore West. "I ended up staying in San Francisco, because after that show the group disbanded and everyone went their own way," Mandel recalls.
"I lost out to Ron Wood because Keith Richards wanted to keep the band all-English. Still, I did come real close to becoming
a Rolling Stone."

There, the guitarist met Abe "Voco" Kesh (Keshishian), a radio DJ and producer for the Mercury/Philips labels. A fan of the Musselwhite band, Kesh had just produced a No. 1 record for Blue Cheer. This let him get Mandel a solo deal with Phillips without so much as an audition. His first solo record, Cristo Redentor, in 1968, contained many of the markers Mandel would revisit over more than a dozen records and almost five decades: funky grooves with strings and horns filling out the sound, along with psychedelic production techniques like guitars panning across the stereo spectrum and flipping the tape over to achieve backwards guitar effects. Even without recording tricks, Mandel's distinctive licks seemed at times to be going backwards, creating the serpentine sound that earned him his nickname, "Snake."
The next year saw the release of Righteous, cementing the eclecticism that would mark all of Mandel's music, ranging from the clean tones on Cannonball Adderley's "Jive Samba" and the funky "Poontang" to more distorted effects on the swampy "Love of Life" and the slow blues "Just a Hair More."
One of the most successful blues bands of the late '60s was Canned Heat, who cracked the pop charts with "On the Road Again" and "Goin' Up the Country." Following the release of their fourth record, original guitarist Henry Vestine quit after an onstage argument with bassist Larry Taylor at the Fillmore West. The next night Mandel and Mike Bloomfield sat in with the band, after which Mandel was recruited as Vestine's replacement—just in time for Woodstock.
Mandel left Canned Heat in 1970, but soon joined Larry Taylor in British blues legend John Mayall's band to record USA Union. For that drummer-less album, the guitarist fully abandoned distortion and sustain for a more country-ish clean tone, leaving the majority of the soloing to Mayall's piano and Don "Sugarcane" Harris' electric blues violin. Mandel and Harris would briefly join forces a few years later for the group Pure Food and Drug Act, but not before the guitarist recorded one of his best solo records, 1971's Baby Batter.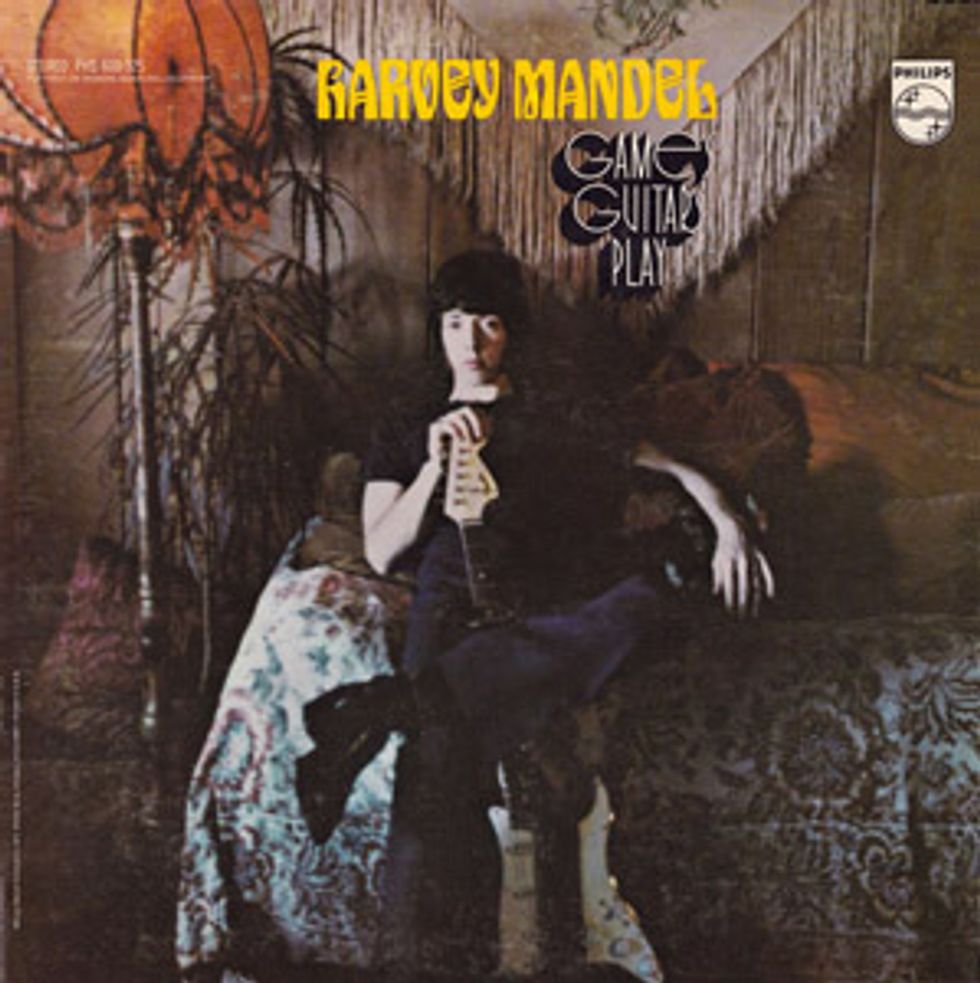 When he cut 1970's Games Guitars Play, Mandel was wrangling a Fender Stratocaster. The album includes bassist Larry Taylor and covers of "I Don't Need No Doctor," which Humble Pie would also record live the next year, and "Leaving Trunk," Taj Mahal's take on Sleepy John Estes' "Milk Cow Blues." The LP is now part of the Snake Box reissue set.
For The Snake, released in 1972, the guitarist added some new sounds and techniques. Uni-Vibe modulated tones are prevalent, while the song "Lynda Love" offers pull-offs on open strings that create wide intervallic jumps. Mandel further expands his technical palette on 1973's Shangrenade, delivering an explosion of two-handed tapping a full five years before Van Halen's first record.
The year 1976 brought the guitarist's famous Rolling Stones audition, which resulted in Mandel appearing on two singles from the Black and Blue album, "Memory Motel" and "Hot Stuff." His tasteful melodic licks on the former enhance the tune, but it is his limitless sustain and backwards-sounding licks on the latter that show the added colors and creativity Mandel might have brought to the band had they not opted to go with Ron Wood's virtual cloning of Keith.
In the subsequent 40 years, Mandel has toured with versions of Canned Heat and continued to make solo records, including his most recent, 2016's Snake Pit. This release finds the guitarist at the top of his game, mostly fingerpicking his heart out, despite spending the last few years fighting off cancer and undergoing a series of operations. Last year also saw the release of Snake Box, a set of five full Mandel classics—Cristo Redentor, Righteous, Games Guitars Play, Baby Batter, and The Snake, along with a bonus disc, Live at the Matrix.
Surveying the collected works and latest release, as well as interviewing the man, reveals a portrait of an artist who developed a personal voice early on, yet continues to grow, willing to incorporate new sounds, skills, and technology as long as they help him achieve his vision.
Were you born in Chicago?
I am from Chicago. I just happened to pop out at the wrong time, when my father was working in Detroit, but I never really lived there. I was an infant when we moved back to Chicago.
How did you start playing guitar?
I was going on 16, jamming on bongo drums with this guy who played the guitar—a kind of a beatnik thing. I asked him to show me a chord, and from that moment I was hypnotized. My dad got me my first instrument, which was a $16 Harmony acoustic. A guy in school showed me how to take a phonograph cartridge, put it on the guitar, and drill a hole in a radio to use it as an amplifier. That became my first electric guitar. When my dad saw I was that inventive, he took me to Sears, where I got a Silvertone with a Silvertone amp. Every few months I graduated from one guitar to the next, until I went through all the Strats and Gibsons. I have been mostly playing Parker guitars for the last 12 years.