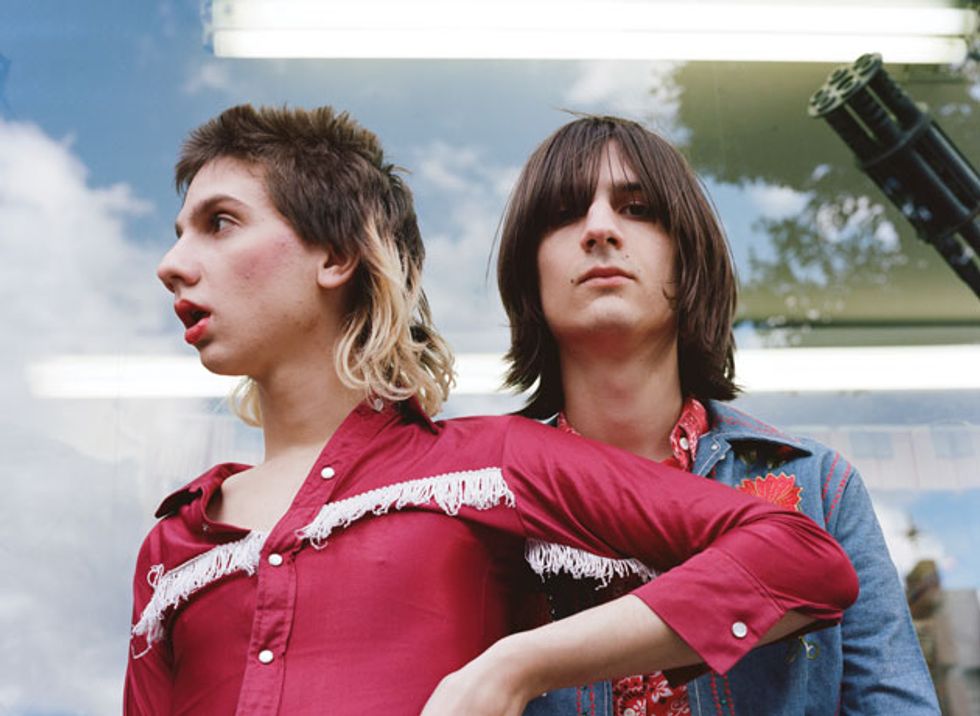 Michael D'Addario (left) started playing drums when he was 5 and then picked up the guitar at 13. "The first person I saw play guitar that made me think I could do it was Kurt Cobain," he says. Michael's older brother Brian started playing guitar at 7. "Where I have a lot of knowledge and technique from playing it for so many years," says Brian, "Michael has a lot of exciting ideas that I think only come from being as deep and passionate about the instrument as he is at the moment." Photo by Autumn de Wilde
The Lemon Twigs' debut LP, Do Hollywood, is an impressive album from any angle. Rendered in a distinctly '70s sonic aesthetic, the 10 tracks show such compositional depth and are so well-crafted that one might assume they are the work of seasoned session vets or a squad of high-profile rockers. However, the reality is far more humbling. Do Hollywood's songs were penned by a duo of teenage brothers in the basement of their parents' Long Island home. Moreover, nearly every instrument on the album was played by the ambitious young men.

While the ages of the brothers D'Addario (Brian is 19 and Michael is 17) certainly adds a layer of intrigue to the Lemon Twigs' mystique, make no mistake: This is no teen-rocker novelty bit. Do Hollywood is a serious work that reflects an obvious reverence for rock's most respected compositional minds (the D'Addarios have been influenced by Brian Wilson and Paul McCartney) without directly rehashing the past nor sacrificing the Lemon Twigs' own unique musical persona, which fuses power-pop anthems with complex prog-pop arrangements. The resulting music is textured and mature, but carried out with a youthful exuberance and playfulness that makes it an anomaly in today's musical landscape.

While the D'Addario brothers did the heavy lifting on Do Hollywood, the album benefits immensely from the production chops of Foxygen cofounder Jonathan Rado, who played no small role in dressing the record in its '70s finery by tracking it to tape and utilizing his stash of esoteric, vintage equipment.

Beyond their triumphant debut release, the Lemon Twigs are an absolute force of nature in the live realm. Supported onstage by bassist Megan Zeankowski and keyboardist Danny Ayala, Brian and Michael split the set by fronting the songs each respectively wrote. Michael starts gigs on drums as Brian fronts the band on guitar, and then the brothers swap spots onstage around the show's halfway point (both are killer drummers, for the record).
"When you learn a new classical piece, it actually opens up a new understanding of pop music, because everything you hear has really been represented in some way before, and you start to see how it all works from the ground up." —Brian D'Addario

While Do Hollywood sees the guitar used chiefly as a color tool, it's an integral part of the live show in that the brothers use it to make up for much of the album's grandiose arrangements that are not easily recreated live. Armed with but a single vintage Gibson Melody Maker between the two, the D'Addario brothers prove they're both deft, athletic, and tasteful players with the ability to lace their songs with tricky leads and brawny, Townshend-inspired power-chord kerrang.
Premier Guitar spoke with the power-pop wunderkinder to get the backstory on their lives as guitarists, the creation of Do Hollywood, and their philosophies as songwriters.
Tell us about your path into the guitar. Who influenced you as players, and how did you get so proficient?
Brian D'Addario: Well, the first person I really loved as a guitar player was Pete Townshend, and it was through my interest in him that I got into playing guitar solos. Live at Leeds was really influential to me as a guitarist, but I started playing fast stuff because I was into My Chemical Romance when I was younger. The guitarist in that band, Ray Toro, plays very metal-influenced guitar solos and I used to learn those. So I got good at doing pull-offs and really fast runs from listening to that band. Also, when I was 12 years old, I started taking classical guitar lessons with a teacher named Yasha Kofman, who has a school called the Classical Guitar School of New York—he's actually the only instructor—and those lessons changed my entire approach to guitar. Playing all those classical pieces and learning how to use my right hand for intricate fingerpicking patterns really helped a lot. So I'd say those three influences and experiences got me to a different level and made me the player I am, at least in terms of technique.

I imagine learning classical guitar helped you grow as a songwriter and composer.
Brian: Oh yeah, for sure! I'm continuing to take lessons with Yasha and, the thing is, when you learn a new classical piece it actually opens up a new understanding of pop music because everything you hear has really been represented in some way before, and you start to see how it all works from the ground up. Sort of how Brian Wilson would pull things from Bach pieces and change the root note of a chord to make things more interesting. The lessons have really opened up my mind to where things come from and how songs are built. Plus, it's just such beautiful music.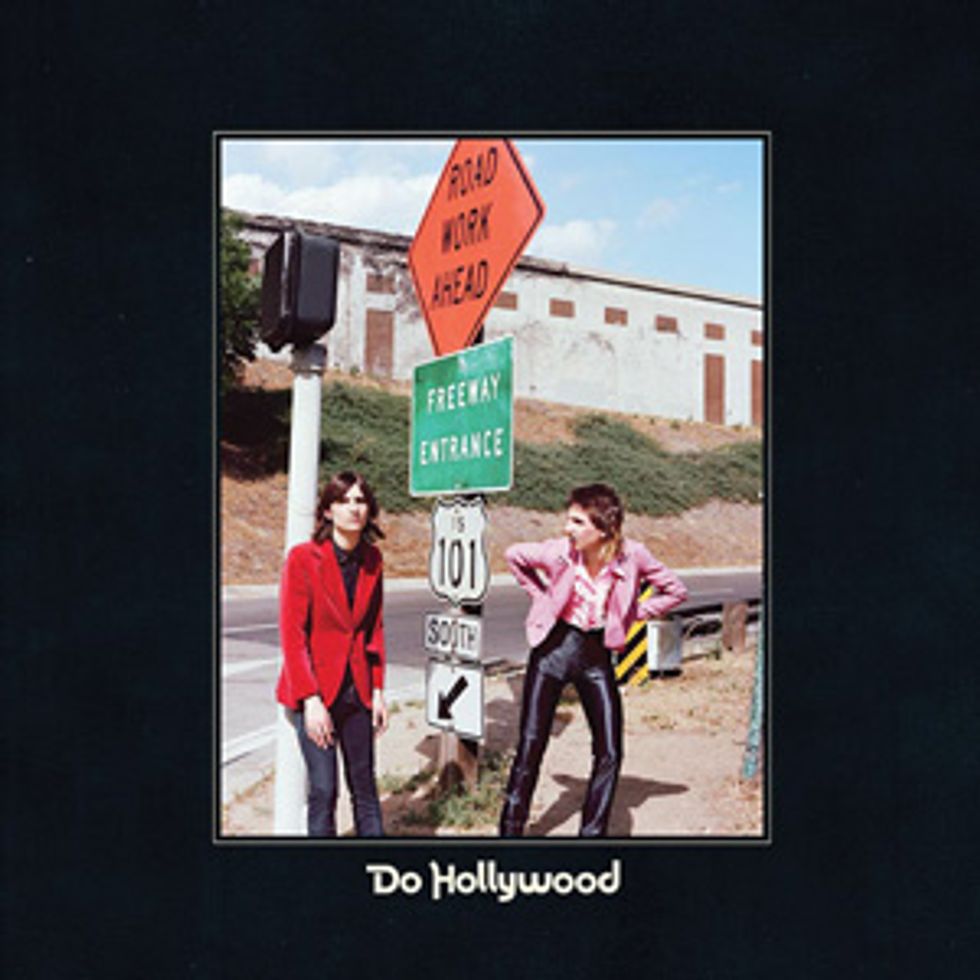 For their debut album, Do Hollywood, the Lemon Twigs' Brian and Michael D'Addario tracked to tape using vintage gear owned by Jonathan Rado of Foxygen, who produced the record.
Pete Townshend is something of an unexpected influence for someone in your age group, Brian. How did he influence your playing?
Brian: One of the specific things we took from him—and particularly from Live at Leeds—is how he got so much range out of just one guitar on that album, and he didn't really use much in the way of effects. That's become our approach—using a simple setup and milking what we can from it. As far as his playing goes, he's not as virtuosic a player like Clapton or a lot of his peers, but I feel like Townshend's solos just have so much personality and they always tell a story. He knows when to stop playing and he knows what tools to use at what time, and I try to be tasteful like that myself.

And where are you coming from as a player, Michael?
Michael D'Addario: Not necessarily someone you'd immediately hear as an influence in our music now, but the first person that I saw play guitar that made me think I could do it was Kurt Cobain. When I was in middle school, I was a huge, huge Nirvana fan. I still love them—but I listened to them so much that I almost can't listen to them anymore, you know? I played drums from age 5 until age 13 and I never thought I was capable of playing guitar until I heard Nirvana. I actually picked up a bass first and learned "Smells Like Teen Spirit" and it started to click, and that's how I really got into playing guitar. Then using the basic chords my dad showed me. The biggest these days is definitely Alex Chilton, and then probably Joe Walsh—I love to reference Joe Walsh in my playing. I've actually learned a lot of his licks and incorporated them into my own solos. Brian was talking about Pete Townshend not needing anyone to back up his songs for them to work, and Chilton's got that same thing where he can accompany himself really well on guitar. As a soloist, he used a lot of open strings and tricks that took up a lot of space in a cool way, and I love that idea.
Could you expand a little on what you've taken from Joe Walsh?
Michael: Well, there's a big lick in the solo of a song called "Queen of My School" that we close our live sets with—it's going to be on the next record—that I lifted from Joe Walsh. I feel like if you learn "Life's Been Good," then you've got, like, 80 percent of Joe Walsh's licks, and the one I picked off of him is a really Walsh-specific one that I haven't found anyone else using. I just think he's got this great, expressive style.