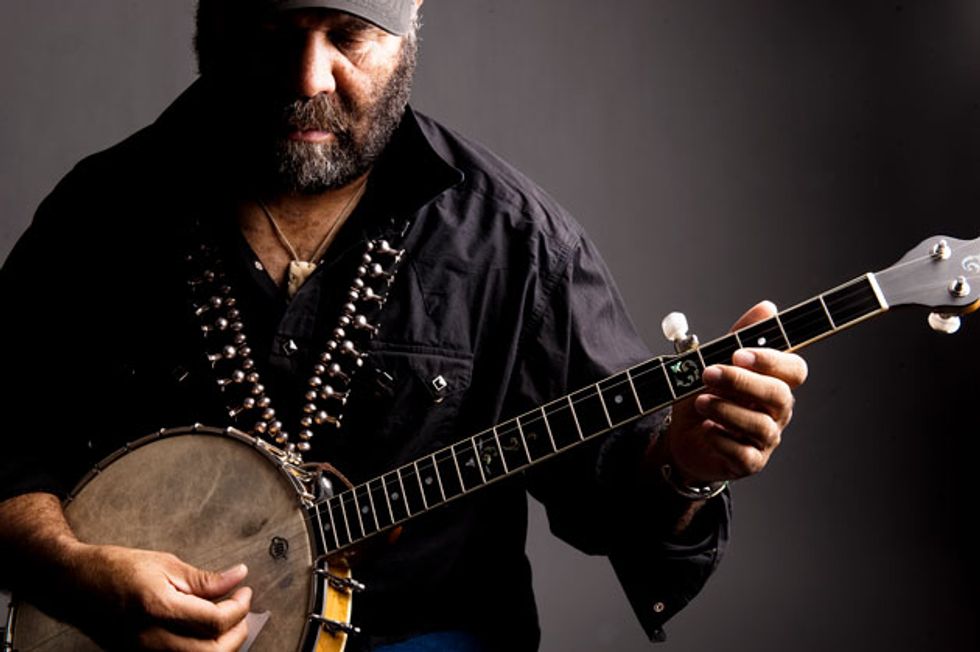 By Michael Weintrob/weintrobphotography.com
Slavery. Racism. Prison. Lynching. Avarice. Murder. Addiction. Transexuality. Alienation. Deception. Power. These are all themes that Otis Taylor explores in his songs. Also, love and beauty. All within a musical web that throbs to a spare, hypnotic pulse buoying his electric and acoustic guitars and banjos, abetted by flashes of electric violin, the occasional cello or harmonica, and cornet—the latter often made haunting by carefully measured delay. If ghosts listen to music, it surely sounds like Otis Taylor's.
Yet there's an undeniable earthiness to Taylor's method. His lyrics have the bare-boned integrity of a narrative poet, and they are typically inspired by true stories culled from history, news, or the lore of his ancestors. And while his sound is carefully layered and sculpted, it is also a beacon of simplicity.
Taylor has a name for his musical vision: trance blues. But don't let the "blues" fool you. Unlike most of today's music bearing that label, Taylor's songs never become trapped in the amber of 1950s Chicago or Memphis. Certainly the influences of John Lee Hooker, Howlin' Wolf, Jimi Hendrix, and other past innovators echo within his approach, but his African roots are both deep and more visible, and the psychedelic stardust he sprinkles is timelessness. Taylor also writes about race and social justice in an unflinching manner more akin to hip-hop.
"I have a real Otis Taylor expression," the 68-year-old original says: "I don't know much about the blues, but I'm good at being black. That's what I write about."
So it's apt that Taylor's new release—it's provocative title, Fantasizing About Being Black, sitting comfortably alongside those of his early discs When Negroes Walked the Earth (1997) and Blue-Eyed Monster (1996)—is an exploration of race. The album begins with Taylor's guitar echoing cadences of Africa, similar to those found in the playing of Ali Farka Touré or Rokia Traoré, on "Twelve String Mile." And in "Banjo Bam Bam," he picks his open-backed signature OME model as his sweet 'n' burred baritone voice intones the thoughts of a shackled slave slowly losing his sanity. Elsewhere a white Southern congressman conceals his black mistress, interracial couples struggle, and in "Jump Out of Line," which turns a one-chord arrangement into an Escher-esque soundscape, Civil Rights marchers fret about being attacked.
"The album was finished long before the election," Taylor explains. "I was thinking about Ferguson and all this stuff with Obama and how the hatred is coming back—that's why I did the album. Then Trump rolled in. Talk about putting the frosting on the cake."
Although Taylor got his start at Colorado folk-music institution the Denver Folklore Center, he came of age during the height of the LSD-dappled '60s and performed in a pair of notable blues-rock bands from the Mile-High City: playing bass with Zephyr and fronting T&O Short Line with his friend, the late guitar legend Tommy Bolin. Dissatisfaction with the business caused him to drop out of music for nearly 20 years to become an art dealer and pro bicycle team coach. He returned at the urging of friends and family in 1995 with his striking sound and sometimes staggeringly dark perspective—which is balanced by a rich sense of humor in conversation—at the ready.
Since then, Taylor has made 15 albums and had songs in such high-profile films as the Mark Wahlberg vehicle Shooter and director Michael Mann's Public Enemies, starring Johnny Depp as the gangster John Dillinger. He's also racked up 18 Blues Music Award nominations and taken two home, won five DownBeat readers' and critics' poll victories, been granted a Sundance Institute Composers' Lab fellowship, and won France's Grand Prix du Disc for Blues. His 2015 album, Hey Joe Opus Red Meat, is on display in the Smithsonian's new National Museum of African American History and Culture.
"I can kick ass on frailing and clawhammer—do it like a white boy! But my approach is more African."

Premier Guitar caught up with Taylor via phone at his home in Boulder, Colorado, shortly after he'd wrapped up the 2016 edition of his annual Otis Taylor Trance Blues Jam Festival. The event blends education with concerts and open-door performances that find Taylor and his guest players—which this time included Jerry Douglas, who makes cameos on Fantasizing About Being Black—jamming with attendees. "Music is about community," Taylor observes. "That's important." And while Taylor's music is uncommon, he's convinced that its simplicity and truthfulness keep it accessible.
You have a singular sound. What are its roots?
The banjo was, and it started for me back in the 1960s. The banjo is like Delta guitar, when you break it down. When I heard those Delta open tunings on guitar after I was playing banjo, it was obvious. That old-timey banjo was so rhythmic, so African, but I didn't realize it came from Africa until many years of playing.
How did psychedelia enter your music?
From growing up in the '60s. At that time, you either played funky and psychedelic, like Hendrix, or you did Beatles songs, and I went the more funky, psychedelic route. I never did smoke, drink, or do drugs. I started listening to folk music and then I went to blues. I played blues harmonica, too. And I was listening to Ravi Shankar. Hanging out at the Folklore Center, I heard all that stuff every day after school. Sometimes Elizabeth Cotten would come in, or Reverend Gary Davis. Tim Hardin and Mike Seeger hung out a lot. Between Chicago and L.A., that was the only stop for touring folk musicians. I was 14-and-a-half when I started hanging out there.
How did you discover the Folklore Center?
My mother had a ukulele. I broke a string and said, "Shit, I'm in trouble. I better go get one." And the Folklore Center was right down the street—four-and-a-half blocks from my house. And, after that first time, I started going there every day. They were really sweet to me: a little black kid coming in during the Civil Rights movement.
What got you interested in banjo?
I saw it on the wall and thought, "That's cool!" It was an ODE. I got to play one there for a year before I got to buy one. It was $125. That's a lot of money for a ghetto kid. That's a lotta shagging balls and caddying at the golf course.
I got excited about it because I heard it there every day. Teachers were giving lessons, people were jamming all the time. It was a magical place. Everybody was welcome.
When did you start playing guitar?
At 16 I bought a Harmony Sovereign. It had high action. It hurt so hard to fret it. I made up these weird beats, like the one on "32nd Time" [from 2002's Respect the Dead], so I could do a concert just using weird beats, because I could hardly fret. Next I got a Gretsch electric for a hundred bucks because Tommy Bolin was trying to get me to play electric guitar a little bit.
What made you want to play guitar?
One day at the Folklore Center, the Dillards were there and they said I should go down South because I could win a frailing contest. It hit me that's where they were lynching black people, and I was playing music by people that hate me. So I didn't play my banjo as much for a while. I became a lead singer in a blues-rock band. There weren't that many harp players in those days, and I was the harp player in town who could play really good.
My father was a hipster, but he hid it on the inside. He was a pot smoker and loved music. It broke his heart when I didn't become a jazz musician. That I wanted to play this country blues shit just pissed him off, because he thought people from the country were ignorant—that they stayed down South and got lynched and hated. He had no comprehension how anybody would live in that situation.