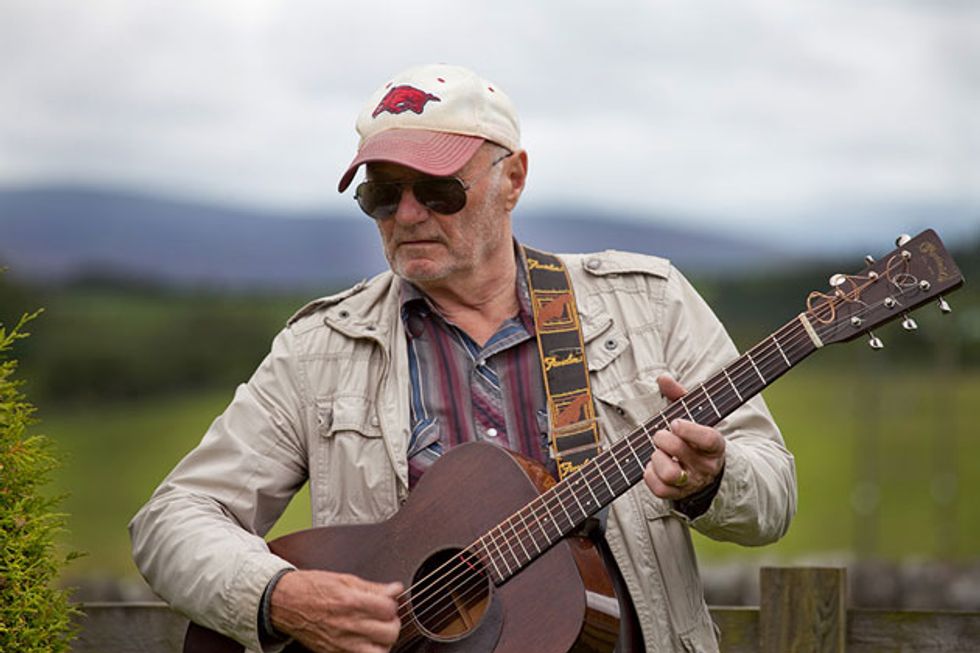 Regardless of context, Chapman's hard-working 1951 Martin 000-17 has kept him out of the woods. "It sounds fantastic," he says. "The definition is just stunning. And it's small and it goes in the overheads on airplanes." Photo by Constance Mensh
English guitarist and songwriter Michael Chapman released his second album, Fully Qualified Survivor, in 1970, when he was still in his 20s. It was an important milestone in his career. Legendary British radio personality John Peel called it his favorite album of that year, and its title was somewhat prophetic.
How so?
Because today, at age 76, Chapman is still at it. He is still working, recording, and this year he's celebrating his 50th anniversary as a touring musician, with almost as many albums to his credit. He also isn't slowing down. He has a spring tour planned, recently released an album of solo guitar improvisations, and has an English/Hebrew collaboration in the works with Israeli singer/songwriter Ehud Banai. "We sing the same songs," Chapman says about the project. "But I do the English verses and he does the Hebrew verses."
Over the years, Chapman, whose primary instrument is fingerpicked acoustic guitar, has combined his penchant for songwriting with an adventurous spirit. He's tried everything from synths to New Age to howling feedback to ambient soundscapes. He's toured with a floor full of pedals and a worn Fender Bandmaster, although nowadays travels with nothing but a guitar. He's also collaborated with a disparate array of artists—or, to paraphrase his publicist, "Name another musician who has played and recorded with Mick Ronson, Elton John, and Thurston Moore."
His latest release is called 50 and, as the title implies, is a nod to his half-century on the road. It was produced by Steve Gunn and is a departure from how Chapman usually does things. "One of the things we thought I should do was to give away control," he says. "The last five or six albums I've done, I done near played everything apart from the drums." 50 features Gunn, multi-instrumentalist Nathan Bowles (Pelt, Black Twig Pickers), guitarist/keyboardist James Elkington (Jeff Tweedy, Richard Thompson), bassist Jimy SeiTang (Rhyton), and guitarist/bassist Jason Meagher (No-Neck Blues Band), who engineered the sessions. Singer/songwriter Bridget St John also vocalized on the album, which puts Chapman's timeless acoustic and electric guitar in a contemporary musical framework. The project was very much a collaboration, but the process was sometimes frustrating. "It was swings and roundabouts," Chapman says. "One day I was feeling great about it and the next day I was damn near suicidal. It took me a while to get used to it, because it's absolutely not the record I would've made. But I've got used to it now and I think it's great."
These days, Chapman lives in Northumberland, just south of the Scottish border, and although he's something of an elder statesman, he still likes to take risks. "I just keep pushing the envelope," he says, "to see what's out there."
"I've got it down: It's me, a guitar, a lead, and a packet of sandwiches. That's my on-the-road kit."

PG spoke with Chapman about recording his new album, his decades-spanning career, discovering his style, and what he's learned over the years. We also talked about some of the amazing guitars he's owned and played and his love/hate relationship with pedals.
When did you first start playing guitar and what drew you to the instrument?
I started in 1956 because I didn't like my history teacher. I conned my mother into buying me a guitar, which was £6 (about $10). I used to sit in the back of history class playing the guitar to annoy him. And the other thing … you ask any guitar player in the world, "Why did you want to have the guitar?" It was because you got prettier girls.
What kind of music were you listening to?
In England, there was a skiffle craze. [A typical band] was three acoustic guitars, a tea chest bass, and a washboard for the rhythm section. For about £20 you could have a band. There were a lot of commercial skiffle records made in England, but we didn't do that. We were addicted to a guy called Ken Colyer. He was a New Orleans [style] trumpet player in London. He'd actually been to New Orleans and was deported back to England. We gave him heroic status because he'd been to see these old black guys and especially because he'd been jailed and deported. It couldn't have been any better than that. He came back with all these songs he'd collected—Lead Belly songs and others—and he did them in a very original way with guitar, banjo, maybe a washboard, and maybe a bass if they were lucky. We thought that was authentic and that was the road we went down. We didn't like those pop skiffle records, which were very fashionable at the time and sold a lot of records. They were too commercial for us.
Did you start fingerpicking at that time or did you play with a flatpick?
I played everything with a flatpick, which was very confusing when I heard [fingerstylist] Big Bill Broonzy. I was playing Broonzy with a flatpick until somebody said, "No, hang on—try it this way." I finally managed to get my thumb to do the Broonzy thump at the bottom and then I was off and running. But I never learned to do anything else. I still only play with a thumb, index finger, and pinky. I never learned to get the others going. People have tried to teach me and it won't go. But I've gone this far doing that, so it's okay.
But you do use a thumbpick and fingerpick.
I have a plastic thumbpick and a steel fingerpick. In those days, we were playing in church social halls and the back room of a pub. There were no PAs and there were no microphones, so the louder you could get the guitar, the better.
Did you take lessons, learn the rudiments of music theory, or learn how to read music?
I still can't read or write music. In those days, there was one book, Play in a Day, by a guy called Bert Weedon. He said he could teach you to play the guitar in a day. Well, he was lying. He was the first star guitar player to play instrumentals on TV and we watched him, but we'd heard jazz guys before him. I'd heard Django Reinhardt by then and Bert Weedon, plodding around on this guitar, was a joke. There was no way to learn. You had to figure it out. I'd play records … I didn't know there were two guitar players on them and I would try and learn the lot.
Meaning both parts?
I went through maybe a year-and-a-half of a Django Reinhardt fixation. I learned to play all the Django Reinhardt solos, which taught me how to play really fast. I got employed a lot as the fastest guitar player in town. It was rubbish, but it was really fast rubbish.
When did you start writing your own songs?
I walked into a folk club one night because it was raining—it was down in Cornwall—and they offered me a job playing six nights a week for the rest of the summer. All of a sudden, without any pre-planning or anything, I was a professional musician. I was playing Big Bill Broonzy, Jimmie Rodgers, Thelonious Monk, Jimmy Giuffre—all kinds of things. One night I was driving home, it was about 2 o'clock in the morning, and I was too tired to drive any further. I went to sleep in the car and woke up with these lines for a song, "Oh my life goes by so easy/My days they pass so well." I put a couple of chords on that and then I said, "Shit. I've written a song. Wow." I didn't know that people like me could write songs. It never occurred to me. That opened the floodgates and for three years after that I was writing nearly all the time. I threw a lot of it away because a lot of it was crap. But that was how that started: because I was too tired to drive.