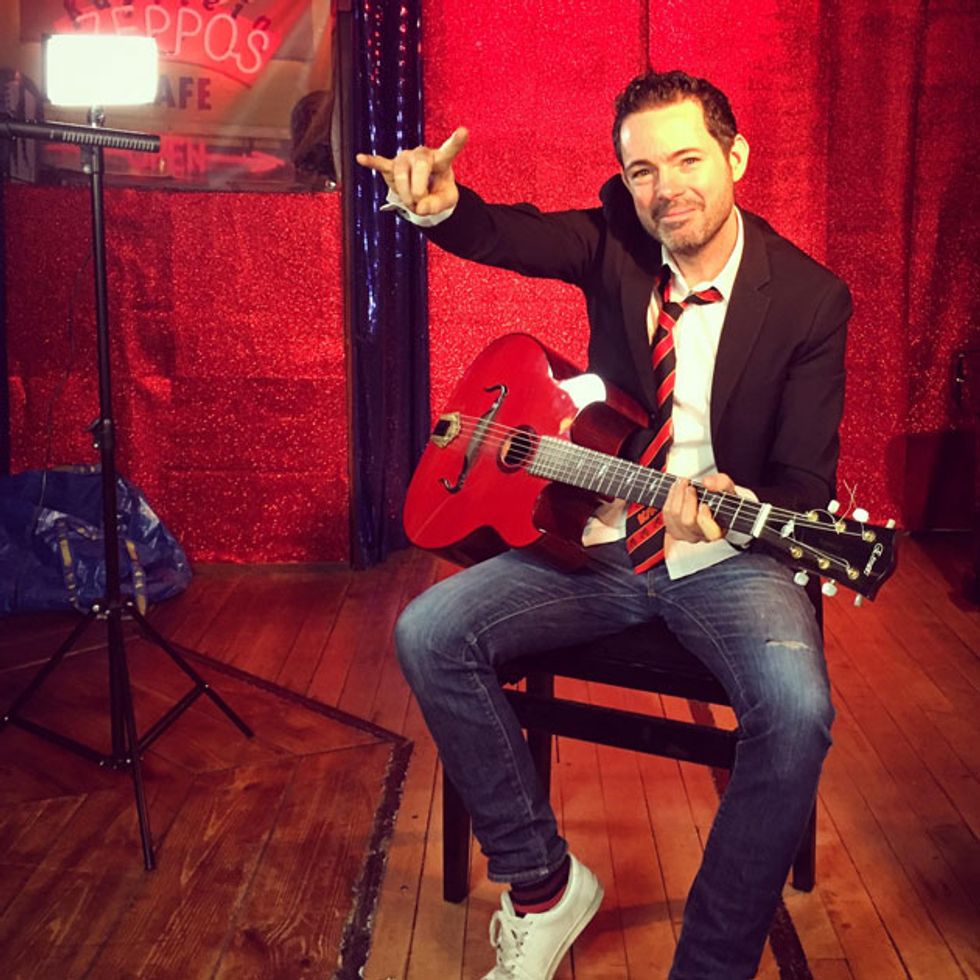 Robin Nolan, caught here during the photo shoot for his Sin City album, had a life-changing experience when his father took him to his first Gypsy jazz festival. "The romance of seeing these guys with acoustic guitars, around a campfire—
that's what got me, beyond all the shredding," he says.
Though he's considered one of today's most accomplished Gypsy-jazz guitarists, Amsterdam-based Robin Nolan didn't grow up playing Django-inspired music and he doesn't come from Romani stock. In fact, jazz manouche wasn't even Nolan's first musical love. He only became enamored of the style as a teenager, when his father took him to visit Samois-sur-Seine—the city in north-central France where Reinhardt spent his final years. "Gypsy musicians have been meeting there for decades," Nolan says. "It's turned into a big festival now. The romance of seeing these guys with acoustic guitars, around a campfire—that's what got me, beyond all the shredding, which was really exciting as well. My father had played me Django records before, but I couldn't relate to it. Going to this festival and experiencing the music under the stars was completely different. That's what made it click for me."

While that Samois sojourn was the catalyst that sparked Nolan's passion for Gypsy jazz, he was already playing guitar by then. Like many youngsters, he was passionate about rock 'n' roll—AC/DC's music in particular. "Their wild lyrics, the instrumental hooks, the big power chords. It's all just massive," he says. For many guitarists who get into jazz, it's a natural progression to leave their gritty rock roots behind in favor of headier sounds. Most never look back. Nolan, however, is not like most. His new Sin City record showcases the AC/DC songbook, reimagined and rearranged, Gypsy-jazz style.
"Sin City is the realization of a lifelong dream for me," says Nolan. "My two favorite guitarists are Angus Young and Django Reinhardt. They turn me on in completely different ways. In the back of my mind, for many years, I've wanted to take AC/DC songs and do them in this style, instrumentally, with my trio."
"Django only had two fretting fingers. He had a lot of things going against him back in those days. That's where creativity is born."

Whether you're a fan of Django Reinhardt or AC/DC, or both—or neither—Sin City is an awfully fun ride. Nolan's arrangements are fresh and dynamic, the tunes (including "Hell's Bells," "Back in Black," and "Touch Too Much") are hook-laden and irresistibly catchy, and Nolan's trio swings like mad. The approach is playful throughout, yet never silly or campy. Nolan seriously loves Reinhardt and AC/DC, and it's clear that he enjoys the hell out of channeling them both through his own guitar.
The AC/DC catalog is pretty deep. How did you go about choosing tunes for Sin City?
It was hard. When you sit down and really listen to those songs, most of the melodies are basically blues. [Hums the melody from "Riff Raff."] When you put that on guitar, without lyrics, it sounds like any other blues thing. I really had to craft my arrangements to make them work in this genre.
How'd you do it?
A couple of ways. On several of the songs, I voice chords with the melody on the top, or play the melody in octaves. That gives the sound some real power, and yet I haven't gone too far away from the essence of the song. I wanted to make sure an AC/DC fan could recognize the song and also be sure that somebody who's listening and doesn't know AC/DC would dig it as well. We're not simply a cover band. I was trying to make the music deeper than that, so it can exist on its own terms.
In the end, I picked some of my favorites and some that naturally work well. There are 10 songs in all, including one that I wrote myself. It's sort of a mashup of Django's "Minor Swing" and AC/DC's "For Those About to Rock." It's called "For Those About to Swing."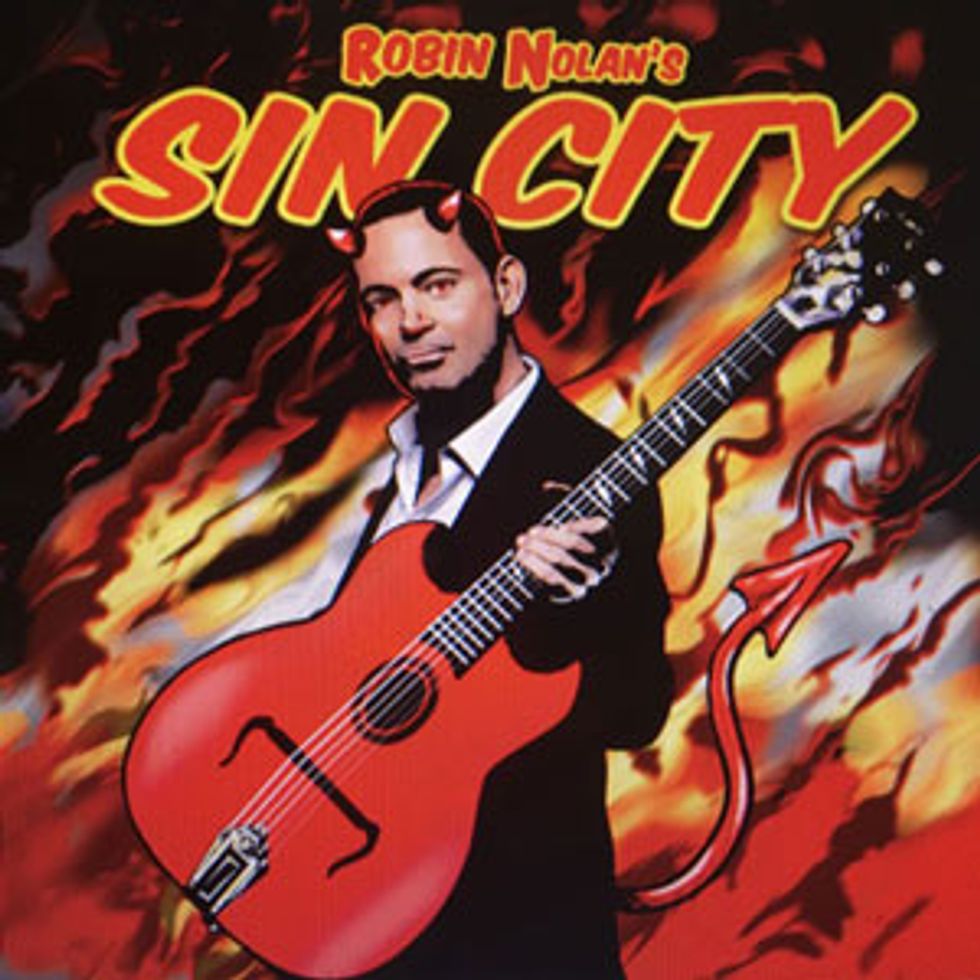 Gypsy-jazz technique collides with AC/DC songs on Robin Nolan's new trio album.
It's hard to imagine AC/DC songs without drums. How did you retain the energy?
With "You Shook Me All Night Long," the challenge was finding the right feel and the right tempo. We tried a Latin-type feel, and some other grooves. In the end, we recorded it as a medium-tempo swing song. Bluesy things like "The Jack" were more straightforward.
Did you play a different sort of guitar from the one you usually use for Gypsy jazz?
There's a luthier here in the Netherlands, where I live, named Leo Eimers. He's made guitars for me before. Interestingly, he had a similar idea to mine and wanted to build an acoustic guitar with some of the design features of a Gibson SG electric guitar—red finish, sharp double cutaway, and Gibson-style headstock. When Leo finished making it, he called and told me, "Out of everyone in the Gypsy-jazz community, you've got to be the guy to take this axe and make it happen." It's a great instrument. It looks different from any guitar I would usually play. We call it Djangus.
In terms of feel or sound, is it very different from other guitars you play?
It's similar. But when you hold it and look at it, you can't help but play a little differently.

I also want to mention that I'm currently working with a luthier in Israel named Edward Polak. He's going to make me a signature model, which will be coming out later this year.