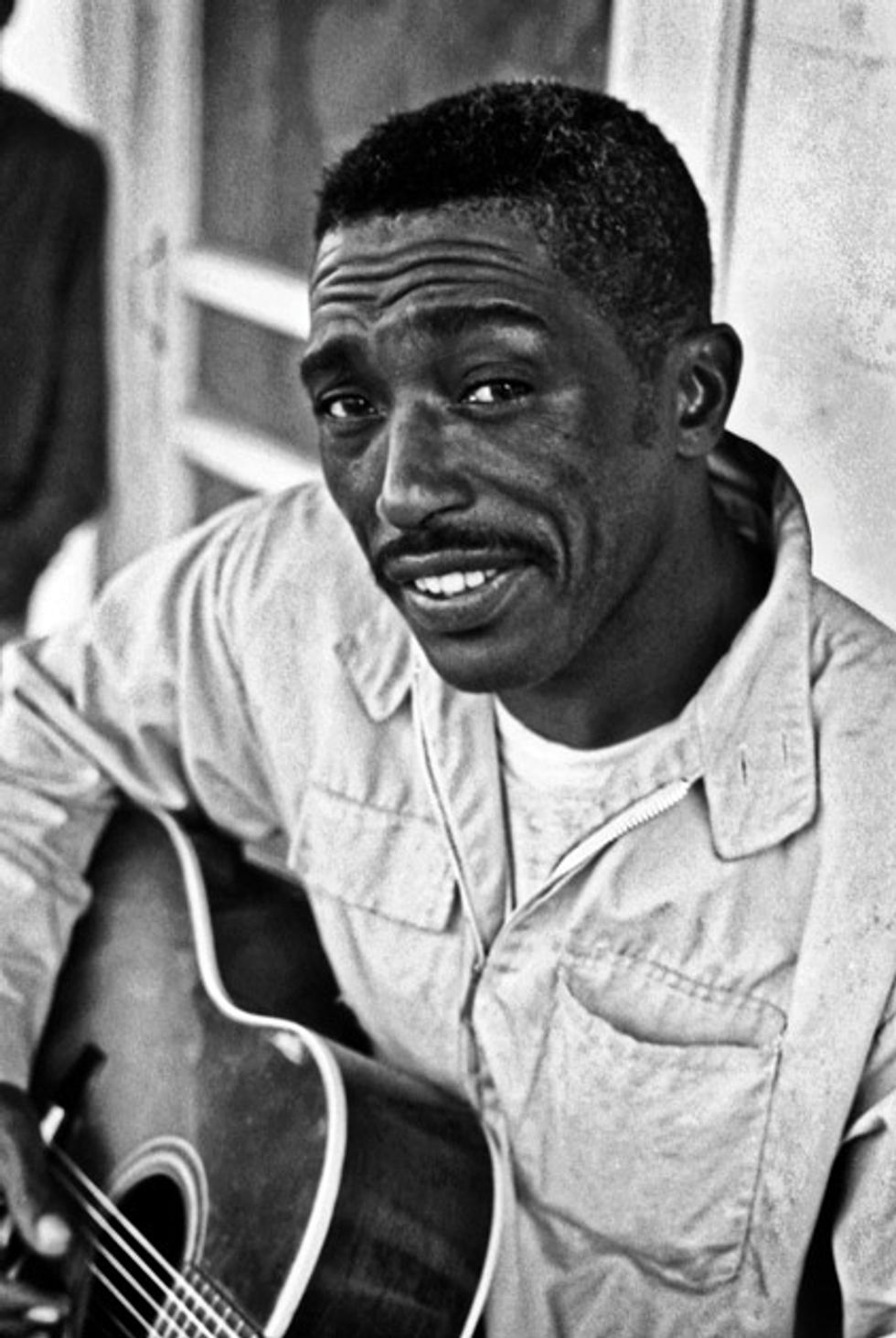 Musicologist George Mitchell took this shot while recording Burnside for the first time, at his home in 1967, making breathtaking music on a guitar others found unplayable. Photo by George Mitchell
R.L. Burnside loved tossing off dusty one-liners like a juke joint Henny Youngman. "I ain't drinkin' no more," he'd declare, pause a beat, and resume "but I ain't drinkin' no less, neither." And he'd toast his audiences with "Look out stomach, look out gums, over the teeth and here it comes."
But his music was even dustier. It was anchored in Africa and emanated from the soil he worked for most of his life in his native North Mississippi, then amplified by regional players who mesmerized him as a young man, including the well-traveled Fred McDowell and the obscure Ranie Burnette. And it was polished by the sound of the records that John Lee Hooker and Muddy Waters made in the '40s and '50s, which Burnside heard during his two or three years in Chicago and trickled back to Mississippi after he returned.
Eventually, in the 1990s, Burnside would regularly tour the world himself, release well-received albums on the Fat Possum label, and establish a legacy that still reverberates in the blues realm and in the roots-rock underground. But there were many decades in between where he raised a family, worked on farms, was a bounty hunter, played juke joints and house parties nights and weekends, and even spent a short stretch in Mississippi's notorious Parchman Farm penitentiary for killing a man with his rifle in a dispute over a still. Despite that act of violence, Burnside cast a spell over nearly all that met him, who typically recall him as warm, funny, and openhearted.
They also recall him as a 6-string badass. Burnside played hard, heavy, and loud, and loved the sound of the electric guitar. And like so many rural bluesman, he wasn't as fussy about tuning and tone as wanting to tell a story—to deliver a message, whether it was about existential loneliness in a song like "Just like a Bird Without a Feather," which was first captured in a 1967 field recording, or about the comedy of romance portrayed in his thrashing "Snake Drive," best recorded on 2001's live Burnside on Burnside, with its playful tagline "love is the devil, but it can't get me."
"In those days it was quieter and there wasn't any traffic, so you could hear those acoustic guitars for miles before you got to the house party." —R.L. Burnside

Burnside's Fat Possum albums, as well as the label's recordings by his neighbor Junior Kimbrough and earlier albums by their contemporary Jessie Mae Hemphill, brought the North Mississippi hill country style of blues to the world at large. Until then it was known almost exclusively to the area's residents and a small, cloistered circle of fans—although McDowell was an earlier proponent of the style, before its regional nametag solidified. Burnside upped the ante on the often droning, hypnotic approach that holds a distant echo of small African drum-based ensembles in its static rhythms and frequent one-chord song structures. He dressed it with broad-voiced, laconic slide guitar that added heat lightning to his deft, thick-boned fingerpicking, which displayed an almost lazy yet inscrutable mastery. And on top of it all was his clear, powerful voice, which could sail to heart-piercing falsetto in an instant. Add to that the secret of every great diplomat, charisma, and it seems he was practically destined to carry this music out of his little corner of the American South. But here's how it happened, more or less.
Burnside was born on November 23, 1926, somewhere in Lafayette County, Mississippi. Accuracy was not a strength of the state's record keepers then—especially regarding African-Americans. Reports also vary about his given name. It was either Rural, which seems most likely, or Robert Lee. Some of his close friends called him "Ru." His father abandoned his family when Burnside was small, and he grew up with his mother, grandparents, and siblings.
"Chopping cotton—that's what my family did," Burnside related when I first interviewed him in 1993. "That's what I did until I got to be 18 or 19, and then I moved to Chicago." But big city life and the violence there that claimed his father, uncle, and two brothers within a two-year span—chronicled in his song "Hard Time Killing Floor" on 2000's Wish I Was in Heaven Sitting Down—sent him back to Mississippi, where he met and married his wife of 56 years, Alice Mae. Eventually they would settle in Holly Springs.
"There wasn't much goin' on here," he recounted. "Sharecropping and plowing mules. Long days. I tried picking up the guitar whenever I could. I loved guitar music. I tried harmonica, because it was easy to take around, but could never play it. I was 22 before I could make any chords on the guitar.
"The first thing I learned was acoustic. In those days it was quieter and there wasn't any traffic, so you could hear those acoustic guitars for miles before you got to the house party. Nowadays, without an amplifier you ain't doin' nuthin'. I get hired to do songs with acoustic guitars at festivals, but the electric guitar is more soulful."
Before his own playing got soulful, Burnside wrestled with the instrument for years—staying up into the wee hours even though he had a hard day of farm labor ahead. He often went to Fred McDowell's house in Como to sit at the master's feet and absorb. McDowell's repertoire remained the foundation of Burnside's style throughout his life.
Eventually Burnside began playing house parties on his own and word of his hard-developed prowess spread. That led to his first recordings. In 1967, a young blues fan named George Mitchell was on a quest to document unknown musicians in the rural South. When Mitchell's attention turned to Mississippi, a mutual friend of Burnside's and McDowell's, Othar Turner, who led a fife and drum band, eventually directed him to Burnside. Mitchell found Burnside driving a tractor, cutting down after-harvest corn stalks in the searing sun. "He guided the tractor in our direction, shut it off, and stepped down smiling," Mitchell recounts. An appointment was set to record Burnside at his home in Coldwater that night.
"What was my reaction when he started to play? Man, goddamn he's good! It was unbelievable," says Mitchell. "I was suddenly in heaven. And this cheap-ass guitar I'd brought … he didn't have one at the time, and I had stopped off in Memphis, and different people tried to play it, and it was, 'Man, I can't play music on this thing.' But R.L. didn't have any trouble! The only thing he did was to take the E string off of it and stretch it, just to make it have a good sound, I guess. And as soon as he put it back on, he started into 'Goin' Down South,' one of his later hits. I was just amazed. He was a great guitarist."
That night Burnside cut four songs with Mitchell's beaten acoustic, including his lifelong staples "Old Black Mattie," "Goin' Down South," and "Skinny Woman." They initially appeared on the 1969 Arhoolie Records compilation Mississippi Delta Blues Volume 2, but are best heard along with the rest of Mitchell's 1967 discoveries on the 2008, seven-CD set The George Mitchell Collection Volumes 1–45, which is manna for fans of rural blues.
Mitchell tried to get some gigs for Burnside and brought him to Atlanta to play, but ultimately decided "that wasn't my job. I was still looking for blues singers." The Arhoolie album won Burnside some work, including his first trips to Europe, but "I just couldn't get away from farming," Burnside said. "At that time I was making about $20 a day driving a combiner, working a week for about $150. I'd go somewhere and do one show and get $400 or $500, but when I needed to go would be the time I'd need to be picking cotton or chopping beans or something, so I gave it up."
YouTube It
R.L. Burnside displays the essentials of the North Mississippi hill country style in this 1978 solo performance from the Alan Lomax archive. Listen to the African-sounding intro and then hear him take the song home like a fast freight, pulled by the locomotive intensity of his one-chord drive, with single-note embellishments.