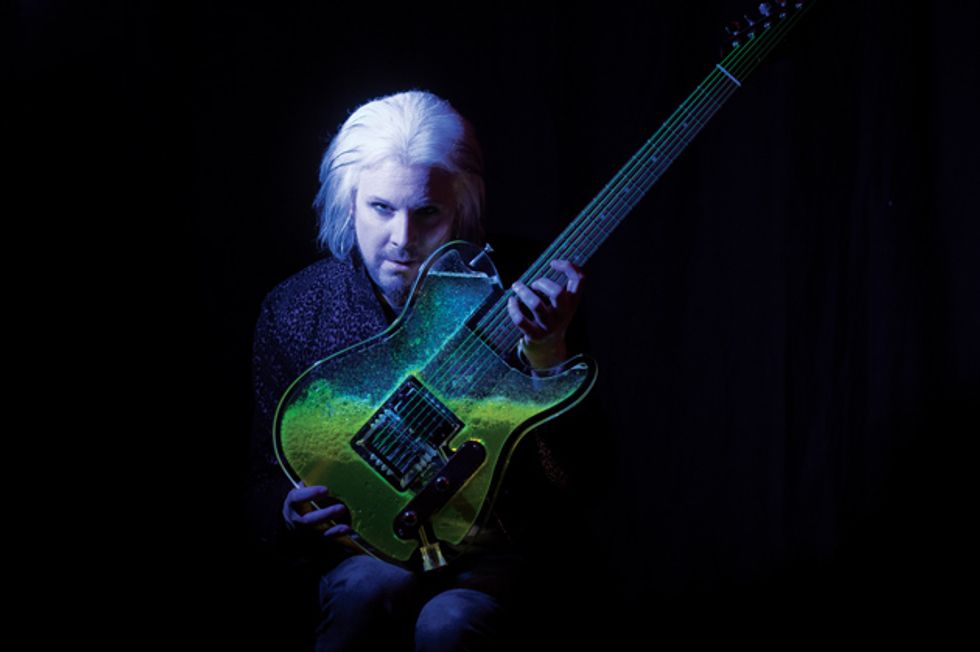 Photo by Stephanie Cabral
John 5 loves guitars, and that's an understatement. Get him talking about anything guitar-related—practicing, amps, picks, Telecasters, great players, recording, metronomes—and his passion is palpable. He's sincere, open, and oozes an almost childlike excitement. And he isn't cynical or jaded, although as an industry veteran you'd expect him to be. He loves music. He loves guitar. And except for references to B-grade horror films that pepper his conversation, that's about it.
John 5 is consistent, too. The music and TV shows that inspired him as a child—bands like Van Halen and Kiss, and the variety show Hee Haw, which featured country stars Buck Owens and Roy Clark—continue to inspire him today. He draws from their deep wells and pays homage in his songwriting and soloing.
But don't think he's stuck in the past or rests on his laurels. John 5 may be a world-class shredder, but he also searches the internet for new tricks and techniques—and then learns them, practices them, and incorporates them into his playing.
And he does this almost every day.
To get a taste of how much guitar he plays, check out his Instagram feed (john5official). It's filled with video clips—sometimes filmed by his children—of him at home. Most feature him sitting on the couch with his wife and running through impossible riffs at blistering speeds. His wife is usually preoccupied with something else, because that's life with a guitar-shredding maniac, and the clips end when his cat or someone distracts him.
And John 5's passion isn't limited to just playing guitar. He also loves owning guitars. He owns hundreds of instruments, including a Telecaster for every year starting with 1950, and most of his guitars are in pristine condition. "I have a collective soul," he says. "I really love clean guitars. Some guys say, 'I don't care if it's got belt rash or checking or a changed pickguard or pickups,' but I love everything original. I took my time and it is a really good investment, too. Luckily, I am not a really big amp guy."
"I'll play through anything—just give me a guitar and a pick."

John 5, born John Lowery, earned his moniker in the late '90s when he joined up with Marilyn Manson. By that point, he'd already worked with David Lee Roth, Rob Halford, Rudy Sarzo, and many others. Following Manson, he joined Rob Zombie's band—where he still is today—and released his first solo album, Vertigo, in 2004. His eighth, Season of the Witch, has just come out.
John 5 uses his solo albums to showcase his mastery of diverse styles, although his standout non-metal style is country. He's as comfortable fingerpicking, mimicking a banjo, and executing complex chord/melody arrangements as he is doing sliding arpeggios, sweep picking, and 7-finger tapping. That versatility has served him well. In addition to metal, his curriculum vitae includes recordings and tours with such diverse artists as k.d. lang, Lynyrd Skynyrd, Rod Stewart, and Meat Loaf.
We spoke with John 5 about his roots, practice techniques, learning disparate styles of music, using less distortion to get heavier tones, and how he created some of the crazier sounds on Season of the Witch. As you'll see reading this interview, John 5's excitement is contagious. He's an amazing guitarist, but an even more inspiring person.
When I was prepping for this interview, I ended up falling down a Hee Haw rabbit hole.
Isn't it great? I don't know if you watched it when you were a kid, but it was great entertainment. And here's the thing: Everything affects you when you're a child. In my household, my dad would watch what he wanted to watch—and we had to watch what he wanted to watch—so he would turn on Hee Haw. But I'll tell you, it really made a mark on me.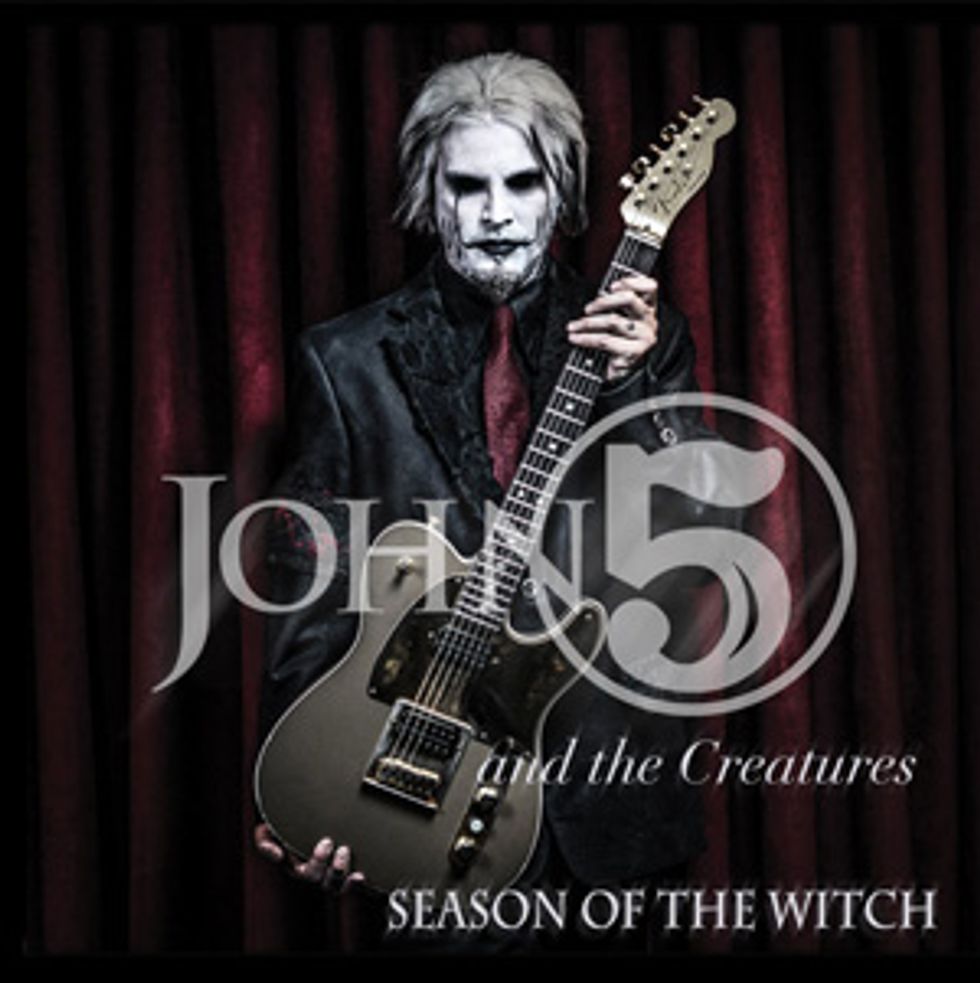 For his eighth solo album, John 5 made videos for all 13 of its songs, believing that YouTube is now where most young listeners discover music.
The reason I picked up the guitar was because of a kid [Jimmy Henley]—he was my age or maybe a little older—who was a banjo champion. He was performing with Roy Clark on the show. (Watch this 1976 performance here.) I think they were doing "Orange Blossom Special." I was so intrigued and blown away by this kid who was close to my age and who was that good at something. I was like, "I want to play, too, but I want to play electric guitar." I saw all the guys on Hee Haw playing these sparkly electric guitars. That is the reason why I picked up the guitar and that is the reason why I play a Telecaster—they all used Telecasters. I just thought all electric guitars looked like that.
Did you start out playing country music?
That's what my dad enjoyed and that's what I was introduced to very early on. Then it was the Monkees, because I loved TV. I was so into TV, just like any kid was. Hee Haw was on TV, the Monkees were on TV, and then my epiphanies went on from there.
The Partridge Family?
Heh, well [laughs] … and then it was Kiss and Van Halen and I got really into that.
Did you take lessons?
I always took lessons, ever since my very first year of playing guitar. My hands are small, but I wanted to play so bad. True story: My left hand is larger than my right hand. It stretched so much that it's weird, almost like a deformity. I was young and I was growing, and my left hand is larger because I wouldn't stop playing.
Did you learn the basics of theory and how to read music?
Yes, I did. That was part of the teacher's regimen. I had to read, and then in school I had to do it. I've used it to my advantage, but I don't use it as much as I would like to. It comes up every little once in a while, but not as much as you think. Whenever it comes up, I dust my reading off and it really helps out.
What are some of the things you did, or still do, to develop your skills and keep them up?
When I was younger, I was learning this stuff, but then I would forget it because I wasn't playing it every day. I was getting to the point where I wasn't using the things I'd been learning. So I would come up with these licks, or get influenced by people, or learn what they were doing, or try to do new stuff, and I'd weave that into my instrumental songs, which I play all the time. I have an arsenal of around 1,000 licks I will play every day. Sometimes I'll do a 6-finger or 7-finger tapping thing, or behind-the-nut bends, for a whole song, or I'll do banjo rolls, but it is this whole arsenal of licks that I play every day and that I'll never forget because they're in my songs.
Also, I'll surf YouTube or Instagram. It's incredible the tools that are available now. You're seeing these players all over the world and you're like, "Now that is cool. That's inventive." There is a whole world out there of crazy, inventive guitar players. I'll look at that and turn it into my own thing. I put it into my own songs and practice it, because I think inspiration is one of the most important things there is.