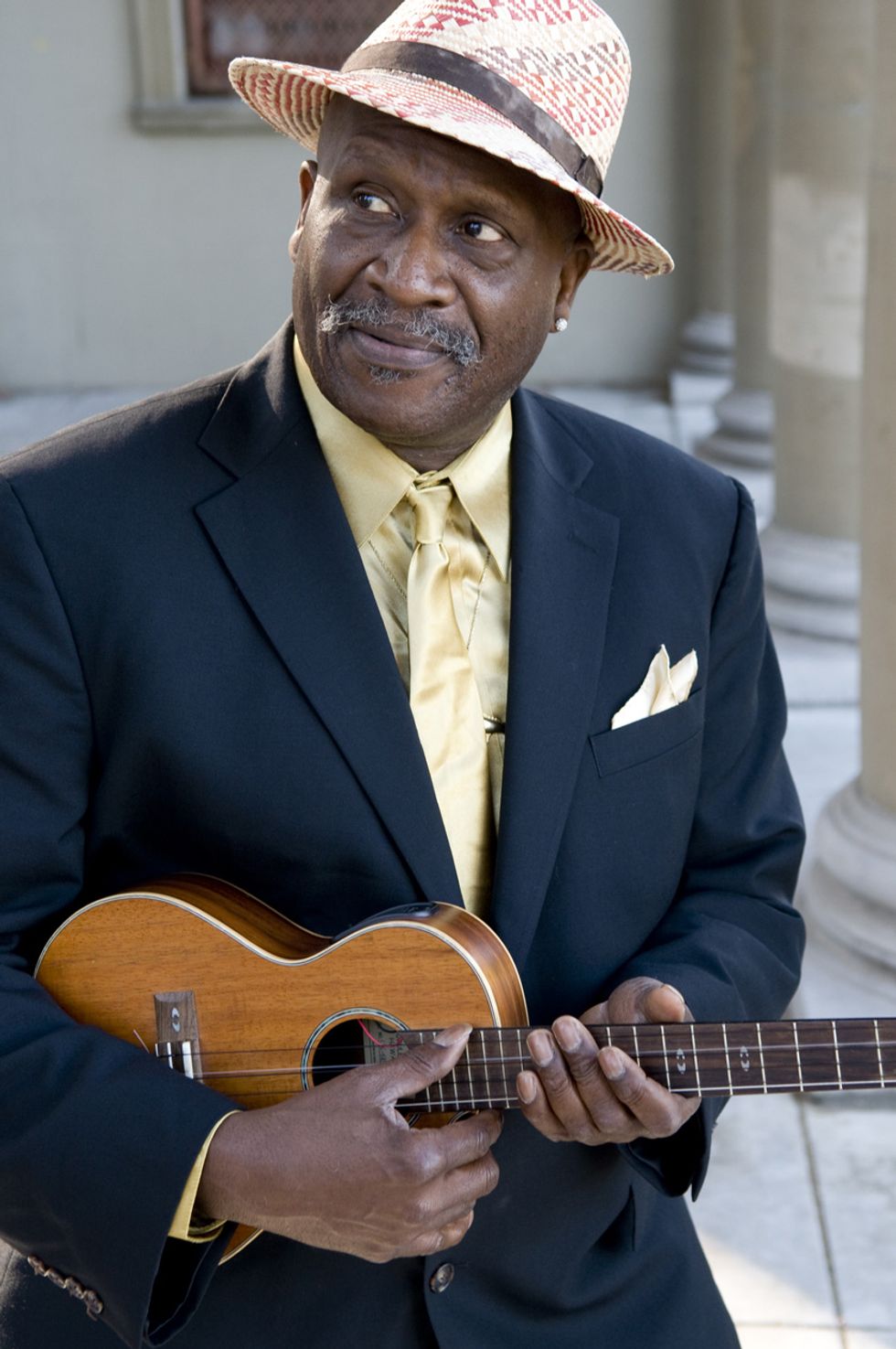 Over more than 50 years as a performer, Taj Mahal—who was born Henry Saint Clair Fredericks in 1942—has developed a repertoire that draws on a broad swath of African and Caribbean sounds, as well as American roots music.
Photo by Jay Blakesberg
How did you decide who would play what instrument?
Mo': We tried to let the song and the moment tell us, and then we would pull out something and start playing it. When it works, you know it. You keep finessing it and whatever survives in the end is what you've got. If something wasn't working, the song would just spit it out organically.
There is a lot of resonator on the record. What resonators do you play?
Mo': I used two resonators: a National Reso Rocket and a small-body Republic travel resonator that has a real nice, tight sound. For things that were more open and out in the room, like "Divin' Duck," I used the big resonator. For things that were nastier and sitting in the track, like "That's Who I Am," I used the smaller Republic.
What was the cutaway resonator you were using at the 2013 Eric Clapton Crossroads concert where you and Taj played together?
Mo': That's the Republic.
Mahal: The tricone I'm playing at that show is a Recording King.
Do you have a special mic you like for resonators?
Mo': Usually the ones that are sittin' around. [Laughter.] I might use an SM57 or a DPA. Sometimes a cheap condenser, like an MXL, works. Sometimes the expensive ones hear too much, so I use whatever trick I need to make it sound right. You need a strong mic pre, so I use an Avalon, an API, a Neve, or something like that.
Resonators can be tricky to amplify live. What do you use to amplify yours?
Mo': My Republic has a Highlander pickup, and I go directly to the board.
"My guitar style was learned directly from a player who knew Piedmont blues, but also from people like Bo Diddley, Jimmy Reed, Elmore James, and those kinds of players."—Taj Mahal
What about you Taj?
Mahal: Mine is just a little ol' three-dollar weird mic pickup installed by the guys at Subway Guitars in Berkeley, California. I just put little cheap mics in there and plug them into a Boss volume pedal, a Boss stereo chorus, and then plug that into Fender Bassman amps.
What acoustic guitars did you use on the record?
Mo': My main acoustic is my Gibson Keb' Mo' Bluesmaster model. I also used a handmade guitar by Will Hirsch in Northern California, and a nylon-string made by Bedell Guitars.
What are you using Taj?
Mahal: Mostly Kevin's guitars. I brought a bunch of stuff on my own, but when something sounds real good, I'm going there.
Mo': You used your banjo.
Mahal: That was a Bart Reiter copy of a [vintage] 5-string Fairbanks Whyte Laydie banjo.
Mo': I've got Gibson Mastertone and Deering banjos.
Which electric guitars do you use, Keb'?
Mo': My electric guitars are an 11-year-old Suhr Strat, a custom Paul Reed Smith, and a 3-pickup Epiphone Riviera. I switched out the Riviera's P-90s for P-100s, because the P-90s are noisy. I also have a little, single-cutaway Gretsch Electromatic Center-Block model, with two pickups—a single-coil in the front and a little humbucker-type thing in the back. It works really well. The guitars are all based on need. I have a lot, but for a gig I will settle on one.
Keb' Mo's Gear
Guitars
Paul Reed Smith custom
Epiphone Riviera
Gretsch Electromatic Center-Block
Suhr S-type
National Reso Rocket
Republic Highway 61 resonator
Gibson Keb' Mo' Bluesmaster acoustic
Will Hirsch acoustic
Bedell nylon-string
Mastertone Gibson banjos
Deering banjos
Amps
Mesa Boogie Mark Five: 35
Effects
Big Joe Stomp Box Company Empire overdrive
Empress ParaEq
Strings and Picks
D'Addario .010 sets (electric)
D'Addario .012 sets (electric slide)
D'Addario Phosphor Bronze .012 sets (acoustic)
D'Addario Phosphor Bronze .013 sets (resonator)
---
Taj Mahal's Gear
Guitars
Recording King Tricone Resonator
Bart Reiter Whyte Laydie banjo
Amps
Fender Bassman
Effects
Boss volume pedal
Boss stereo chorus
Strings and Picks
GHS or D'Addario (.013–.056)

What amps do you use for your electrics, Keb'?
Mo': I use a Mesa/Boogie Mark Five: 35, with two different open-back cabinets. One is a 1x12 and the other is a custom 2x10. I haven't really decided yet which one I like best.
What pedals do you use with electric guitar?
Mo': For distortion, I use the Empire from Big Joe Stomp Box Company. I also use an MXR 6-band EQ.
How do you usually set the EQ?
Mo': It depends on the room. I use it to put out low-mids to focus the sound. I also have an Empress ParaEq. It's a 4-band parametric EQ. I change pedals all the time, but I try to make sure everything is true bypass. I just switched out my reverb pedal and my delay pedal. Sometimes my tech just brings me something and I put it on the pedalboard.
How did Joe Walsh get involved in this project?
Mo': He was in the neighborhood and he came by.
Was this in LA or Nashville?
Mahal: Nashville.
Mo': I thought he would just show up and say hello, because you never want to assume anything, but he came with a guitar and an amp and said, "Let's go." [Laughter.] He was ready. I think Lizz Wright was there that day, too.
Do you remember what guitar and amp Joe was playing on the record?
Mo': A Tele.
Mahal: That's what it looked like to me. It was some kind of cool, customized Telecaster.
Mo': Yeah, hard to tell. We were listening to what he was playing rather than watching what he was using.
Do you remember what amp he brought in, or did he use yours?
Mo': A little bitty amp. I don't know; I should have taken more pictures.
You're both typically placed in the blues category, but, of course, your music draws from so many other influences. How do each of you feel about stretching the blues as a genre and keeping it vital going into the future?
Mo': First of all, I would like to crush the idea that the blues is an endangered species, because it's not. People always like to put you in a box as a sales tactic. It's part of the old paradigm of telling people where to find your record at the record store. Now there aren't many record stores, so you can just be an artist. People are very quick to call this a new blues record, but Eric Clapton said that if you call something a blues record, half the people are out. It's like everybody runs for the hills.
What are your feelings, Taj?
Mahal: My feelings have always been the same. No matter how much blues was on the first records I put out, there was always room for more stuff happening. As soon as I got the opportunity to express those parts of my cultural background, I did it. Half my ancestors are from the South, the Piedmont area, and the other half from the Caribbean. My guitar style was learned directly from a player who knew Piedmont blues, but also from people like Bo Diddley, Jimmy Reed, Elmore James, and those kinds of players. All those guys listened to other music than the blues. That used to be what musicians did—they added different rhythms, such as rhumba, swing, and cha-cha. But it wasn't marketed that way. All those brick-and-mortar places are gone now. All those categories are gone. Now you put out one song and everybody thinks that's what you do, until you put out the next one.
Mo': There is a stigma to the blues that is very hard to get around. That's probably not going to change any time soon. It is time to shake off categories like jazz, blues, and classical. Still, I'm just grateful to have a career. If it's in the blues category, I am very proud of that.
YouTube It
Taj Mahal and Keb' Mo' were still a year away from the first sessions for TajMo when they united at Eric Clapton's Crossroads Guitar Festival in 2013 to play a double-resonator rendition of "Diving Duck Blues" that became a template for their recorded version.