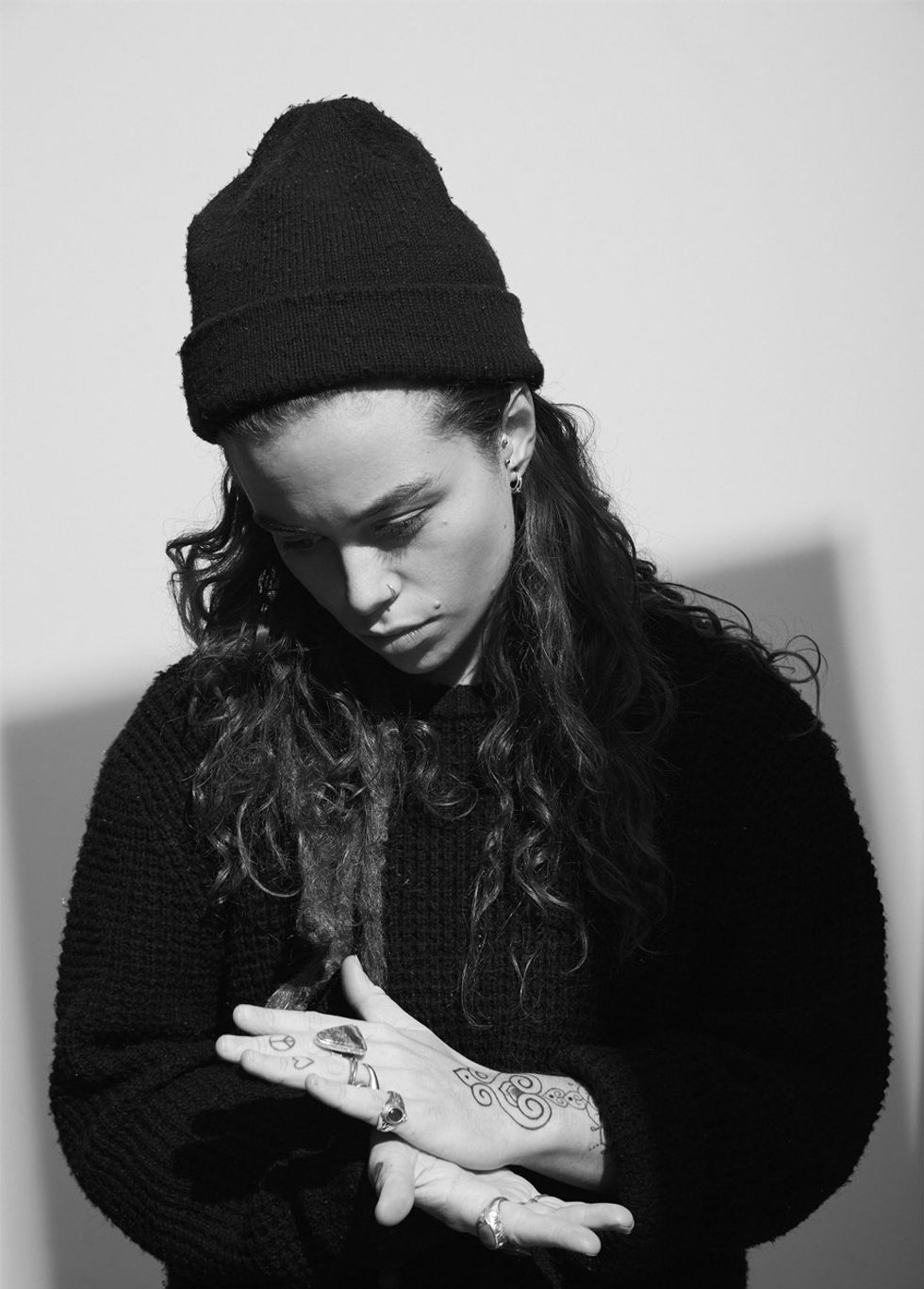 Sultana grew up music-obsessed in Melbourne, Australia, listening to everything from classic rock to hip-hop. And all her disparate influences play a role in her freewheeling songwriting and performing. Photo by Clint Peloso
Tash Sultana is a self-contained, one-woman band. She generates every sound in every performance, and she does it live, solo, and in real time. "I was in a band for a while," she says. "But I like doing my own stuff myself. I like the challenge to learn as much as possible on every instrument I pick up."
Sultana has tons of gear—including multiple guitars, drum machines, a looper, other assorted instruments (including mandolin, flute, and trumpet), and a bevy of pedals—and manipulates those tools while also singing, self-harmonizing, beat-boxing, and layering drum patches. She's musical—her grooves are heavy and her solos are tasteful—and her songs are structured and cleverly arranged.
Sultana started as a street performer in downtown Melbourne, Australia. She built a small, core following and those fans shared footage of her live performances online that earned her some attention and buzz. She filmed herself at home, too—higher quality clips of complete songs that feature better audio and cute shots of her mother peeking around the corner. "The point is that it's live," Sultana says. "You do it as it happens in front of you." Those videos went viral and millions of views, a string of sold-out shows, and numerous festival appearances later … and Sultana, who is 22 years old, seems poised for something bigger.
What exactly happens next is anyone's guess, but she's ready and, regardless, she'll keep making music. Her artistry transcends the hype—she isn't a flash-in-the-pan—and her story is compelling.
"I have never played other people's songs—it's a waste of time. You could be focusing on the stuff you're capable of writing."
Music is a ubiquitous presence in Sultana's life. It's always been that way. "I gravitated to anything that was an instrument when I was a little kid," she says. "Anything that made sound, I'd play it. My grandfather bought me a guitar when I was 3 and I started playing then."
Her father listened to classic rock—bands like Led Zeppelin and Pink Floyd—and hearing those tones was influential early on. "I had things that I was drawn to," she says. "I like how Lindsay Buckingham plays. He had an original style for the guitar, kind of like Gypsy-rock picking."
She is also a big fan of Carlos Santana and you can hear his influence in her playing. But better, in April she opened for him. "We just did a show together, which was fucking awesome."
But Sultana isn't stuck in the classic sounds of yesteryear. Listening to her music—especially the six songs off Notion, her recent EP—it's obvious she's something of a polyglot. She's internalized everything from reggae and ska to more modern feels like hip-hop and trance.
Apparently it's a sensibility she absorbed through osmosis because she's never learned songs or performed covers. "I have never played other people's songs," she says. "It's a waste of time. You could be focusing on the stuff you're capable of writing. Be your own artist instead of playing somebody else's songs."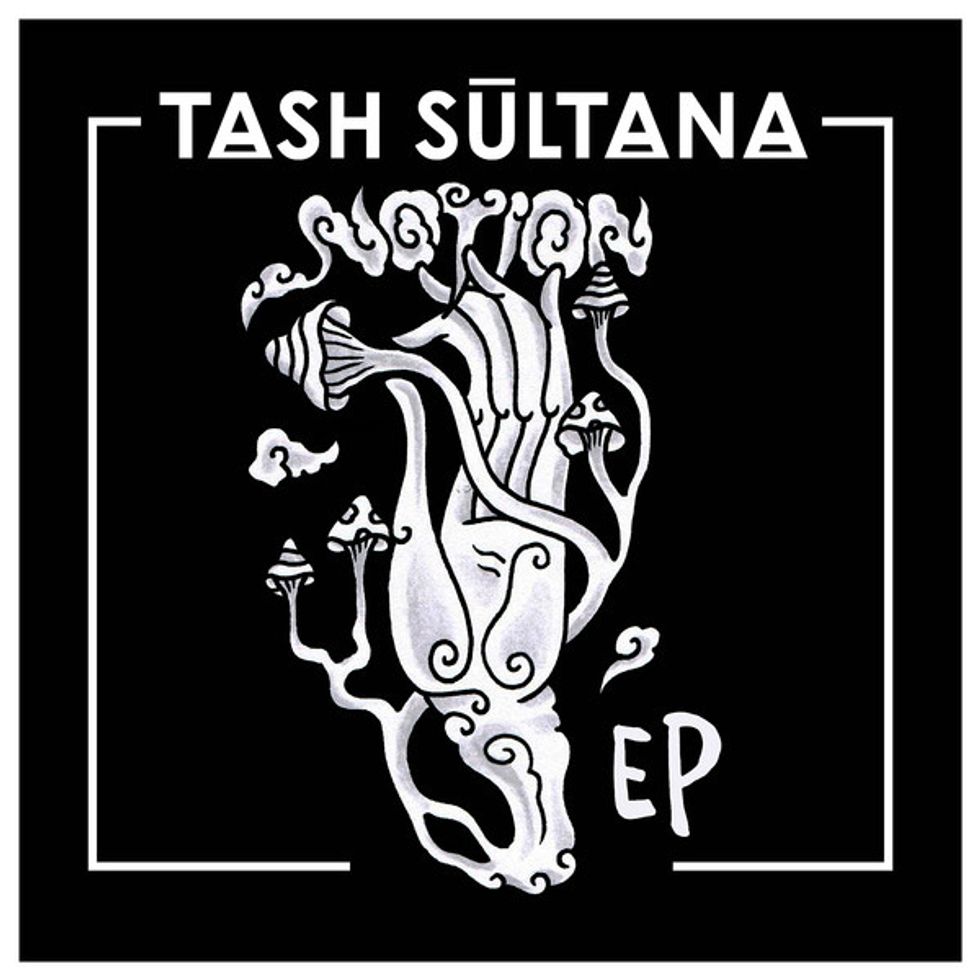 Although Sultana has indie-rock history in the band MindPilot, last fall's release of her debut EP, Notion, put her on the world's stages, including a tour opening for Carlos Santana.
Although if you search the internet, you will find one—just one—a cover of MGMT's "Electric Feel," which she did for Triple J, an Australian radio station. "They do this thing called 'Like a Version,'" she explains. "You do a cover of somebody's song and completely change it up. That's the only song I've covered. I wouldn't do it again. I gave it a shot, but it's not my thing. I like to do my own stuff."
Her thing is jamming.
Jamming is intrinsic to how she operates. It's how she practices, composes, and gets familiar and reacquainted with her pedalboard. It's the bedrock of her relationship to music. "I just jam and let whatever happens happen," she says. "I pick up different sounds along the way. I hunt them down and find them."
But as fundamental as jamming is to her approach, she isn't a flake. Her jamming is directed and purposeful—and she is hyper-focused when working on something new. "I don't listen to any music at all, so that I really hear what I am doing," she says about songwriting. "I'll have a jam, record it, play it for a week at a time, and it will be the only song I listen to. It drives me nuts, but I hear it properly."
Sultana's live performances are a synthesis of that open-ended, improvisatory aesthetic combined with personal discipline and a commitment to serving the song. Her music has room to breathe, which explains why her songs aren't short, 3-minute nuggets (they average from about 5 to 9 minutes each) and change from night to night. Part of that is the nature of the beast: layering live loops takes time and each part needs to be played and captured. But her songs also aren't endless solos over infinite vamps. They have definite structures, chord progressions, abrupt changes, and contrasting sections. She's a songwriter, albeit one who's loose and jam-centric.