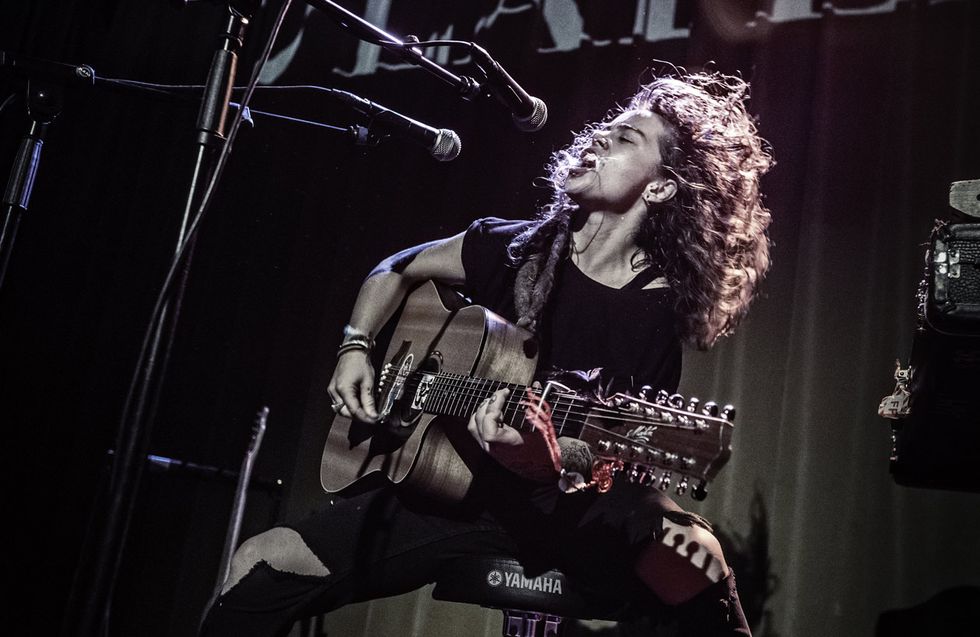 Although Sultana's main modus operandi is to layer electric guitars and stacks of effects, she's also a killer acoustic player. Here, she puts some voodoo on her Maton 12-string. Note the multiple microphones for routing vocal effects.
Photo by Ben Houdijk
Though Sultana cultivated her initial audience busking in Melbourne, she doesn't play on the street anymore. "I haven't busked for about two years," she says. "It is too dangerous. I get people following me home and shit." She didn't try out the streets of different cities once she hit the road either. "I don't have the time to do that. I'd rather play big theaters than be busking in the day. I love busking, but I've worked so hard to get where I am getting to—to where I really want to be—which is that nice proper production, in big theaters and small stadiums, and stuff like that. I want to put on a real show."
That real show still maintains its edgy street vibe, however. Rather than using saved, stored, or prerecorded loops, she plays them fresh, night after night. "I do not play to a backing track," she says. "I'm anti backing tracks."
Onstage, Sultana may be anti backing tracks, but her approach to recording is something altogether different. In the studio, her process is arduous, if not painful. "Every layer that I do live I individually track with the multi-track in the studio. I ended up with literally 75 tracks on one song."
Her approach to sculpting guitar tones is no less particular. "I'll do a quad-amp setup," she says. "It's four amps at the end of the room facing each other, and I set up mics around them." Those four amps include a 1952 Vox, an Orange head with matching cab, and a Fender Deluxe Reverb (she doesn't remember what the fourth amp is and didn't provide more specifics about the other three). She uses a pedal—the Palmer Triage Amp Selector—which sends her signal to three amps and makes it easy to choose between one or a combination of amps. At the board, she crafts a composite guitar tone using a combination of close mics, room mics, and overheads.
That's similar to how she records vocals as well. "It is an absolute fuck-load of microphones," she says. "I like picking up the sound of the space that I'm using, and then trying to add in effects later."
But Sultana doesn't bring four amps on the road. She doesn't even bring one amp on the road. "I don't use an amp live," she says. "Too much bottom end comes through and amps don't work with drum samples. It doesn't sound as good for how I've set my stuff up."
Sultana's sense of time—in terms of groove and her pedalboard choreography—is impeccable. True, if you watch enough live clips you may occasionally spot a glitch, but for the most part, she nails it. Her groove is in the pocket and her device manipulation is masterful. It's something organic: the product of years of shedding, and something she intuits.
"I have 39 different pedals. They're all secrets. I never give
away my stuff."

She doesn't use a click track when performing live, although on a rare occasion she may use one in the studio. "I use my foot," she says. "I just use the common thing of tapping my feet. In the studio I will use a click to make sure it's like, spot on—you kind of have to—but I find that I end up 90 percent just playing without it. I can stay in time without a click."
Her looper of choice is the Boss RC-30 Loop Station. "I've tried different loopers but I just don't get the same feel," she says. Her guitars, drum samples, and other instruments run into the RC-30, and from there to the house PA. Vocals are kept on their own. "Vocals have nothing to do with my looping. They run on separate channels on a completely separate pedalboard."
Speaking of pedalboards, Sultana's is massive. "I have 39 different pedals," she says.
What are those 39 pedals? PG readers want to know.
"They're all secrets."
Secrets?
"I never give away my stuff."
Why not? I pushed, but that was all she'd say.
But at least Sultana has no problem talking about guitars. "I have so many," she says. "I've got a Fender Jag, three Strats, and about five or six Telecasters. I've got some antique acoustic guitars that have only four-digit serial numbers." On tour, she travels with a Fender Stratocaster, a handful of Telecasters, and a Maton SRS70C/12 acoustic-electric 12-string. Her fragile, antique instruments stay home.
And if layering multiple guitar parts, beat-boxing, and singing weren't enough, Sultana also boasts killer acoustic chops. Check out her recent performance on NPR's Tiny Desk Concerts. In addition to her mind-blowing looping, we see her perform as a solo acoustic guitarist with a complete command of such advanced techniques as two-handed tapping and hyperactive hammer-ons. She also does it on an 11-string acoustic—the G string doesn't have the high octave—although that isn't on purpose. "It just breaks," she says. "It is the most common string that I break. If it's broken, I won't put it back on. I don't really care."
Put the pieces together and that's a snapshot of Tash Sultana—a young, uncompromising, music-obsessed talent. "That's all I know how to talk about," she says. "I want to take it as far as I can."
YouTube It
Watch Tash Sultana at work in this home version of her song "Jungle," from her debut EP Notion, which also displays her considerable vocal abilities. The guitar is, obviously, a Fender Jazzmaster. The breed of the dog that appears at 2:57 is unknown.