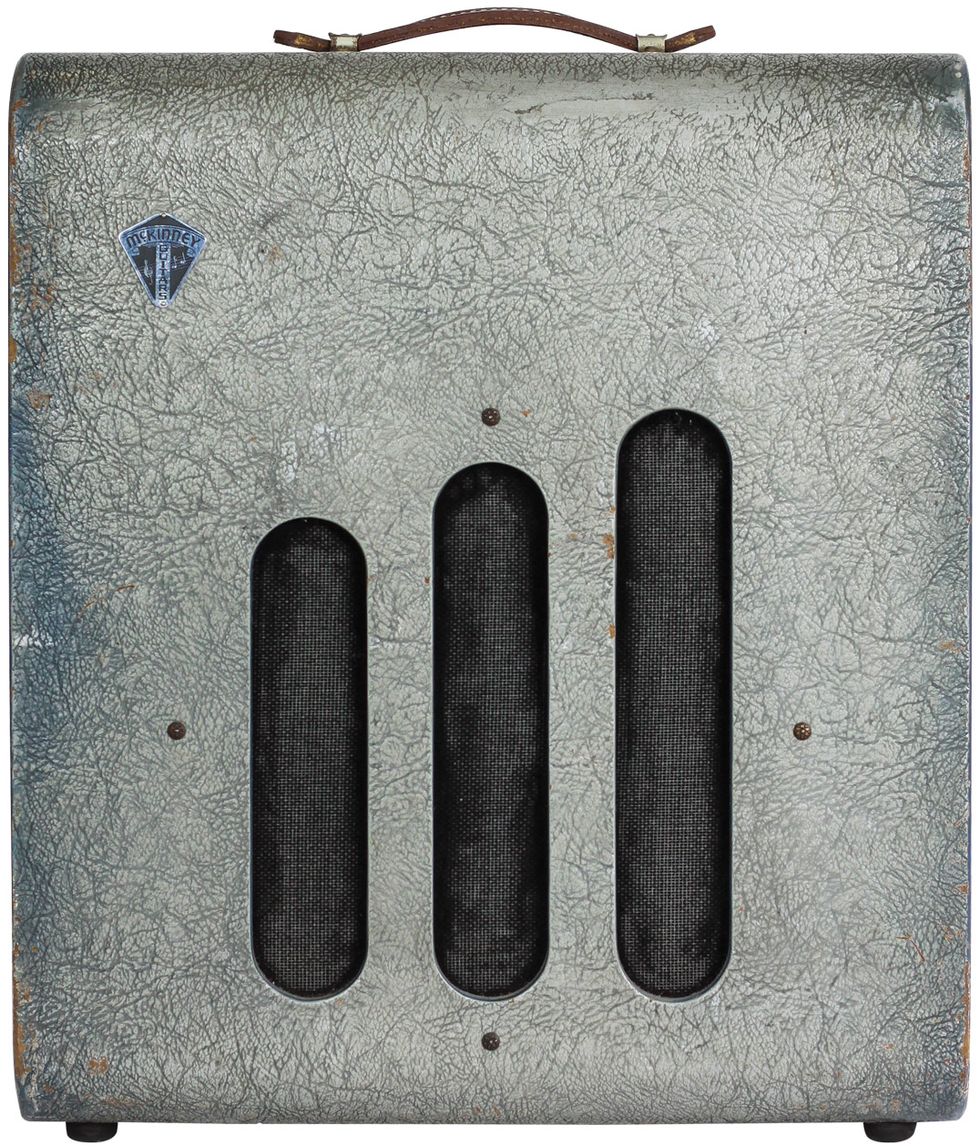 On the Valco-made McKinney 1260, the separate volume controls for the microphone and instrument channels reveal the amp's original all-in-one design as a vocal PA and guitar amplifier. But they give modern guitarists' two different,
delicious breakup flavors
McKinney 1260
Dating from 1948, this amp is the oldest of the group and probably the most ferocious. Back in the day, the Valco Company of Chicago was making amps and guitars under many different brand names, and this McKinney is just one example. This line was sold through the McKinney School of Music in Peoria, Illinois. If you study old Valco catalogs, you'll notice that many of the amps of that time were sold with a lap-steel guitar, so most of these early amps were low-powered and voiced for a certain style of music. Then, in the late 1940s, Valco started to produce amps voiced for more powerful guitar pickups, crystal microphones, and changing musical styles. We're talking about the dawn of rock 'n' roll here!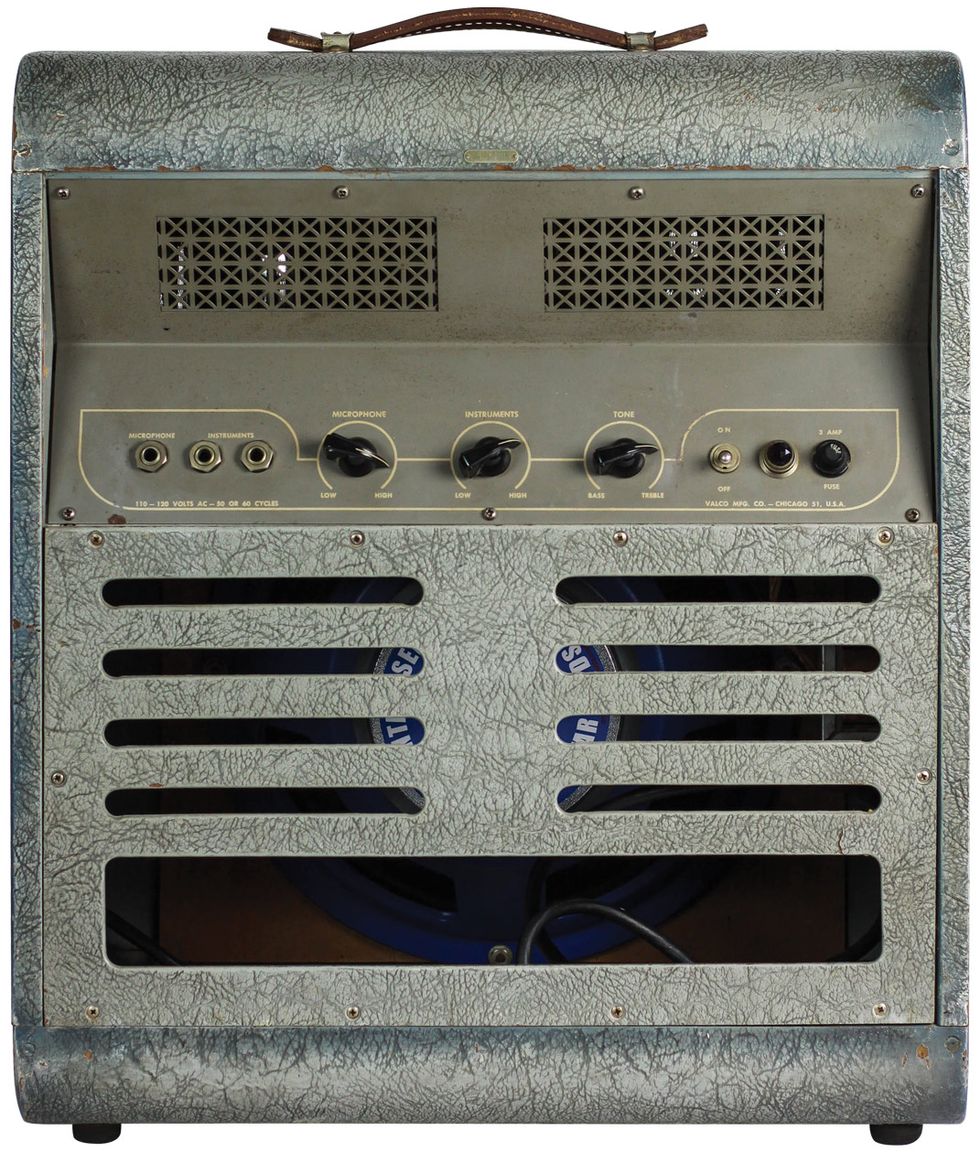 This same McKinney amp can also be found in the 1949 National catalog as model 1260. It cost $165 at the time and produces about 16 watts of power. What makes this amp interesting and probably historically important is that it was one of the first Valco guitar amps to use 6L6 power tubes. In this same catalog, another amp called the 1215 "Professional" featured even more power via 6L6 tubes. These two models were certainly the top-of-the-line guitar amps in their day.
There are many, many great sounding Valco amps spanning about three decades, but these early amps offer a unique sonic experience. If you're at all interested in a vintage tone, then this amp is authentic in every way. The 1260 has a fine combination of old-time tube overdrive mixed with some serious output and power. It features two channels with a volume control for each, plus a shared tone control. The instrument channel is very responsive, loud, and crisp. The microphone channel is just nuts. It's a bit louder and offers some unreal breakup through the 12" speaker.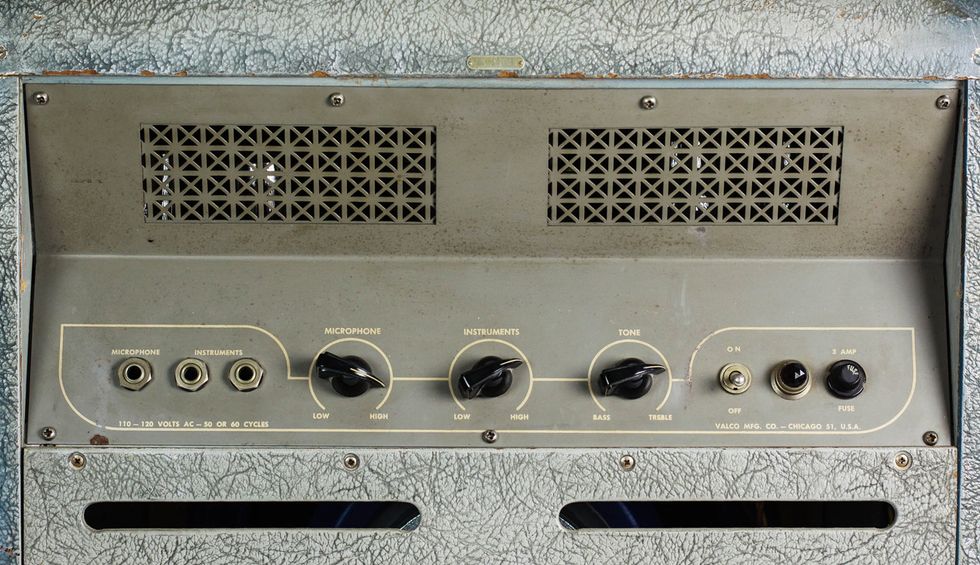 I'm not a big fan of modifying amps, but I did replace the original Jensen 12" speaker in this McKinney to preserve and protect it from my fuzz pedals. The 1260 originally came with a field-coil speaker, but a good tech can change it over to a magnet speaker without modifying the amp's B+ power supply, so you'll still have that same great tone. Another easy mod that can be done on some of these old Valcos is to install a line-out circuit using a 1/4" female jack from the output transformer secondary. Then you can plug into another amp or PA system for an unbelievably huge sound!