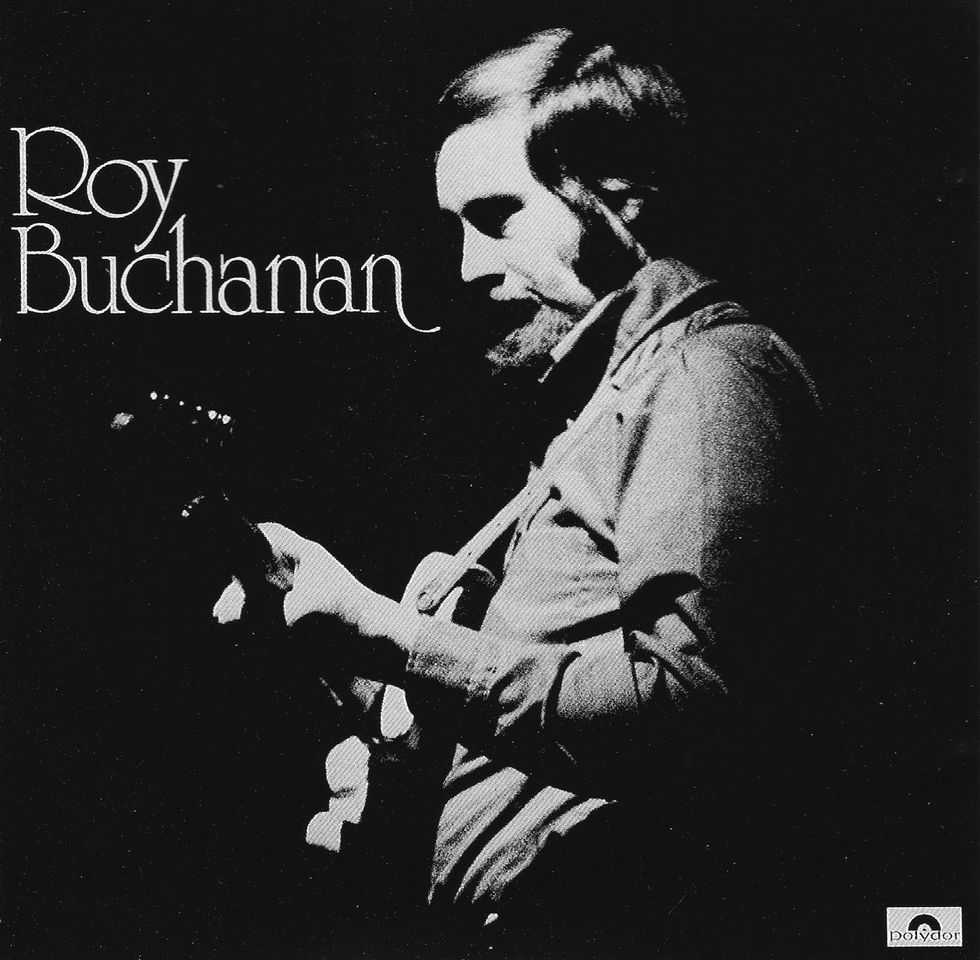 Roy Buchanan's searing tone and impressionistic sonic techniques—done purely with volume and touch— are all over his Siegel-produced debut album from 1972.
Playing Styles, Enduring Influence
Let's take a quick look at the playing styles and importance of Roy Buchanan, Doc Watson, and Joseph Spence, as well as Peter K. Siegel himself.
Siegel has an assured and sensitive hand on both guitar and banjo. When he plays his well-worn Martin D-28, one can clearly hear his love for Doc Watson's guitar stylings, and, on the banjo, the stroke, frailing, and clawhammer styles of Clarence Ashley and other old-time players. Siegel plays a fretless banjo that he built from a Boucher kit. It's a reproduction of a Civil War-era instrument that reflects beautifully on the African roots of the banjo.
Working extensively with Watson, Spence, and Buchanan, Siegel had a hand in presenting these important players to a wider audience. One might hear Watson and Spence as representing two great rivers of guitar music: one from rural America and the other from the Caribbean, extending from deep into the 19th century and reflecting onward across the 20th. Buchanan's immediately recognizable guitar sound elevated blues, rockabilly, country, and spirituals into an art of great intensity—simultaneously earthy and ethereal, and likewise straddling past and future.
Watson took fiddle tunes, blues, sacred, and old-time songs from both the Scottish/Irish/English and African populations of rural America and synthesized something new. He developed streamlined techniques using a plectrum to create driving, fluid lines and approached fingerpicking with a thumbpick and one metal fingerpick for rich ringing melodies with alternating bass notes. He was a huge admirer of Merle Travis' playing, even naming his son Merle, and in his musical DNA there are strains of Travis and Chet Atkins, as well as the Carter Family and Jimmie Rodgers. His influence ranged widely across modern bluegrass, folk, and country music.
There has never been another guitarist like Spence. With a unique sense of timing and flow, a pianistic approach to moving lines, and even his tuning of the instrument, Spence remains peerless. His driving rhythms have roots in African songs, ragtime, blues, and calypso, and his melodies reflect the English colonization of the Bahamas. Using dropped-D tuning, Spence would snap the strings and use quick glisses and downward swoops as punctuation for his phrases. He rarely strummed full chords—instead picking out two- and three-note fragments which might be slid to create shifting countermelodies. He could sound like two guitarists in a friendly argument, with both commenting on his gruff and expository singing. One might even hear parallels with legendary pianist and composer Thelonious Monk, also of Caribbean heritage, and whose music features angular singsong melodies with brilliant corners and buoyant grooves. Monk could seemingly bend notes with his use of close-interval clusters, and Spence's slightly off-tempered tuning created much the same effect.
In Buchanan's hands, the Tele could scream, wail, talk, croon, preach, and even become a swooning pedal steel. He liked to keep his amp dimed so he could zoom from a delicate whisper to a roar with a subtle move from his pinky on the volume control. This allowed him to create sounds by hitting or flicking the bridge plate—and even blowing on it. He was a master of artificial harmonics, which he generated by pinching a string between his pick and thumb or finger to yield a scorching peal. Buchanan would play extreme bends, whether with his fingers or behind the nut, for deep emotional effect. Using what he called "circle picking," he could shred lightning fast lines—every note clearly articulated and rich with meaning.