The smoother side of fuzz rears its head in this interpretation of an Eastern-Bloc Big Muff.
At some point along a journey of fuzz discovery, players find out that Sovtek Big Muffs—while a picture of Monster Island-scale, mid-scooped fuzz perfection in isolation—can go missing in a big, burly rock mix. A lot of Muff clone builders tackle the problem using mid-boost controls. Rocket Surgeon (the pedal building arm of Nordstrand Audio ) takes a different tack, relying on a simple switch that effectively makes the Boris two Muffs in one: A traditional mid-scooped Muff called "doom" and a mid-forward voice called "nuclear." Neither re-casts the Sovtek-era Muff sound in a radical way, but both offer cool options for Muff newbies and experienced players looking for new variations of classic Russian Muff textures.
Red Star Rocket Craft
A lot of pedal makers seek boutique prices these days for craft and components that are quite ordinary. Rocket Surgeon isn't one of them. The Boris is well put together and seems designed to be repairable in the event something fails. The footswitch and jacks, including the 9V jack, are affixed to the enclosure and independent of the circuit board.
You needn't fear Boris being underpowered. It may be a more reserved Muff, but it is hardly quiet.
The circuit board reflects a thoughtful approach to circuit layout and execution, with components arrayed neatly on a through-hole board. The 9V battery, if you choose to use one, fits tidily between the footswitch housing and the foam mounted on the enclosure interior. The knobs, meanwhile, have a smooth but firm resistance that enables precise adjustments and prevents accidental changes. The whole feels like a piece of gear that will survive real and rigorous touring.
Thermonuclear Expressions
In the vintage-voiced doom mode, the Boris sounds most authentically Sovtek-like at treble-y tone settings. And it's at these trebly settings that the pedal feels most airy and responsive. To my ears, Boris is neither as buzzy, nor as detailed as the "bubble font" Sovtek and two excellent "Civil War" clones I used as reference. But I really love the toppy, more searing side of Muff circuits. And players that like the Gilmour or desert-rock, power-haze personality of Russian Muffs might interpret the same lack of top end effervescence as smoothness—a texture many Muff fans relish. At most equivalent settings it seems to have slightly less output, too. But that is no bad thing, and you needn't fear the Boris being underpowered. It may be a more reserved Muff, but it is hardly quiet.
Ratings
Pros:
Sturdy, thoughtful construction. Smooth Muff-like textures that work well at high volumes with dirty amps.
Cons:
Can sound highly compressed and less complex in nuclear mode.
Tones:


Ease of Use:


Build/Design:


Value:


Street:
$199
Nordstrand Rocket Surgeon Boris
nordstrandaudio.com
In nuclear mode, the Boris is much louder. And a lot of players will get out over a barreling drummer or bass player via the dB bump alone. Nuclear mode's EQ profile definitely adds midrange along with the volume boost, as advertised. But the resulting EQ curve tends to sound relatively flat, and the effect of that EQ profile varies significantly depending on your guitar, amp, and musical setting. My Stratocaster's bridge pickup, for instance, thrived in nuclear mode—sounding smooth and present for leads and detailed when playing chords. Fender single-coils also bring out the most unique and most pronounced effect of the midrange boost in nuclear mode—a subtle cocked-wah texture that becomes more pronounced as you roll up the tone control. If you're a Mick Ronson fan looking for a meatier fuzz texture than an Mk I Tone Bender, the Boris is a great place to start.
Playing chords with humbuckers is a less ideal fit. Here the Boris can make the leveled EQ profile sound compressed and even claustrophobic. And picking dynamics—never a super-strong suit of Muff-type stomps—suffer at all but the highest tone settings. Certain humbucker lead tones are a delight, however. Boris can tame a too-hot or ice-picky bridge humbucker. Neck pickup lead tones sound both focused and wooly—a perfect vehicle for hazy syntheses of Disraeli Gears and Welcome to Sky Valley.
One upside to Boris' nuclear tone profile is that the smoother, less gainy nature translated well to bass applications. It's a fair bet that Nordstand Audio's extensive history as a builder of basses and at least one bass-centric effect may have paid dividends here.
The Verdict
Boris underscores how wide and varied the Big Muff template can be. It seems tuned for players who like a Big Muff to be predictably even-tempered and smooth at high volume. (Gilmour fans circa 1994 and stoner rock acolytes are likely to be psyched). Muff fans that prefer a Sovtek with tone turned to 10, or the laser heat of early "triangle"-style Muffs, may be inclined to look elsewhere. But there are copious audible treats to be found in the Rocket Surgeon circuit—regardless of your Big Muff biases.
Ten very little amps that won't blow any doors down, but might inspire more practice.
Whether you're tight on space, your neighbors hate you, you want a simple practice solution, or all of the above, any of the following 10 micro-amp options can lend a plug-and-play hand. Bonus: All are priced to stuff a stocking without putting a hole in a wallet .
Katana-Mini
Able to run on six AAs or an AC adaptor, this mini houses a multi-stage analog gain circuit, 3-band analog EQ, tape-style delay, and brown, crunch, and clean sound settings.
BOSS
Mini3 G2
Designed to grab and go anywhere, this mini boasts 11 amp models, eight effects, an onboard tuner, and inputs for a mic, headphones, and an auxiliary device.
VOX
Fly 3
This 3-watt, 2-channel compact amp features the company's Infinite Shape Feature (ISF) for loads of tonal options, a digital tape-delay effect, and can be DC or battery powered.
BLACKSTAR
EL 3.1
This unique yet simple micro is powered by two 9V batteries for 3 watts of power, and houses a 3" high-performance driver, a brightness toggle, and gain control.
SONIC PIPE AMPLIFIERS
MS-4
Own a full-stack Marshall for well under $100 with this 1-watt screamer that has separate volume and gain dials, a stand for angling upwards, and a headphone jack that doubles as a preamp out.
MARSHALL
iRig Nano Amp
This tiny 3-watt amp is powered by three AA batteries and can even drive a 4x12 cab. Additionally, it'll serve as an interface for iOS devices to access tones and recording functionality galore.
IK MULTIMEDIA
Micro Crush PiX CR3
Dressed in unmistakable Orange styling, this 9V-powered micro features an all-analog signal path, an onboard tuner, and an overdrive switch to bring the heat.
ORANGE
5150 III Micro Stack
Ideal for (really) small-room practice, this 1-watt little brother in the EVH line houses a control set consisting of gain, volume, and tone, and also features an integrated tilt-back kickstand.
EVH
Micro Cube GX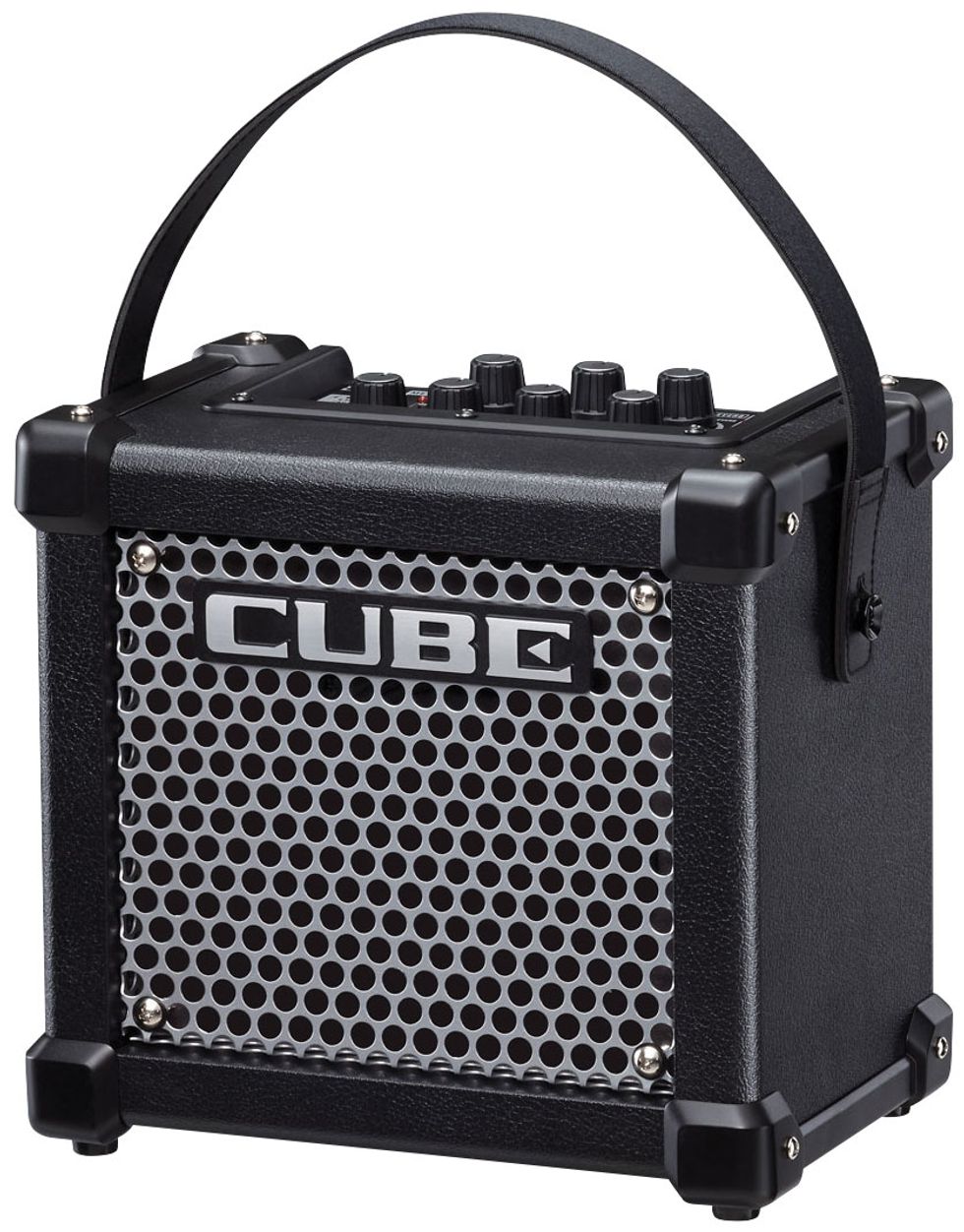 Boasting eight amp tones, eight effects, and a memory function to save your favorite settings, this micro also interfaces with Apple products and can run up to 25 hours on six AA batteries.
ROLAND
Micro Spider
This wee 6-watt amp offers up four Spider amp models, an acoustic-guitar model, a 3-band EQ, six effects, and an onboard tuner with note-name display.
LINE 6
The Review Demo maestro walks you through a descending lick that's a cinch to transpose to any key.