Song Premiere: Tinsley Ellis' "Sound of a Broken Man"
Photo by Flournoy Holmes
The blues guitar hero shares a track from his upcoming album—and the Tao of the wah-wah according to Tom Dowd.
Veteran singer-guitarist Tinsley Ellis describes his new album, Winning Hand, as a return to his roots in "guitar-driven blues-rock—wah-wah pedal and all." The track premiering here, "Sound of a Broken Man," zeroes right in, with its scalding tone, howling bends, and a banshee wah-wah solo that's built over a modulation and brings the tune to an incendiary finale.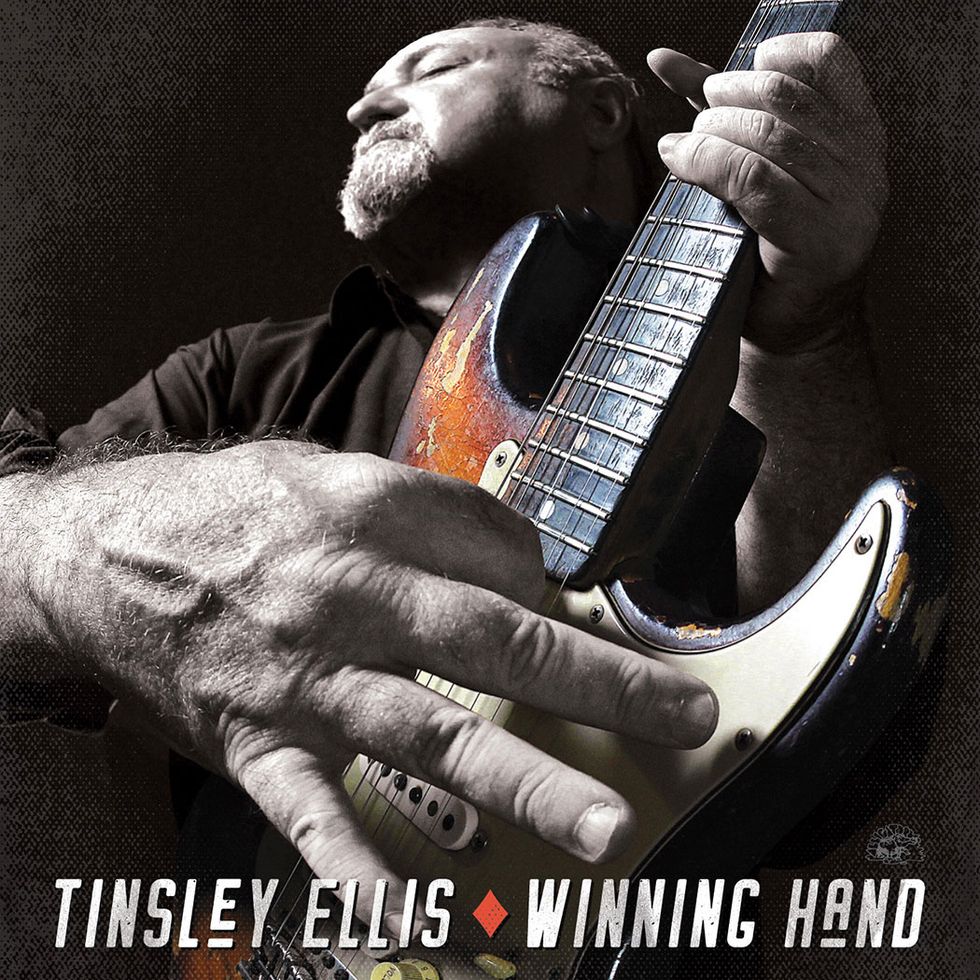 The singer-guitarist's new album Winning Hand marks his return to the Alligator Records blues label. His first Alligator release was 1988's Georgia Blue. Photo by Flournoy Holmes
Throughout his career, Ellis has pursued tone and melody with Zen-like focus. "I'm not a fast or flashy player," he says. "The people I hope to sound like are B.B. King, on the blues side, and Billy Gibbons, on the rock side—somewhere right in between there," he relates. And throughout Winning Hand's 10 songs, he's in the zone.
The Atlanta native began his 6-string journey in his teens and formed the popular regional band the Heartfixers in 1981. Next year marks his 30th anniversary touring and recording under his own name. Along the way, Ellis has cut 19 albums and built a reputation as a respected musician and songwriter who mixes soul and fire onstage and in the studio.
Like all his albums for the past decade, Winning Hand—set for January 12 release—began in Ellis' home studio in Atlanta and was completed at keyboardist-producer Kevin McKendree's studio, the Rock House, in Franklin, Tennessee. And like all the tracks on the album, "Sound of a Broken Man" employs Ellis' trusty '65 Fender Deluxe Reverb reissue—his current studio favorite for its blend of pure sound and versatility. Testifying over the top of the tune's driving boogaloo beat is Ellis' 1972 Gibson Les Paul Deluxe, which he bought new that year. And the wah-wah doing the moaning and wailing is a Real McCoy Custom made by Geoffrey Teese in Coquille, Oregon.
"I bought my first wah-wah, a Cry Baby, in 1971 and I'm hooked on that sound," says Ellis. "I'm a huge Cream fan, and to my thinking Clapton is the greatest purveyor or the wah-wah, so that's what I'm always going for."

Tinsley Ellis' main guitars: 1982 Gibson Moderne tuned in open D for slide, 1967 Gibson ES-345, 1972 Gibson Les Paul Deluxe, 1959 Fender Stratocaster, and 1984 Fender Stratocaster tuned a step down. A 1967 Fender Super Reverb brings up the rear. Photo by Flournoy Holmes
But Ellis may have gotten his best lesson on playing the pedal from the great producer Tom Dowd, whose resume reads like a who's who in classic jazz and rock, from Charlie Parker and John Coltrane to Eric Clapton and the Eagles. Ellis was cutting a wah-wah solo with Dowd at the board for his 1997 album Fire It Up, when Dowd stopped the tape. "He said, 'You're moving your foot too much,'" Ellis recounts. "'It's a tone filter. It's not a foot pump. You want to milk the notes.' And he was right, of course. You want to milk the thing for all the different shades of the notes, and get to a place where moving the pedal a slight way can give you a certain overtone or find the place where the note's going to sustain. If you move it really fast, you're gonna blow right past it."
Tinsley Ellis riffs on his 2000 Gibson Les Paul Standard—digging out a rich tone similar to the '72 Paul that appears on "Sound of a Broken Man"—as he delivers his song "The Other Side," from his 2009 album Speak No Evil, at the Shed in Maryville, Tennessee, in 2010.
---
---