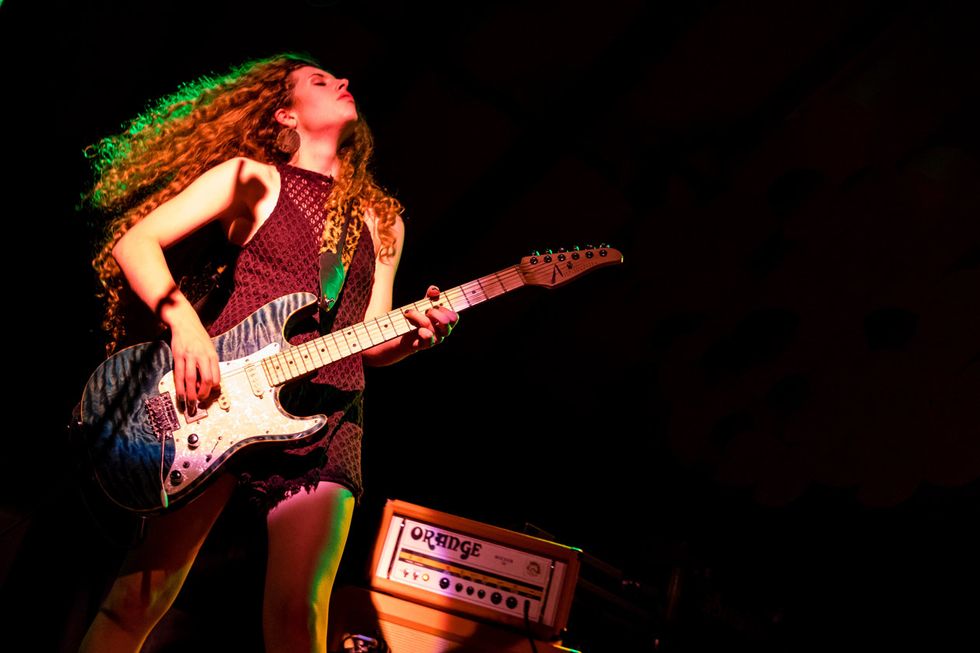 One of Hannah Wicklund's key influences growing up was her brother, Luke Mitchell. Wicklund & the Steppin Stones are currently on the "Sibling Rivalry Tour," playing 45 dates with Mitchell's band, the High Divers.
By nature, genres like the blues, funk, and jazz are meant for the stage. Groove and freedom of musical expression are at their heart, and they work best with the kind of kinetic, effervescent energy that can only be captured with a live audience. Which is why it makes perfect sense that Hannah Wicklund, 20-year-old guitarist and frontwoman of her blues-rock trio Hannah Wicklund & the Steppin Stones, lives for the stage.
"I've played as many shows as I can possibly book my whole life," she says, "I don't turn gigs down." And that's no small number, considering the guitarist has been a bandleader since the age of 9. Wicklund began her musical education not long after she began walking and talking, and claims to have learned everything she knows about the guitar onstage. When she describes her work, it's glaringly obvious that a passion for performing is in her blood.
By extension, she sees her albums mostly as advertisements for her live shows. So her new Hannah Wicklund & the Steppin Stones, released in early 2018, was cut live in the studio, with the stage in mind. (Naturally, she hates overdubbing.) If the 10-song collection is meant to act as a teaser, it gets the job done—revealing the songwriter's emotional depth and unflinching spirit as she drives the music forward in every second of every track.
Wicklund has more than one talent, as she's capable of gripping an audience with her soulful, sometimes raspy vocals and clever, thoughtful lyrics. But in terms of musical aspirations, those elements of her songwriting aren't nearly as important to her as becoming a better guitarist. For any dedicated musician, the bar is always just out of reach, and Wicklund places classic-rock idols like Lindsey Buckingham, Jimi Hendrix, and Jeff Beck on a pedestal. She's a fan of overdrive, dropped-D tunings, and a power chord or two, but is currently obsessed with improving her fingerpicking technique, and similarly connects with more delicate, nuanced guitar work—something revealed in her interest in a band like Rush, whom she admires for their intricate and expressive instrumental compositions. As she furthers her already accomplished career, everything to her is about expanding her musical vocabulary and sharpening how to better articulate herself on the guitar.
"Music breathes and it's not this perfect manufactured thing wrapped up in a little bow."
While she may not be a gearhead, Wicklund's definitely a guitar nerd, which comes across when she describes why she goes for Tom Anderson guitars onstage, but Teles in the studio. The dynamic, up-and-coming guitarist and songwriter goes into more detail about her influences, writing approach, and gear preferences in the interview that follows.
You started out so young. How did you begin playing guitar?
I started playing piano when I was 3. My parents got me into playing music, and I started out by playing Beatles songs. I learned 60 Beatles songs by the time I was 7—I was obsessed. Then when I was 8, we had to get rid of my trampoline and my dad got me a guitar instead. He taught me my first couple of chords, and I started taking lessons immediately. About six months after I started playing guitar, I started the band. I feel like most of my guitar skills were developed from playing live with the band. That's kind of the foundation of my playing.
Do you come from a musical family?
My dad was a drummer for the first homegrown rock band on Hilton Head in South Carolina—where I'm from—about 35 years ago. When I was born, he picked up guitar, but it was always more of a hobby for him. I also have an older brother and an older sister who are both musical. Mainly my brother—he's seven years older than me, and when I was 6 he already had his band, and I would be in the bars until midnight watching him play. That was my comfort zone, and I fell in love with every aspect of playing in a band.
How did you form a band at 9?
I got connected with some kids my age, and we just started playing together. The first couple of rehearsals were very spread out, but then once 2006 rolled around, that spring was when I really found the guys that I started the band with, which was a drummer, Mark Bradley, Jr., and my bass player, Mick Ray. We got our first gig playing at a Relay for Life [the annual international cancer research fundraising event]. We played "Rockin' in the Free World" by Neil Young, and then we played an event at a school and things snowballed from there.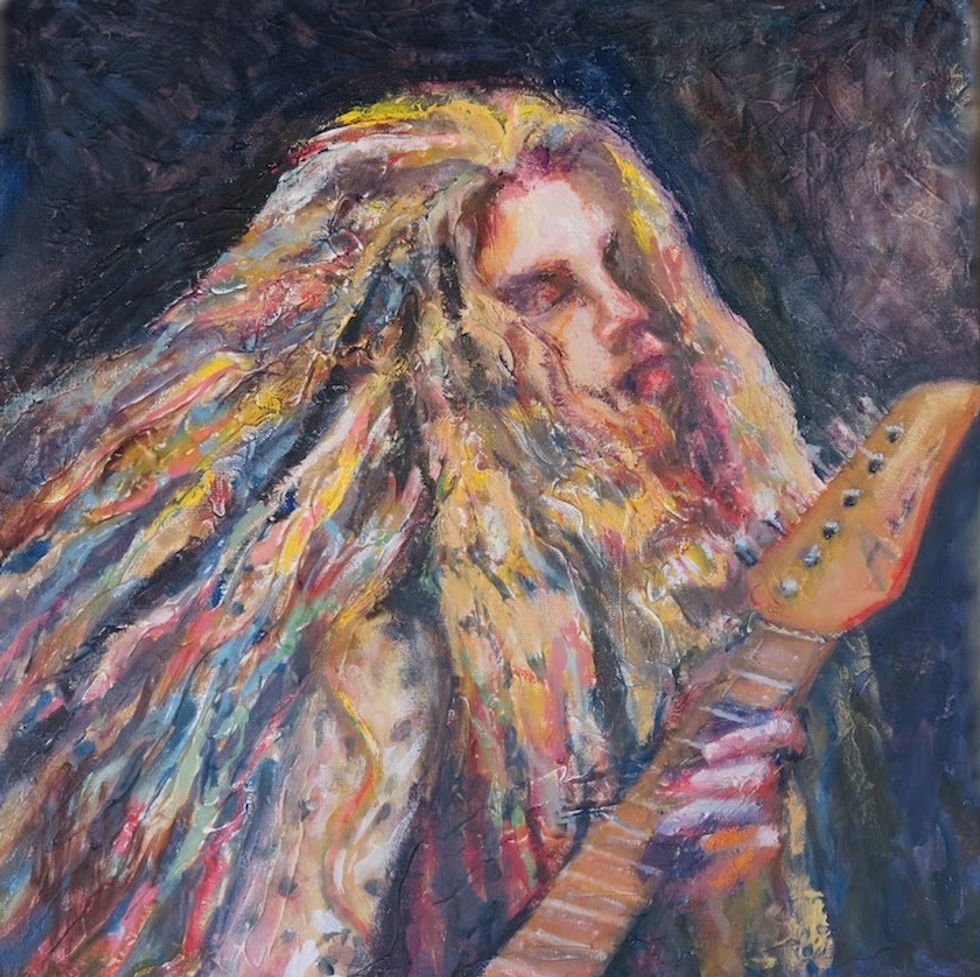 Hannah Wicklund's self-titled album was produced by Sadler Vaden, guitarist for Jason Isbell. Wicklund cowrote a few songs with Vaden and former Cage the Elephant guitarist Lincoln Parish, but her favorite track on this release is "Strawberry Moon," which she penned herself.
You've named AC/DC, Jimi Hendrix, and Jeff Beck as influences. What about your influences really inspires you?
My biggest influences overall are Tom Petty, Jimi Hendrix, Fleetwood Mac, and Jeff Beck. To me, they're all completely authentic. I don't think I could listen to any one of their songs and think, "This is corny; this is forced" or anything like that. Fleetwood Mac's and Tom Petty's songs are timeless. They were able to write No. 1 hits that resonate and connect with a ton of people without losing themselves.
How do you maintain that authenticity in your music?
I've been putting out music with the band since I was 12, and when I was younger I was able to pull from some real-life experiences, but [I would also create] circumstances to write about in my head. With the new album, I feel like for the first time I was able to draw from my life completely. That's what any good songwriter aims to do, is to draw from their real-life experiences—'cause that's when things are going to sound the most raw, and the most like you. I feel like my life finally caught up.
Do you see yourself as more of a guitarist or a songwriter? How have your influences informed your guitar playing?
I love being a guitar player. I'd rather be known as the girl that plays guitar than the girl who sings. Jimi Hendrix, Jeff Beck, and Lindsey Buckingham have so much expression in their playing and are able to emote so much in their music, let alone the lyrics and everything after that. I feel like I took a lot of influence from them as far as phrasing. Then especially Lindsey and Jeff Beck do a lot of fingerpicking, which is something that's always intrigued me. I'm always trying to experiment a little more with the fingerpicking stuff.