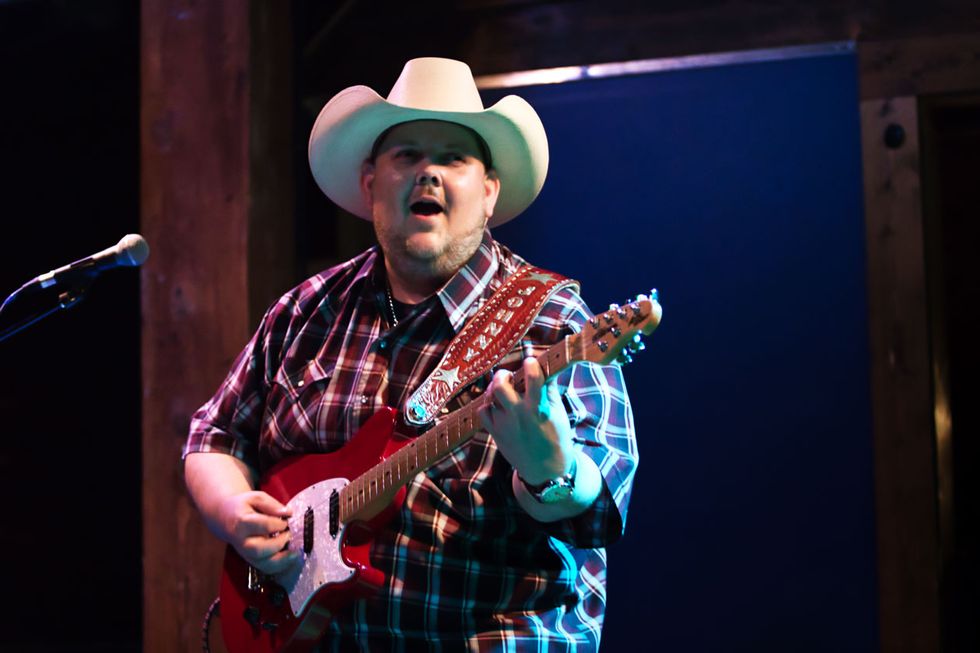 For Hiland, playing guitar is about chasing new ideas and sounds. "Over the last 10 years or so, I've become more fluent in chromatics," he says. "I guess I'd have to give most of the credit for that to my love of Western swing." Photo by Andy Ellis
It sounds like you're prepared for any engagement with all those pedals.
Well, I'm 42 years old and I've been in this business a long time. I was always a guy who's just had the same pedalboard for years and stuck to what I knew worked for me. And to be honest with you, the technology has gotten so amazing these days that I just really wanted to have fun. I wanted to find some new inspiration. You know, I had so much fun checking out these new tools—it really opened my eyes to what technology was out there now. I'm truly amazed at how good effects have become. It was a revitalization, if you will, of my tone.
Let's talk about axes and how your preference in guitars has evolved.
It's funny, buddy, but I've spent a lot of time in my career trying to find the right Johnny Hiland sound. Of course, I started my career on a Fender Telecaster and a Twin, and then moved into the PRS world when I was working with Steve Vai and Favored Nations and jumped up on the stage with G3 and George Clinton and P-Funk—I needed more of the humbucker sound with 24 frets and a tremolo.
Eventually I wanted to go back to more of the Tele sound, but not play a standard Fender Telecaster, so I moved into the Music Man world. A lot of my fans have been begging me to go back to a Telecaster-style guitar, so I'm really excited about my new Kiesel Johnny Hiland signature model. It's basically a swamp ash Telecaster-style body with a maple neck, and it features my Electric City pickups—the Johnny Hiland Signature Six Shooter Singles. I'm really in love with the guitar, man. It's beautiful.
Tell us a bit about those pickups.
Billy Megela from Electric City Pickups designed these for me back in 2010 or '11. They're essentially based on a vintage Strat-style pickup. It's a set of three pickups—bridge, middle, and neck. But the bridge pickup, even though it's in a Strat form, has a base plate like a Tele, so it gives you a very snappy, twangy tone, and it's rated at 10.25k [DC resistance], so it's pretty hot. I'm a bridge pickup player, so that bridge pickup has to be spanky and twangy, man. The middle pickup, on the other hand, sounds very Strat-y, and the neck pickup has a real nice, round, bubbly, Jimi Hendrix-y kind of tone—but very warm and jazzy at the same time.
"I really didn't want to make a record I couldn't deliver to people at live shows, so we stuck to a four-piece configuration—bass, drums, rhythm guitar, and, of course, me on lead."
What is it about the Tele that feels like home?
I'm a guitar addict like anybody else, and I've loved a lot of different guitars in my life, but for the chicken-pickin' flare of what I do, a Telecaster-style guitar is so far up my alley. Nothing beats that tone, man, with that twang and that spank. And what Kiesel is doing nowadays—to really modernize the old-school Tele with a little more contour around where your forearm sits on the guitar, locking tuners, and medium-jumbo stainless-steel frets—is just right for me.
Getting back to the album, your love of shred guitar is apparent, especially on the opening track, "Long Road Home."
Well, I think it's no surprise to my fans that I love the sound of '80s rock guitar, because I put it in every show. And, of course, on all my albums, I've always had some kind of rock tune on there. It's really certainly a part of who I am as a player. I guess I've been around Steve Vai and Joe Satriani and guys like that enough to where it was unavoidable.
You do some killer tapping on the tune.
Thank you, buddy. Funny enough, the finger-tapping side of things really came in for me when I was trying to copy the steel guitar, and I would try to reach up with my finger and tap a note to get that steel sound. And obviously it also came from Van Halen and Steve Vai and Satriani and all those guys. I'm really still a big kid, and I love that side of music, even though it's not really at the forefront anymore … though it is in my house. I'm still constantly listening to and deeply influenced by players like them.
The song also feels quite emotionally resonant.
I think that tune really means a lot to me because it's about my family. I lost my mom and dad in '05 and '07. And living here in Nashville, it's really hard for me to get back to Maine, where I still have family. So I wrote "Long Road Home" thinking of how important it was for me to make sure I didn't lose touch with the rest of my family that's still around.
The tune also took me back to when I was first sending demos to Steve Vai, and I was creating my Favored Nations album. He would tell me stuff like, "Try to create a melody that is hummable and will stick in your head, so you can whistle it long after you hear it." And so, when I wrote the initial hook line for "Long Road Home," I was like, "Oh, there's a line right there and it's sticking in my head. So it might also stick in everybody else's."

Guitars
Kiesel Johnny Hiland signature model with Electric City Six Shooter Singles pickups Amps
Amps
Beteramp Johnny Hiland 100-watt head
Reeves Space Cowboy 100-watt head
Avatar Johnny Hiland Signature 4x12 cab (half open-back, half closed-back) with Celestion G12K-100 speakers
Effects
Origin Effects Cali76
TC Electronic HyperGravity
Carl Martin PlexiTone Single Channel
Carl Martin AC-Tone
MXR Super Badass Distortion
MXR M78 Custom Badass '78 Distortion
Big Joe Stomp Box Company B-408 Phaser
DigiTech Mosaic
DLS RotoSIM
DLS Effects Versa Vibe
TC Electronics Flashback X4
TC Electronic Hall of Fame Reverb
ISP Technologies Decimator II
Strings and Picks
Elixir Nanoweb, Polyweb, and Optiweb sets (.009–.042)
V-Picks Johnny Hiland signature model (2.75 mm)
Big Heart Custom Shop porcelain slides
Analysis Plus cables

And when I took it into the studio, I just wasn't finding the tone that I needed, but the Super Badass pedal and the DLS Versa Vibe really brought it forth for me. So I'm really proud of that track, man. It was wonderful to see something I've written with a memorable melody take on a life of its own in the studio. Even though I'm not an old man yet, I find I've changed over the years to where I really enjoy taking my time to find that proper tone. When "Long Road Home" was finished, I thought, "Yes, that's it. That's exactly what I wanted."
You play some superb slide lines on "Goin' Down to Memphis."
Oh, thank you, man. Well, I must say I'm a huge Sonny Landreth fan. I've had the sincere pleasure of doing a few shows with Sonny throughout the years, and he's always been so kind to me. I really love his style and his slide approach. But then again, I'm more of a slide player in standard tuning. I've never been the type of player to have an extra guitar tuned to open A or open G. I always wanted to have that freedom to just reach in my pocket, grab my slide, and go for it in standard tuning, so I worked really hard to become adept at being able to have that kind of freedom.
I knew right away that "Goin' Down to Memphis" needed that slide. You know, it's funny, this new album is more vocal-based than anything I've ever done. This time I really wanted to do vocal songs that were accentuated by the guitar. My buddy Ron Lutrick and my dear friends Rick and Justin Bowman helped me write a lot of songs on this album. Ronnie took part in "Going Down to Memphis," and as we wrote that song, the first thing that came to my mind was, "Oh, I get to pull out the slide and have some fun." So that's what we did.
You've called Nashville home for years. How has your musicianship evolved as a consequence of living there?
I really love Nashville and I always have. When I was 7 years old I wanted to move here and play the Grand Ole Opry, so I must say it's been a dream come true for me. But to answer your question, over the last 10 years or so, I've become more fluent in chromatics. To me melody now is not just what you'd find or hear in the major or pentatonic scales. I started branching off a little bit into more of a, not really a jazz head per se, but just more open territory in terms of melody. And I find I've opened up my vocabulary a lot by doing that. As a chicken picker, I guess I'd have to give most of the credit for that to my love of Western swing. And I just really love the openness of the chromatic feel, which has transformed my style in big ways.
What is it like to work with your writing team in Nashville?
Rick and Justin Bowman—they're father and son—are two dear friends of mine. I met Justin through the Make-A-Wish foundation. He had a kidney transplant when he was 17, and we got really close after meeting one another. I learned that he and his dad were great songwriters, and so our relationship grew naturally from being friends to penning tunes together.
In preparation for Standing Strong, we'd grab a Subway sandwich and catch a movie in the afternoon. If a song idea hit, we'd pause the movie and go, "Hey man, I like this line—check it out." And then one line would lead to another, and then the next thing you know, an hour later, you've got a song done.
Since 2008, we've written almost 500 songs together. But it was funny for me because I had never really done a vocal-based album, and I thought it would be good to step out of my comfort zone and sing a little more. So I just took some of my favorite tunes that Rick and Justin and I had written, mixed them with a few others—you know, with Ronnie Lutrick writing "Going Down to Memphis" with me. And then Rick and Justin and I put some finishing touches on that.
Then there were outside inspirations, as well. A dear friend, a guitar player buddy here in town, called me one day and we were talking about money issues and whatnot. He said, "You know man, hard times never last, but tough people always do." And I said, "Oh, I'm gonna steal that." We were just having a conversation, but I got this great song hook [for the song "Hard Times Never Last"] to run with. You always have to be ready to receive a great song idea from out of nowhere.
In this white-knuckle rendition of the Lynyrd Skynyrd classic featured on Standing Strong, Johnny Hiland displays his mastery of blazing chicken pickin', '80s power guitar, Southern rock, warp-speed Chuck Berry double-stops, pedal-steel bends, squealing harmonics, and more. YouTube Search Term: Johnny Hiland - "Call Me the Breeze" - Acme Feed & Seed/Nashville - July 14, 2017