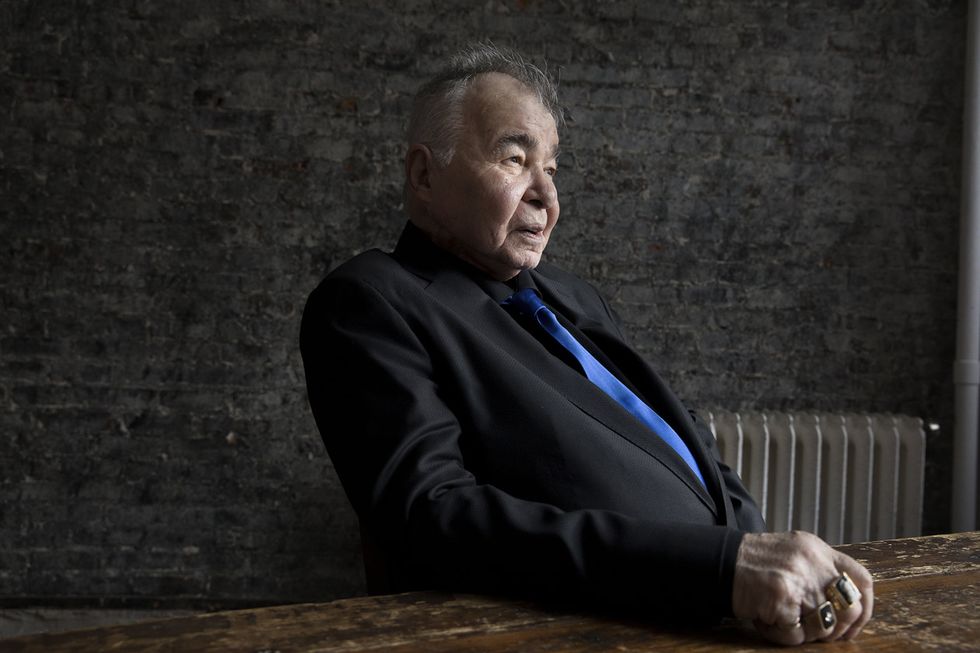 John Prine received the "Artist of the Year" award at the 2017 Americana Music Honors & Awards. His songs have been recorded by Johnny Cash, Carly Simon, Bonnie Raitt, Norah Jones, Miranda Lambert, and many others.
Photo by Danny Clinch
When you feel music on a gut level like John Prine does, it's easy, if not downright tempting, to let yourself be consumed by it. A genuine American proponent of the troubadour's creed in the mold of Bob Dylan, Neil Young, Kris Kristofferson, and Guy Clark, Prine has stuck with his calling, through thick and thin, whether loaded or lean, for nigh on six decades.
But like his vaunted contemporaries, he seems to have always drawn strength and inspiration from the lonely rigors of life on the road. Prine's world is teeming with colorful stories—some of them hilariously funny, some humble and salt-of-the-earth, and some deep, dark and mystical—and they're populated with characters who feel the weight of circumstance, like the broken Vietnam vet of "Sam Stone" or the mournful spinster of "Angel from Montgomery," but who also find enjoyment in everyday life, whether they're blowing up the TV in "Spanish Pipedream" or strolling hand-in-hand on a moonlit beach in "Let's Talk Dirty in Hawaiian."
Prine is in the midst of a spectacular late-career renaissance. Last year he released Beyond Words, an artfully crafted anti-autobiography packed with photos, chord charts, song lyrics, and pithy anecdotes. In August 2017, he reissued the outstanding concert recording September 78 on his Oh Boy Records imprint, and then he won the Americana Award for Artist of the Year.
It all paved the way for
The Tree of Forgiveness
, Prine's first album of new material in more than a decade, and a vivid snapshot of one of America's most beloved songwriters at work.
As music critic and writer David Fricke has put it so eloquently, "John Prine writes songs with a poet's eye for color and metaphor, a stand-up comedian's ear for wordplay and drop-dead timing, and a born raconteur's love of a good yarn." Add to that a lifetime traveler's knack for paring down to the essentials, and you have a taste of what drives the music on The Tree of Forgiveness, Prine's first album of new songs since 2005's Fair & Square (which took the Grammy—his second, after five nominations going back to 1973—for Best Contemporary Folk Album). Produced with reverence and loving care by Dave Cobb at Nashville's recently restored RCA Studio A, the 10-song set captures Prine at his storytelling best, and features co-writing from Pat McLaughlin, Roger Cook, Keith Sykes, the Black Keys' Dan Auerbach, and Phil Spector (the latter on the long-shelved inspirational "God Only Knows"). It's also brimming with stellar support performances by Brandi Carlile, Jason Isbell, and Amanda Shires, and features Cobb sitting in on acoustic guitar with Prine's longtime backing band of McLaughlin (guitar, mandolin), Jason Wilber (lead guitar), Dave Jacques (bass), and Kenneth Blevins (drums).
Of course, this wouldn't be a John Prine album if the very making of it didn't itself have a story behind it. To get into the writing mood, Prine checked into the Omni Hotel in Nashville with four guitars and a stack of legal pads, and spent a week doing what he's done best on the road for most of his life.
"I like to think that I go as deep as the song dictates. I don't ever decide ahead of time how much or how little I'll dig. I just keep going until the story has been told."
"I can honestly write anywhere," he says. "Driving alone in the car has always been a good writing place for me—[but] after being on the road so many years, I function better in a hotel. No pressure. This way, if I wanted to write at three in the morning or three in the afternoon, I could. It worked out, because by the end of the week, I was ready to go into the studio."
With a dry, no-frills sound that channels the immediacy and intimacy of the performances—many of which come across as though they were recorded live from the studio floor—the album highlights the deceptive simplicity of Prine's chord structures, as well as his dynamic touch on the acoustic guitar, whether he's strumming hard or lightly fingerpicking. It's also testament to Cobb's attention to detail as a producer; on most of his recent work with Nashville's youngbloods (Chris Stapleton, Brandi Carlile, Sturgill Simpson, and Jason Isbell, in particular), he consciously takes a page from how rock records are made, but with Prine he seems to be looking back to the "outlaw sound" of albums like Willie Nelson's Red Headed Stranger or Waylon Jennings' Honky Tonk Heroes.
For his part, all Prine asks of an acoustic guitar is that it feels good in his hands and makes a sound that moves him. Over the years, he's owned everything from Gibson J-200s to Hummingbirds, as well as Guilds (the D35-NT and, more recently, the JF-100), Collings dreadnoughts, and multiple Martins. But his most prized possession is the 1968 Martin D-28 he's played throughout his career.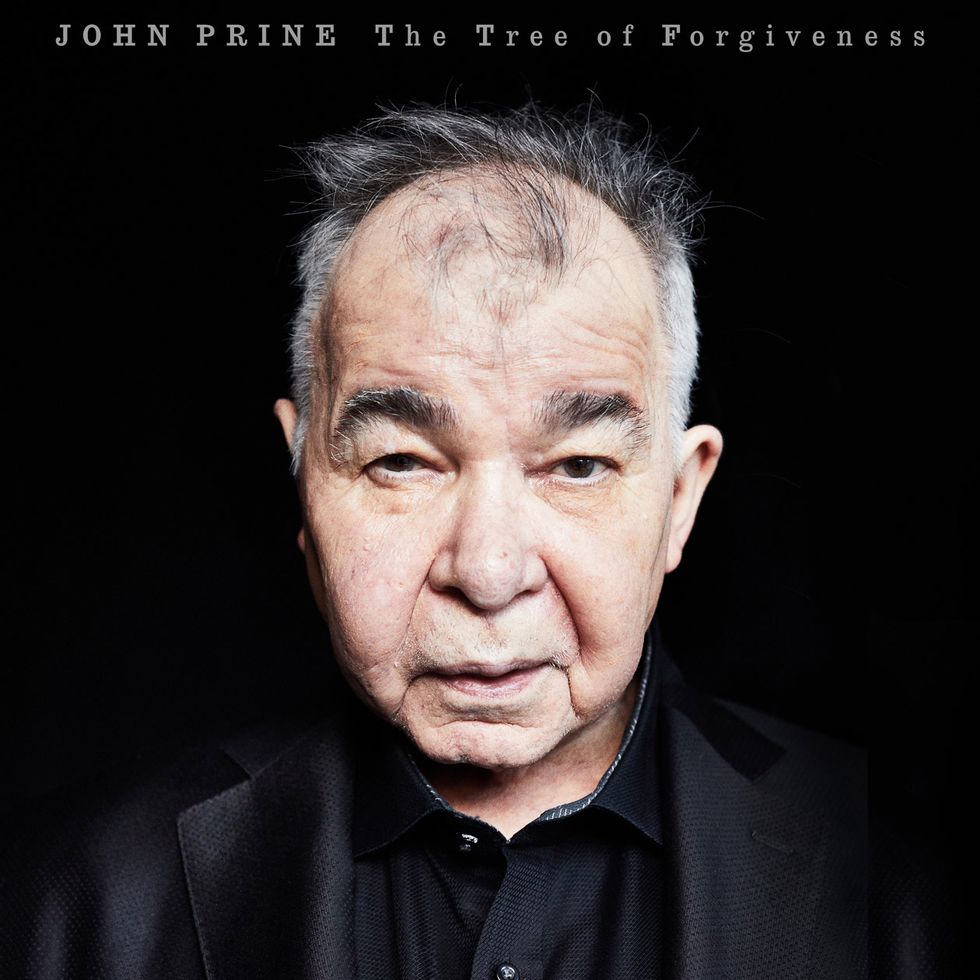 To get into the writing mood for his new album, Prine checked into the Omni Hotel in Nashville with four guitars and a stack of legal pads. He recorded Tree of Forgiveness at Nashville's historic RCA Studio A with producer Dave Cobb.
"That one has been with me a long long time, and I've written almost every song on that guitar," he says. "I recently made the decision to retire it from the road. It's still a great guitar, but it's vulnerable to the demands of touring and traveling." In recognition of Prine's commitment, Martin introduced a signature edition D-28 early last year. "It's just the sound you hear when you strum those first few chords. It's difficult to put in words, but it's the warmth of the wood and how the guitar responds to my particular style of fingerpicking. But I do use different guitars to play and hear different things. With rhythm guitar, for example, I like a big, boomy sound."
Song-by-song, The Tree of Forgiveness plays like a travelogue not just of Prine's lifelong love affair with the guitar (which he first picked up as a teenager to accompany his older brother, David, who at the time was teaching himself to play fiddle), but, more poignantly, of his deep understanding of human frailties, vulnerabilities, and desires. It comes through in the wry, rueful picture he paints to open the otherwise summery-sounding "Knocking on My Screen Door" ("I once had a family, but they up and left me with nothing but an 8-track—another side of George Jones"), or the laugh-out-loud escapades he recounts in the future-barroom-singalong "Crazy Bone" ("When you got hell to pay, put the truth on layaway…"). The mournful "Caravan of Fools" suffers none as Prine, alone with his guitar, balefully envisions the end times, with only "love and devotion, deep as any ocean" standing in the way. He closes out the album with "When I Get to Heaven," a look ahead to the afterlife and a look back down a path well-navigated. A cancer survivor, Prine has undergone two surgeries to his neck and lung; the first one, in 1998, dropped his voice to a deeper, more gravely register that he settles into now almost matter-of-factly. That he can look at the dodged bullet with humor speaks volumes to how so many people, from all walks of life, can relate to his music.
---
---