A reader enlists a young artist to help refinish his guitar with a custom paint job that tells a story.
Name: Kevin Rasch
Hometown:
Knoxville, Tennessee
Guitar:
Sundial Fender
Stratocaster
This guitar began its life in 2011 as a candy apple red, made-in-Mexico Fender Strat with HSS pickups. Today, the only remaining stock items are the alder body, jack plate, and jack.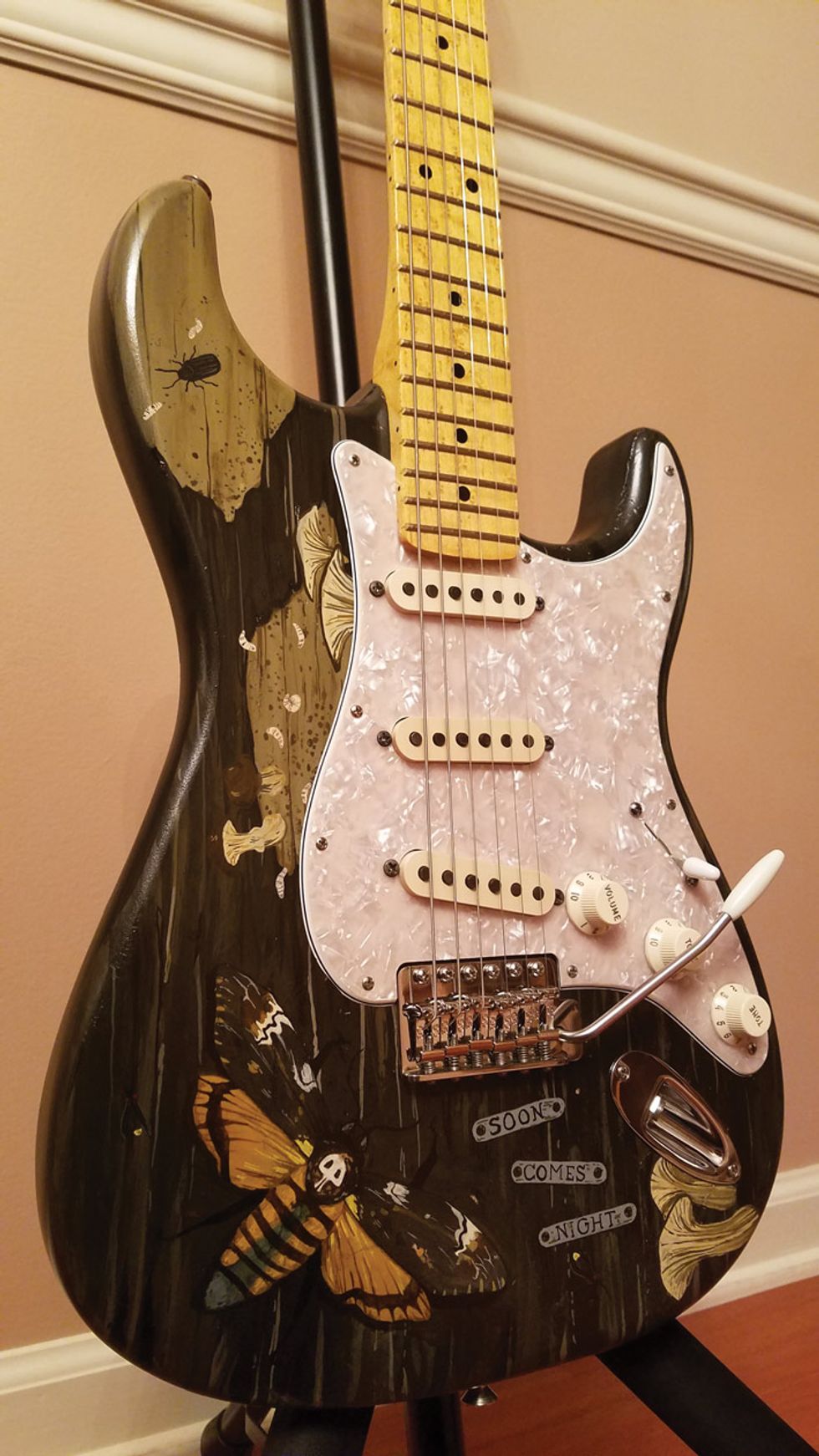 I bought the guitar because I loved the look and feel of the beautifully figured bird's-eye maple neck installed by the previous owner. It's a Warmoth neck with a double-expanding truss rod and Gotoh side-adjuster mechanism. The stock pickups were replaced with Seymour Duncan Antiquity Texas Hots and the tuners, pickguard, and even the 4-bolt neck plate were upgraded to higher-end Fender products. The stock tremolo, however, had serious tuning issues. My wife was kind enough to buy me the Callaham tremolo assembly and super short, Gilmour-style tremolo arm for my birthday.
The guitar's most visually stunning upgrade is its custom paint job by David Tapia, a talented young artist who's one of my daughter's best friends. While brainstorming together on ideas, he suggested putting words on it. I'd recently learned about a motto inscribed on sundials: "soon comes night." I chose this phrase because it literally describes when moths and fireflies appear (as they have on the guitar), but also metaphorically describes human mortality. To me, it's another way of saying, "Seize the day."
After reading about the death's-head hawkmoth painted on the front of the guitar, I learned these moths are specially adapted to raid beehives for honey. And so, a beehive became the obvious choice for the back.
A special note: Erick Coleman's article, "DIY: How to Refinish Your Axe," in the May 2017 issue of Premier Guitar was instrumental to how the original paint was stripped, the choice of a nitro finish, and the entire process of refinishing the guitar. I can't tell you how many times I read Erick's article and how much I appreciate his sage wisdom.
Send your guitar story to submissions@premierguitar.com.
Fish cleaner, kissing bandit, parasite host, or bad-luck honky-tonk bass player?
Jobs I have had.
I was a fish slimer in Kodiak, Alaska, for two summers. One day the guy next to me sliced off three fingers in the processor … while he was talking to me. When they stopped the line and told us to dig through fish heads and guts to find the missing fingers, I hid in the bathroom and smoked cigarettes never to return to the line again.
I worked briefly for a singing telegram company. They hired me because I almost fit their "kissing bandit" costume, could kind of sing, and was desperate. I'd show up at beauty schools, offices, or parties, dressed in the company's tight jumpsuit, cape, and mask. I'd give my speech, sing the song, kiss the girl, and then drive home to wait for the Gnome Singing Telegram Company to call with the next soul-crushing gig. In return for my services, I got $20 per telegram, exposure to some questionable lip sores, and a fragile sense of self-worth.
I worked in an orphanage in Tegucigalpa, Honduras, for a year. I earned 300 lempiras per month, was robbed by cops and soldiers three times, and I had no hot water and a Honduran orphan's diet. Parasites whittled me down to 155 pounds at 6' 2".
I was a roofer, and I twice nearly fell to my death.
I was a terrible waiter, a dishwasher, a construction worker, a house painter, a tree surgeon, a roadie, a bread-truck driver and, please forgive me, a telemarketer.
I've had some bad gigs, but my best bad gig was about 25 years ago in Nashville. My neighbor, Texas honky-tonker Dale Watson, and me were both nearly starving as we tried to make a go of it in Nashville. I found an ad in the Nashville Scene for a bar that was looking for a band to accompany the owner, who was "a world-class singer." It paid $125—split three ways—but we had to bring a PA and "know all the country standards."
We drove around lost for about an hour trying to find the joint and arrived embarrassingly late to a double-wide converted to a bar. I wasn't even sure this was a bar until I walked in and saw three or four rednecks huddled around a bartender, and a woman in a Dolly Parton wig and sequin gown with what looked like chandeliers hanging from her ears, sitting behind a Casio keyboard in front of a tiny triangular stage in the corner.
I have no idea how we safely got out of there with our gear after the rednecks at the bar came over to lift the speaker off of the singer/bar owner.
The singer/owner was furious we were late and underdressed. We quickly loaded in and set up on the flimsy plywood stage behind her, with the drummer crammed against the back wall. Dale, on guitar, was wedged between a crash cymbal, his amp, and the right half of his PA-on-a-stick. On bass, I was teetering between the hi-hat, my bass amp, and the left half of the PA-on-a-stick.
As soon as the PA was turned on, she launched into Elvis' version of "Big Boss Man." We quickly joined in. Surprisingly, it didn't sound terrible. With a tad less hostility, she switched gears and started Patsy Cline's "Crazy." We hung with her. The rednecks swung their stools around and applauded as we ended. She smiled demurely and jumped into, "Whole Lotta Shakin' Goin' On."I fell in with a walking bass line. Dale was doing his backbeat Tele thing. The groove felt so good that I started letting go of the stress acquired while driving around lost (pre-GPS) looking for the gig. Then I started actually enjoying myself and began to think that, maybe, if the crowd grew, she would hire us six nights a week. I could totally support a family of three on $250 per week.
I was staring into space, thinking optimistic thoughts, when suddenly there was a crash, a scream, and then silence. It took me a minute to make sense of the carnage before me. Apparently, my bass amp had rattled the right PA-on-a-stick off of the stage. The speaker fell on our employer's hands, crushing her fingers and long press-on nails, and came to rest on her Casio's now-broken keys.
Cloudy memories are common with trauma survivors. I have no idea how we safely got out of there with our gear after the rednecks at the bar came over to lift the speaker off of the singer/bar owner. Dale and I rode home in silence, imagining what we'd say to our already disappointed wives when they greeted us with "How'd it go, Honey?" when we arrived home with no money … again. When we parked at our apartment building, Dale said with the smile of a man freshly kicked in the gut: "John, congratulations. That is the worst gig I have ever had."
Shortly after that, Dale returned to Texas. Dale Watson & His Lone Stars have built a huge international following and earned honest-to-God honky-tonk-hero status.
That may have been Dale's worst, but not mine. I'm the guy with a shovel following the elephant, up to my armpits in demeaning conditions.
Give up show business?
Never!
Let the guitar be the instrument it was meant to be, which is not a synthesizer.
When it comes to live music, there has been somewhat of a trend towards quiet—if not downright silent—stages. I've been on a mission of late to make the case for turning up guitars onstage. I'm not talking about an obnoxious level, but more like, say, as loud as the drums! Makes sense, right? The drums are an acoustic instrument, and settling in around the level of the kit to achieve a balanced band sound is all I'm suggesting. I'm of the opinion that the best music is made when all band members can clearly hear themselves (and each other) onstage, with little or no help from monitors. I realize this is sometimes impossible since many guitarists use digital modelers and many bands use in-ear monitors. But, if you're a guitarist using an amp and your bassist uses a bass amp, this month's column is for you!
Guitar + amp = one instrument. The core of any great guitar tone is a guitar plus an amp, so making sure your tone is pleasing, powerful, and inspiring before you ever turn on a pedal is incredibly important. Think about it: So much classic guitar-based music was made with the interaction between the guitar and amp as an integral component of the tone. That feedback loop that happens when you turn up the amp a bit and the speakers start pushing some air? It's magic. When there is no guitar and amp interaction, what you play is what you get, so to speak. When the guitar does respond to an amp, however, guitarists tend to play differently.
That feedback loop that happens when you turn up the amp a bit and the speakers start pushing some air? It's magic.
For example, a note may begin to feed back, and when this happens, we spontaneously tend to shift our body position and move the guitar around to try to catch even more magic. The spontaneous feedback loop literally becomes part of the music. And the tendency is to play fewer notes, "milk" the notes that you do play as much as possible, and the music tends to sound more dynamic and inspired as a result. There's just something about hearing the tone coming out of the amp's speakers and interacting with the room, as opposed to listening to that tone through a monitor speaker or in-ears. When it's dialed in just right and at a reasonable volume, it's simply more inspiring.
Practice controlling dynamics! These days, a lot of sound techs seem to want little to no stage volume. I do understand that position to a degree, because many modern musicians don't seem to have an understanding about controlling their onstage tone and dynamics. So many guitarists leave the guitar controls on 10 all the time. They also tend to set amps very clean. Then they hit pedals for drive and the tone either disappears or jumps in volume dramatically. If we guitarists worked more on our core tones to make them pleasing and more controlled, maybe the sound techs wouldn't mind a bit more volume coming off the stage. It's the musician's responsibility to give the sound person something great to work with, and it's the sound person's responsibility to keep an open mind. I implore them to really listen to the sound of a band before conveying any changes they would like to hear coming from the stage.
I recently made a YouTube video demonstrating how I like to dial in a Fender Super Reverb amplifier. The Super Reverb is a 40-watt amp with a 4x10 speaker configuration. With the amp volume on 5 and the guitar's volume on 10 when using the bridge pickup, the tone is bright and cutting with the amp on the edge of breakup—and the volume is rather loud! But if you simply roll the guitar's volume control down to 5 or 6 and switch to the warmer neck pickup, things change completely. The tone will be clean, clear, and full, and much quieter. Start adding pedals to the equation, and you can augment the core tone with infinite variations. When the drummer starts laying into it on the chorus, switch to the bridge pickup and now you're cutting through more. And when it comes time for a solo, crank that volume up to 10 on the guitar and hit a boost or drive. The whole band tends to play louder during solos, but you've saved yourself some headroom and volume by running the guitar volume down for most of the song. Think about it: You've given yourself somewhere to go! This is how myriad guitarists—from Jimi Hendrix to Angus Young—created their music.
I'm making a plea here to not allow some of the greatest characteristics of the electric guitar to fade away. The guitar is not a synthesizer, unless we turn it into one. It's up to us to carry on the tradition of the electric guitar being one of the most expressive, dynamic musical instruments of all time.