A Perfect Circle's Billy Howerdel joins editors in discussing some of the wildest guitar updates we've seen, as well as current musical obsessions.
---
Q: What's the craziest guitar mod you've ever seen?
---
Billy Howerdel — A Perfect Circle
A: Definitely [Muse frontman] Matt Bellamy's various mods. I know he has several different specially outfitted guitars, including some with touchpads. One thing I've always wanted to do is replicate [Fishbone bassist] Norwood Fisher's shoes, which have a goldfish in the sole, as a guitar.
Current obsession: As I recently did some scoring, I've been enjoying scores from Bernard Herrmann, Henry Mancini, and others. Exploring such amazing work knowing it was created with such limited technical means helps me re-approach music today in a world of too many choices.
---
Jeff Roggendorf — Reader of the Month
A: I installed a door knocker as an homage to Claudio Sanchez of Coheed and Cambria, who also has one installed on one of his Explorers. Basically, it's a noisemaker that will make the body and strings resonate like you were hitting your guitar, but much louder!
Current obsession: Coheed and Cambria! I'm a huge fan, to the point that almost my whole rig is based on Claudio's. I have Good Apollo, Vol. 1 and The Afterman double album on repeat, as they're both modern prog-rock masterpieces with fantastic guitar work. I find new parts I hadn't heard before with every listen.
---
John Bohlinger — Nashville Correspondent
A: This started as a candy apple red 1964/65-ish Fender Jaguar with a matching headstock. Inventor/musician James Gross added half of a Mustang pickup, a new neck with a wider fretboard, a bridge to accommodate two bass strings, a gate latch, and what looks like a primitive computer port behind the input jack. All this butchering was not for naught: Gross sold the "door latch claw" idea to Rickenbacker, who used it on the Model 366 Convertible. Tim Mullally at Dave's Guitars showed me this beautiful weirdo.
Current obsession:
Educating my toddler about the super sounds of the '70s: Boston, Fleetwood, Skynyrd, Petty, Eagles, etc. Put on Sly & the Family Stone and she immediately starts shaking her tiny butt.
---
Ted Drozdowski — Senior Editor
A: The last time I saw Fred Frith play solo, he had a humbucker mounted over the nut end of his 1958 Gibson ES-345's neck, and the signal from the standard pickups and that pickup were traveling through multiple routable/switchable effects chains. He also used a strip of leather or a capo so he could play the upper and lower halves of the neck independently—as well as the drumsticks, brushes, marbles, clips, and other things he typically applies as he flies. Heavenly!
Current obsession: Exploring insane sounds in roots-based music. Got a Pigtronix Mothership 2—Bernie Worrell for guitar! An expression pedal ups the ante. Read our review of the award-winning pedal.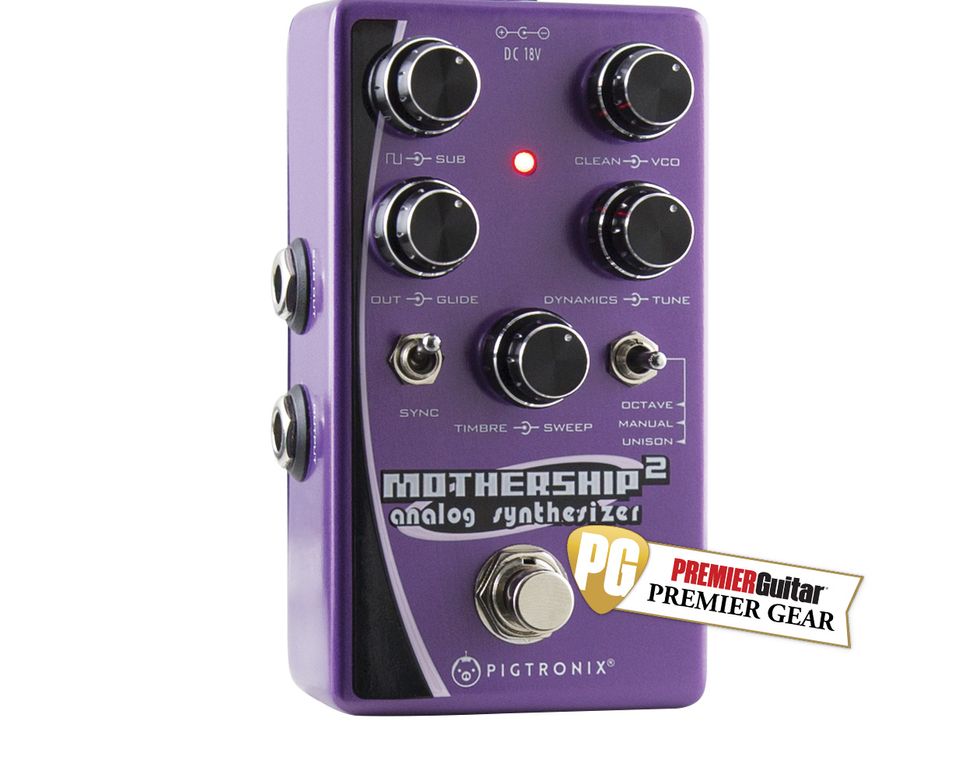 ---
Tessa Jeffers — Managing Editor
A: Working at PG, we see a lot of mods. One that caught my eye was from jazz guitarist Gilad Hekselman, who put an RMC piezo-style pickup in his Victor Baker archtop (pictured). He didn't want to drill holes in his guitar, so he wired it up through the bridge to the bottom f-hole. Wicked!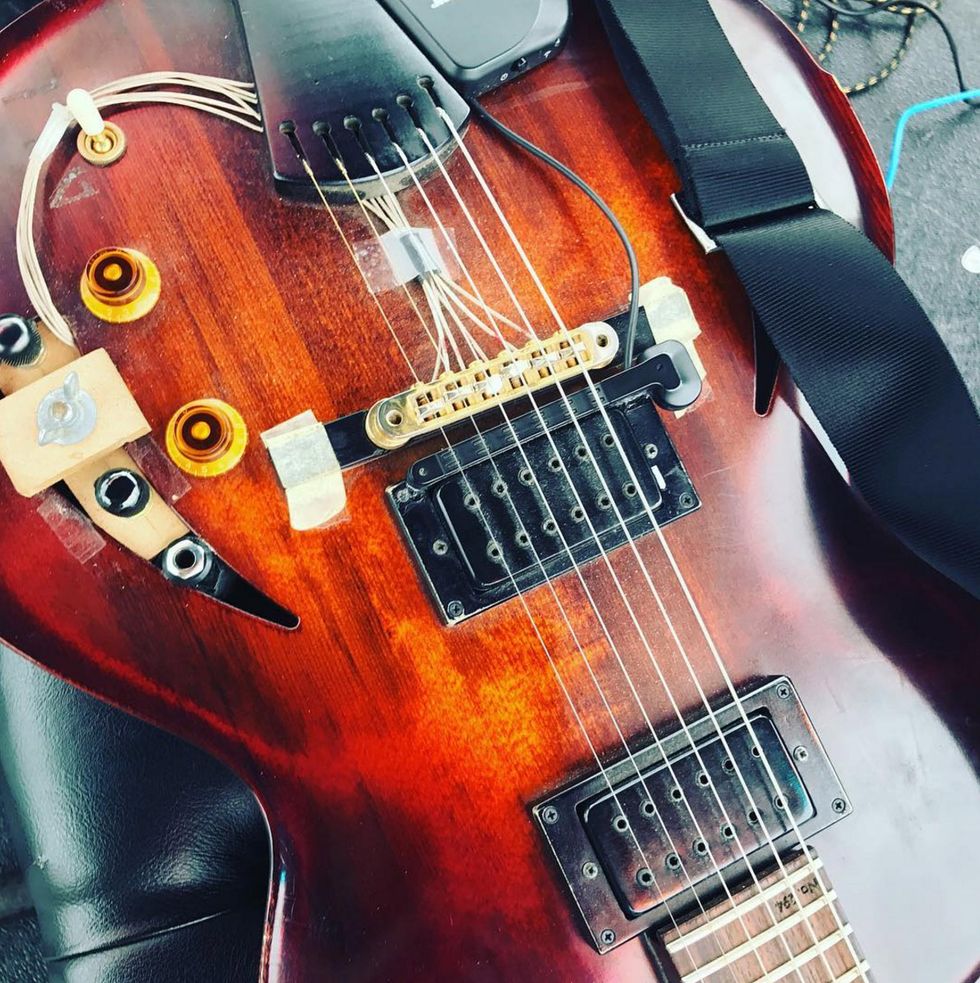 Current obsession: Meshell Ndegeocello's new album, Ventriloquism. This might be the most inventive work of "covers" I've ever listened to. Her intricate arrangements and reinterpretations infuse authentic soul into classic pop and R&B tunes from artists including Prince, TLC, George Clinton, Janet Jackson, Tina Turner, and Sade.