Reader Guitar of the Month: Sundial Fender Stratocaster
A reader enlists a young artist to help refinish his guitar with a custom paint job that tells a story.
Name: Kevin Rasch
Hometown:
Knoxville, Tennessee
Guitar:
Sundial Fender Stratocaster
This guitar began its life in 2011 as a candy apple red, made-in-Mexico Fender Strat with HSS pickups. Today, the only remaining stock items are the alder body, jack plate, and jack.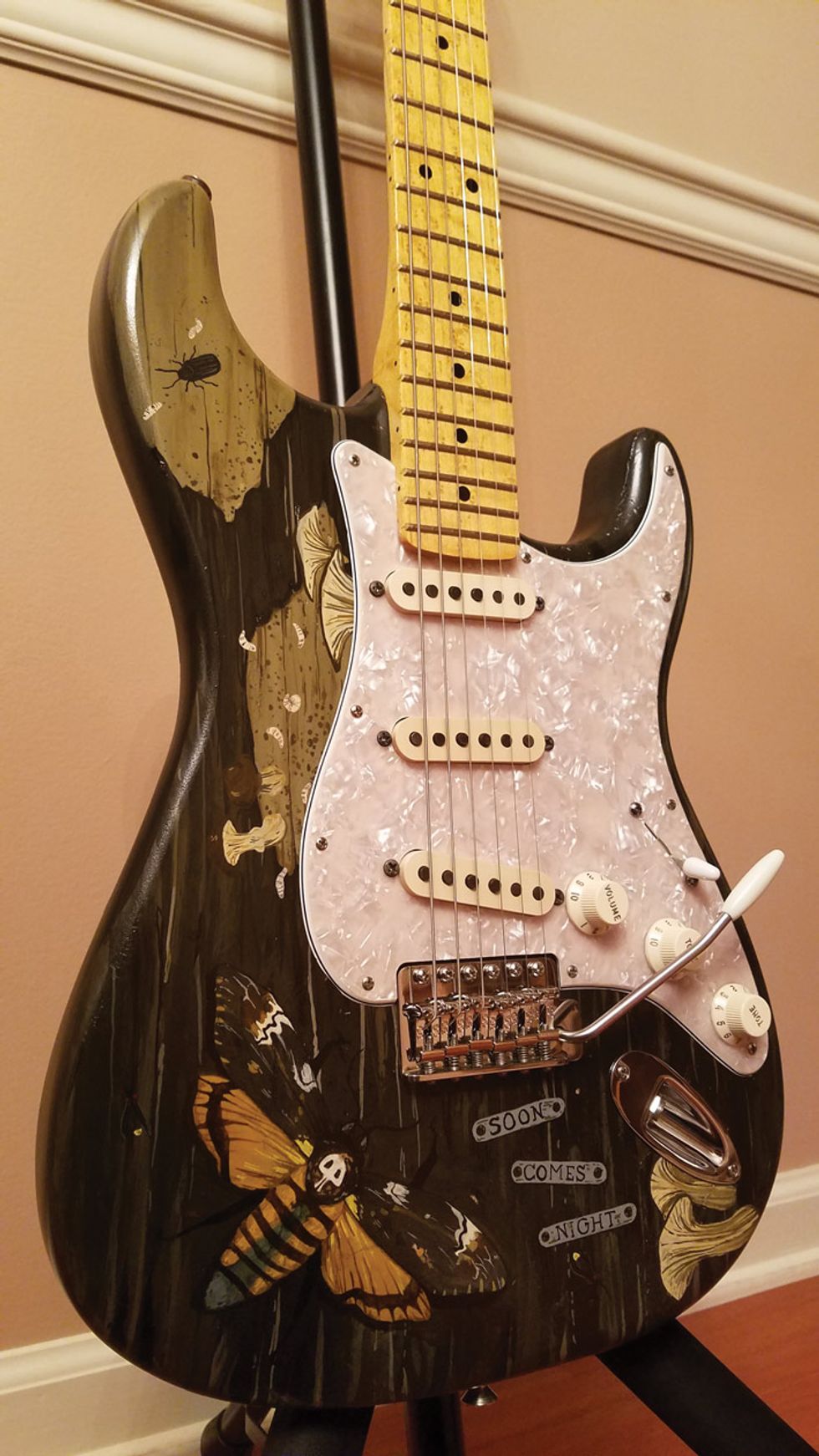 I bought the guitar because I loved the look and feel of the beautifully figured bird's-eye maple neck installed by the previous owner. It's a Warmoth neck with a double-expanding truss rod and Gotoh side-adjuster mechanism. The stock pickups were replaced with Seymour Duncan Antiquity Texas Hots and the tuners, pickguard, and even the 4-bolt neck plate were upgraded to higher-end Fender products. The stock tremolo, however, had serious tuning issues. My wife was kind enough to buy me the Callaham tremolo assembly and super short, Gilmour-style tremolo arm for my birthday.
The guitar's most visually stunning upgrade is its custom paint job by David Tapia, a talented young artist who's one of my daughter's best friends. While brainstorming together on ideas, he suggested putting words on it. I'd recently learned about a motto inscribed on sundials: "soon comes night." I chose this phrase because it literally describes when moths and fireflies appear (as they have on the guitar), but also metaphorically describes human mortality. To me, it's another way of saying, "Seize the day."
After reading about the death's-head hawkmoth painted on the front of the guitar, I learned these moths are specially adapted to raid beehives for honey. And so, a beehive became the obvious choice for the back.
A special note: Erick Coleman's article, "DIY: How to Refinish Your Axe," in the May 2017 issue of Premier Guitar was instrumental to how the original paint was stripped, the choice of a nitro finish, and the entire process of refinishing the guitar. I can't tell you how many times I read Erick's article and how much I appreciate his sage wisdom.
Send your guitar story to submissions@premierguitar.com.