​Reader Guitar of the Month: Custom Yellow Active LP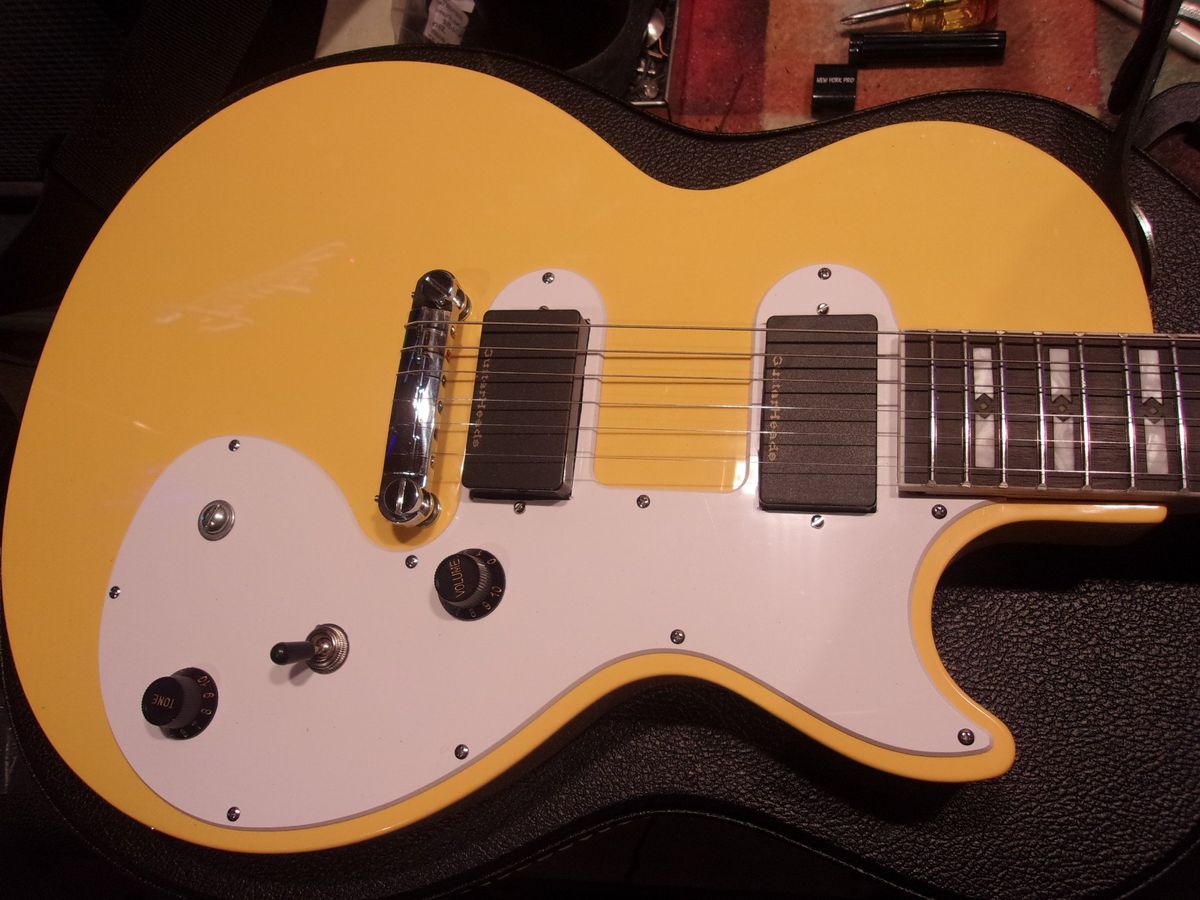 A 6-string tinkerer found a guitar neck with a unique inlay design, inspiring this bright color scheme and some active-pickup experimentation.

It all started with this yellow inlaid neck I saw on eBay/Amazon from China. I loved the inlays and thought it would be fun to design a yellow-themed guitar.

---
You all will recognize the body as an Epiphone Les Paul SL, which I bought new without the neck. I'm not a single-coil guy, so I swapped out the single-coils and electronics for two Wilkinson Hot Rail pickups. I ordered the neck ($80 total) from China, and it arrived in 12 days! The neck is high quality—the inlays are done very well, and the frets were smoothed and polished with an unfinished plain headstock. I took the body to my local hardware store and found a yellow spray paint for the headstock that was a very, very close match to the body color. The neck fit well and matched up perfectly for intonation.
The Wilkinson Rails worked out fine, but I had a couple of issues. Even though I put two layers of shielding paint in the body, there was still some minor buzz.
Also, I couldn't get the bridge pickup high enough under the strings and had to use some spacers to raise the pickguard just around that pickup. Even then, I wasn't happy with the tones. The neck played great, and after sleeping on it (the decision, not the guitar), I decided to go active. I had an extra set of active Guitarheads humbuckers. These are great active pickups, which I use in many of my guitars.
Terry Kempler
I carefully measured a way to put a 9-volt battery compartment through the back and into the control cavity. This way, I only needed to cut through about 1/4" of wood instead of routing out an entire body section. I had to widen the pickup routes in the body, with the bridge being the most work and dust flying everywhere. I then needed to widen the pickup cutouts on the pickguard, which was easier by using a Dremel saw and some filing. Lastly, I had to relocate the output jack because this was where the battery compartment was located.
The output jack was relocated to the side of the guitar where it belongs anyway. All the wiring (volume/3-way switch/tone) and such fit perfectly under the pickguard, and the guitar sounds great with no noise.
I don't even consider the guitar an Epiphone anymore—it's my Custom Yellow Active LP.

Send your guitar story to submissions@premierguitar.com.

From Your Site Articles
Related Articles Around the Web