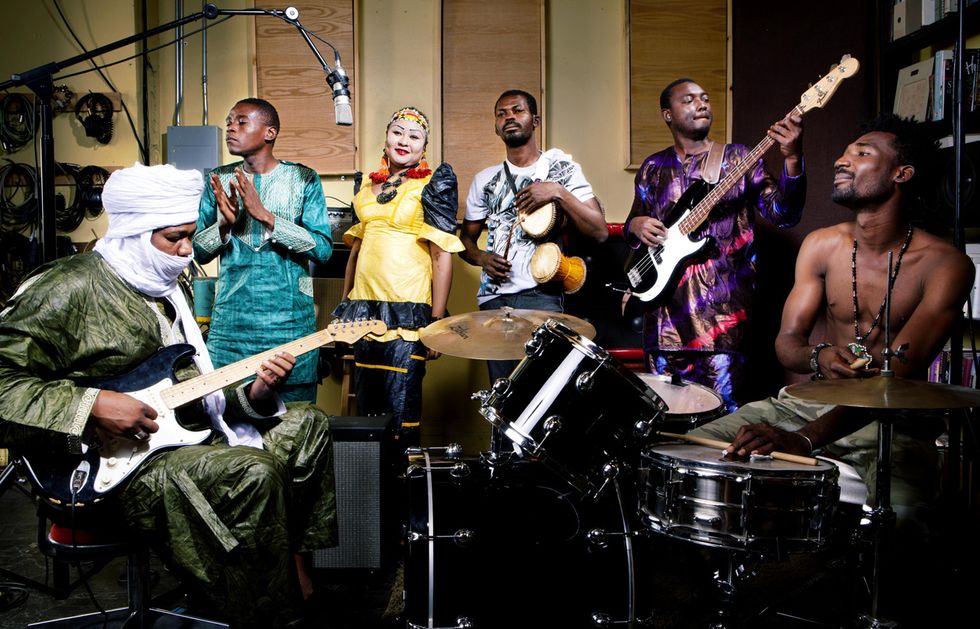 Almeida leads the band in a studio jam. Power deficiencies, minimal and outdated gear, and even weather make recording a struggle in Niger. Producer Jamie Carter brings his own gear from the U.S. for sessions. Photo by Jason Creps
Niger, like many African nations, is defined by its colonial borders, which were imposed by France without much regard for the history of the region or the people already there. The country is a landlocked desert, aside from the Niger River, which flows through Niger's western corner, and is desperately poor. It ranks 187 out of 188 nations on the United Nations' Human Development Index. It is home to at least eight distinct peoples including the Tuareg, Fulani, Hausa, Zarma, and Kanuri, and those peoples speak different languages, have different—although interwoven—histories, and play different types of music.
With that much cultural and ethnic diversity, it is no surprise that Tal National—a band whose music is an intentional composite of the region's rich musical traditions—are Niger's most popular artists. Their name, taken from the Désert du Tal, a desert in western Niger—includes the word "National" as a nod to their multicultural sound. As Hamadal Issoufou Moumine, better known as Almeida, who is Tal National's guitarist and leader puts it, "Our music comes from many origins, so, for example, if the song is Fulani, I will try to [fuse together] a Tuareg riff and Fulani riff, which is very important."
Almeida started playing the guitar when he was 30. He's now 52. He's also a judge—a position he still somehow manages to hold despite his band's hectic schedule. Almeida put Tal National together in the early 2000s. According to their website, the band spent their first 10 years gigging around Niger. They played five-hour sets, seven days a week, and sold their CDs on street corners and roundabouts. That insane work ethic made them the biggest band in Niger, but it wasn't until 2013, with the release of Kaani, that they began to garner international attention.
The road to Kaani started in 2008 when Jamie Carter, a Chicago-based producer and engineer, flew out to Niamey, Niger's capital, with a suitcase full of gear to record Tal National at CFPM (Centre de Formation et de Promotion Musicales), the city's musical hub and low-tech recording space. The band put out two albums in Niger before signing with U.K.-based FatCat Records and releasing Kaani.
Tal National's most recent album, Tantabara, is their fifth project with Carter and third release on FatCat. It came out in February and it's classic Tal National: a turbocharged synthesis of pan-African styles, contagious rhythms, and positive energy. As usual, Almeida creates a whirlwind of clean guitars—no effects and straight into the amp.
His fast, repetitive melodic lines and ostinato figures resolve in unusual places (at least, unusual to Western ears). Almeida rarely plays chords and approaches the guitar like an additional vocalist. "When the singer finishes singing, we have the guitar come in and sing again," he says.
The new album also features a guest appearance by the Israeli-born/New York-based guitarist Yonatan Gat, formerly of Tel Aviv garage rockers Monotonix, on the track "Entente." His scalding fuzz-tone solo is reminiscent of the psychedelic-tinged sounds that echoed prominently from nearby Nigeria in the late 1960s and early '70s, when U.S. and British guitar rock became a major influence on regional bands like the Mebusas and the Founders 15. The two-CD collection The World Ends: Afro Rock & Psychedelia in 1970s Nigeria is West African music's equivalent of the U.S. garage-rock collection Nuggets: Original Artyfacts from the First Psychedelic Era, 1965–1968,as well as a historic foundation that supports Tal National's self-proclaimed identity as a rock band.
"I think they are 100 percent right," offers Gat, who befriended Tal National after catching one of their Big Apple shows and was invited to lay down some sonic spank on "Entente." "The way the guitar governs everything in that music really reminds me of rock 'n' roll. Think about [Tuareg songwriter] Mdou Moctar and guys like that. When I listen to those bands from Niger, I don't hear African music, necessarily, even though the music is very African. What I hear is just the best rock 'n' roll bands in the world. If people would just listen to those bands more they would realize that rock 'n' roll is not that boring nowadays. It is happening in many, many places. It is no longer something exclusive to the U.S. and U.K."
While Tal National was recently touring the United States, we spoke with Almeida and Carter about Tal National's music and journey, the challenges of recording and acquiring gear in one of the world's poorest nations, the unusual workarounds they use to navigate a faulty and sometimes dangerous electrical grid, and the art of managing a large creative ensemble.
What kind of music did you listen to growing up?
Almeida: The first music I heard was when my mother went to Saudi Arabia for the pilgrimage, she brought back the music of Sudan. Also, I have friends from southern Africa, like Congo and Cameroon, and that music interested me. In Niger, we have the influence of North African music and highlife from Ghana. So I've heard many musics.
"The band Tal National is like a small Niger, and we speak most of the languages they speak in Niger. When we are touring in Niger, everybody can see himself in our band." —Almeida
What was on the radio?
Almeida: Traditional music. The biggest music is traditional.
Are guitars available in Niger? Where did you get your first instrument?
Almeida: It was a gift from a Japanese man named Kaz. He was volunteering in Niamey. I learned the guitar with him for two years. He brought it from Japan and he said that this guitar is for me. I was 30 years old and he showed me some jazz, like "Georgia on My Mind." It took me three months to learn that song on the guitar. He also gave me a book of jazz songs. I learned to read music and I taught myself with that.
Was it acoustic or electric?
Almeida: Electric. Everybody in Niger knows about that guitar. It was very famous because it was a strange guitar. It looked like a kangaroo.
Did you have an amplifier, too?
Almeida: Yes. It was a small amplifier and the power was 110 volts. He also gave me a transformer for that amp.
When did you put the band together?
Almeida: When Kaz went back to Japan, I asked him how to build a band. He said, "When you build a band, make sure you choose good musicians and people with good character. If they have good character, it will be a good band." That's why I chose some friends. We just came to practice together—not like a band, but just like friends—and slowly it grew. One friend, Essa, who is still in the band, asked me, "Why don't we work like a band?" I said, "We should, but I am not sure it will work too well because I am also a government worker." He said, "We will try." Slowly, slowly, we built a band and we called it Tal National. We just started in the club with only the original members, and slowly the club asked us to perform five days a week.
Tal National sometimes functions as a collective. In Niger, you will book two shows at the same time and have half the band play at one place and the other half play at a different place. Why is that?
Almeida: As Tal National grew, we became more famous and more people wanted to hear our music. We have three guitarists, three drummers, two bassists, and four singers. But that's just for the business—the Tal National business.
---
---