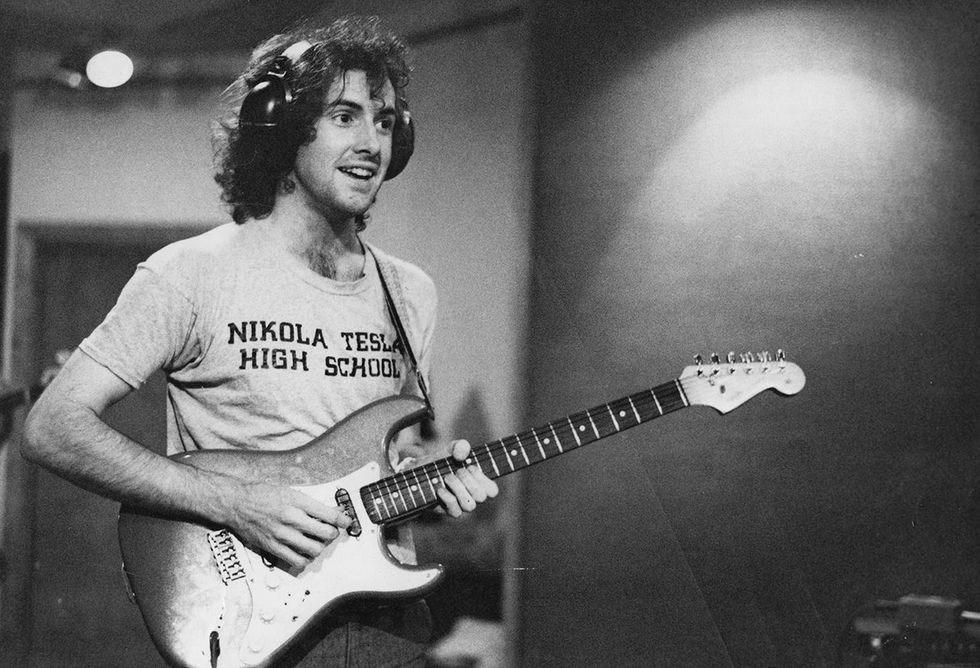 Henry Kaiser plays his Strat in 1976, two years before he would begin his long history of recording and releasing albums, primarily on his own indie imprints. In 1978 he cofounded the Metalanguage label, which released his debut album of solo improvisations, Outside Pleasure.
That's a huge and impressive list—a who's who of musicians and sounds largely removed from the mainstream. How have you sought to take those influences and move ahead to discover and expand your own voice as an artist?
All the cultures and musicians I just mentioned play music that asks questions, even more than it provides answers. I just try to find new answers and new questions to musically pose, based on things I learned from all those great ancestors and traditions I mentioned. I do that through the parallel methodologies of experimentation and improvisation. I try to do new things every time I play and I try to find out things that I don't know. Continuous exploration is my goal that is beyond. For me music making is not so much about expression as it is about discovery. This can mean playing with new people, new pedals, new techniques, new musical languages, unlikely language hybrids. It can mean an infinity of different kinds of discoveries. I don't care about what I have to say with the instrument. I care about what I can discover through the guitar.
For players who want to explore free improvisation, what would you suggest as an embarkation point?
I think reading one specific little book is the best briefing that I know for this: A Listener's Guide to Free Improvisation by John Corbett. In remarkably few words, Corbett describes free improvisation and how to appreciate it. I suggest listening to as much improvisation as possible, at the highest possible audio fidelity. Go appreciate live improvisation at shows. Improvise together with as many different people as you can. Work hard to create improvisational opportunities for yourself.
"I have always related to timbre and articulation as expressive tools—much more so than melody, harmony, and rhythm."
I think of you as something of a nexus: You're constantly turning people on to music they might not have heard, finding ways to make music with people you admire, and fusing styles in a way that lets you speak to different audiences in genres they may not have previously heard. Is this a mission for you?
My personality type from the roster of folktale motifs is the Helpful Spirit Animal—the critter that shows up for one scene in a story and says, "Look behind that seal sleeping over by the ice cliff and you will find a magic guitar pick made of rainbows!" Then the Helpful Spirit Animal disappears from the tale, after completely changing the story in a totally unexpected way. That's what my job always seems to be like, on many different levels.
On the Friends & Heroes collection, you're playing with a host of different guitarists over a 40-year span. Was there a particular musical encounter there that stands out as an exceptionally joyful or unusual experience? And what do you feel that your role in that collection says about your interests?
I love to play in duos and bands with another guitarist. I come back to that again and again. Many times in the past, as on that album, it has been recording with great guitar heroes of mine for the first time. The feeling of that is what I imagine Ronnie Earl felt like playing with B.B. King: an experience of grace, gratitude, and good fortune. On that album everyone that I played with were heroes who became my friends, or friends who went on to become heroes for me. So everything there was the best musical experience for me. Right now I am about to complete or begin new guitar duo projects with Ivar Grydeland, Jim O'Rourke, Max Kutner, John Schott, Eugene Chadbourne, and Kurt Newman. I do love the guitar duo thing!

Guitars & Basses
Parts S-style and T-style guitars with Alembic or Q-tuner pickups, True Temperament necks, and internal preamps
Dan Ransom electrics
Klein custom electric with an aftermarket True Temperament neck
Michael Spalt electrics
Allan Beardsell acoustic guitars
Alembic 6-string bass
Jerry Jones 6-string bass
Rick Turner Renaissance fretless bass
Amps
Two-Rock Classic Reverb Signature
Amplified Nation Wonderland
Headstrong Lil' King Reverb
(all with JBL D120, JBL D130 or Celestion Gold speakers)
Effects
Sonic Research Turbo Tuner ST-300
Old World Audio 1960 compressor
Sonuus Wahoo wah
J. Rockett Masterbuilt Boost
Tech 21 CompTortion
Psionic Audio 3.14 distortion
Stomp Under Foot Violet Menace distortion
Tanabe Dumkudo overdrive
Montreal Assembly Your and You're synth fuzz
Red Panda Tensor sampler manager
Hexe Revolver DX sampler manager
Eventide H9
Montreal Assembly Count to Five delay
TC Electronic Flashback
Flux Liquid Tremolo
GFI Specular Tempus reverb and delay
Neunaber Expanse multi-effects
Free The Tone Ambi Space AS-1R reverb
Ernie Ball MVP volume pedal
Strings, Picks, and Slides
D'Addario NYXL sets (various gauges)
Thomastik-Infeld Power Bright sets (various gauges)
Fender 346 heavy
Various very thick glass slides

What's been your path in learning guitar and moving forward on the instrument?
No formal training. Just listening and reading. I'm pretty much a child of 1970's Guitar Player magazine as edited by Tom Wheeler. Being a very curious soul, I am always searching out what I might need to learn or know next. Usually from books and recordings. Great masters that I have worked a lot with, like David Lindley, Richard Thompson, and Wadada Leo Smith, have taught me so many things just by me experiencing how they see, hear, and play. Lindley and Thompson are certainly the greatest models of how to talk to an audience from the stage. Back in the late '70s, the entire community of British improvisers really welcomed me into their fold by inviting the still wet-behind-the-ears me to play and record with them.
Lately, after teaching my course on Being Yourself at Richard Thompson's guitar camp for a couple of years, I have been paying way less conscious attention to melody, harmony, and rhythm, and thinking only about narrative and story-telling in soloing. I think I started to pay attention to my own teaching in this respect.I have always related to timbre and articulation as expressive tools— much more so than melody, harmony, and rhythm. Those three for me are just byproducts of working on the timbre, note articulation, and ornamentation.
The most important elements of music for me—that I put before melody, harmony, and rhythm—are space and emptiness, timing, timbre, note articulation and ornamentation, dynamics, shape, improvisation, purpose and teleology, trance, and storytelling and narrative.
I learned most of that from B.B. King, Hubert Sumlin, and Albert Collins—and from a wide range of international roots music cultures, outside of European traditions. Those role models demonstrated mastery in using their tools for telling stories with their instruments. I apply what I learned there to all sorts of music.
What are your main guitars these days? And how does the mix of sonics and ergonomics affect your choice in instruments?
I prefer a 25.5" or a 27" scale with normal fretting. I can't really play a Gibson scale. It is too cramped for my fingers and sounds out of tune to me. Since I started playing the True Temperament fretted necks, about 18 years ago, I have been spoiled by their amazing intonation.
For me it's always about a personal relationship with an individual guitar. My stable seems to be a bunch of exceptions-to-the rules instruments. I am forever swapping necks, hardware, and pickups among different partscasters at home, looking for the ultimate utopian and magical guitar of the moment.